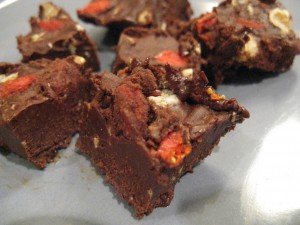 Does the holiday season make you a bit antsy about weight gain and battling the bulge come January? It doesn't have to be this way! Why not enjoy a few healthy treats and get a mega-dose of nutrients at the same time?
Eating real food, as unprocessed as possible, will prevent cravings and elevate your mood so you can be merry and joyous all through the holidays. I have compiled a few of my favourite sweet treats that I will be talking about LIVE on Wylde On Health, Friday December 17th at 7pm EST. Here they are!
Raw Cacao Antioxidant Fudge (as pictured above)
Ingredients:
1/4 cup crunchy almond butter or organic natural peanut butter
4 tbsp organic coco oil
1/2 cup raw cacao powder
1/4 cup raw honey
2 tbsp goji berries
2 tbsp walnut pieces
Method: If the coco oil is not liquid, slightly melt it in a pot. Once it's liquid, combine it with the almond butter and then slowly add the raw cacao powder while mixing. Add the raw honey, it will melt if the coco oil is slightly warm. Pour the mixture into a greased pan (small size - just depends how thick you want the fudge) and then sprinkle the top with walnuts and goji berries. Place in freezer or fridge until it's solid. Slice into bite size pieces and enJOY.
Note: It melts quickly, so if you take it out of the refrigerator please note that it's not a it's not a treat that can sit out for a long period of time.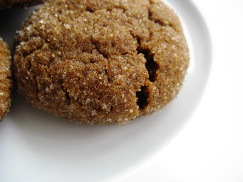 Gluten-Free Ginger Cinnamon Cookies
Ingredients:
2-1/4 cups brown rice flour
2 tsp ground ginger
1 tsp aluminum-free baking soda (make sure it's gluten-free)
1 tsp ground cinnamon
3/4 cup organic coconut oil
1/2 cup Therasweet All-natural sweetener or sucanat sugar
1 organic egg
1/4 cup organic molasses
Method: Combine all the dry ingredients (except the sugar) into a large size bowl, set aside. In a large mixing bowl combine the oil, sugar, egg and molasses, beat well. Once combined, slowly add the remaining dry ingredients and beat until smooth.
Form the batter into two inch balls and roll in cane sugar (if you like) and place on cookie sheet. Bake at 350 degrees for 11-13 minutes, be careful not to over bake them. Let cool on a cookie rack. Makes about 2 dozen cookies.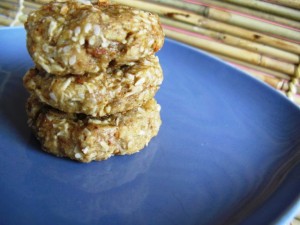 Almond Butter Cookies
1 3/4 cups almond flour (don't pack the flour down, it's very dense and you will use too much if you pack it)
1 cup oats
1/2 cup of coconut flakes
1/4 cup sesame seeds
1/2 cup sucanat sugar
3 organic eggs
2 tbsp crunchy almond butter
1/4 cup organic coconut oil
Combine all the dry ingredients together in a large bowl. In a separate bowl, whisk the eggs and add the almond butter and coconut oil, stir together. Combine both the wet and dry ingredients until the batter has no dry bits. Form into 1 inch balls and flatten with a fork onto a greased cookie sheet.
Bake at 350 degrees for 10-12 minutes. Watch the cookies carefully, every oven varies a little bit in cooking time.
I like mine a little brown on the outside and chewy on the inside. which takes 10 minutes, but I have a condo sized oven (SMALL) so it probably gets hotter than most ovens. Makes 2-3 dozen little gems of deliciousness.
Please always buy the best quality ingredients so that you can absolutely maximize the nutrition in what you are eating!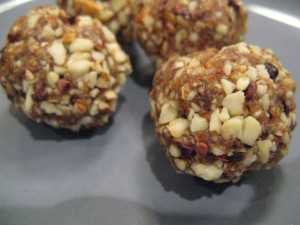 Raw Cacao Date Balls
Ingredients:
4-5 soft and large medjool dates
1/2 cup almonds (preferably soaked overnight to remove the enzyme inhibitors)
2 tbsp raw cacao nibs
1 tsp pure vanilla extract
Method: Combine all the ingredients in your food processor and blend until fully combined. Form into 1.5" balls and refrigerate. Yes, it is THAT easy! :)
MORE RECIPES: Recently AOL's That's Fit posted the top 12 Most Popular Recipe Posts for 2010 and many of them were created by yours truly - joyous health. These are nutritionista-foodie approved. Enjoy!
Here is a great article on FIVE WAYS TO AVOID HOLIDAY WEIGHT GAIN with proven strategies to help you stay on track and feel your absolute best. I follow these tips myself and I even make time for exercise and yoga all throughout the holidays. This is how I stay joyous. Plus the added benefit is that I don't have to hit the gym 7 days a week or feel a shred of guilt in January! You can do it too.
Happy Holidays and beee joyous!
Joy