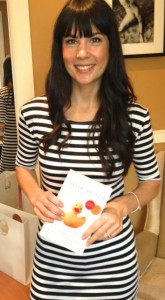 I spoke at the Whole Life Expo today on natural beauty from the inside out and the chemicals lurking in conventional beauty products. So this post is for anyone who couldn't make it (or those who missed out on getting a copy of my handout). And that book I'm holding? You MUST get it -- Death By Rubber Duck.
You will be happy to know that you can save a heck of a lot of money when you use foods you have in your kitch to beautify! Here are some of my favourite Do-It-Yourself beauty recipes. Please share yours below in the comments section as I would love to learn about what you do!
Hair Care
Apple Cider Vinegar (ACV) for smooth, silky, clean hair.
ACV does a wonderful job to remove residue from product build up caused by styling aids and heavy conditioners. Nicely cleans your hair and scalp and the best part -- it's a natural detangler. In fact, you don't even need conditioner! Helps treat dandruff. It makes your hair shiny and gives it a really silky texture -- you'll see what I mean when you try it.
Recipe: 1 part ACV, 1 part filtered water. I suggest you put it in a spray bottle & spritz on wet hair while you are in the shower. Leave it on for a few minutes and rinse with water.
Eggs – Get Cracking for shiny hair.
Eggs are rich in biotin, a B vitamin essential for hair growth and overall scalp health. Eggs add amazing shine and body to your lovely lockes. 
Recipe: Crack one egg on wet hair in the shower, massage into hair. Leave it on for a few minutes. Wash out with cool water or you will have a scrambled egg mess!
Argan Oil (aka "Moroccan oil"): For silky, frizz-free hair.
This gorgeous oil is derived from the fruit of the argan tree. It helps to increase shine, alleviate frizz and dry scalp, protect the hair from UV damage.
How to: Massage 3-4 drops into the ends of hair after washing. For a deep conditioning treatment, massage into scalp before bed. Wonderful for your face too. If you can't find moroccan oil, avocado is oil is your next best option. Or just rub avocado into your hair -- yes, seriously!!
Coconut Oil: Luxurious Deep Conditioning Treatment
This is my fave DIY hair treatment that I use all the time. It seals the hair cuticle to retain moisture and moisturizes the scalp wonderfully too! And it helps control dandruff through moisturizing the scalp and through its antibacterial properties. I also love it when my hair feels too poofy or frizzy. It's the best anti-frizz treatment ever. Just be careful you don't use too much.
How to: Massage dime-size (or less depending how thick your hair is -- a little goes a long way!) amount of oil into the ends of hair after washing or massage into scalp before bed & wash the next morning for a deep treatment.
So I have a confession to make... When I was in my early 20's I chemically treated my hair (I was going for the JLo look one month and then dying it red the next) and I used a lot of toxic products (unknowingly of course) to de-frizz, make it shiny and manageable etc etc. At one point, my hair was as long as it is now currently, but I had to chop it ALL off because it was soooo thin and dry.
Fast forward to today, I haven't chemically treated my hair in well over 10 years and I use less products than ever before. And everything I do use I mentioned above, or it's a clean, like Green Beaver or Hugo Naturals. I'm living proof you can care for your hair without chemicals!!
I will post my DIY for skin care in a couple of days because I'm running out the door! Thank you to everyone who came to the Whole Life Expo to hear my lecture today. I really enjoyed speaking to all of you!
Be joyous,
Joy