On the weekend we visited my parents because they hosted my Aunt's 60th birthday. As per my mom's usual generous style, she had a huge bowl of cherry tomatoes she picked from her garden for Walker and I to take home. I was pretty happy about this because the last few farmers market visits I made, I ran out of cash by the time I got to the tomatoes.
Homegrown is the best kind of organic you can get! ...Especially when it's grown with love and attention. Walker was really excited to use these tomatoes and make something yummy. As you might hvae seen from my Instagram on Sunday, I made bruschetta and then Sunday night, Walker made this very pretty platter. It looked like a piece of art!
We enjoyed the remaining tomatoes in this salad as an appetizer with some delicious homemade iced tea with blueberries.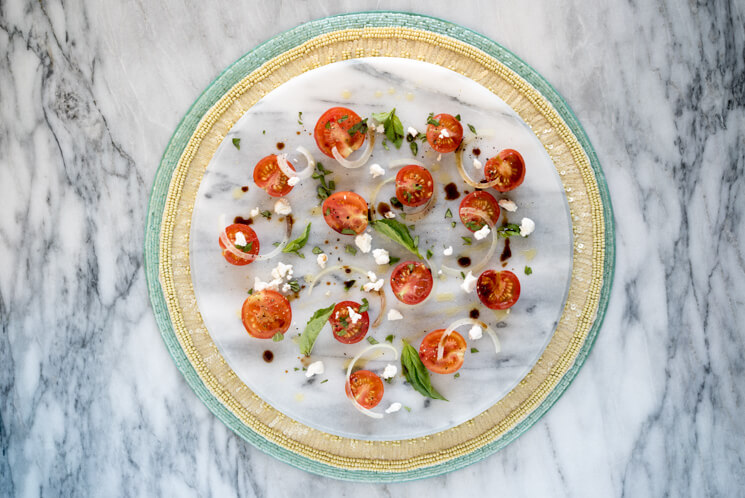 Real food doesn't need to be complicated. In fact, most of what Walker and I cook is really simple with great ingredients. This salad is quite "uncomplicated"! Ha!! I like the sound of that. So here's Walker's recipe for an Uncomplicated Tomato Basil Salad with Goat Cheese – and it sure does look pretty!
Salad + Snacks
Uncomplicated Tomato Basil Salad with Goat Cheese
Save
Print
Ingredients
1 cup cherry tomatoes, halved
4-5 fresh basil leaves, chopped
1/4 small onion, thinly sliced
Goat cheese sprinkled to your liking
Drizzle of extra-virgin olive oil and balsamic vinegar
Sea salt and pepper to taste
Instructions
You can either combine all your ingredients together in a bowl, dress and season, or if you're a fancy pants like my hubs Walker you can make your salad look as gorgeous as this platter!
---
By the way, if you were wondering why I love goat cheese, here's why:
Goat cheese is a great source of calcium, phosphorus, potassium, choline, vitamin A, D and K, good fat and protein
The good fat helps you feel satiated and balances blood sugar
It is much easier on the digestive system than cow's milk cheese because it has less lactose, smaller fat globules and less of the problematic type of casein protein
We enjoyed this as a yummy appetizer and then had organic grass-fed grilled steak with my Kale & Beet Chopped Salad.
I hope you try out this salad and it makes your taste buds JOYOUS! :)