I eat a salad every single day, sometimes twice per day, once at lunch and then dinner. I LOVE crunchy food – which is probably one of the reasons I love salads. It makes me feel like I'm actually eating something. Plus it's full of fiber and nutrients to keep me feeling satisfied.
I really enjoy the whole preparation of chopping veggies on my wood cutting board. This might sound strange, but I just love the smell and the sound of "crunch" when the knife cuts through a carrot. Am I weird? HAHA. I think Vienna likes it too, as she sits across from me in her high chair observing, although in the photo below she's a little distracted, wondering what daddy is doing on the other side of the camera. Such a cutie patootie!!!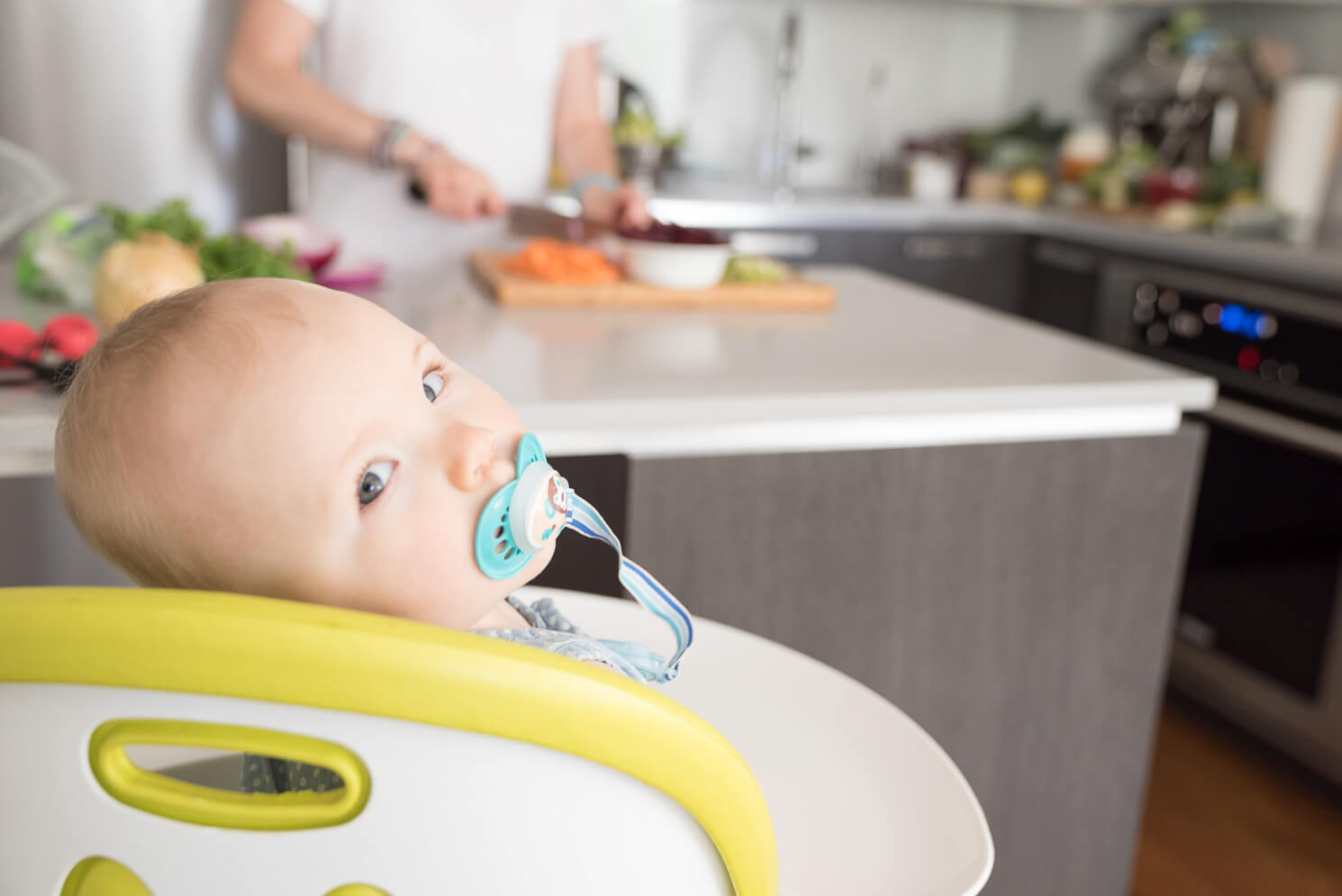 I mix up the ingredients all the time in my salads. Usually, it's whatever I've got in my fridge, or what's inspired me in my box of organics I get delivered each week. I haven't gotten into a routine of going to the farmers market (yet) since we moved to the west end of the city, but I plan on going this week especially now that local foods are fresh and available where I'm sure to be inspired by even more goodness – stay tuned :)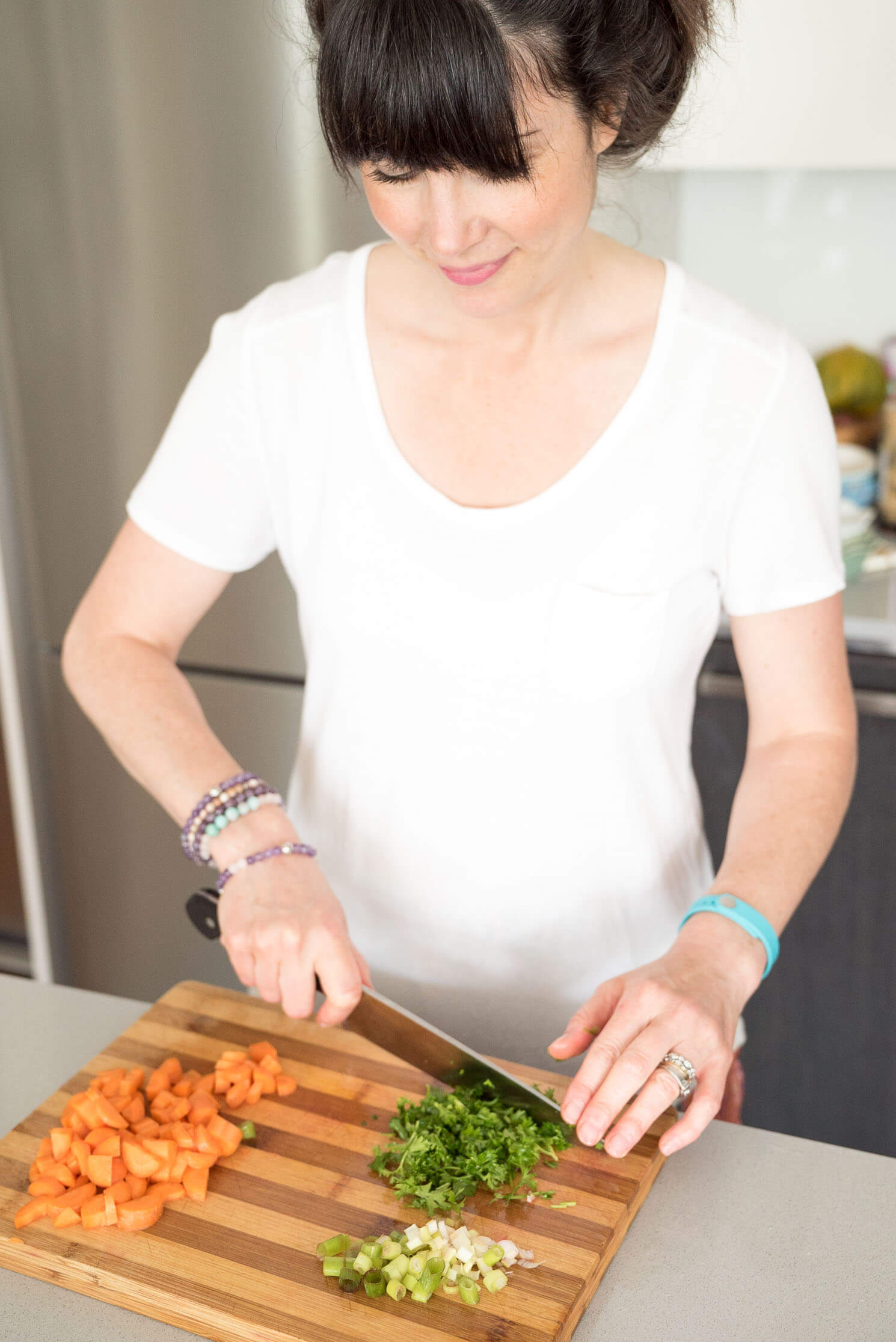 Walker and I loved this salad and yes, it had some good crunch! Whenever I share a salad pic on insta, snapchat or Pinterest you can assume we are both eating it. I never make a salad just for one so this salad will serve 2 quite generously.
In this salad, there were beets, carrots, red onion, parsley, green onion, raisins, microgreens, cucumber, sheep milk feta and romaine lettuce for the base (adds a good crunch!). This salad has many health benefits and is very detoxifying. All of the fiber from the veggies is wonderful for helping to eliminate waste from the colon, helping to prevent colon cancer and keep your skin glowing, amongst other things.
Beets are a detox superfood because they have a naturally occurring compound called betaine, which is essential for proper liver function and protection from harmful toxins.
And you already know if you've read my book or ever come to one of my workshops, that beets are a fantastic way to check your "transit time".
If you love detox recipes that you can eat whether you're "detoxing" or not, then read more about my upcoming second book JOYOUS DETOX: Your Complete Plan and Cookbook to be Vibrant Every Day!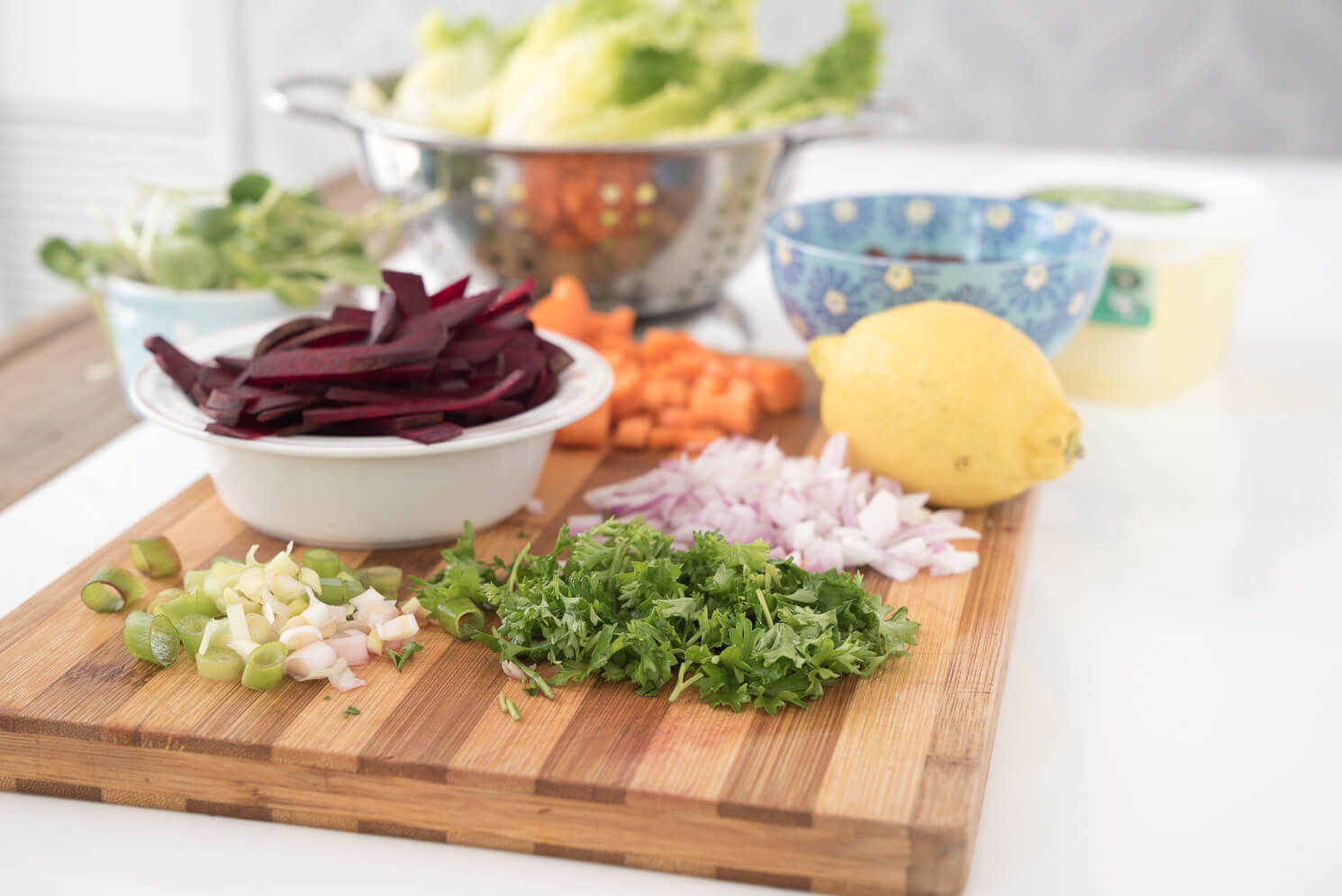 Parsley is another detox superfood because it is known to stimulate bowel function and is blood cleansing. Plus it is very anti-inflammatory as it contains the volatile oil eugenol, which provides the anti-inflammatory benefits.
This salad is rich in beautifying nutrients such as vitamins A and C — both of which are skin super-nutrients. Vitamins A and C help renew skin cells, preventing dullness and also help prevent premature aging.
Ingredients
1 head romaine lettuce (or green leafy lettuce), washed and chopped
1 medium beet, jullienned (cut like matchsticks)
2 carrots, chopped
1/2 cucumber, chopped
2 green onions, chopped
1/4 of a red onion, finely chopped
Handful of fresh parsley, chopped
Handful sunflower microgreens*
1/4 cup sheep's milk feta cheese (of course you can use goat or cow too)
Dressing
Juice from half a fresh lemon
1/4 cup extra-virgin olive oil
Pinch sea salt
Instructions
Combine all ingredients into a large salad bowl. Pour dressing over top and enjoy immediately.
Serves 2 joyous bellies :)
---
Notes
*What are microgreens? Smaller than baby greens and larger than sprouts, microgreens are tiny greens grown and then harvested from the seeds of veggies or herbs. I buy mine at the health food store.
I always use organic ingredients in my salads. Purchase organic as often as possible to reduce your exposure to chemical pesticides.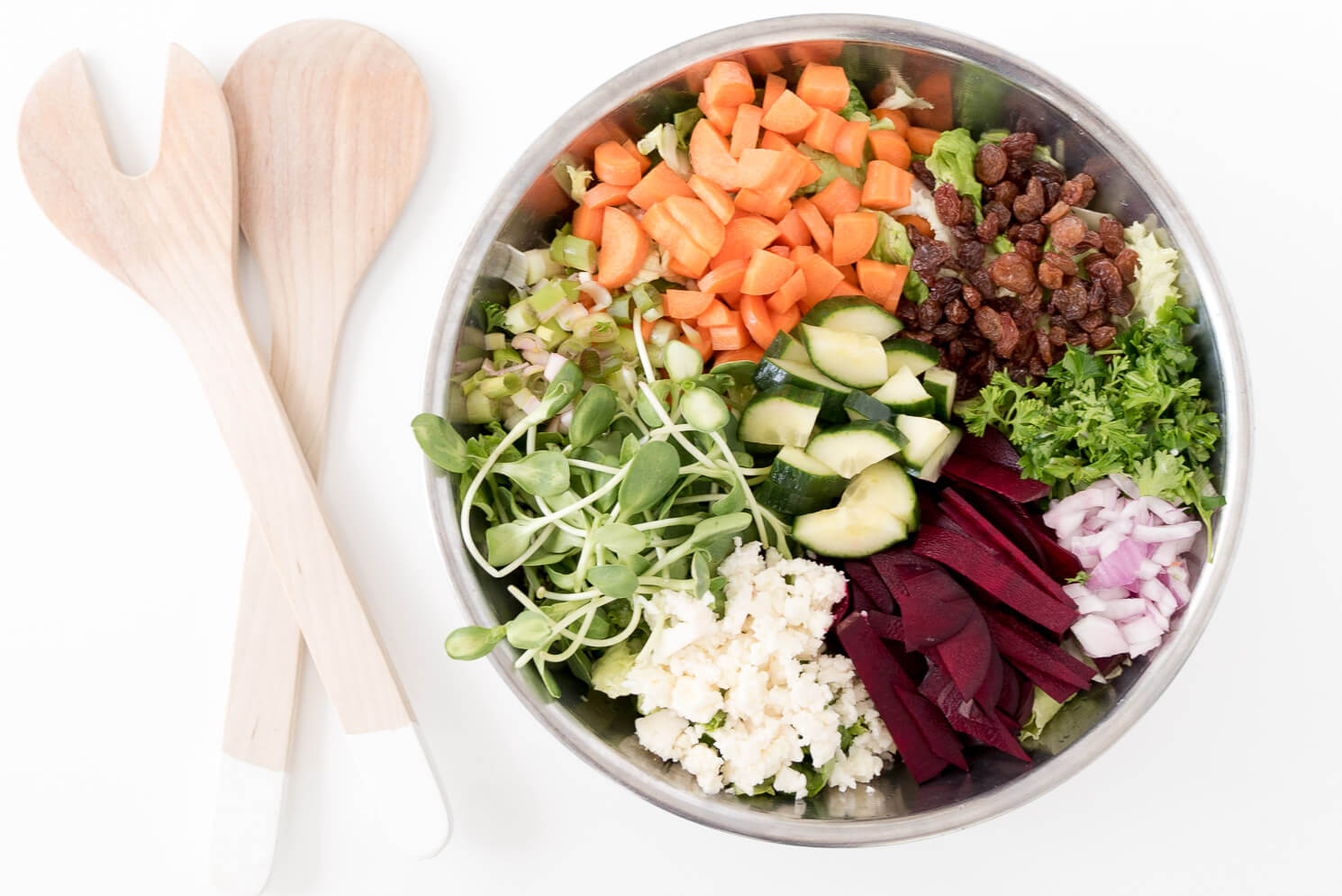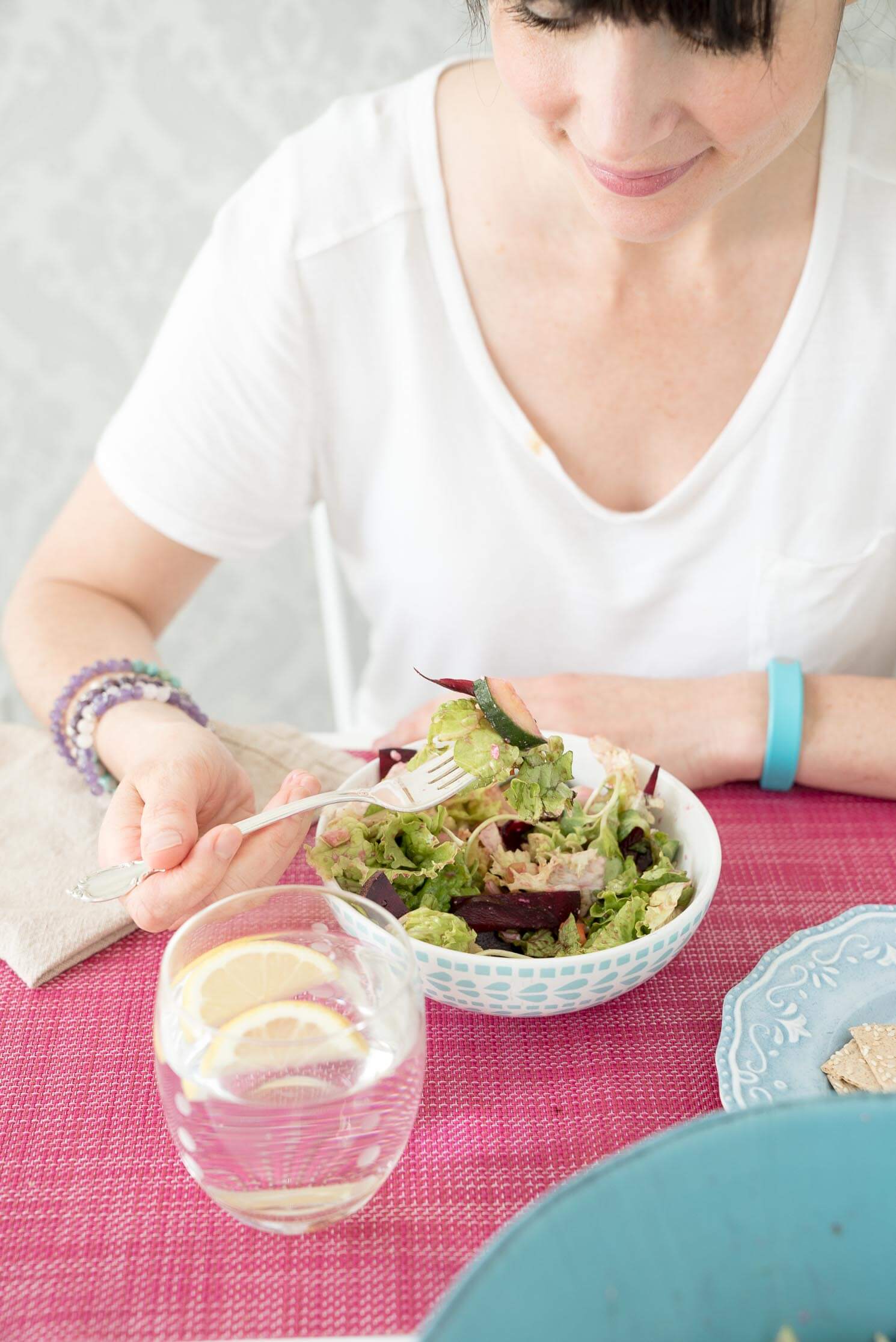 We enjoyed this salad with some sweet potato hummus and crackers, plus a big glass of refreshing lemon and water. Often times I will add whatever protein we had from the night before like fish or chicken but I didn't have any leftovers. It was still quite fulfilling!
I hope you enjoy this salad recipe! Walker and I have been shooting new recipes for my FREE salad ebook that is coming out in a couple of weeks. If you subscribe to my newsletter you will automatically get it when it's released. If you are not signed up yet, then subscribe here to get my Healthy Breakfast guide and soon, 7 salad recipes that are as delicious as they are nourishing!
Have a joyous week!
Joy