I just couldn't decide which late-summer fruit I wanted to use for this cake recipe, peaches or blueberries –so I used them both! It was a total crowd pleaser.
Everyone loved this recipe (including Vienna) and was wishing there was more. I've made it a few times already, like this past weekend for a family dinner, and it was a hit again. Since I was short on peaches the second time making it, I added in mango and it was just as delicious.
I got the inspiration for this recipe from Dr. La's naturopathic clinic Instagram feed the other week. She posted a peach cake she made that was totally gluten-free and I immediately wrote it down and made a few modifications. It was incredible and I was so excited and that it was also free of gluten, making it an ideal recipe to share with you. By the way, Dr. La writes lots of great articles for Joyous Health, which you should totally check out!
I've already played around with peaches this summer with my Peach Basil Spritzer recipe. Have you sipped one yet? Peaches are still at every farmers market and they're too delicious and nutritious not to revisit, so into the cake they go!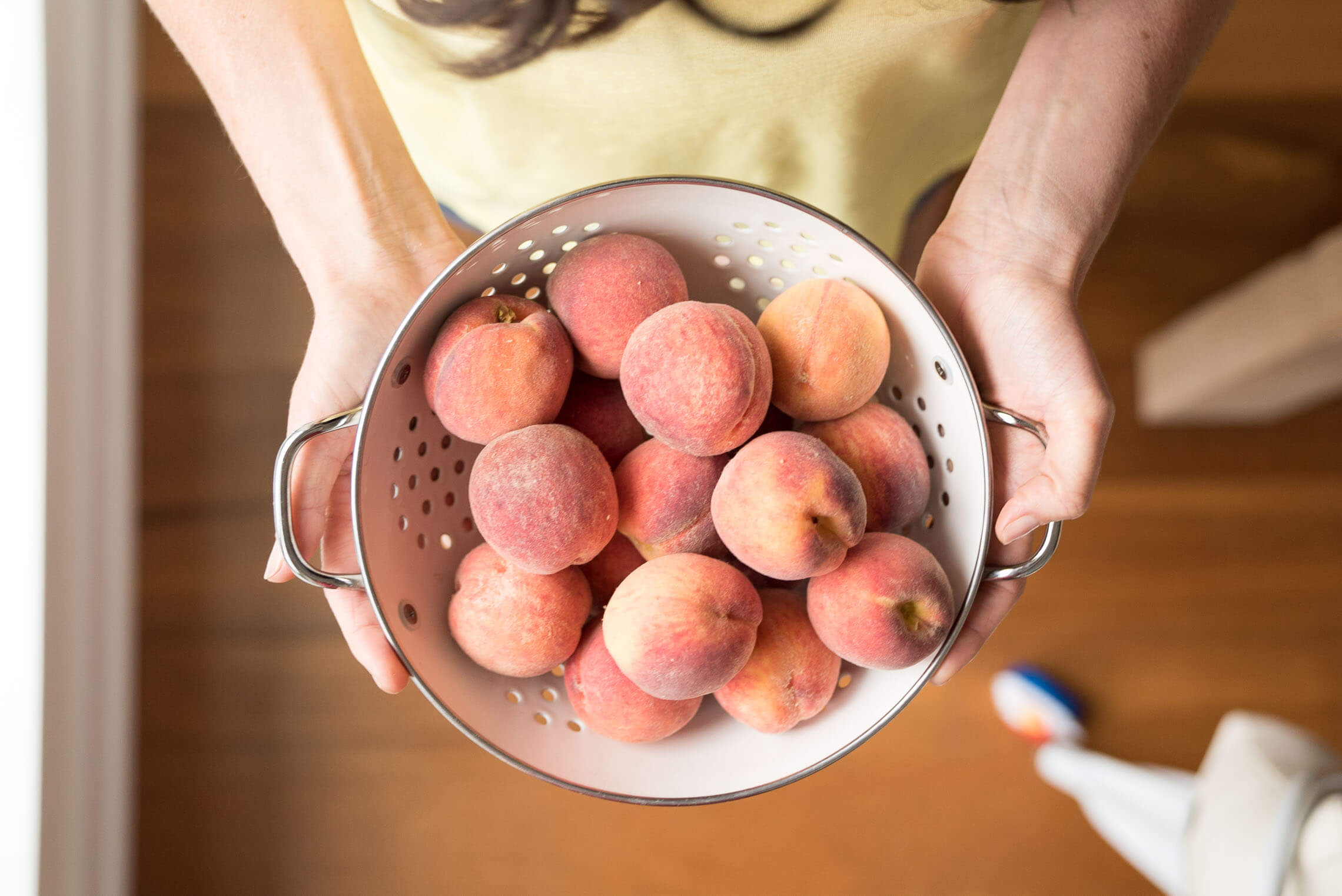 Peaches are full of antioxidant nutrients like vitamin C and carotenoids (a plant-based vitamin A precursor).
To get even more carotenoids, buy yellow peaches. They're not quite as sweet as white peaches, but they've got even more of these eye health–boosting nutrients!

These peaches were soooo juicy, they made my mouth water just looking at them! I may have snuck a few for myself while chopping :)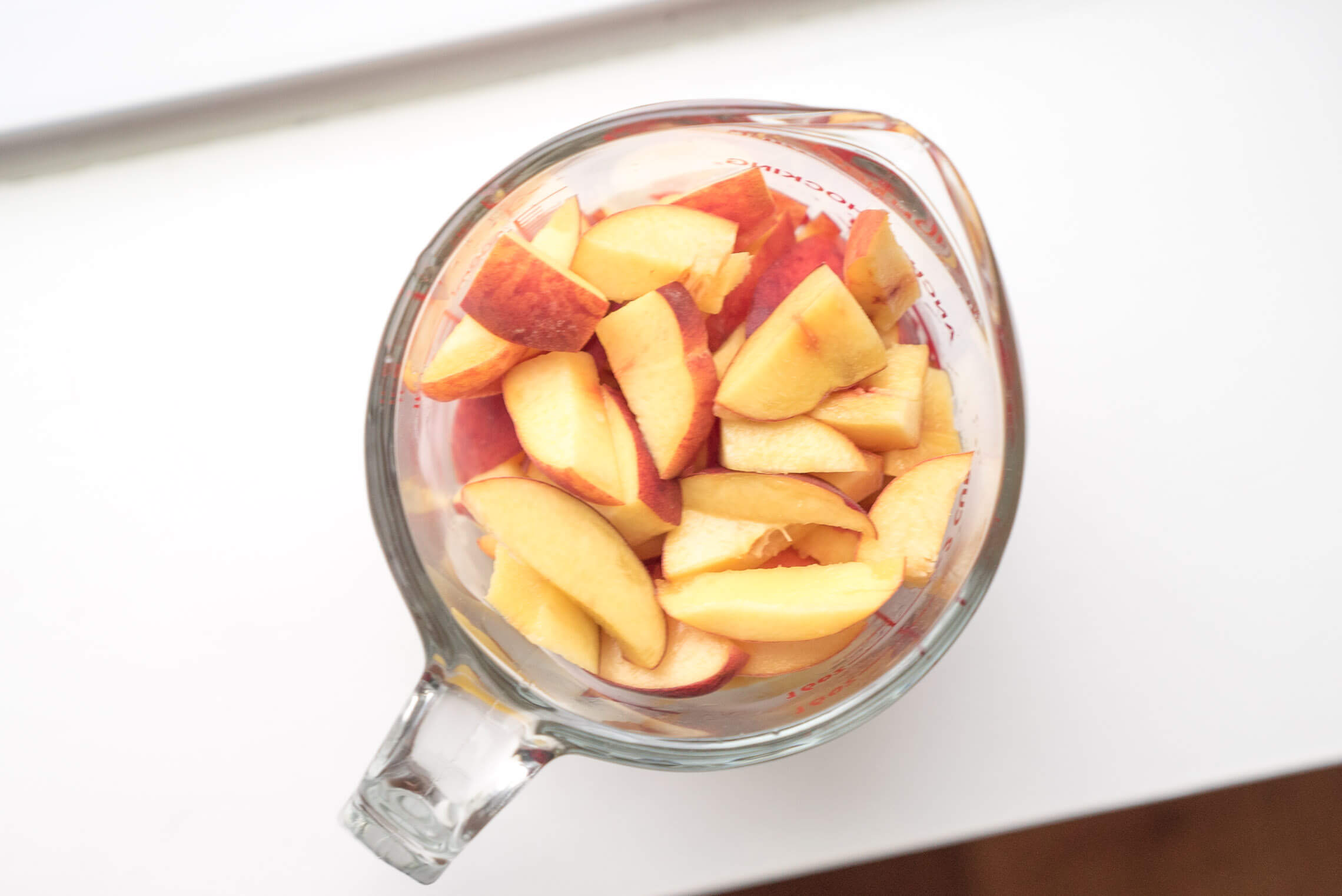 Peaches are also a good plant-based source of iron – not a nutrient we usually associate with sweet foods! There a lot of peach farms here in southern Ontario, so it's a great way to support local farmers this time of year.
And just when you thought this recipe couldn't get any more nutrient-dense, I added wild blueberries! Of course, you can use regular blueberries but I couldn't resist buying wild blueberries when I was at the farmers market.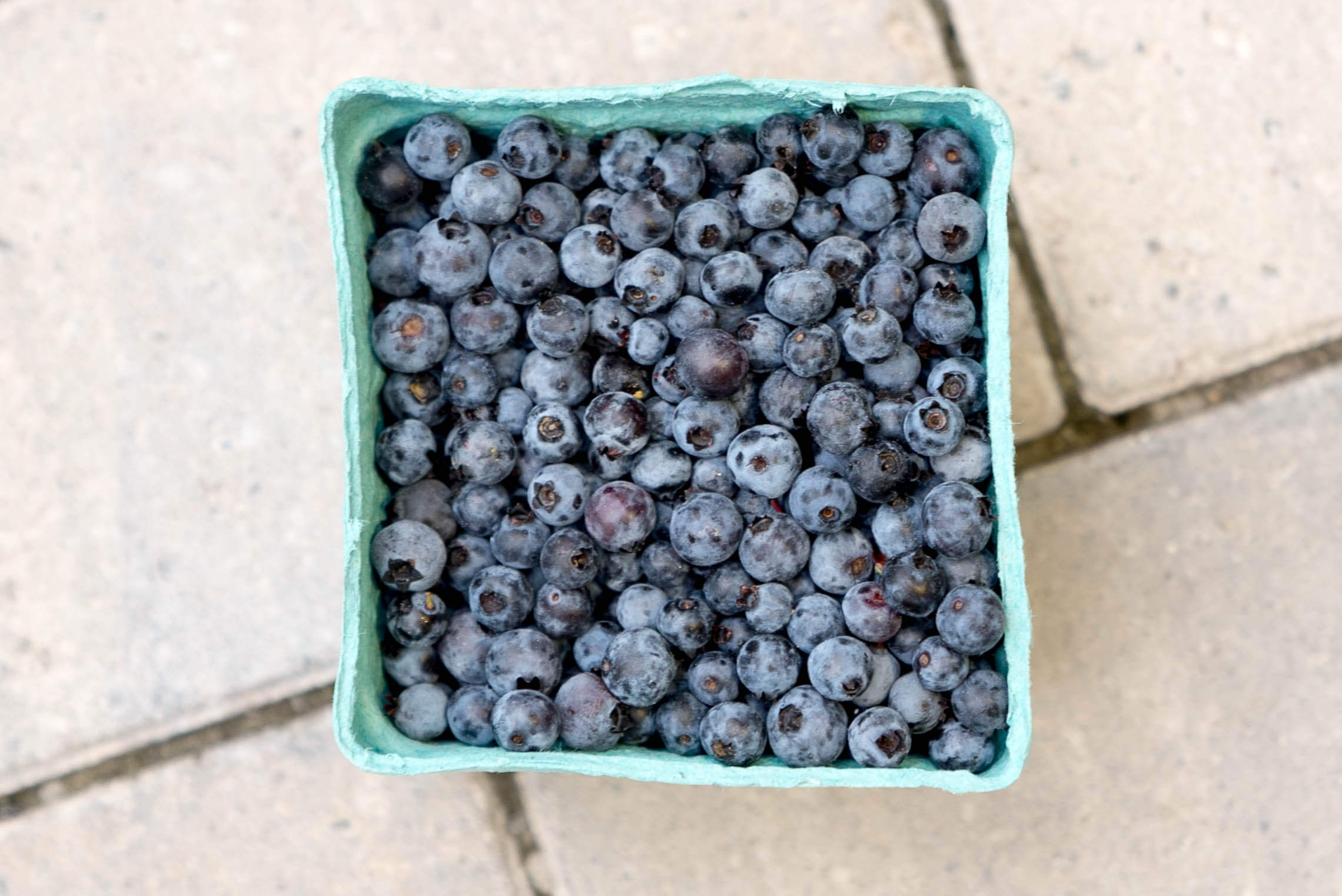 I can't believe I got this far into the summer before I created a new blueberry recipe! Blueberries are now one of Vienna's favourite foods, which is probably why I haven't used them in a recipe as of yet because she typically eats them all. I cut them in half first and she gobbles them right up – my little blueberry monster!
Blueberries have one of the highest antioxidant capacities of any food.
Although they're deliciously sweet (especially in baked goods like this case), blueberries are low on the glycemic index so they won't cause your blood sugar to fluctuate too much. They're also a great source of vitamin C and fibre! Blueberries grow locally here in Canada, but unlike peaches, blueberries are also indigenous to North America, so they're a real local superfood for me!
If you want to get the most nutritional bang for your buck, make sure you buy organic (and preferably wild) blueberries. Not only will they have fewer trace chemicals, but studies show that organic, wild blueberries have a higher antioxidant content. You'll also want to buy organic peaches if you can, sine peaches are one of the foods with the highest rates of pesticide residue, as indiciated by the EWG's 2016 Dirty Dozen list.
Put these two late-summer fruits together, and you've got one super-powered superfood cake!
The recipe is below, but you'll notice the cake batter isn't the consistency where you can just pour it into the pan, it looks like this: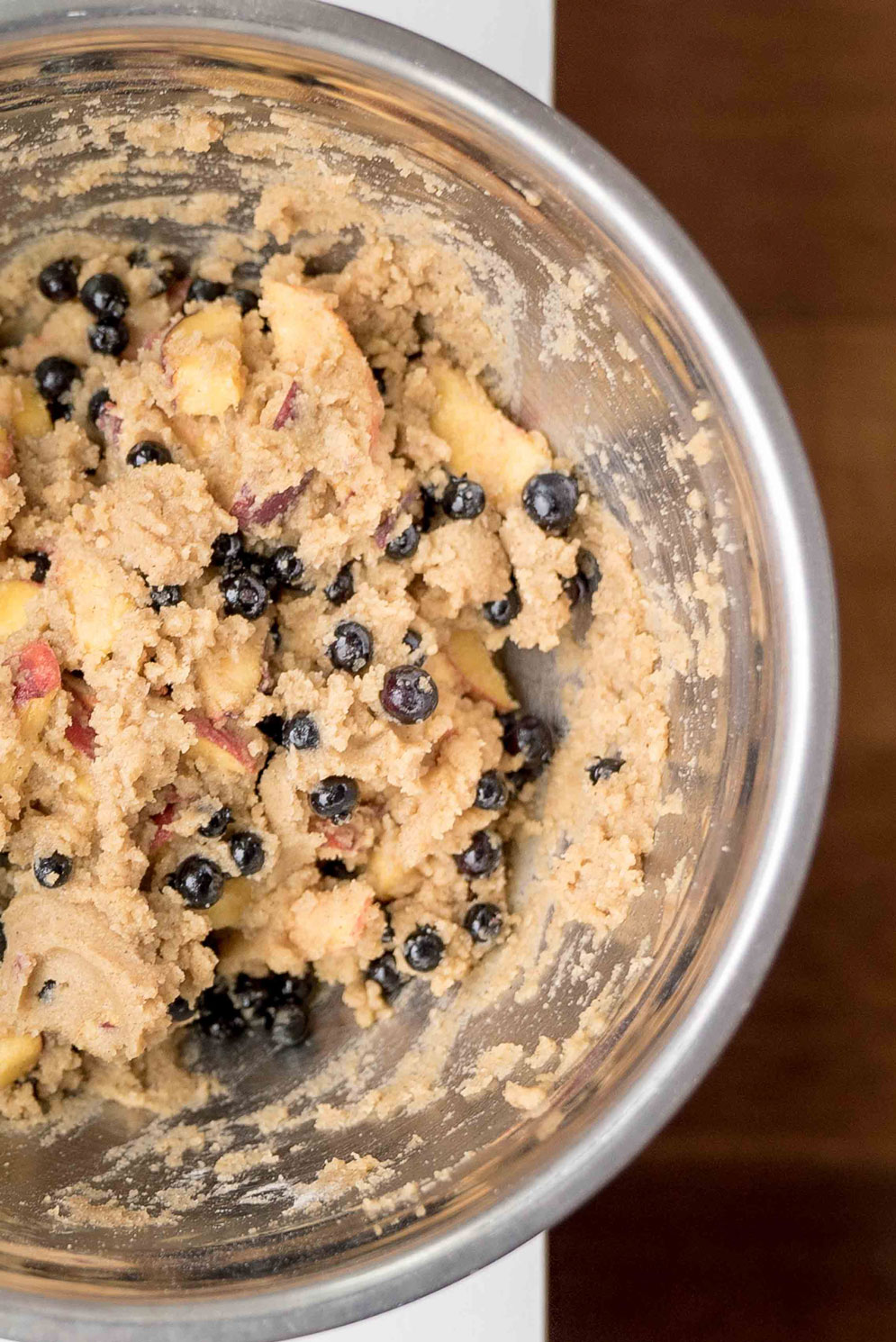 You'll also appreciate it's made with my favourite nutrient-dense gluten-free flour, coconut flour. It is rich in protein and fiber too.
Sweets + Treats
Gluten-free Peach & Wild Blueberry Cake
Save
Print
Ingredients
1 cup brown rice flour
1/2 cup coconut flour*
1/2 tsp baking powder
1 tsp ground cinnamon
1 tsp vanilla extract (liquid or powder)
1/2 cup of real maple syrup
1/2 cup of grapeseed oil or extra virgin olive oil
2 eggs
2 cups roughly chopped organic peaches or chopped mango
1 cup organic blueberries
1 tsp coconut oil
Instructions
Preheat oven to 350F degrees. Grease a 6 or 9 inch springform or tart pan. I've made it both sizes and prefer it in the smaller pan because then the cake is thicker. It's also really nice in a individual tart pans or as I like to call them, "baby tart pans".
In a large bowl combine all the dry ingredients: flours, baking powder and cinnamon.
In another bowl, combine the wet ingredients: vanilla, maple syrup, olive oil and eggs. Add the peaches and blueberries.
Add the wet ingredients to the dry ingredients. Do not over-mix. The batter will be a bit crumbly but you shouldn't see any dry bits (see the photo).
Grease the sides and bottom of the springform pan with coconut oil. Spoon the mixture into the pan.
Bake for approximately 28-30 minutes or until a fork inserted comes out clean. I often bake on the convection setting on my oven so you can expect it to take a little longer if you don't have a convection setting.
Check it at about 25 minutes, if the top is burning place tin foil over top.
---
Notes
Serves 6-8 (depending how hungry you are!)
*Don't have coconut flour? No problem. Use a total of 1 1/2 cups of brown rice flour, it yields a slightly fluffier cake too.
The top turns a nice golden brown when it's done. It's not a fluffy cake, it is more dense like a coffee cake, yet moist and very fulfilling. In fact, I've enjoyed it for breakfast with some sheep's milk yogurt. I think it would be perfect turned into a scone as well. I've made it 2 more times since posting this recipe.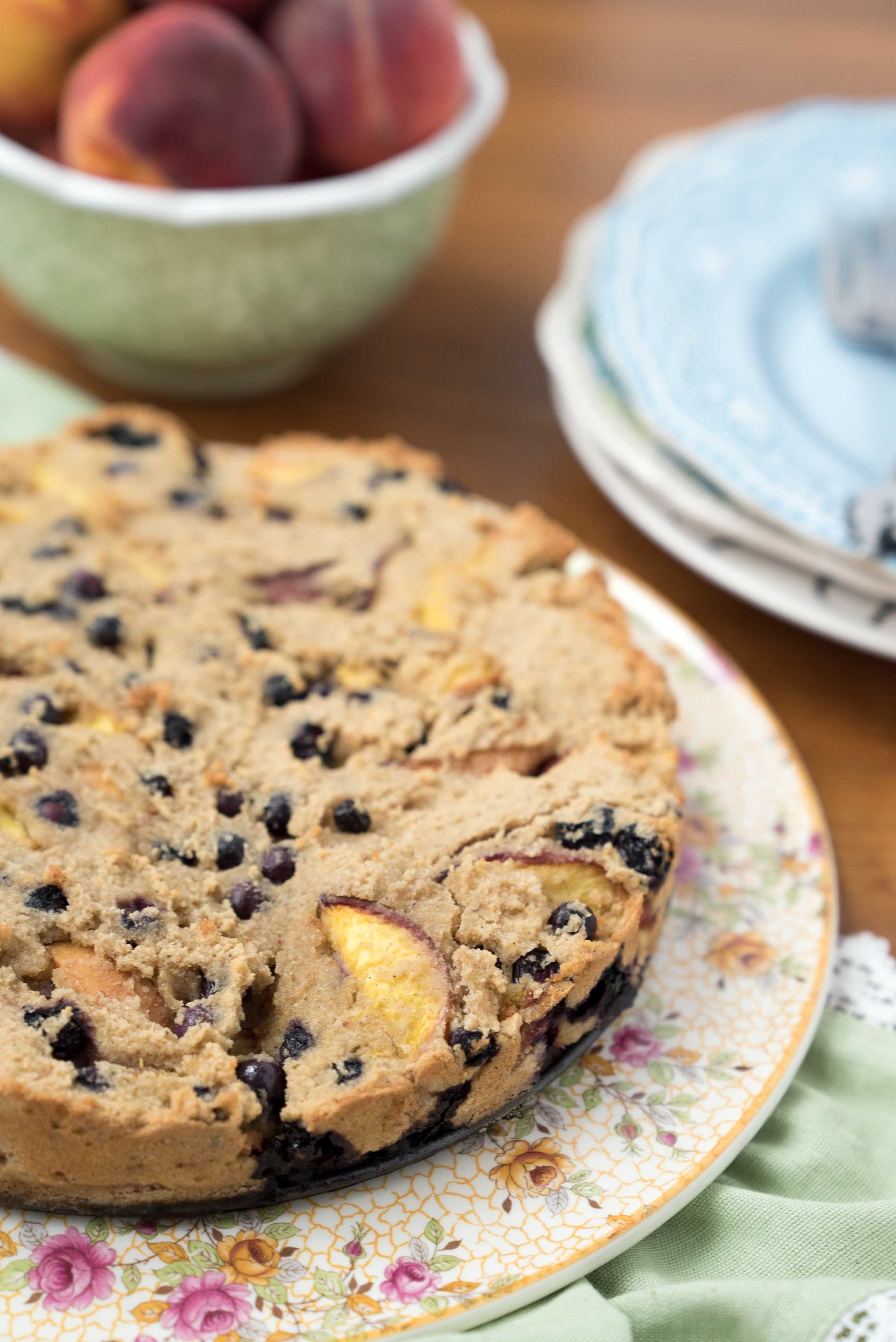 There you have it! My peach and blueberry cake.
Bon appetit!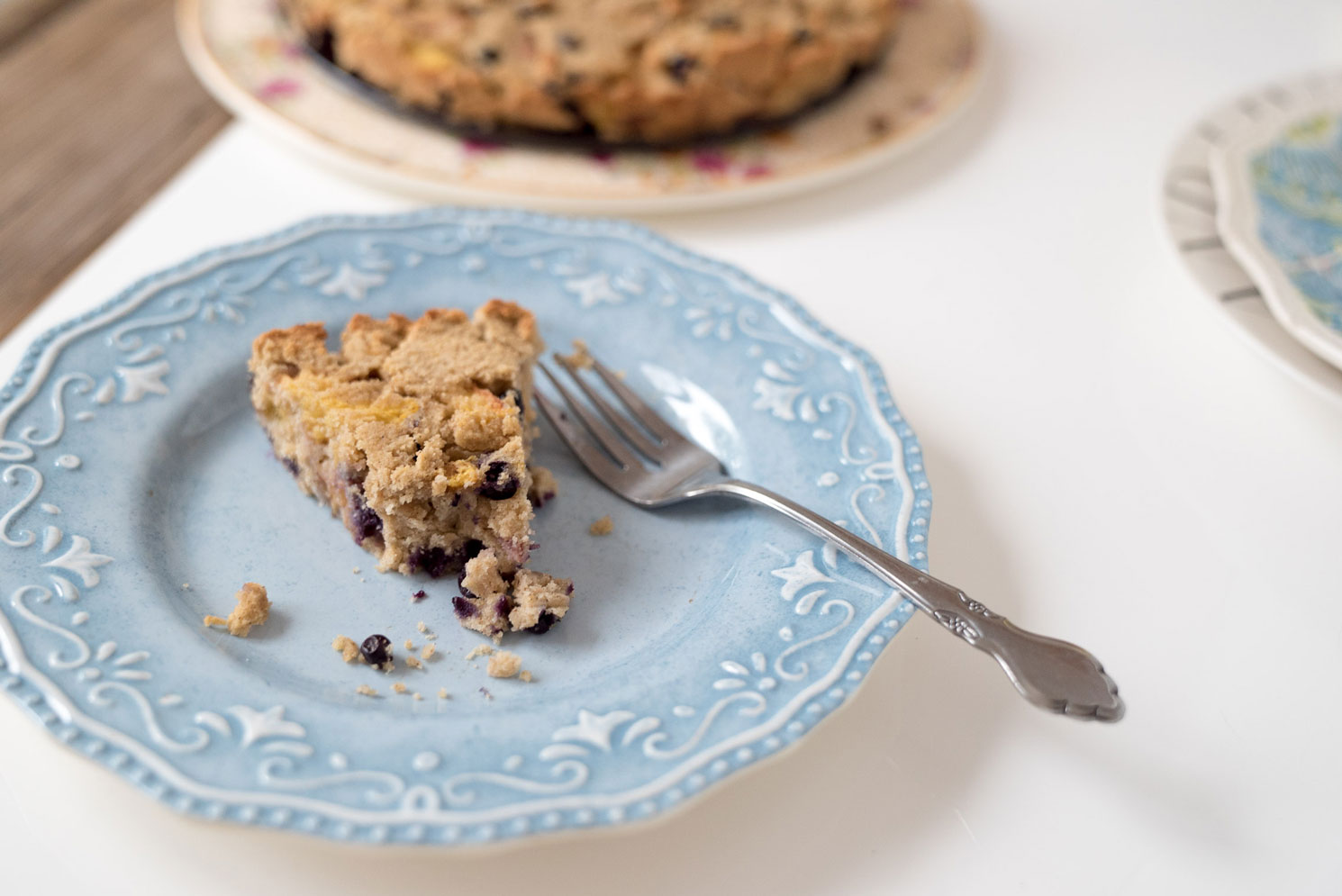 What foods and recipes do you love to use to celebrate the end of summer? Let me know in the comments below!
Have a joyous week!
Joy