In the cooler months, I make granola all the time and I also make bars out of the same recipe! Even though it's still pretty hot in Toronto, I thought I would get a head start. Granola bars are super portable and an easy power snack when hunger hits at inconvenient times. These bars are also perfect for those hectic days when you're running around (like I always am – chasing after a one-year old!!) and want to stay energized and joyous.
I prefer to make my own bars and granola because it's cheaper than buying them pre-packaged and then you can avoid ingredients like refined sugar and GMO canola oil.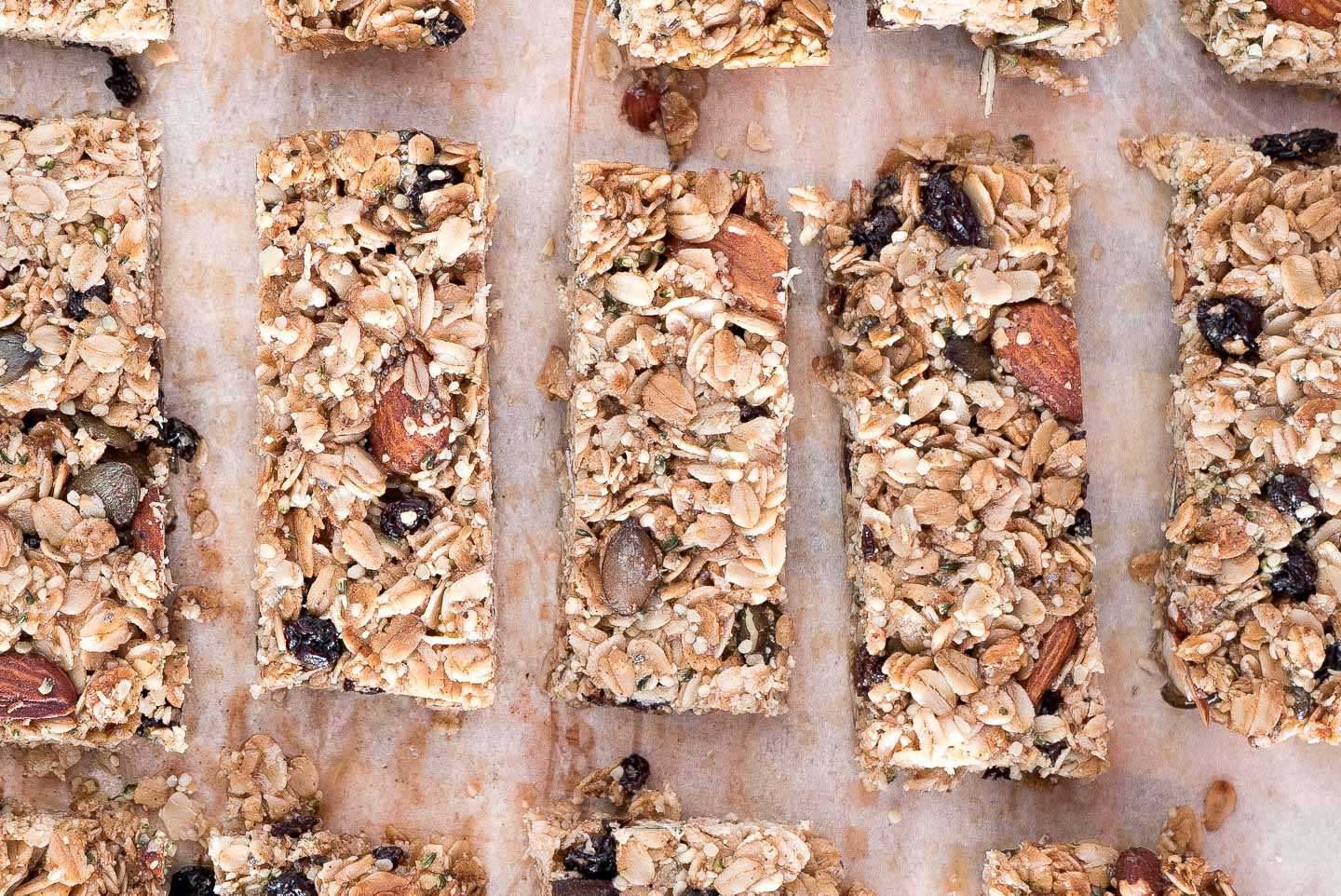 Refined sugar and canola are two ingredients I do my best to avoid, and I find that even so-called cleaner brands of store-bought granola still add canola oil. The reasons I avoid canola are that over 90% of canola is genetically modified and the oil has to be highly refined to make it edible. I would rather just make my own granola, avoid these kinds of ingredients and instead use coconut oil and unrefined sugar, such a brown rice syrup, honey or maple syrup.
This granola bar recipe is one that I've made time and time again because Walker just loves it! It's also delicious made withChocolate Chia Granola, but you could use any of these granola recipes as your base for the bars. I had a huge amount of granola leftover from Vienna's first birthday party, so that's what I used and I added Manitoba Harvest Hemp Heart Toppers. They add a perfect hit of cinnamon and a wonderful dose of protein, healthy fats and fiber.
Hemp hearts are kitchen staple of mine and I eat them pretty much every single day! They also have a coconut and cocoa flavour for the "Hemp Heart toppers" which would also be lovely in these bars.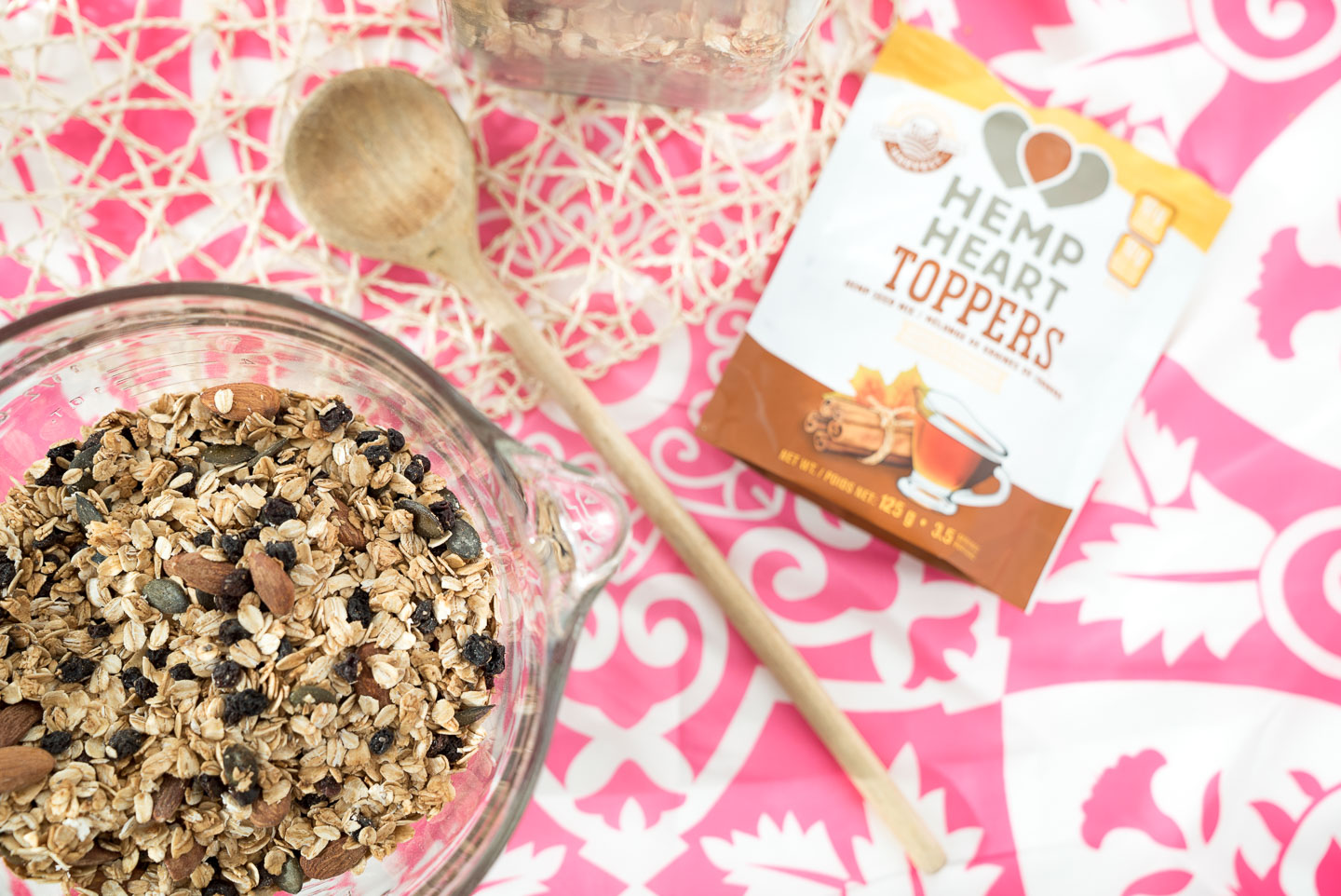 Once you've added all your ingredients to the granola and you put it onto your cookie sheet, if your cookie sheet is too large (like mine is) just use your hands (make sure they're wet so you won't stick) to pack it down. As you can see, it will pack together quite nicely and still sticks well even if the sheet is too large.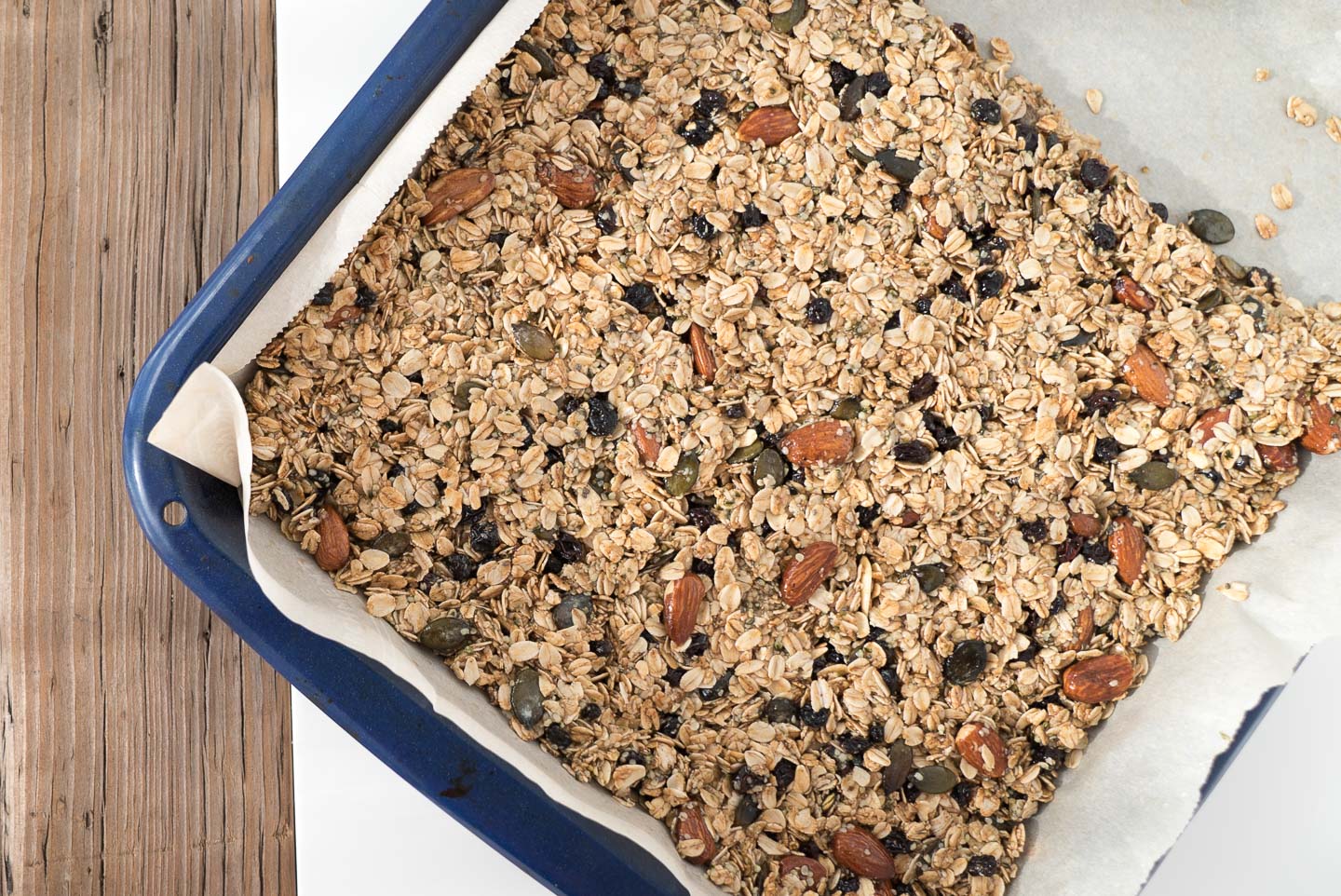 Let the granola cool completely before cutting into bars and removing from the cookie sheet. This will ensure it doesn't fall apart. The brown rice syrup does an excellent job of keeping the ingredients together. If you use a different ingredient to sweeten like maple syrup it may not be as sticky, but certainly as tasty!
Ingredients
4 cups granola*
1 tsp vanilla extract or 1/2 tsp vanilla powder
3/4 cup coconut oil melted (measure when liquid)
1/2 cup brown rice syrup
1/2 cup maple cinnamon hemp heart toppers**
Instructions
Preheat oven to 350 degrees.
Grease or line a cookie sheet with parchment paper.
Combine all ingredients into a large bowl, mix together. Pour onto cookie sheet and press down with your hands (see my tip above about this).
Bake for 10-12 minutes until the granola starts to get bubbly and golden brown.
It's okay if you see the bars bubbling on top. When you remove them from the oven just pat it down with the back of the spoon.
---
Notes
*I used homemade granola that had lots of nuts and seeds in it. I linked some recipes above if you want to make your own.
**I used Hemp Heart Toppers that are a "maple cinnamon" flavour. If you don't have this product, simply use hemp hearts and add 1 tsp of cinnamon and 1 tsp of maple syrup.
I used brown rice syrup for two reasons, it's low in the glycemic index and because it's very sticky it is great for holding these together. You could also use maple syrup but I don't think it will stick as well. Honey is another option, I just never bake with honey because heat destroys all the beneficial enzymes, but if you don't care about that then honey will do too!
Makes about 24 bars
The second best part of making these bars is that your kitchen is going to smell amazing! The best part is that you have a super yummy power snack for a couple of weeks – well . . . that depends on how many people are helping you eat them.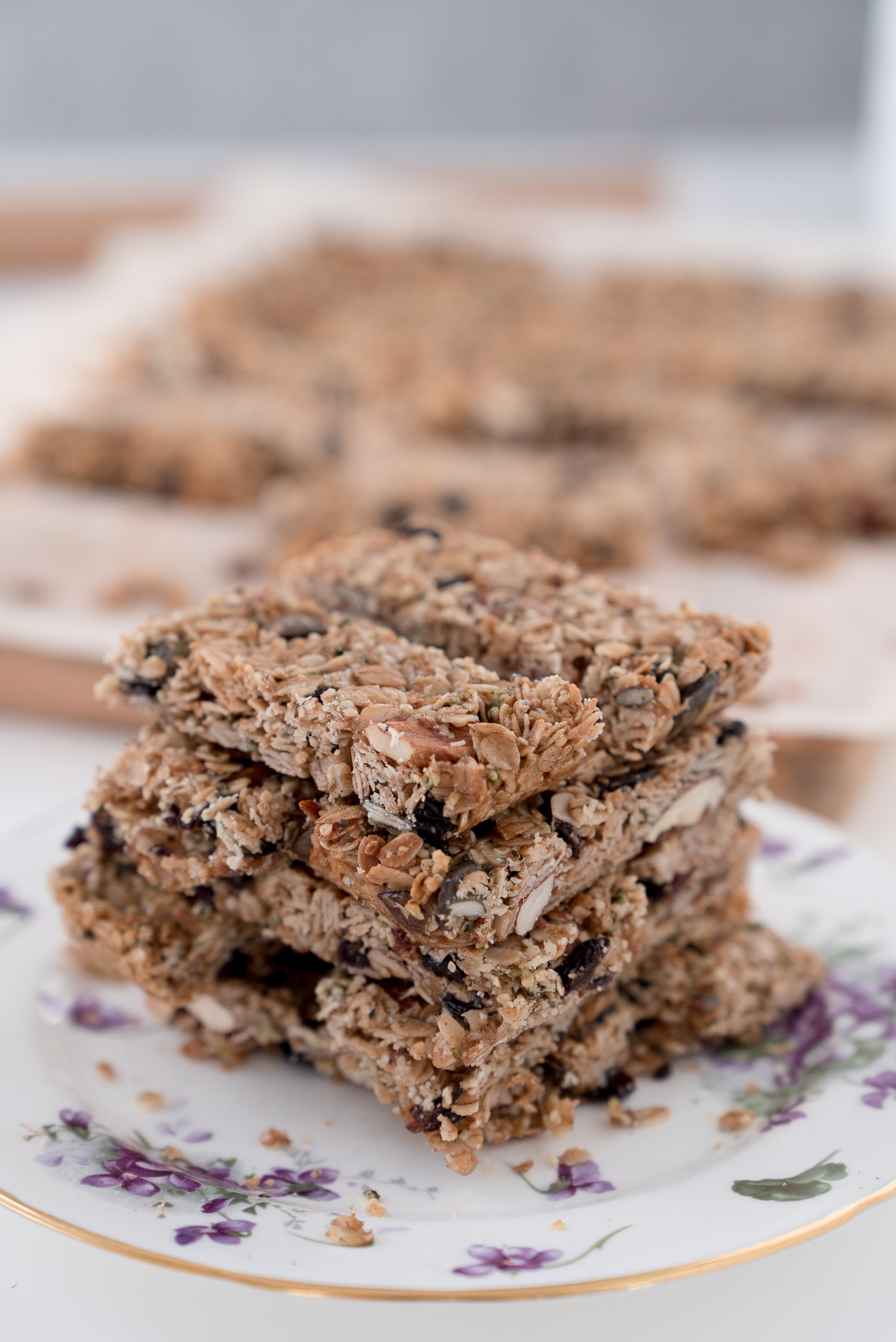 I'm happy to tell you that these granola bars won't fall apart, as evidenced by my granola-Jenga structure in the photo above.
I know what I'm gonna be munching on all week while chasing after Vienna because she's full-on walking everywhere now! Follow me on Instagram Stories and you'll see what I mean.
When you make these, be sure to tag #joyoushealth on Instagram. I always love seeing your creations!
Have a joyous week!
Joy