Note from Joy:
Hey all! I'm thrilled to have Gabrielle of eyecandypopper.com sharing this incredibly delicious recipe from her ebook. I LOVE lentils, I buy sprouted lentils for soups and stews because they are a rich source of plant-based protein and minerals such as blood building iron which is important for energy. Be sure to scroll to the end of the post to get your special gift from Gabrielle and visit my instagram to learn how you can enter to win a copy of her ebook!
Excerpt from her new ebook:
Lentils have a bad rep, but they are so versatile, very nutritious and one of the easiest legumes to digest. A really easy way to switch out some of your regular protein source. Lentils of all kinds are delicious in soups and salads, like this one below, that can be enjoyed warm or cold.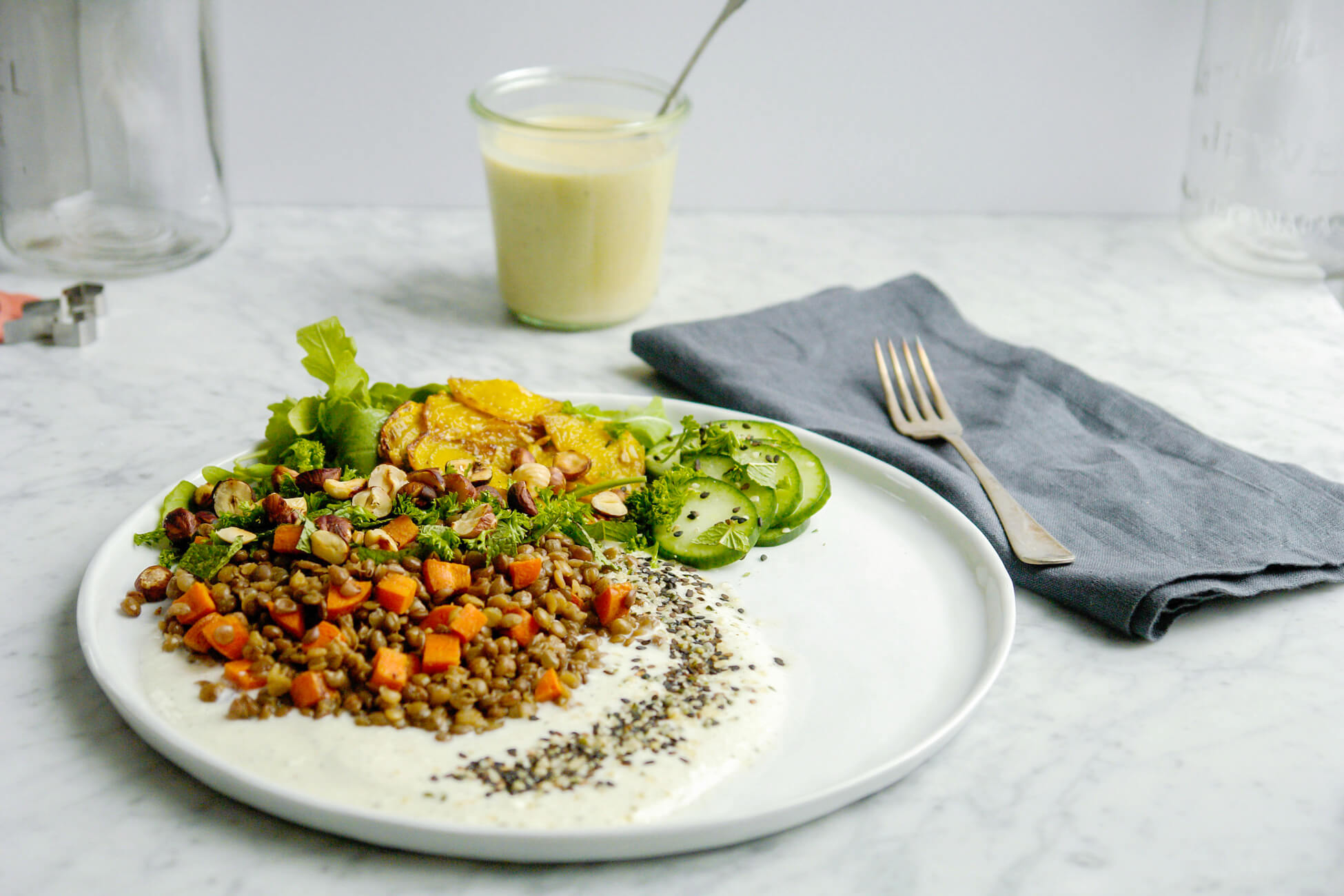 Salad + Snacks
French Lentil Salad with Lemon Tahini Dressing
Save
Print
Salad
1 cup french lentils, washed and soaked for 20-50 minutes
1 large carrot, cut into cubes
1-2 medium size beets, sliced
1-2 garlic cloves, minced
1 tbsp olive oil
1/4 tsp sea salt
1/2 cup hazelnuts, raw or dry roasted
1 handful arugula, sprouts or lettuce
1 tbsp sesame seeds
1 tbsp hemp seeds
fresh mint
fresh parsley
Dressing
1/4 cup tahini
1/4 cup freshly squeezed lemon
2 tbsp raw apple cider vinegar
1 tbsp amber maple syrup
1/3 olive oil or sesame oil
pinch of sea salt and pepper
Instructions
To make the dressing, put all the ingredients in a container with an airtight lid, close and shake really well until it's combined.
For the salad, put the soaked lentils into pot and fill with filtered water. Bring to a boil then reduce the heat to low, cover with a lid and cook for 20 minutes.
In a pan over medium heat, drizzle with olive oil, add the beet slices and the minced garlic, and cook for a couple of minutes on each side, or until nicely golden. Put aside on a plate.
Reuse the same pan while it's still hot (medium heat) to quickly saute the carrot cubes until they start to roast. Drizzle a bit more olive oil if the pan is too dry. This should also be quick, 3-5 minutes. Remove from heat.
Serve the salad with a small handful of greens, the cooked lentils and carrots, the roasted beets and garlic, sprinkle with coarsely chopped parsley, mint and sesame seeds (if using), some hemp seeds and toasted hazelnuts. Generously drizzle the dressing.
Enjoy the salad warm or cold. Great for lunches!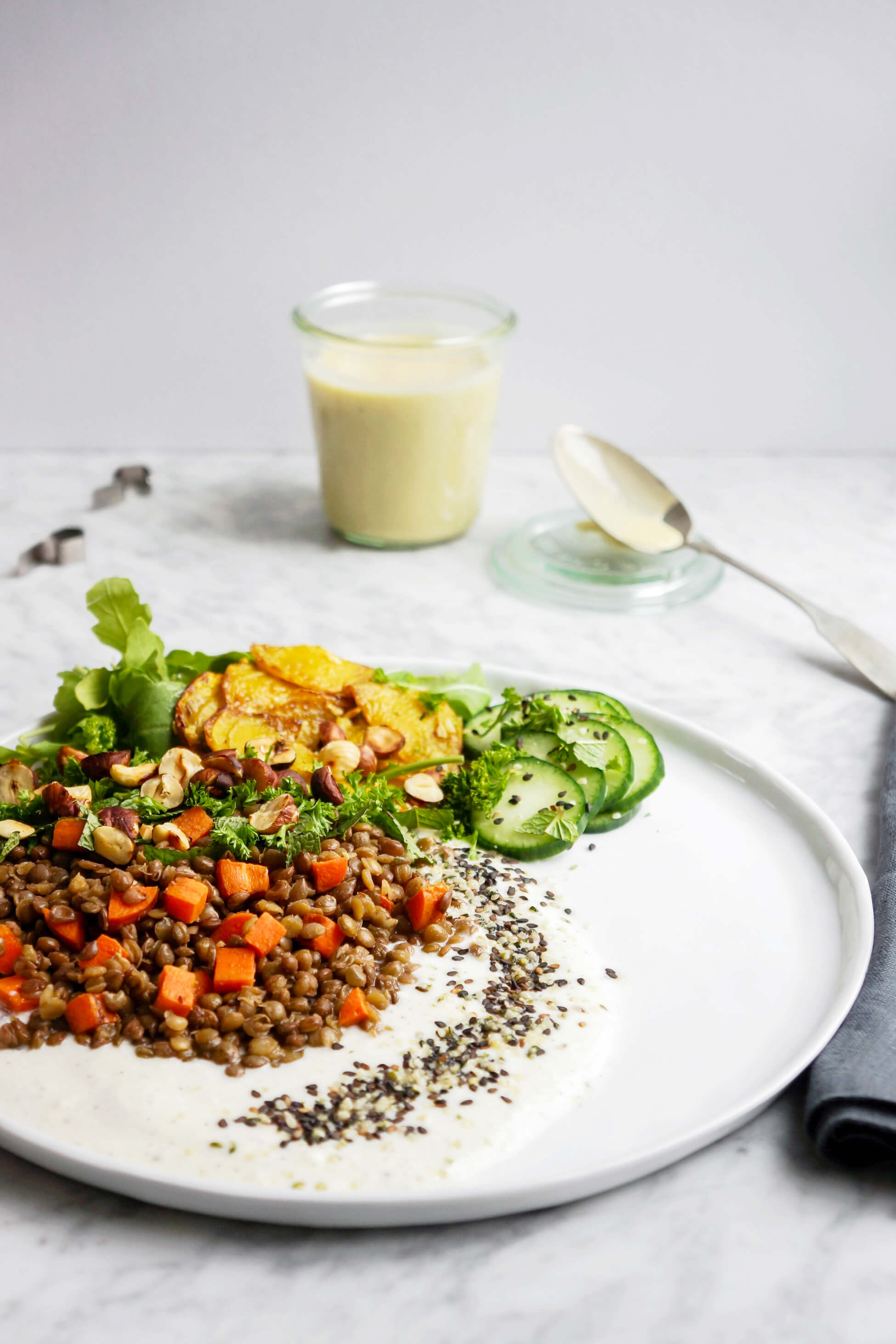 Excerpt with permission from eyecandypopper.com for joyoushealth.com Real. Good. Food. - Simple vegan and vegetarian recipes for everyday meals.
Gabrielle has so graciously offered joyous readers 20% off her new eCookbook, Real. Good. Food - Simple vegan and vegetarian recipes for everyday meals when you use the coupon code "JOY20" which you can find over here. This offer will be valid until March 10th 2017.