I was experimenting in the kitchen with some almond flour and ended up creating some magic in the form of these delicious gluten and dairy-free gems.
Even as a kid I used to love combining ingredients and testing them. And to think it all started with an Easy-Bake oven one Christmas given to me by my great aunt. If you were a young girl in the 80's (actually the Easy-Bake has been around since the 60's), then you probably know exactly what I'm talking about. One word on cooking with a light bulb: AWESOME. I was already an enthusiastic baker at five (no you cannot make these cookies with an Easy-Bake).
Ma McCarthy, of course, tried out everything I baked and loved it all. But it was often my brother who kept me honest. Back then, my creations were a bit hit and miss, but fast forward to today and I'm proud to say that my baking is not only healthy (thanks to being a nutritionist), but delicious! That said, my brother is still known to turn up his nose if my cookies are what he calls "too healthy". Little does he know I consider that a compliment!
Not only is this cookie chewy and delicious, but the ingredients make it superpower worthy, such as:
Excellent source of nutrients: Vitamin C, E, calcium, magnesium, potassium, antioxidant flavanoids
Good fat to make it satisfying and fulfilling (fat promotes the secretion of the hormone leptin which signals the "stop eating" mechanism in your brain).
A protein component to make it snack-worthy and blood-sugar balancing.
Easy on the sugar, to prevent you from crashing.
Easy to make, bake and eat - who doesn't love that?
Chewy and Delicious, Almond Coconut Power Cookies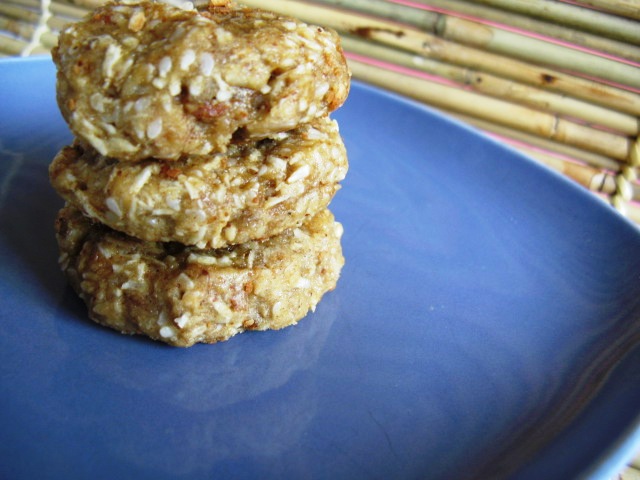 Ingredients:
1-3/4 cups almond flour (don't pack the flour down, it's very dense and you will use too much if you pack it)
1 cup rolled oats (use certified "GF" oats if necessary, soak for 5 hours if you have trouble digesting oats)
1/2 cup of coconut flakes. Look for unsulfured to avoid "sulfites" which can promote allergies.
1/4 cup sesame seeds
1/2 cup sucanat sugar (lower in glycemic index and less processed than regular sugar)
3 organic eggs (Vegan option: 1 egg = 2 tbsp finely ground flax seeds, 3 tbsp water)
2 tbsp almond butter
1/4 cup organic coconut oil
Method: Combine all the dry ingredients together in a large bowl. In a separate bowl, whisk the eggs and add the almond butter and coconut oil, stir together. Combine both the wet and dry ingredients until the batter has no dry bits. Form into 1 inch balls and flatten with a fork onto a greased cookie sheet. Note: If you find the batter too dry (as almond flour can vary in moisture content) you can add 1/4 almond milk as well.Bake at 350 degrees for 10-12 minutes. Watch the cookies carefully, every oven varies a little bit in cooking time.Makes 2-3 dozen little gems of deliciousness.
Some gluten-free diets do NOT allow oats and if you are celiac, I strongly advise you to avoid. So please use your own discretion with this recipe. You can buy Bob's Red Mill gluten-free oats, but they are sometimes tough to find (at least that's what people tell me).
How to enJOY: These little power gems are great for breakfast with some yogurt and fruit or as an energizing afternoon snack to keep that belly from growling. I suggest you limit your serving size to 1-2 per day - I know, it will be tough because they are so good!
Have a beautiful weekend!
Joy