Good day joyous readers,
I love really easy recipes. I'm sure you've noticed? :)
Life is busy, I want fast food and I don't want to sacrifice either my health or taste in doing so. Which brings me to my recipe today that I shared on the Morning Show, which you can watch below -- it's fast, healthy, delicious, without additives or junk. Three cheers for whole, good, real, food!
Oh and have you noticed that I've now made my recipes "printable"? I know many of you have groaned about it being rather annoying when you print a recipe and you get 10 pages with it (don't worry, I don't blame you). I've listened and installed a swanky plug-in doo-dadd so you can print off this recipe joyously! Let me know if you like it please.
Sweets + Treats
No-Bake Chocolate Chip Protein Squares
Save
Print
Ingredients
2 bananas (mash them with a fork into a bowl)
2 cups of oats or quinoa flakes
1/2 cup organic chocolate chips (look for "fair-trade" if possible or use raw cacao nibs)
2 heaping spoonfuls almond butter
1 tbsp of cinnamon
1 tsp of sea salt
1 scoop your favourite plant-based protein protein powder (I used chocolate Vegan proteins+)
Instructions
In a large bowl, combine all ingredients. Mix well together.
Line a square dish with parchment paper.
Place the mixture into the square dish and flatten it evenly with your hands
(tip: wet your hands so the mixture doesn't stick to you) Cover the container and place in the freezer for 30 minutes. Remove from the freezer, slice into bars or squares.
---
Notes
The great thing about this recipe is you can use any size pan. The smaller the pan, the thicker the bars and conversely, the large the pan, the thinner.
Also, if you want to make sure this recipe is truly gluten-free as it can be, use certified "gf" oats and chips. Quinoa flakes are naturally gluten-free of course.
I also made these sans the chocolate with cranberries and another time I made them with dried cherries -- loved the tartness.
So all you would need to do is use the exact same amount of dried cranberries or cherries in place of the chocolate chips. The ones you see in the photo below are with cranberries and I used vanilla protein powder too, instead of chocolate.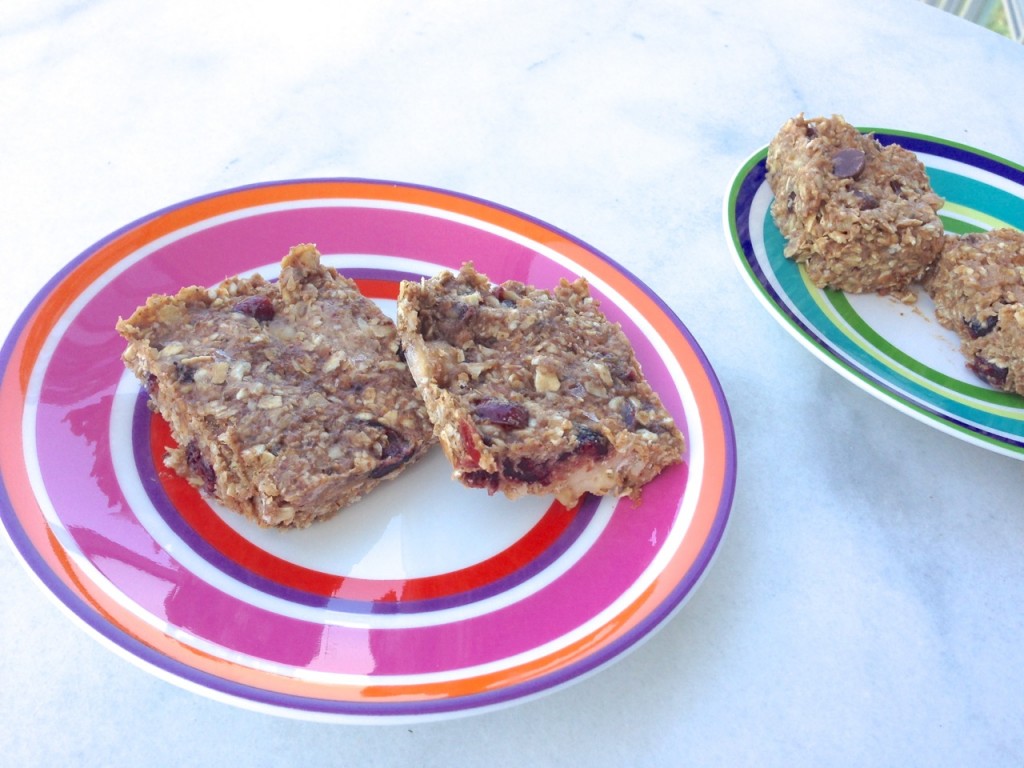 As you know I love photos, so tweet, instagram or facebook your recipe photo of these bars to me and enter to win 2 bottles of my favourite plant based protein powder by Genuine Health: Vegan proteins+ in BOTH chocolate and vanilla (780g bottle). Approximate retail value is $80-100!
We will randomly select one winner on Tuesday September 3, 2013. Good luck everyone!
Before I go, here is my segment on increasing the nutritional density of your food. How? Make food combinations that include fat and phytonutrients (plant foods) and you actually enhance the absorption. For example, if you eat tomatoes with avocado, you will absorb more cancer-preventative lycopene!