Dear Carrot Cake lovers,
Pretty much everywhere I go these days to teach a workshop or do a book signing I sample my carrot cake balls (a recipe from my book) and always sneak a few for myself of course. In fact, I'm doing a book signing tonight! If you've been the recipient of a ball or two, I hope you loved them. I sample this recipe at talks and book signings because it's the perfect introduction to the delicious, healthy recipes in my book, it's gluten-free, dairy-free, raw and can even be vegan if you swap out the honey for maple syrup.
You can have your cake and eat it too! If it's joyous-approved of course ;)
I created this recipe at least five or more years ago as I've been a lover of carrot cake for as long as I can remember. Since this is a cherished recipe in my book, I decided to create a video of it to share it with the world. I realize my book is not available on every corner of the earth (it's out in the U.S. market May 6th), so I hope you enjoy this recipe. Many people have been making these balls and sharing the photos via instagram or twitter with hashtag #joyoushealth. So please share your photo with me! I love to see what you've created.
Here's the recipe video and a printable version is below as well.
I've made these balls on the Steven & Chris show too. I tend to modify them to what I have on hand so you'll notice many times I've modified the recipe based on what was in my kitchen. I love to add vegan protein powder to kick up the protein. The key to making this recipe taste like carrot cake are the high quality spices. Be sure to buy certified organic when you can for the cinnamon, nutmeg and cloves.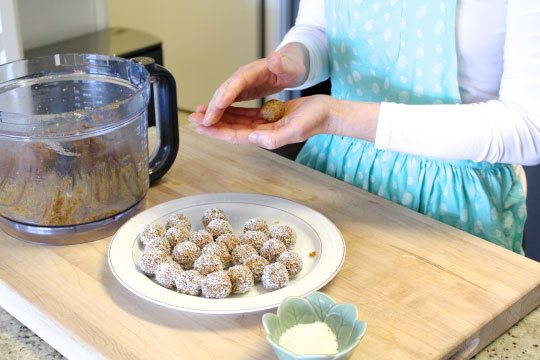 A little tip for you when rolling the balls. They can be sticky, so either wet your hands a little or rub some coconut oil on them and they will be much easier to roll.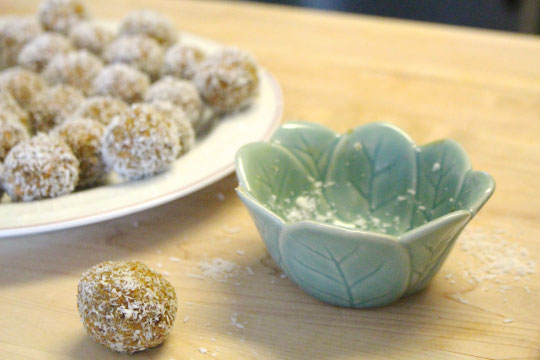 Ingredients
3/4 cup unsweetened shredded coconut
6 medjool dates, pitted
3/4 cup any nut you have on hand, my original recipe has walnuts but I often use almonds
1/2 cup grated carrots (only pre-grate if you have to, some food processors will do the work for you!)
1/4 cup shelled hemp seeds (aka hemp hearts) or plant-based protein powder
1/4 cup honey
1 tsp pure vanilla extract (only required if your protein powder doesn't contain vanilla)
1 tsp ground cinnamon
1/2 tsp ground nutmeg
1/4 tsp ground cloves
Instructions
Reserve 1/4 cup (60 mL) shredded coconut in a shallow dish for rolling.
Place remaining ingredients in a high-powered food processor (you won't have to pre-shred the carrots if you have a high power processor) and process until fully combined.
Form mixture into 1-inch (2.5 cm) balls and roll in reserved shredded coconut, coating balls completely. Transfer to a baking sheet and refrigerate for a few hours or overnight.
Keep chilled, or freeze in an airtight container for a few months (though I guarantee they won't last that long).
Enjoy 1 or 2 as a snack or dessert.
---
Notes
Many people have told me they don't have a food processor. Yes, you could do these in a blender just keep in mind like any raw cookie with nuts and dates the ingredients tend to get stuck around the blade which I why I prefer a processor.. makes things a little easier!
Joyous thanks to my publisher Penguin Canada and Genuine Health for making this video possible!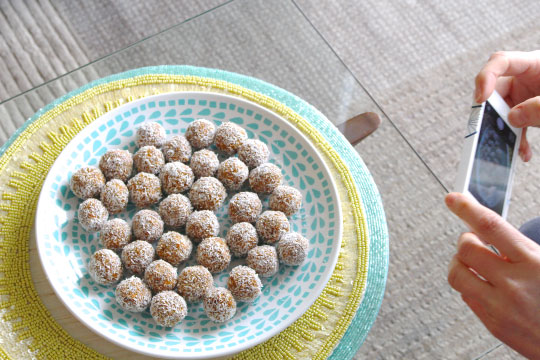 The photo above is me sharing on instagram of course... I love sharing my love of healthy delicious food with everyone. Do be sure to share your photos and hashtag #JoyousHealth when you make these delicious little balls of goodness.
Have a joyous day!
Joy
ps. Another little tip... take off any rings when rolling these balls to avoid getting carrot cake in your jewels. :)