Hey guys!
I woke up this morning feeling totally craving a fresh juice. Not surprisingly as I've been sweating more these days because I've upped the ante on my workouts! I've been doing Eat Clean Body Lean (Walker's daily energizers sure do get my heart-rate up) and barreworks (it's like a ballet bootcamp). However, I'm feeling stronger and my bike rides to the office are getting faster and faster!
The Hydrator Juice was the perfect way to start the day because not only is it full of electrolytic minerals such as potassium, magnesium, sodium (celery) but it's incredibly hydrating to my joyous cells. Most of the veggies and fruits I used are over 85% water content.
When you hydrate properly, your body can work more efficiently overall to burn fat, eliminate wastes, digest food and create beautiful skin from within. That's been the theme lately from my segment on Global last week to my workshop tomorrow -- beautify from the inside out.
Here's the recipe, I hope you enjoy it!
Ingredients
Half a cucumber
4 celery* stalks
1 lime
4 kale leaves
1 grapefruit
3 carrots
Instructions
Using a juice extractor, place all the fruits and veggies in one by one.
---
Notes
You can juice the celery tops, the leafy part. I had to cut it off because it was a little slimy and you don't want to eat that!
By the way, have you tried the Watermelon Cucumber Salad yet? Talk about getting your hydration from food!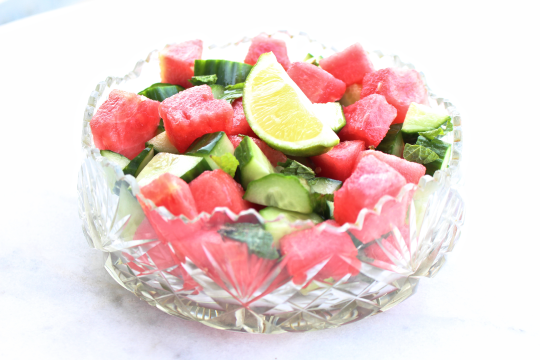 Have a joyous day!
Joy