Update: The photo above is an update from the original post. I used raspberry jam in place of fresh strawberries -- an easy swap! You can use fresh fruit or jam, it's up to you.
Hello my joyous friends,
I've been enjoying these gems for a few days now since I made them last week! As you might already know, I love chocolate at breakfast so I've been starting my day with a healthy hit of energizing cacao.
Apologies for not sharing them sooner. Eek! I know many of you on instagram have been dying to get your hands on the recipe. I've been a busy bee. However, I'm happy to report that they taste as decadent and wonderful as they look so they will be worth waiting for! But you won't have to wait very long because now you have the recipe and can make them in a snap.
Hopefully you saw my previous past raw cacao vs. cocoa and you are now an informed expert on the difference! For this recipe I highly recommend using raw cacao because of all those delicious health benefits.
Sweets + Treats
Strawberry Almond Butter Chocolate Cups
Save
Print
Ingredients
2/3 cup raw cacao powder
1/2 cup coconut oil
1/4 cup maple syrup (give it a taste test and add more depending on how sweet you like it)
1/3 cup almond butter
1/4 cup crushed or smashed strawberries
Instructions
In a small pot on very low heat, combine raw cacao, coconut oil and maple syrup and melt. Stirring constantly to ensure the chocolate doesn't burn.
Pour half of the mixture in 8 small cups divided. Place in freezer for 25-30 minutes until near frozen. You need to save the other half of the chocolate mixture for the very last layer.
Then, warm almond butter on stove top on low heat so it's easy to pour on top of the chocolate
Place the cups back in the freezer for another 20 minutes or so to allow the almond butter to solidify.
Using a potato masher or fork or if you are fancy, a food processor and smash the strawberries so they are like jam or jam-like. Basically you want them to form a layer on top of the chocolate and almond butter. Now that you have your smashed strawberries, place a layer on top of the almond butter. Freeze again.
With the remaining chocolate mixture which you may need to warm again, pour on top of all 3 layers. Place in the freezer until totally frozen, a couple of hours.
Just before serving, slice up a few strawberries to garnish and sprinkle with some coconut flakes because it makes them look extra pretty!
---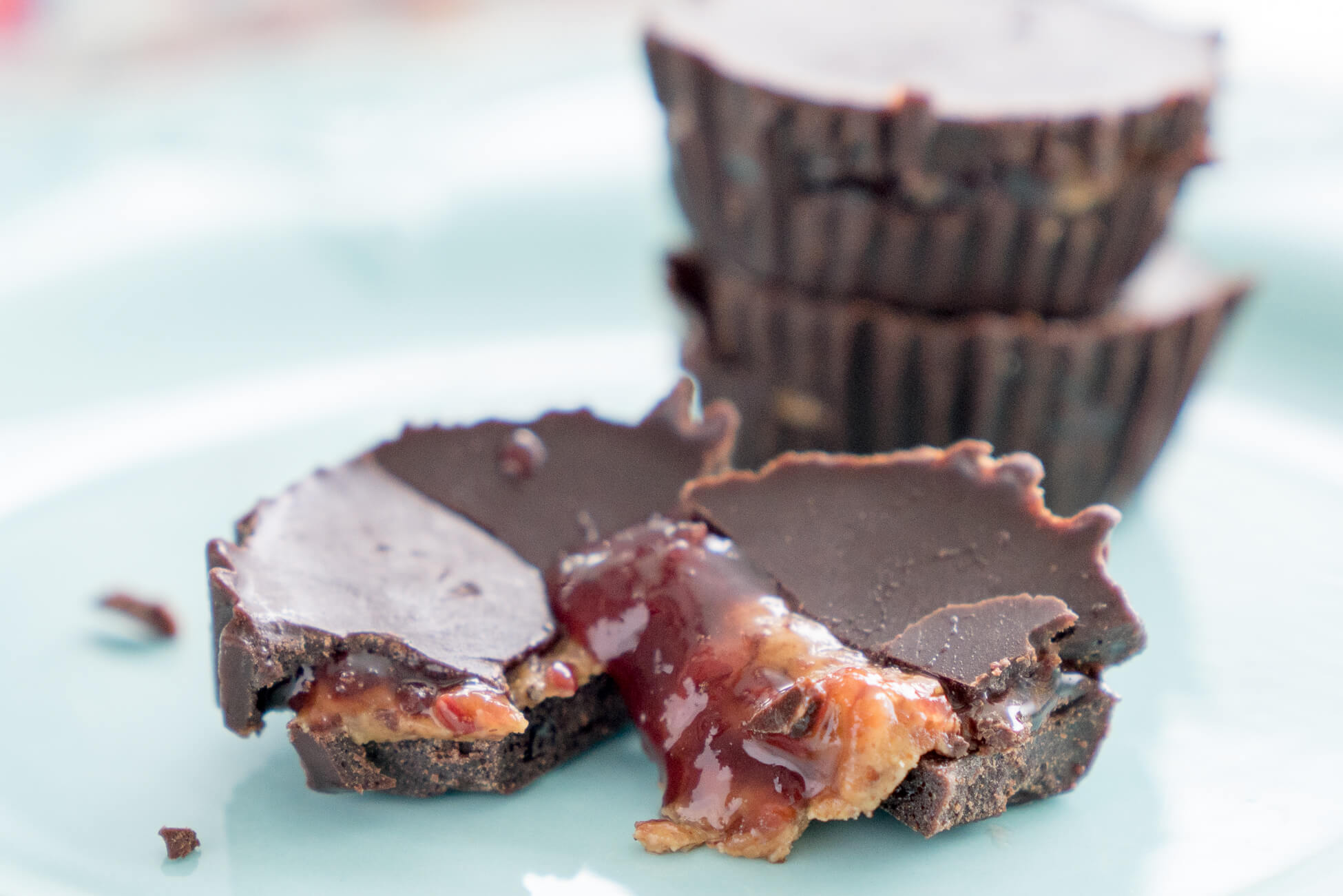 The next time you have dinner guests or you've been invited to a potluck, bring these cups because everyone will think you are a chocolatier -- they are THAT wonderful. Just writing this post makes me want to make them again because sadly I have none left to eat.
Important Joyous Tip: They should be enjoyed right out of the fridge or freezer because they melt VERY quickly. So they might not be the best treat to take to a picnic or BBQ unless you can keep them refrigerated.
Please do share with me below and tell me what you think!
Have a joyous day,
Joy