Every summer we take some time off from working at the joyous health HQ and travel! Not only do we get some much needed rest and relaxation but I always get a megadose of "foodspiration" from other cultures near and far.
This summer we have been travelling through Europe - Austria, Hungary and Czech Republic. The first leg of our trip we stayed at my father-in-law's beautiful home in southern Austria, a couple hours north of the Italian border on lake Wörthersee -- this is the lake where IronMan Austria is held every year.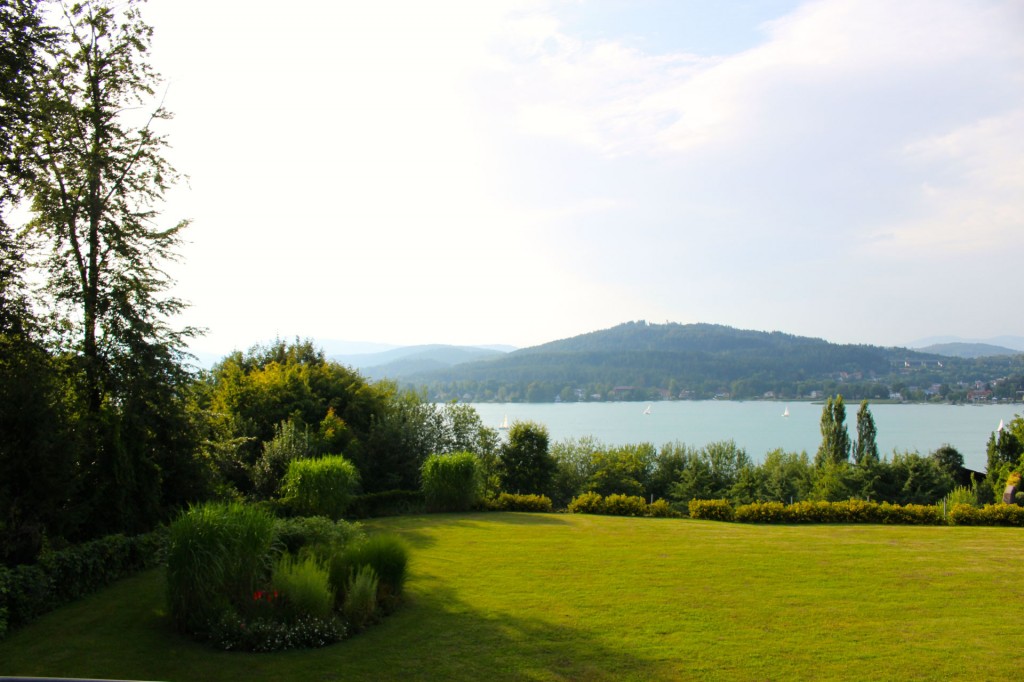 The gorgeous view above is from his balcony -- we are surrounded by mountains, trees and water. As you can probably imagine, it is incredibly rejuvenating. This morning I had a run through the hilly trails behind Walker's dad's home. I saw deer, ducks, cows and a falcon!
One very important factor for a joyous travel experience in my books is eating amazing or rather "supa" food (in German). At restaurants in Austria I enjoy plenty of local fish, veggies (sauerkraut) and Walker opts for the local pub fare which consists of goulash, wiener wurstel, schnitzel and so on - equally as yummy. We also enjoy many memorable breakfasts at his dad's home.
Lucky for me, Walker made me breakie. This simple, open face and delicious breakfast sandwich is the recipe I'm sharing with you today. Tartine means "fancy open face sandwich", hence the name Walker's Breakie Tartine -- quite fitting don't you think?! ;)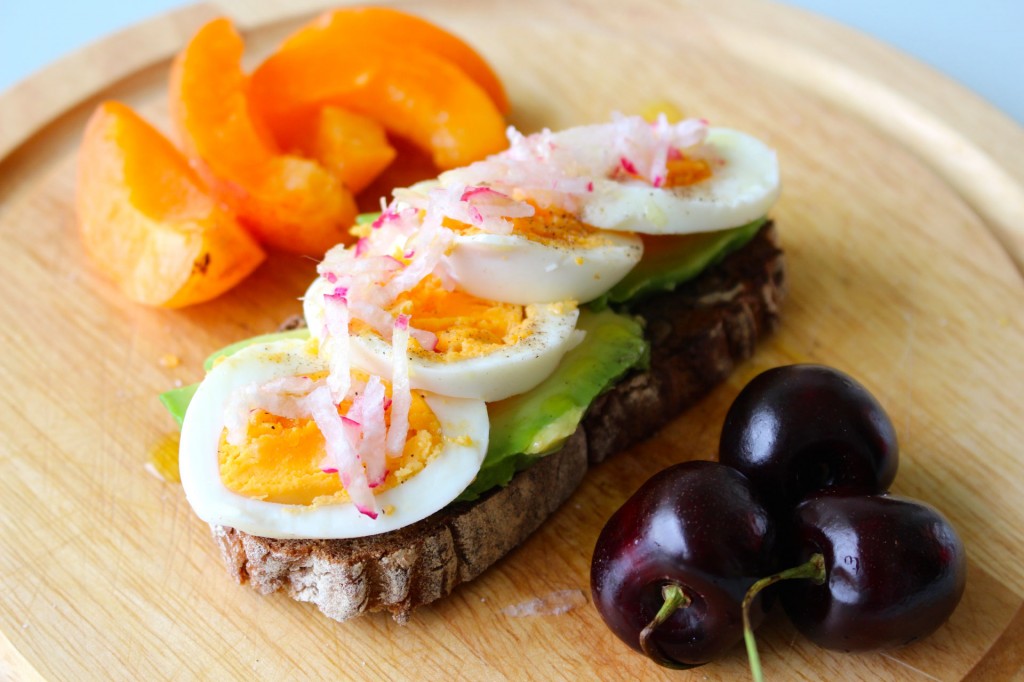 There is a "supa" farmers market in Klagenfurt close to his dad's home. We bought our eggs, bread and a few other items there. It is open daily. If you ever visit Klagenfurt you must go to this market. It swells in size on Thursdays when the vendors triple or quadruple. Everything your heart desires from Italian cookies to freshly cracked walnuts, Austrian baked goods and local harvest from farmers nearby.
You can see my farmers market treats on instagram.
Nutritional Highlights:
The cherries and apricots are in season right now and I've become a little apricot obsessed this whole trip! We've also travelled to Vienna, Budapest and Prague – so I've enjoyed apricots everywhere I can.
This breakfast sandwich is a really great way to start your day. You get protein and brain boosting nutrients such as essential fatty acids, choline, lecithin and more from the eggs. Anti-inflammatory monounsaturated fats from the avocado, plus fiber and more fiber.
You can learn all about the health benefits of radishes here. Don't toss out the radish leaves though because they contain six times the vitamin C! Mix them in your next salad.
You could easily use your favourite gluten-free or grain-free bread.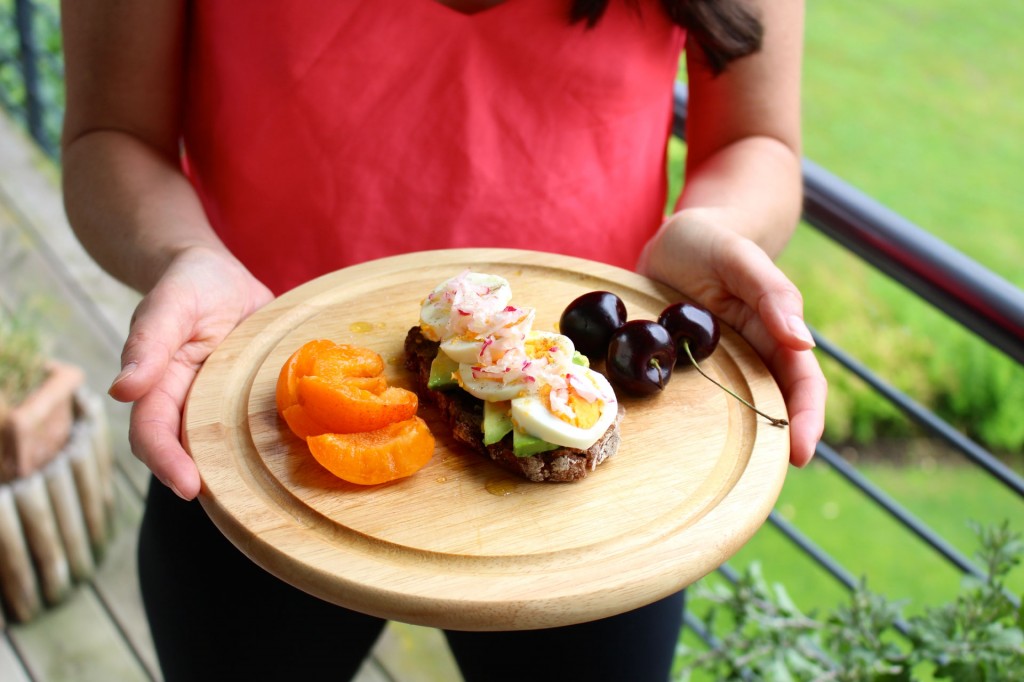 Ingredients
2 slices toasted bread
2 poached or hard boiled eggs, thinly sliced
1 avocado, thinly sliced
4 radishes, grated or thinly sliced
Dollop of extra-virgin olive oil (evoo)
Pinch of sea salt and pepper
Instructions
Poach or hard boil your eggs. I find the perfect hard boiled egg is 6-7 minutes.
Drizzle some evoo on the toasted bread.
Layer with avocado, eggs and then radish.
Sprinkle with sea salt and pepper!
---
Notes
This could serve 1 or 2 people. I personally find that 1 egg with half an avocado is perfect with some fruit for me. Walker could easily eat two of these tartines to himself.
If you are a fan of tartines you must try the Avocado Kale Tartine from my book Joyous Health! (photo below)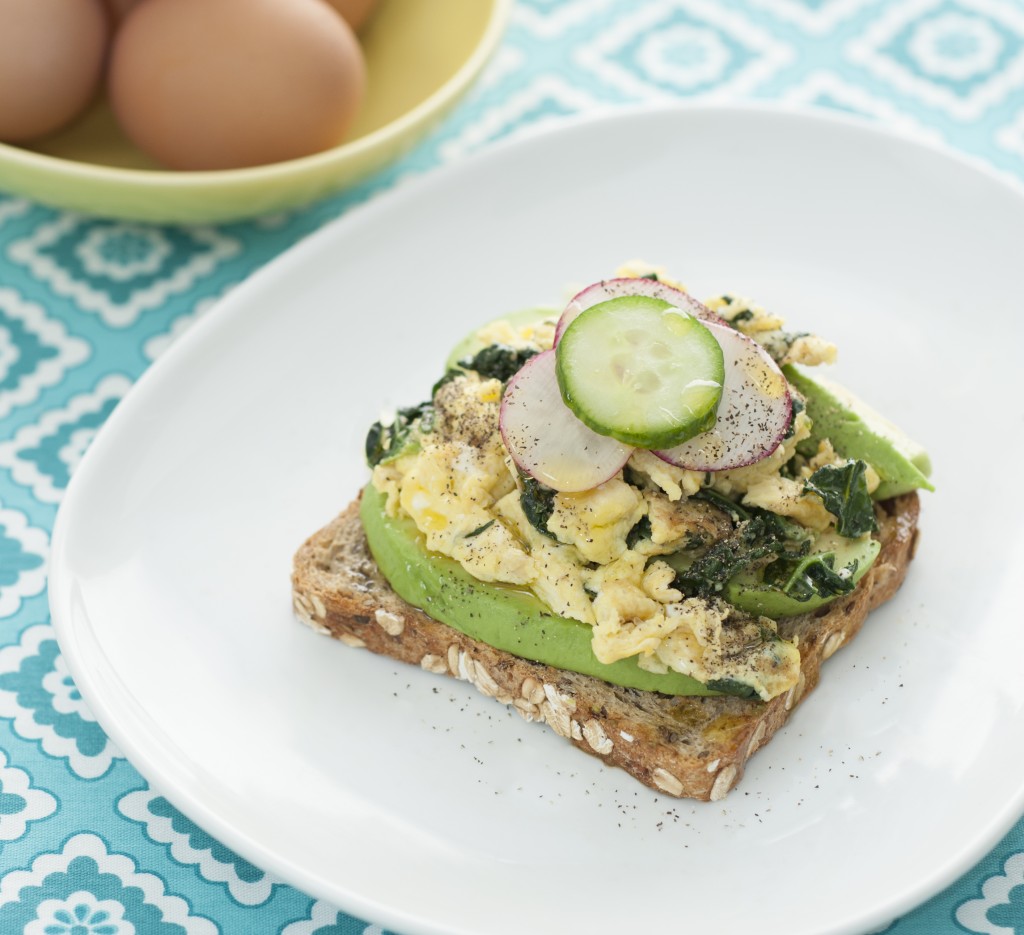 Have a joyous day!
Joy