SAUSAGE? WHAT? Joy eats sausage you might be thinking!? I sure do! I've noticed that people are always somewhat confused when I post photos of animal-based foods on instagram. I'm a flexitarian which means I eat both plant and animal foods as I find this is what makes me feel energized and keeps my skin healthy.
No matter your dietary choice, I recommend you focus on "quality" food for your most joyous health.
Although the large majority of recipe posts on Joyous Health are plant-based, I do enjoy a good quality meat sauce with chicken or turkey sausage especially when it's freezing cold outside (like it is this week!). I have always adjusted my eating to the seasons and recommend you do too.
You'll want to make sure you read your package labels. Most grocery stores sell factory farmed sausage with nitrates and other preservatives. This is the sausage you want to avoid. I shop at a variety of places from farmers markets to Cumbrae's and The Healthy Butcher for the best cuts of chicken, turkey and meat.
I'm pretty confident if you have little ones or teens to feed they'll love this spaghetti squash recipe. And if you're the main cook then you'll love how easy it is to make!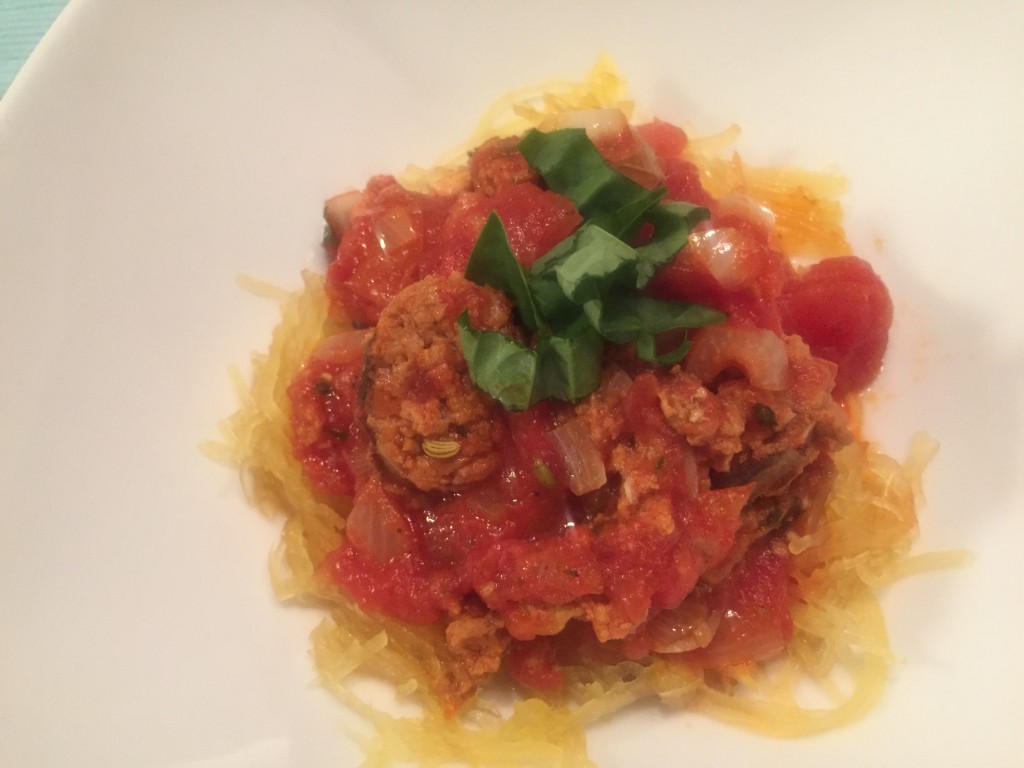 Mains + Sides
Spicy Sausage with Spaghetti Squash Pasta
Save
Print
Ingredients
Serves 2 with leftovers or 4 moderately
For the Sauce
1 can whole tomatoes (look for low-sodium)* or your own fresh tomato sauce 2.5 cups
3 turkey or chicken spicy sausages**
1 whole white onion, finely chopped
2 garlic cloves, finely chopped
1 tbsp olive oil, watered down
Sea salt and pepper
Fresh basil
For the Spaghetti Squash Pasta
1 organic spaghetti squash, cut in half lengthwise and remove seeds
Instructions
In a medium saucepan, sautee onion and garlic in olive oil with some water to dilute the oil and prevent it from oxidizing. Add the tomatoes and let simmer. Season as you like. Don't add the basil until just before the sauce is ready.
---
Notes
*If canned tomatoes are a staple in your home then I recommend you buy whole tomatoes in a glass bottle. They will be more expensive but they will be BPA-free. As far as I know, you cannot get BPA-free canned tomatoes.
**Go to your local butcher. I shop at the Healthy Butcher and Rowe Farms. Many large grocery stores offer organic, nitrate-free sausage.
If the sausage isn't spicy enough and you want to kick it up a notch add 1 tbsp of dried red chilies or chop of 1-2 fresh chilis.
You can double or quadruple this recipe if you have a big family or if you want to get ahead and freeze it for future meals. I highly recommend you do because it's incredibly flavourful and satisfying.
Have a joyous day!
Joy