Acne is your body's way of telling you it is out of balance. It won't go away until you correct the imbalances causing it in the first place. Perhaps this a blessing in disguise?! What I mean by that is your body is providing you with a symptom (acne) that something is not right. And this is the foundation of holistic nutrition -- address the root cause to clear up the symptom.
Unfortunately, adult acne has become extremely common as you can see based on these stats from WebMD:
In their 20s, 50.9% of women and 42.5% of men in their 20s reported experiencing adult acne
In their 30s, 35.2% of women and 20.1% of men reported adult acne
In their 40s, 26.3% of women and 12% of men reported experiencing acne
I've seen a huge rise in my own clinical practice of clients suffering from acne over the last five years. The good news is that you don't have to suffer and there are in fact many natural solutions that do not have the negative health implications that antibiotics and Accutane have.
I've put together this video for you on my top natural health and nutrition tips to combating acne. Please feel free to post your questions in the comments section below or on my YouTube channel.
These are the seven solutions I discuss in my video: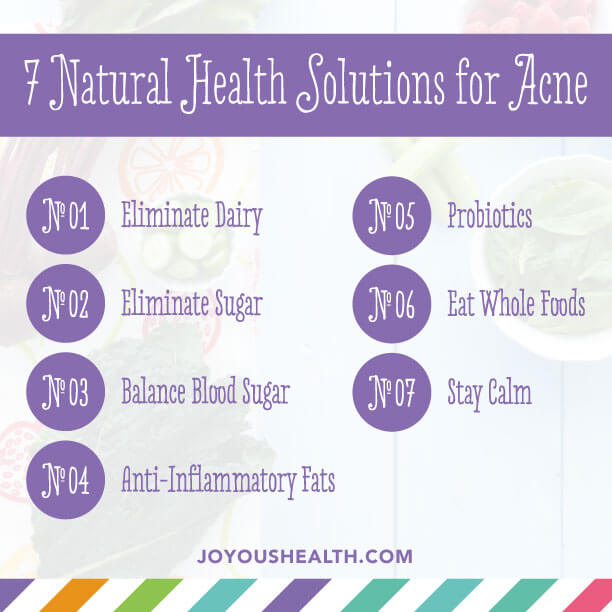 Hungry for more natural health info on problem skin?
Check out this recent podcast with the Red Tent Sisters: Unexpected Solutions to Problem Skin.
In the 20-minute session, I discuss:
My own personal journey to clearer, happier skin (and why I'm passionate about holistic health)
Why mainstream "solutions" can actually make things worse
How food allergies could be affecting your skin
The importance of including protein and fat into every meal;
The connection between hormonal birth control, constipation and acne (one more reason to ditch the pill!)
I can understand that acne can be extremely hard on your self-esteem and very stressful. My hope is that these solutions definitely help you achieve the beautiful glowing skin you deserve.
If you really want to take control of your health once and for all then I highly recommend the Joyous 10-Day Detox. I've had thousands of people do this program over the years with incredible success clearing up their skin by eliminating the problem foods that promote inflammation and hormonal imbalance -- the root cause of acne.
I wish you joyous health, which includes GLOWING SKIN!
Joy