Raise your hand if you like creamy salad dressings?! Meeee too!! Especially now that fall is just around the corner and I don't want to give up eating raw salads, adding a creamy and delicious salad dressing is a match made in real-food-heaven.
The problem with store-bought salad dressings is that they are made to sit on the shelf for months at a time which means chemicals and additives galore. This is just gross. Do yourself a favour, go check the ingredients list of that creamy dressing in your fridge and if every single ingredient is not actually a real whole food, toss it out!
This salad dressing is creamy and tastes similar to a Caesar dressing, only better! Believe me, you won't miss the store-bought stuff one bitty. Cashews are the perfect nut to make dressings creamy in place of dairy or mayonnaise.
Here's the step-by-step instructions and the FULL recipe is below.
Add your soaked cashews to the food processor. I didn't have to lug out my 30lb food processor for this recipe thank goodness! This fit into a mini-food processor.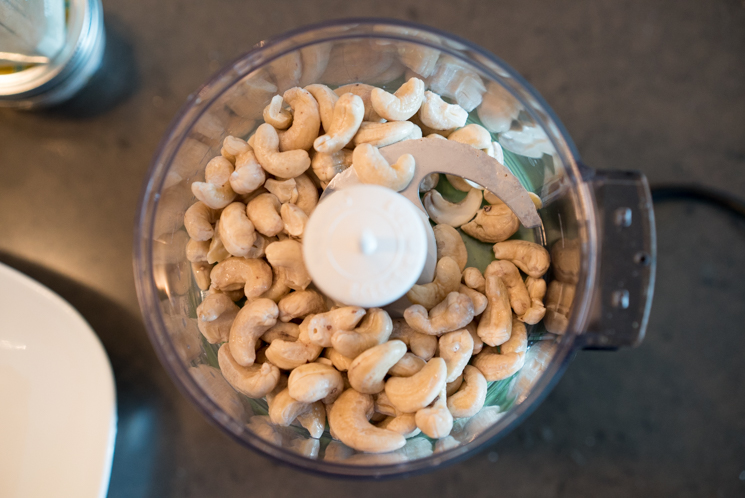 Add your flavour! Onion powder, fresh garlic, sea salt and pepper.
I always use certified organic herbs and spices to avoid irradiation. You can buy organic spices at all health food stores and in the natural foods section of most major grocery stores. Not only are they are going to be free of pesticides, but they taste WAY better. Organic foods have higher levels of phytonutrients and these plant medicines include compounds that give food flavour.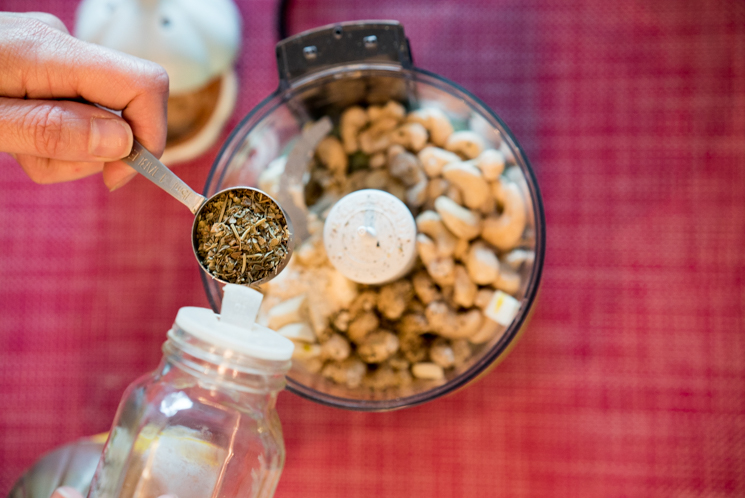 Add liquids and give it a whirl!
As mentioned in the recipe below, there is a range in the amount of water depending on how creamy you want it to be. Add water slowly so you can give it a taste test and decide. Just look at that creamy deliciousness!!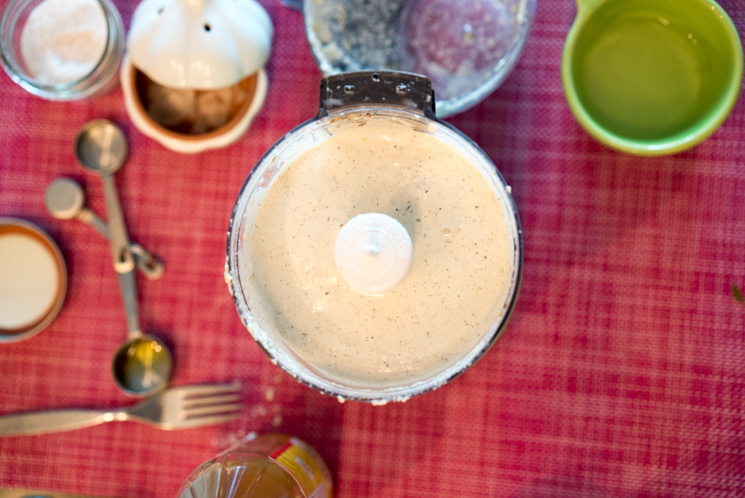 Salad + Snacks
Kale Salad with Creamy Cashew Dressing
Save
Print
DRESSING
1 cup soaked cashews, water discarded
1-2 garlic cloves
1 tbsp ground onion powder
1 tbsp dried Italian seasoning
1/2-1 cup filtered water*
1.5 tbsp apple cider vinegar
3 tbsp extra-virgin olive oil
Pinch sea salt and ground black pepper
SALAD - SERVES 2-4
4-5 cups of chopped kale and romaine
4 carrots, chopped
Half cucumber, chopped
1/4 cup sultana raisins
Instructions
Combine all ingredients into a food processor or blender and blend until creamy.
Combine salad ingredients in a large bowl, toss with dressing. You'll likely have some dressing leftover for dipping and future salads.
---
Notes
*I've given you a range for water because it just depends on how creamy you like it. With 1/2 cup of water only it's also great as a healthy dip for veggies or crackers.
The dressing recipe will give you more than enough for the salad.
The nice thing about kale is that it doesn't wilt easily so if you make extra you'll likely have leftovers for lunch the next day.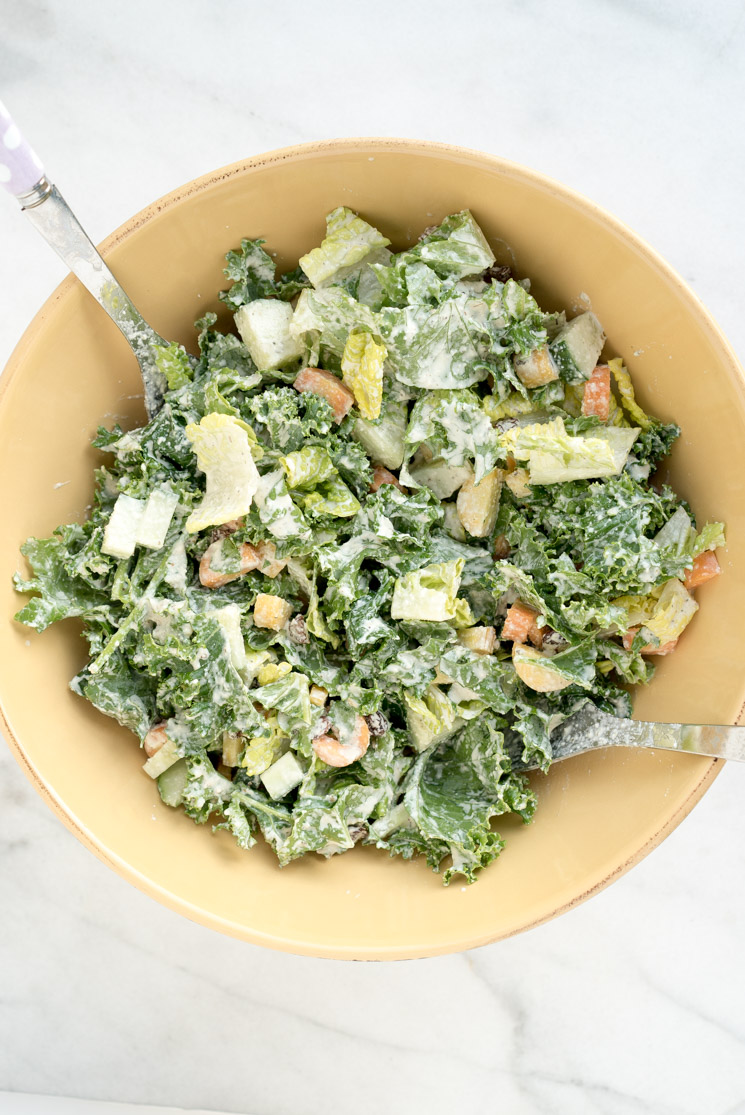 There you have it! Kale Salad with Creamy Cashew Dressing that'll knock your socks off.
Let me know what you think!
Have a joyous day!