I fondly remember the first time I ever had spicy hot chocolate -- it was several years ago in the Distillery District (Toronto) and I got it from Soma Chocolatier. Ever since then I fell in love with the combo of cayenne and chocolate. Now that it's getting chilly in Toronto all I want are warm drinks. And since baby Vienna came into our world, I admittedly haven't had time to cook and bake as much. So I'm happy to report that this hot chocolate was so easy to make, I had no excuse!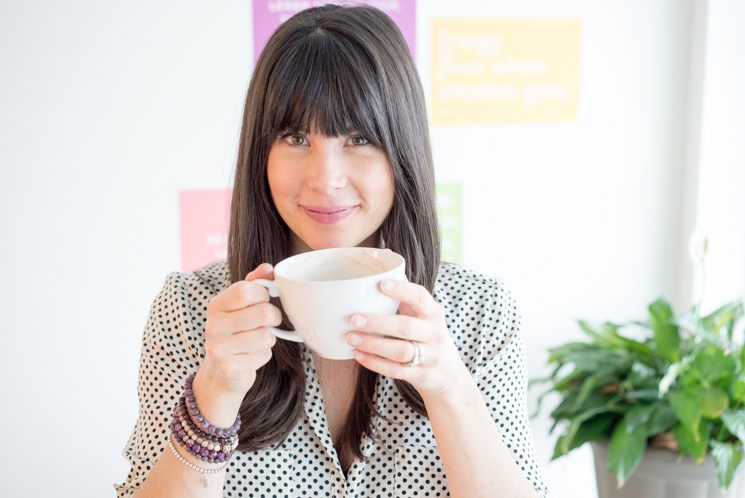 If you've never made hemp milk before then you're in for a real treat because of all the milks I've made this one is definitely the creamiest! So it's definitely worth it to make it yourself for this spicy hot chocolate. You'll also see in my video just how easy it is to make.
Hemp products are rich in protein, fiber and omega 3 and 6.
Cayenne boosts your metabolism by creating heat in the body which increases thermogenesis.
Cinnamon adds a blood sugar balancing effect while adding more flavour.
Here's the recipe video and the recipe is below.
Ingredients
1 cup Manitoba Harvest Hemp Hearts
4 cups filtered water
Instructions
Combine Hemp Hearts and water in a blender. Blend on high for 60 seconds.
Filter out solid bits by pouring mixture through a wire mesh strainer or nutbag.
Ingredients
4 cups hemp milk
¼-1/3 cup raw cacao powder (depending how chocolate-y you like it)
2 tbsp maple syrup
1 tsp ground cinnamon
1/2 tsp ground cayenne
Instructions
Place all ingredients into blender and blend until fully combined.
Transfer to a pot. Slowly heat hemp milk on the stovetop using a low temperature.
Enjoy right away!
WHAT'S YOUR FAVOURITE WAY TO SPICE UP HOT CHOCOLATE?!