Breakfast is tough. In a society where instant is everything, how can we make our breakfasts fast and healthy?
Here, I give you the recipe for the perfect breakfast fast food: Raspberry Coconut Overnight Oats. I love this dish. It's perfect for anyone busy — or just anyone. (It's also kid-friendly.)
The oats are grounding and satisfying. The chia seeds are a super fibre addition that provides lovely, important fats and extra protein (and gives the oats a delightful, pudding-like texture). The addition of cinnamon, as well as the fat from the coconut milk, helps keep blood sugar balanced. Including probiotic powder gives your gut health a boost, which is important for keeping your immune system strong. And my favourite part: no additional sugar. The sweetness from the banana is more than enough.
I make my overnight oats with cultured milk instead of regular. The acid in the yogurt (or coconut yogurt) helps break down phytic acid and increase digestibility in a massive way. This is also why I leave the recipe on the counter overnight. If you're nervous about doing this with dairy (don't be) then throw it in the fridge, but eating it at room temperature is nice in the cooler months.
Ingredients
1/2 cup gluten-free oats
1-2 tsp chia seeds
1 tsp cinnamon
1 probiotic capsule, opened up (optional)
1/2 banana, mashed up
1/2 cup coconut milk, plus more for thinning in morning
1/2 cup raw, sheep's (or unsweetened coconut) yogurt
1/2 cup fresh fall raspberries (or frozen and thawed)
2 Tbsp coconut, toasted
Instructions
Mix oats, chia seeds, cinnamon and probiotic together. Add coconut milk and yogurt and mix well. Mix in mashed banana. Fold in raspberries. Top with toasted coconut.
Cover and place on counter overnight for a delightful, ready-to-go breakfast. If you aren't going to eat first thing, pop it in the fridge until you are ready. Thin with extra milk if you like.
---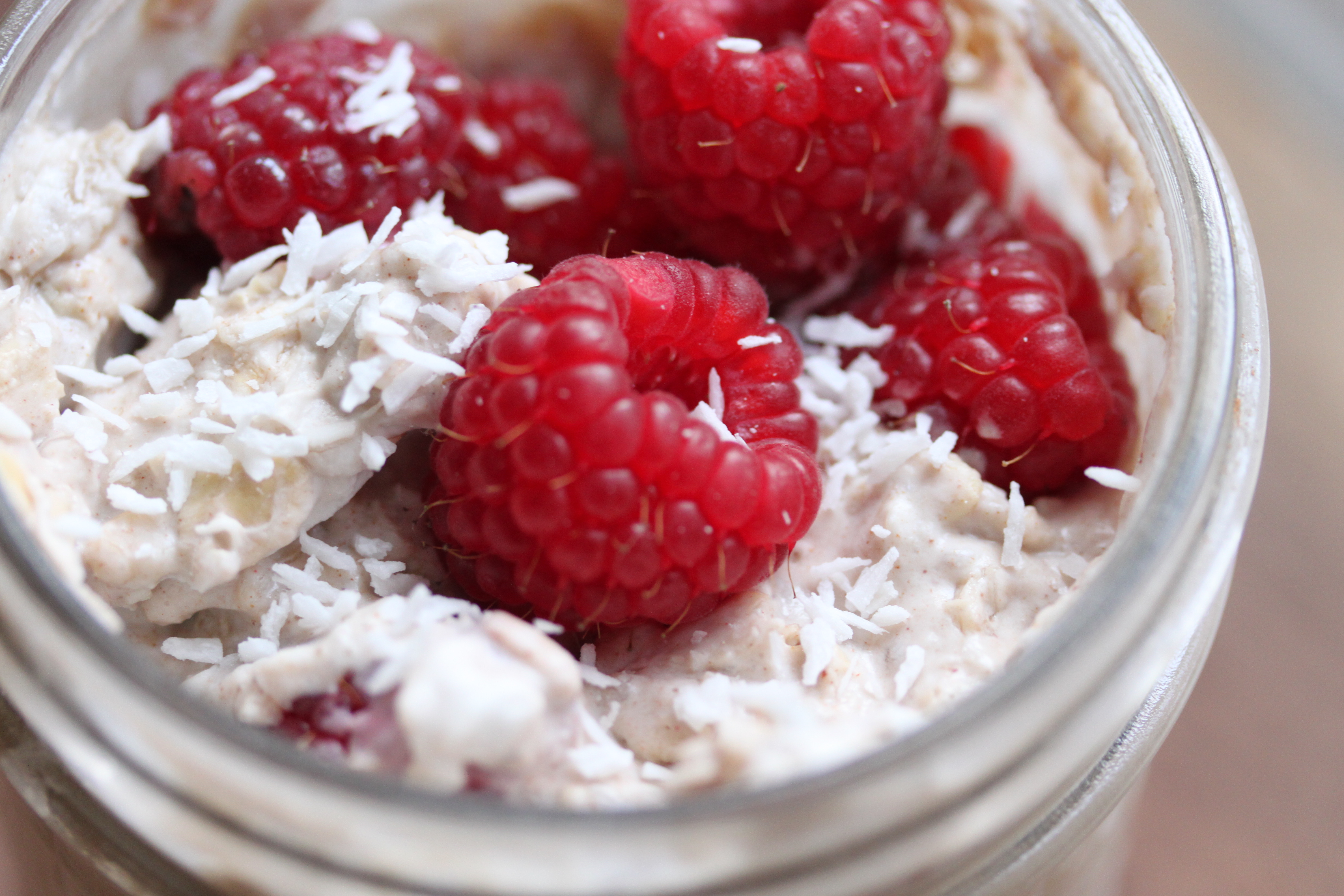 I love this particular combination of raspberry and coconut. One adds a tart and fresh flavour, the other sweet and creamy. These emphasize that nourishing food can also taste awesome, but if you're a follower of Joy's, you probably already knew that!