I love using my oven in the winter to roast just about anything. About two times per month we roast an organic chicken and then I use the carcass to make stock/broth for soups. I've done this for as long as I can remember and learned it from Ma McCarthy. But years ago, I never knew what a healing superfood I was making until I became a nutritionist. I'm so excited to share this information with you!
Bone broth has many benefits including:
Wonderful source of very easy-to-digest minerals including calcium, magnesium, potassium, and phosphorus
Fantastic source of amino acids. If your broth congeals when it's refrigerated you know you've got lots of gelatin which contains amino acids essential for healthy bones and connective tissue like tendons and ligaments.
Incredible for the building and the healing of the digestive system. Bone broth helps reduce allergies by aiding in the integrity of the gut lining
Immune boosting and anti-inflammatory making it very healing for autoimmune diseases such as arthritis, crohn's and colitis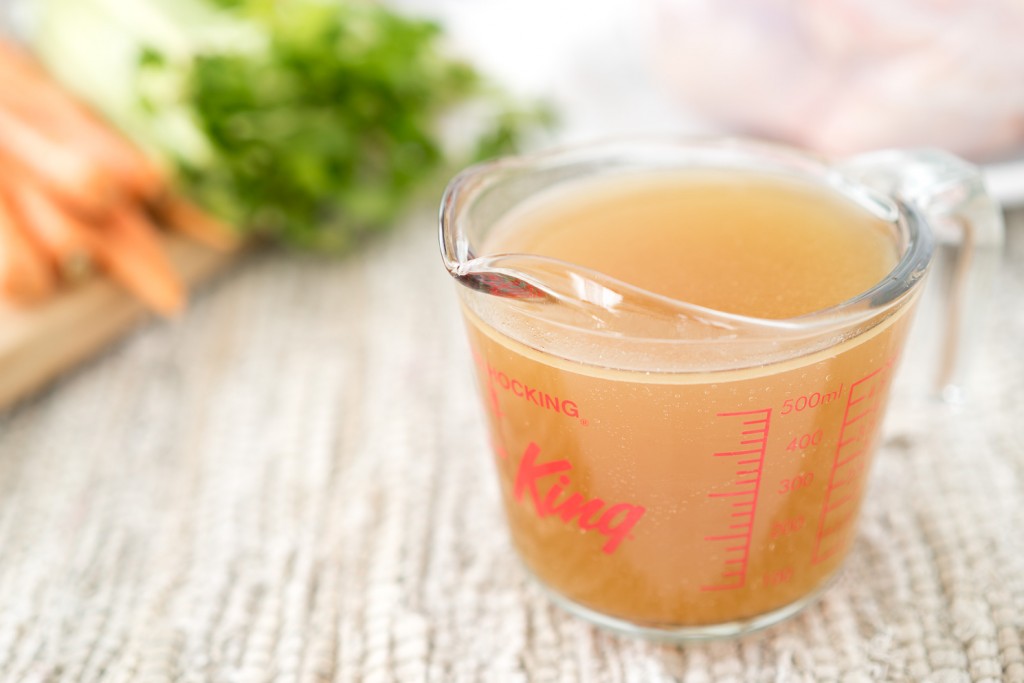 Now that sweet Vienna is ready for eating and drinking more than just breast milk I was super excited to introduce her to bone broth. Guess what? She LOVED it! She's had avocado, sweet potato, applesauce and banana and the bone broth was by far her favourite. Next up she will have some egg yolks -- I'm not going to introduce the white until much later.
She's having about 2 tbsp per day of the broth because breast milk is still the main source of her nutrition. Solids and broth will only be complementary to breast milk for a few more months as I don't want to "wean" her for a while yet. As you can see in this photo, we spilled quite a bit of the broth.. ugh! It's like liquid gold that stuff.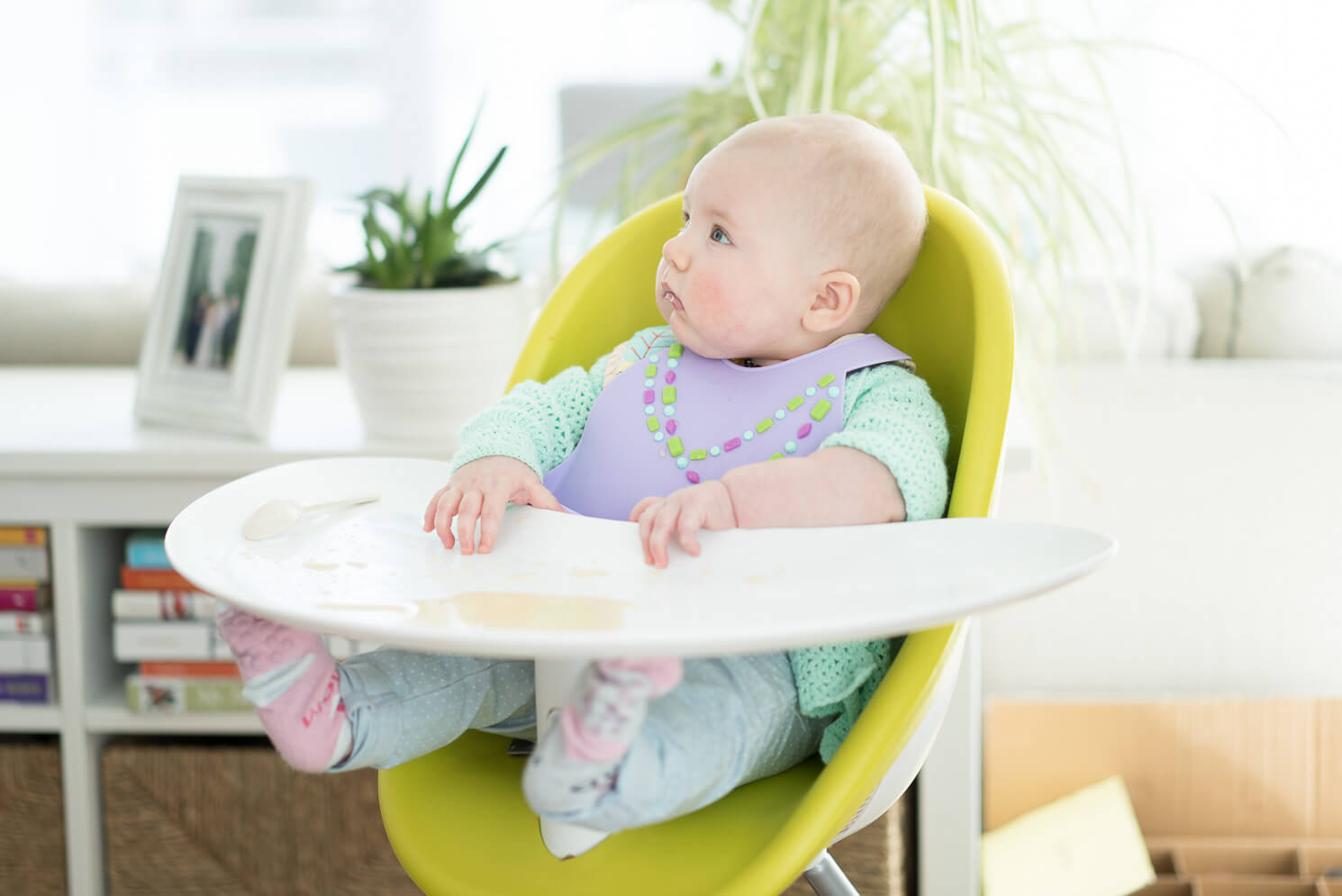 From joint health, to reducing heartburn, skin, hair, nails and bone health — bone broth is a mighty powerful superfood for babies and adults alike.
I strongly recommend you use certified organic chicken or from a local farmer who you are familiar with their farming practices to get the most nutritious bone broth possible.
Here's my recipe for bone broth, it is incredibly flavourful, nourishing and delicious:
Ingredients
1 organic chicken carcass
1/2 cup chopped organic carrots
1/2 cup chopped organic celery
1-2 tbsp raw unpasteurized apple cider vinegar
Filtered water, enough to cover ingredients
Instructions
Place carcass and vegetables in a large soup pot on stove top. Pour enough water to just cover ingredients.
Bring to a soft boil and reduce to a simmer for 12 to 24 hours.
Strain solid contents from broth. Refrigerate for up to a week or freeze for longer.
Mine reduced down to about 3 cups of broth but I didn't have a large carcass to begin with.
---
Some more notes about this bone broth:
In case you're wondering, the apple cider vinegar (acv) helps draw out the minerals from the bone matrix. Don't worry, it won't make your broth taste like ACV!
The vegetables help to increase the mineral content as well.
As for skimming off the fat after refrigerating it.. I never do. This fat is essential for brain health, skin health and makes the broth super tasty so I just leave it.
Wondering why I didn't add herbs or onions or garlic like I normally do? This is because I made this batch for Vienna and I'm not introducing those foods just yet. That's why I called it "Simple Chicken Bone Broth". Even though I didn't add these ingredients it was still incredibly flavourful.
Want to learn more? These fantastic article from Paleo Leap and Wellness Mama goes over these benefits in much more detail.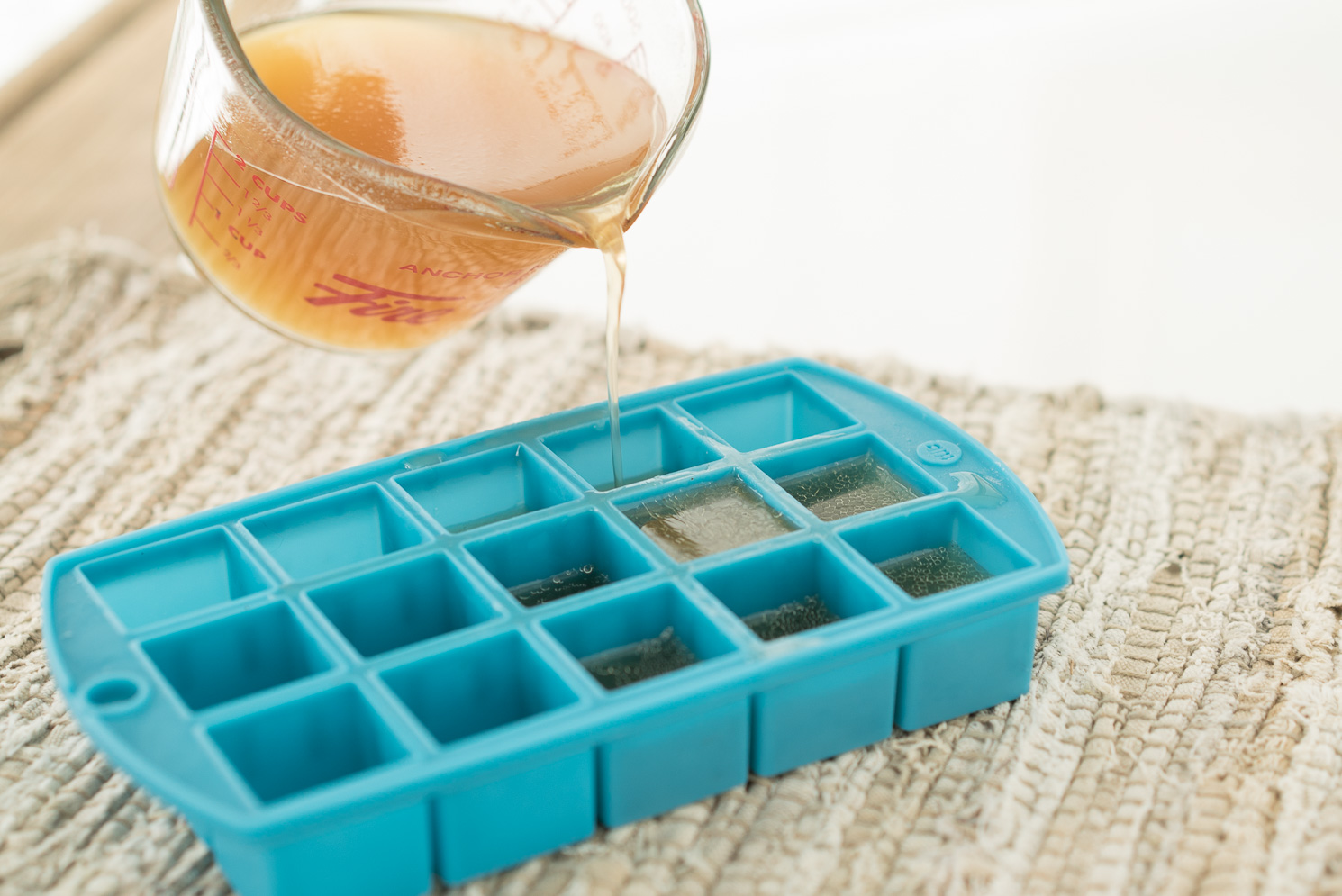 I put it in ice cubes for the bean so that I can give her one per day. I've got about one month worth of it!
I hope you love this healing recipe as a base for all your favourite soups or just to sip on a cold winter's day.