Every time I make black bean brownies from my book Joyous Health, I think to myself "I really need to try these with chickpeas for a nice change". So when I saw Alive magazine celebrating pulses with a featured recipe for Chickpea Blondies, that put a fire in my fanny to make them!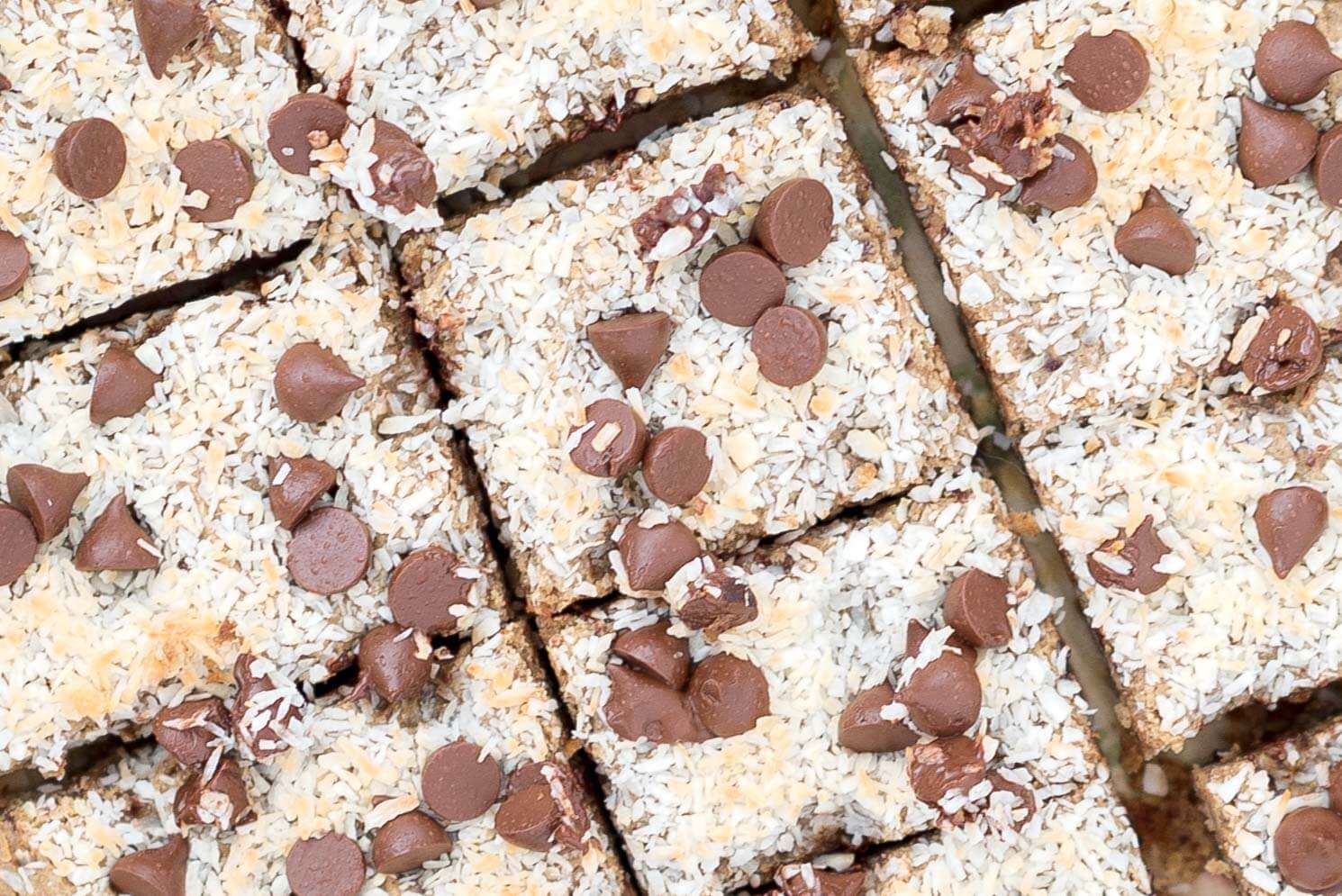 Speaking of pulses, did you know that 2016 is Year of the Pulses as declared by the UN? Pulses?! Say what? In case you weren't aware, pulses are a type of legume such as chickpeas, lentils and any dried bean.
Pulses are super rich in fiber and protein, minerals such as iron and zinc and many B-vitamins.
They are excellent for digestive health because they help to feed the good bacteria in your colon and they keep you feeling fuller longer. Pulses can be the main event of your meal, like this recipe: Chickpea Detox Salad or Chickpea Savoury Pancakes.
I've added some Genuine Health fermented vegan protein powder to boost the protein and make them even more digestion-friendly then they already are. Getting enough protein in your day has many benefits including:
Boosts your metabolic rate
Balances your blood sugar
Makes you feel fuller longer
But what I find most exciting about this ingredient is that it is fermented. If you're a regular reader you're likely already an expert on the benefits of fermented foods from previous posts. Here's a reminder of why fermentation is so awesome: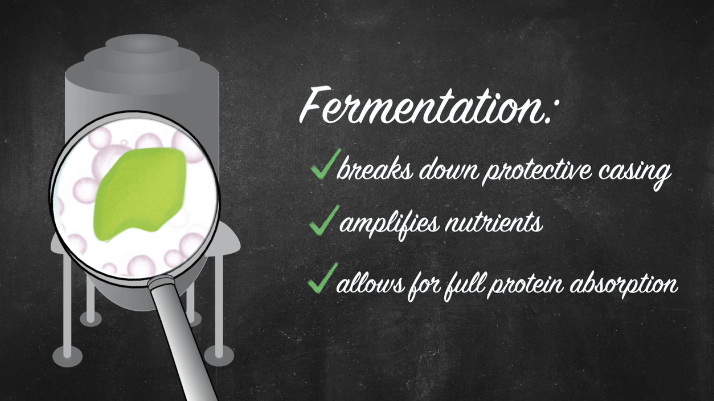 What all this means is that plant based proteins such as those found in protein powders have a protective casing on them if they are not fermented and this decreases their digestibility. This is why many people get gassy from vegan protein powders. When a food is fermented the nutrients are unlocked, easy to digest and amplified (meaning the nutrients actually increase).
Here are the main ingredients I used and you'll be happy to know you probably have all these already!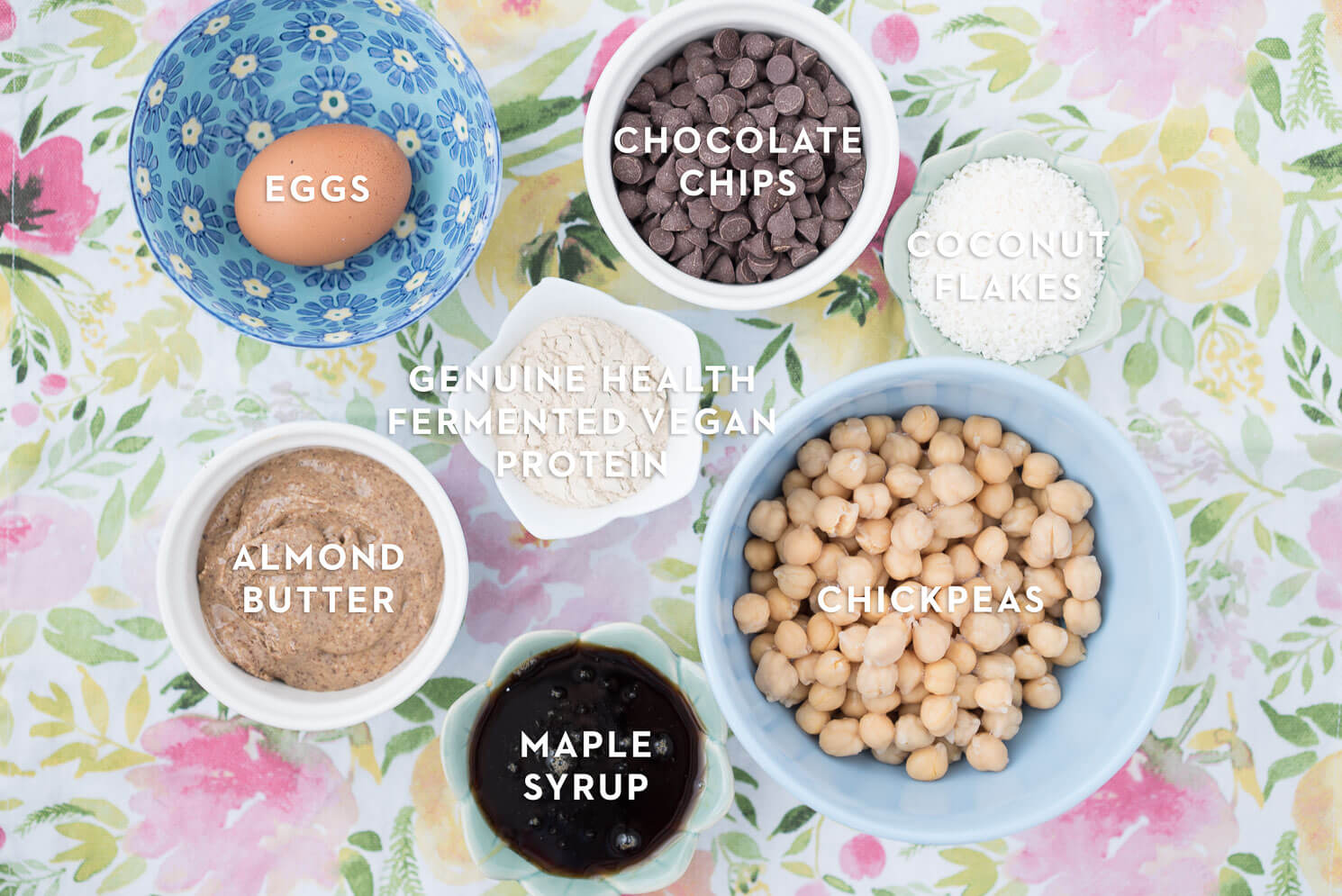 By the way, if you get gassy from chickpeas then be sure to buy them dried, soak them overnight and cook them until they are soft either in a crockpot or on the stovetop. You can also sprout them. In my kitchen, I use both dried and pre-cooked because they never bother me either way.
As you know, my goal is to always make healthy cooking easy peasy which is why all you need to do is pop all these ingredients into a blender or food processor, give it a blitz and pop in the oven.
Ingredients
1 can (400mL) organic BPA-free cooked chickpeas
1/2 cup almond butter (smooth or crunchy)
1 egg
1/4 cup vanilla fermented vegan proteins+ by Genuine Health
1/3 cup maple or coconut syrup
1/2 cup chocolate chips
1/4 cup unsulphured, unsweetened coconut flakes
Instructions
Preheat oven to 350F degrees and grease or line a 8" baking dish with parchment paper.
Place the chick peas, almond butter, egg, protein powder, maple syrup and half the chocolate chips into a food processor or blender and give it a blitz until smooth.
The batter will be thick. Pour or spoon batter into baking dish. Sprinkle with all the coconut flakes and remaining chocolate chips.
Bake for 30 minutes.
Let cool completely before cutting. Freeze for months or refrigerate for 10 days.
---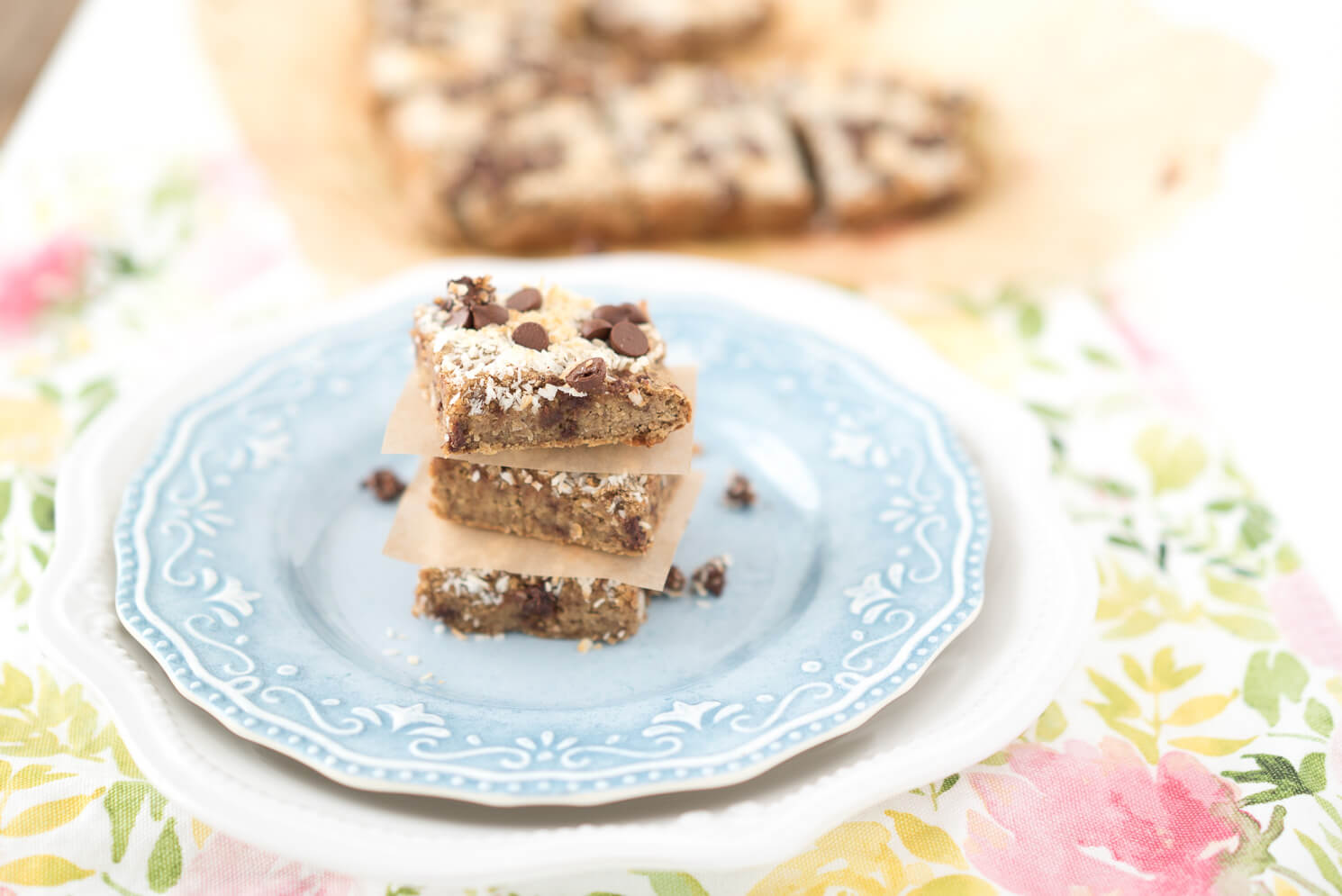 So there you have it! My latest recipe! Please excuse any typos because I am typing with one finger while Vienna nurses and I sip a London Fog and nibble on a blondie. I feel like supermom right now!!
Photo cred to my hubs, Walkman <3
Have a joyous week!