Walker and I have been on vacation visiting my father-in-law Axel for the past couple of weeks in Wörthersee, Austria, where he lives. You may have heard of Wörthersee before if you are a triathlete because they have an Ironman race here every summer, or if you're a skiier because the big mountains are only about a 40 minute drive from here. This is the view from Axel's deck.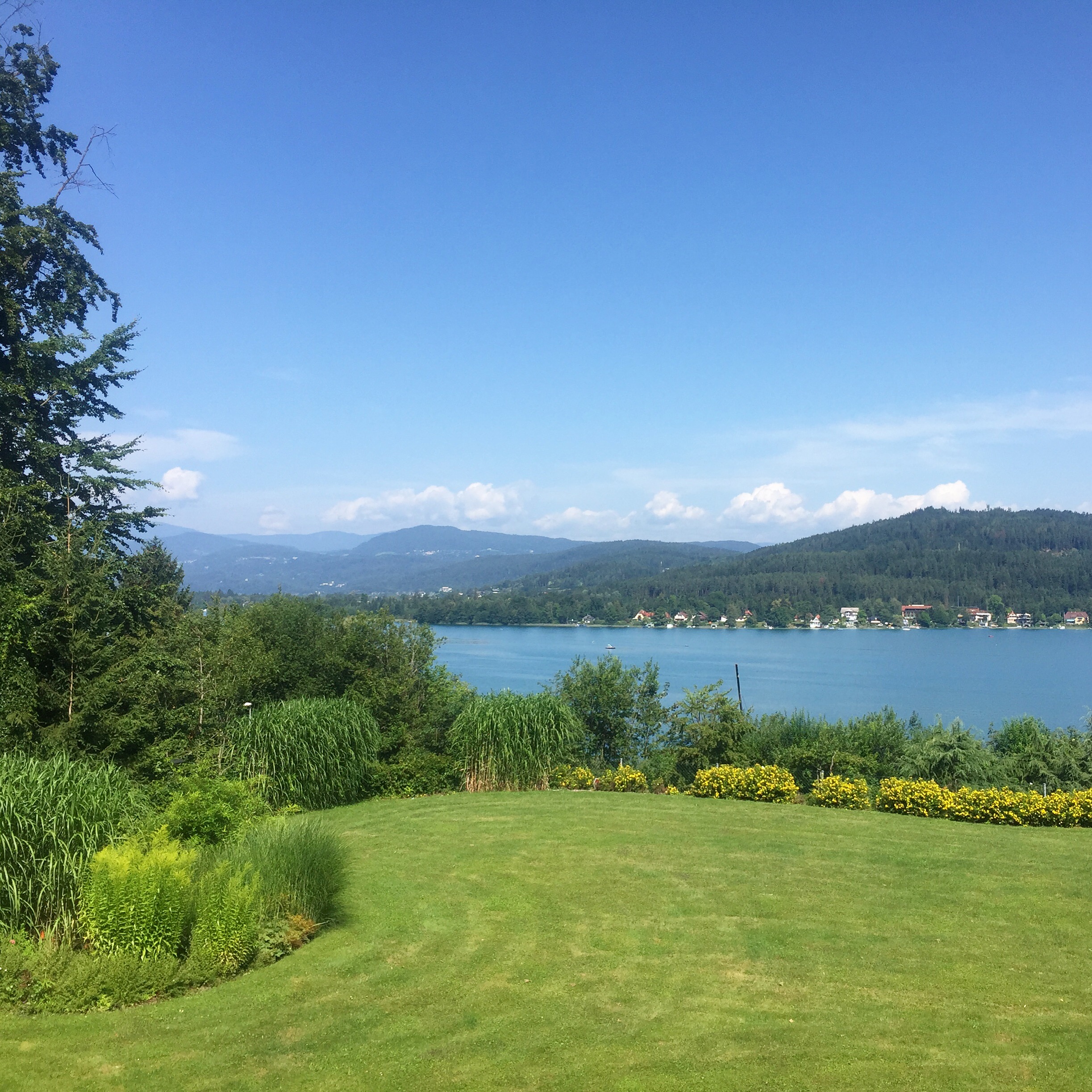 I love coming to Austria not just because we get to hang out with Axel but also because it is so incredibly lush and beautiful. It actually reminds me a lot of the Okanagan Valley in British Columbia, but the Euro version!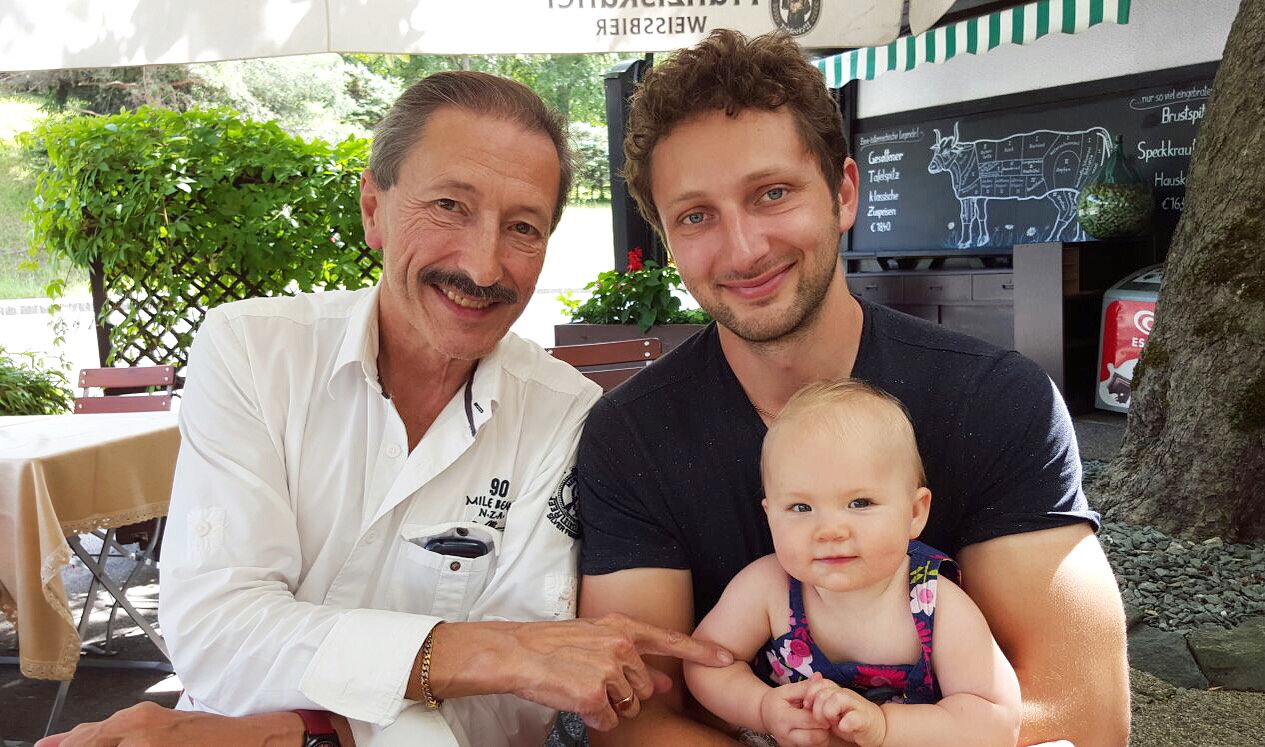 While we are on vacation I (we) still maintain our daily health habits, such as exercising. We've been going for daily power-walks every morning and I've been doing yoga too. And I always have my camera ready because I love to take photos on my iPhone. In fact, I've got over 13,000 photos on my phone – eek! This photo was taken on one of our powerwalks. We stopped to sit on a bench so I could nurse Vienna.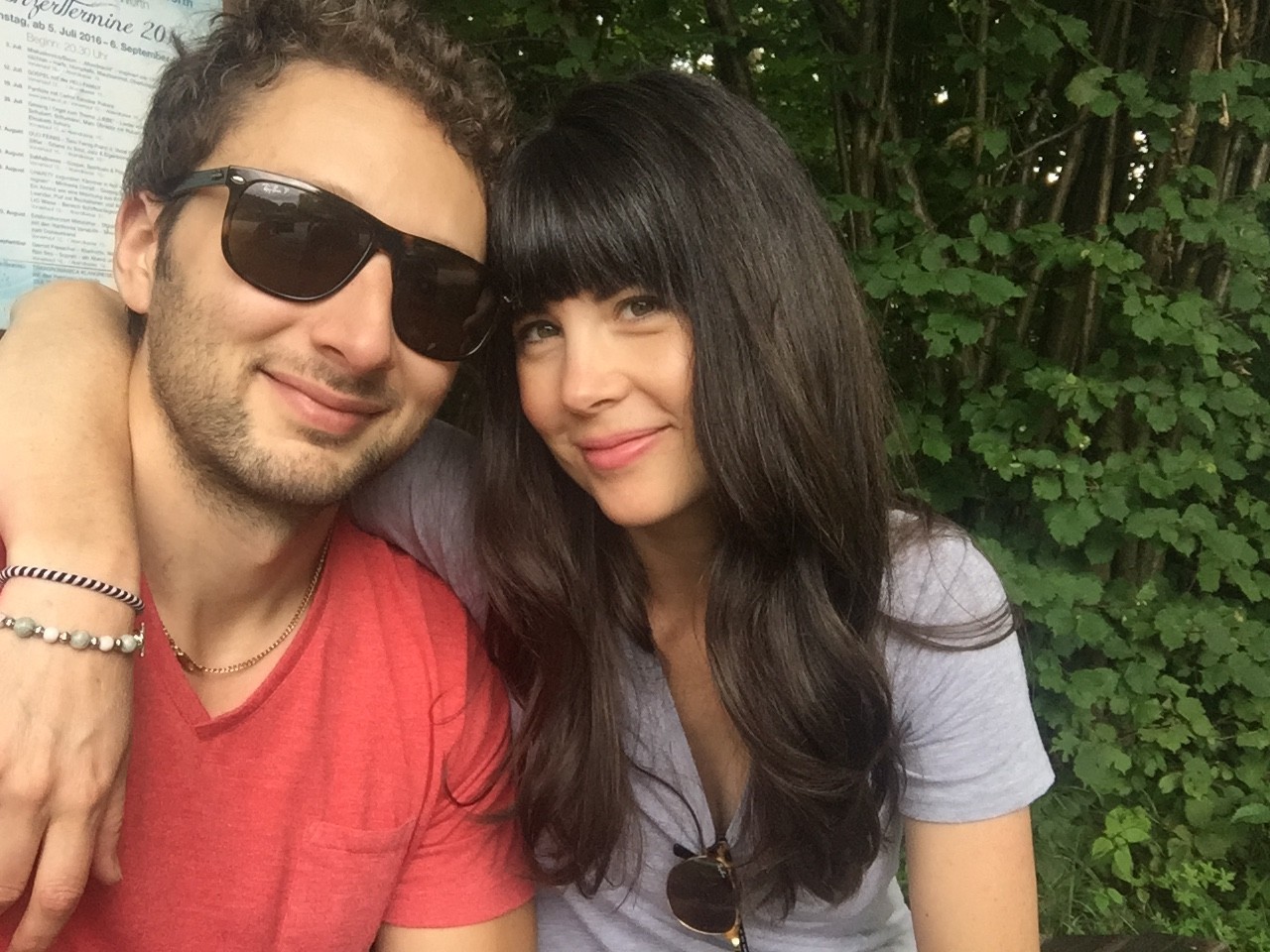 I also make sure we eat plenty of whole foods, as you can see in the photo below. But yes, Walker's had his fill of traditional Austrian schnitzel. I ate a delicious summer salad with pumpkin seed–crusted local chicken and pumpkin oil (my new obsession!). Even in the small Austrian villages, you can find healthy options at restaurants.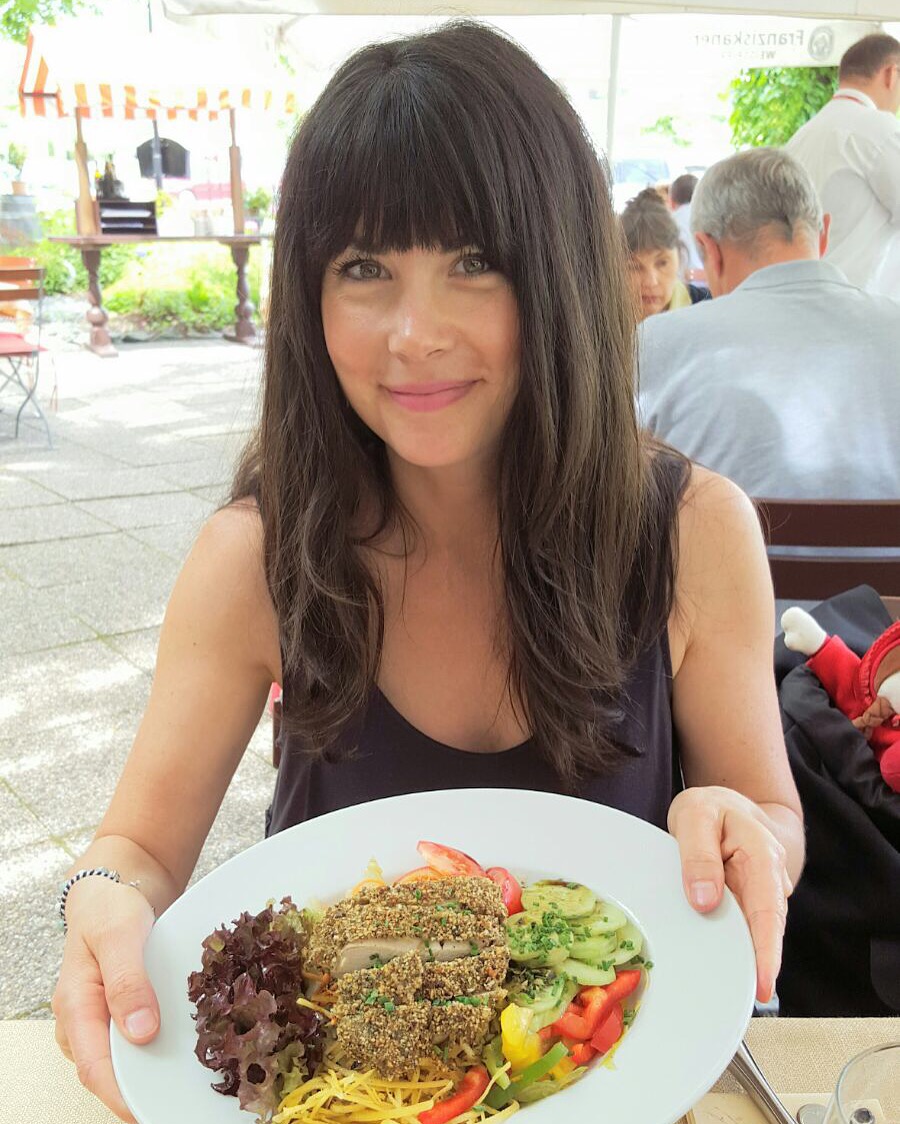 Every time we go out to eat, I bring Vienna's food with me. I find Europe (especially Austria) has an abundance of farmers' markets. It seems every day there is a farmers market, and lucky for me, there is a lot of local food available right now – 'tis the season! This means I can still buy the basics and make Vienna's food, but I did bring some Love Child and Baby Gourmet packets with me. Vienna also loves these teething cookies called Teefies. These take her a while to eat, which means she can hang out in restaurants a little longer :)
We were literally eating at a castle in the photo below. Vienna was having spinach, sweet potato and hemp hearts, and I shared some chicken with her. By the way, how cute is that little chair? I have found that most high chairs at restaurants are too big and flimsy. We brought this high chair with us on vacation because it attaches to the table. The brand is Guzzie and Guss.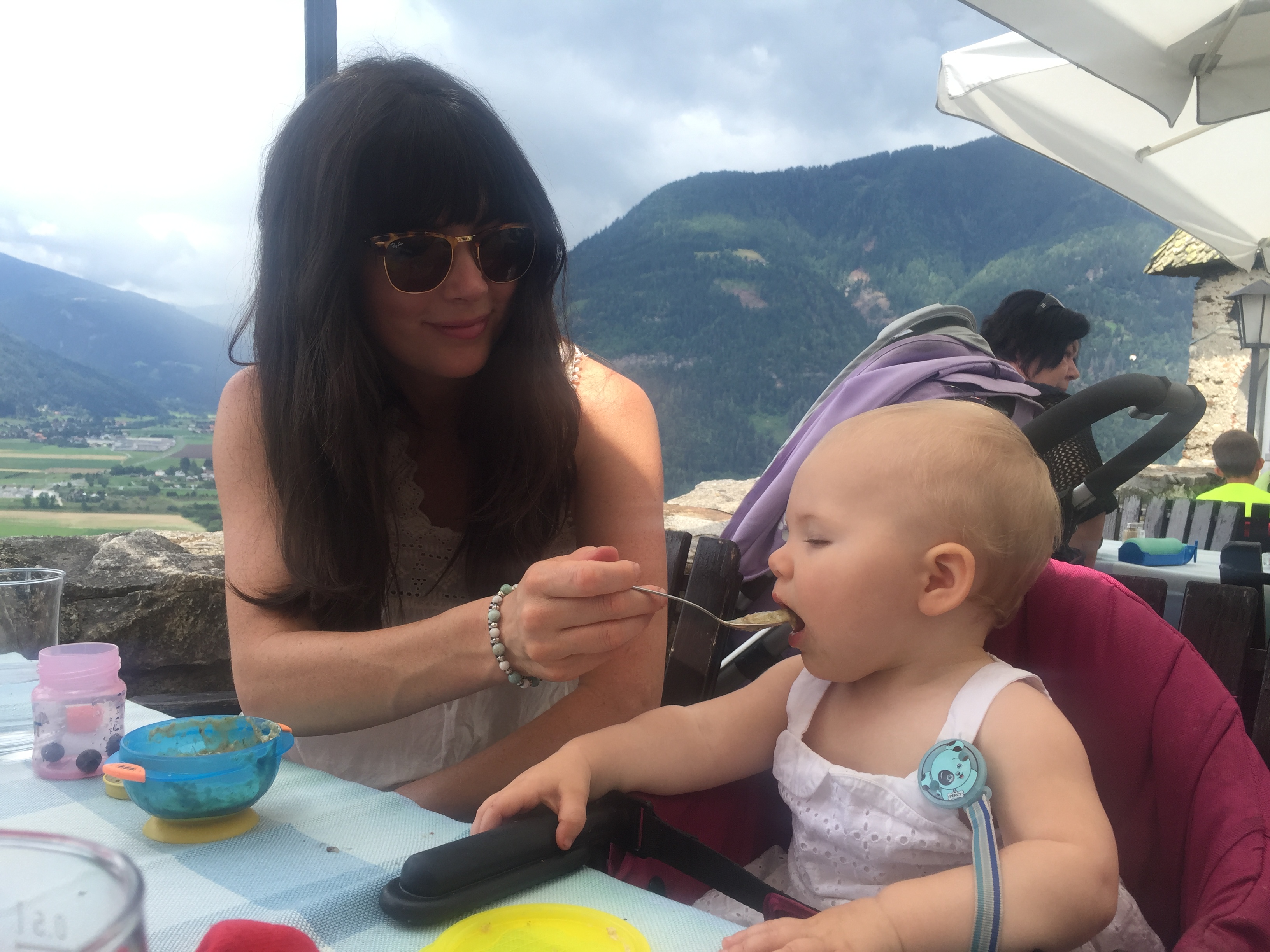 We also take our supplements with us and make sleep a priority. But you'll find out more about my favourite health habits in the video below. Please join me on my morning powerwalk in Austria as I share my essential health habits while traveling!
Sure, it can be easy to just take a vacation from your health habits if you choose to, but why would you want to?
For me, healthy is a lifestyle and when I take care of myself I feel my best.
That being said, do not aim for perfection. If you're going to indulge now and then, just make sure it's the best quality! I've had my share of apple strudel, and now that we are in Vienna, I will be sure to have sacher torte (an authentic Viennese cake). I always do my research to find out where the locals go for the most authentic experience because I want the real deal!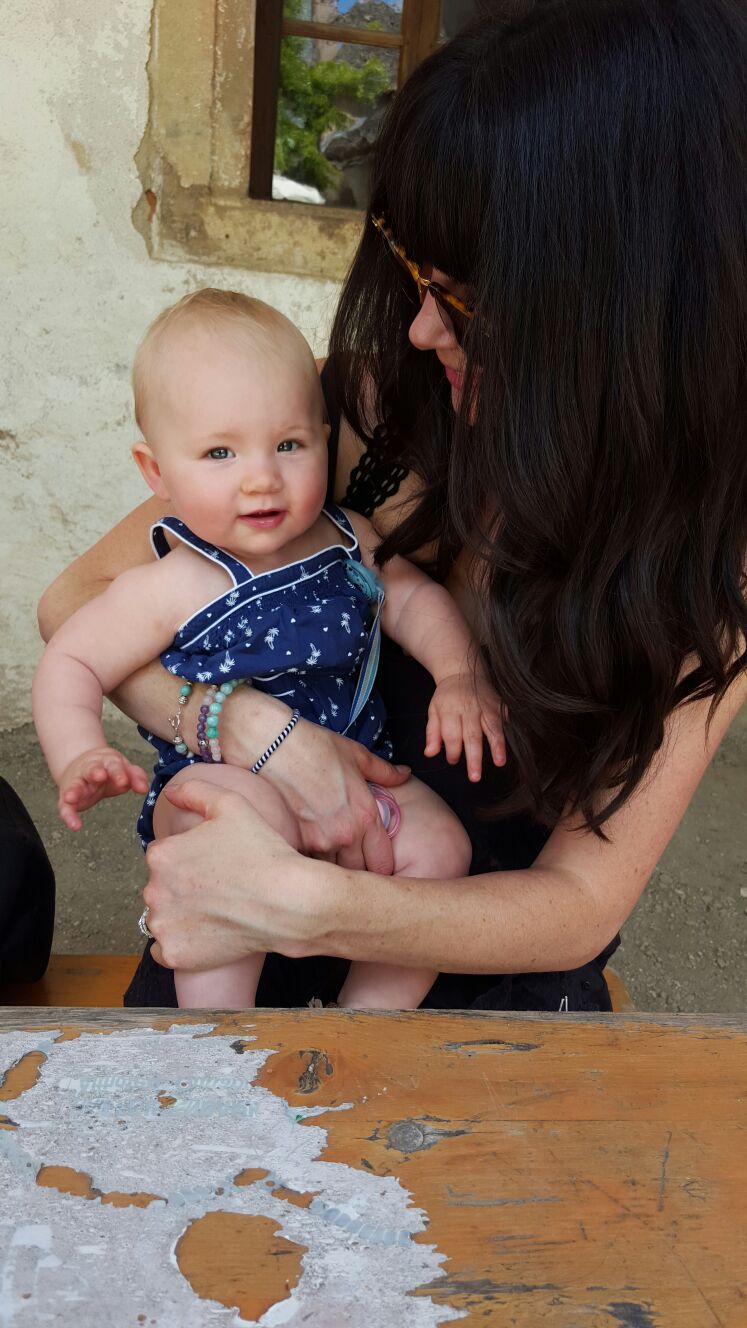 Of course, if you have gotten off track, it's never too late to get back on track and I've got some great tips in this video.
If you're interested in seeing more trip pics, then check out my Snapchat (my handle is joyoushealth) or find me on Instagram.
I'm writing this from the hotel room in Vienna while Vienna sleeps. We arrived here yesterday and, as you probably guessed, Vienna was named after my favourite city! The photo below is from my Snapchat, so I apologize that the quality isn't the greatest, but I love it :)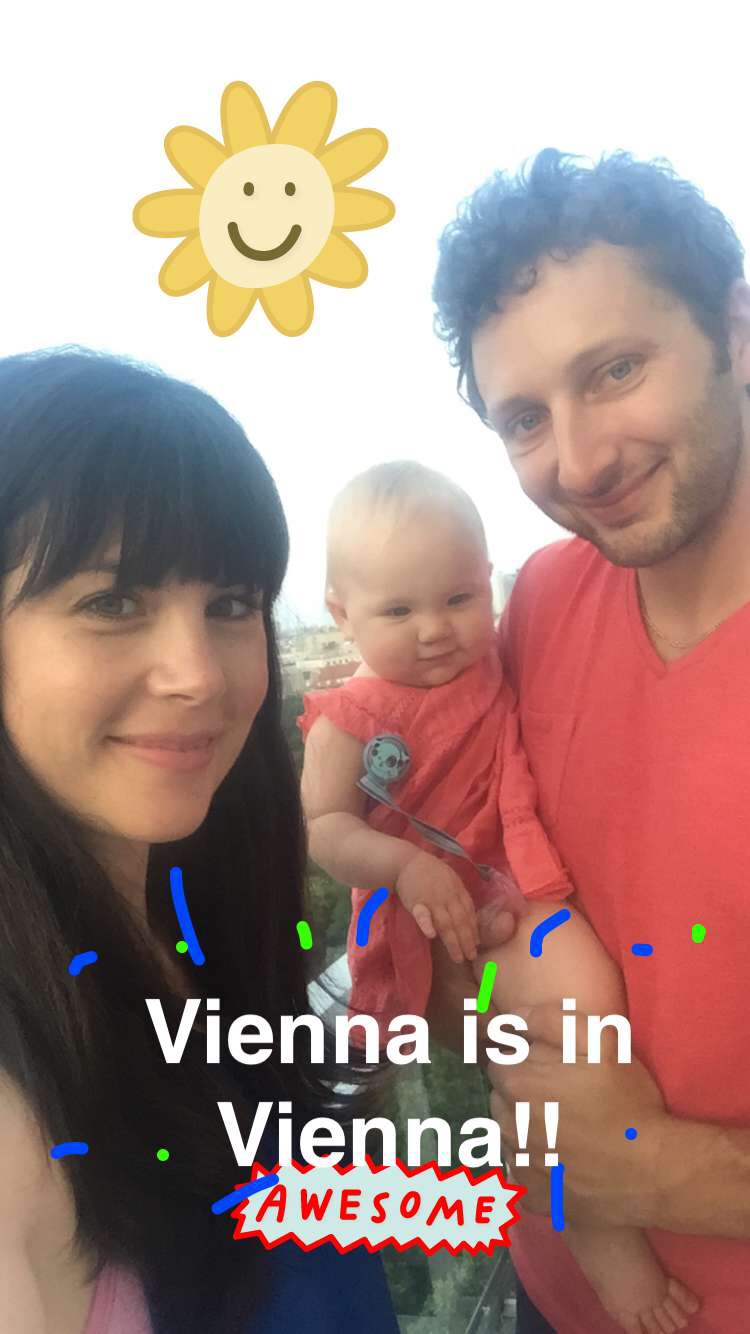 What are your healthy essentials while travelling? Share them with me in the comments below!
Happy travels!
Joy