Thanksgiving is this weekend for us Canadians, and for my American friends it's just around the corner. I had this in mind when I created this quinoa-stuffed acorn squash recipe because it's perfect for family gatherings and special occasions. Oh and we filmed this as a video recipe too -- I feel so productive when we can do both a recipe and a video, yay!
But you don't need a special occasion to feast on this either, I made it just for us three and we enjoyed chilled leftovers for lunch the next day too.
Squash is in abundance right now at farmer's markets so you'll have no trouble finding it at your local supermarket, health food store or fave market.
When it's baking, it smells like absolute heaven because it's the perfect balance of sweet and savoury.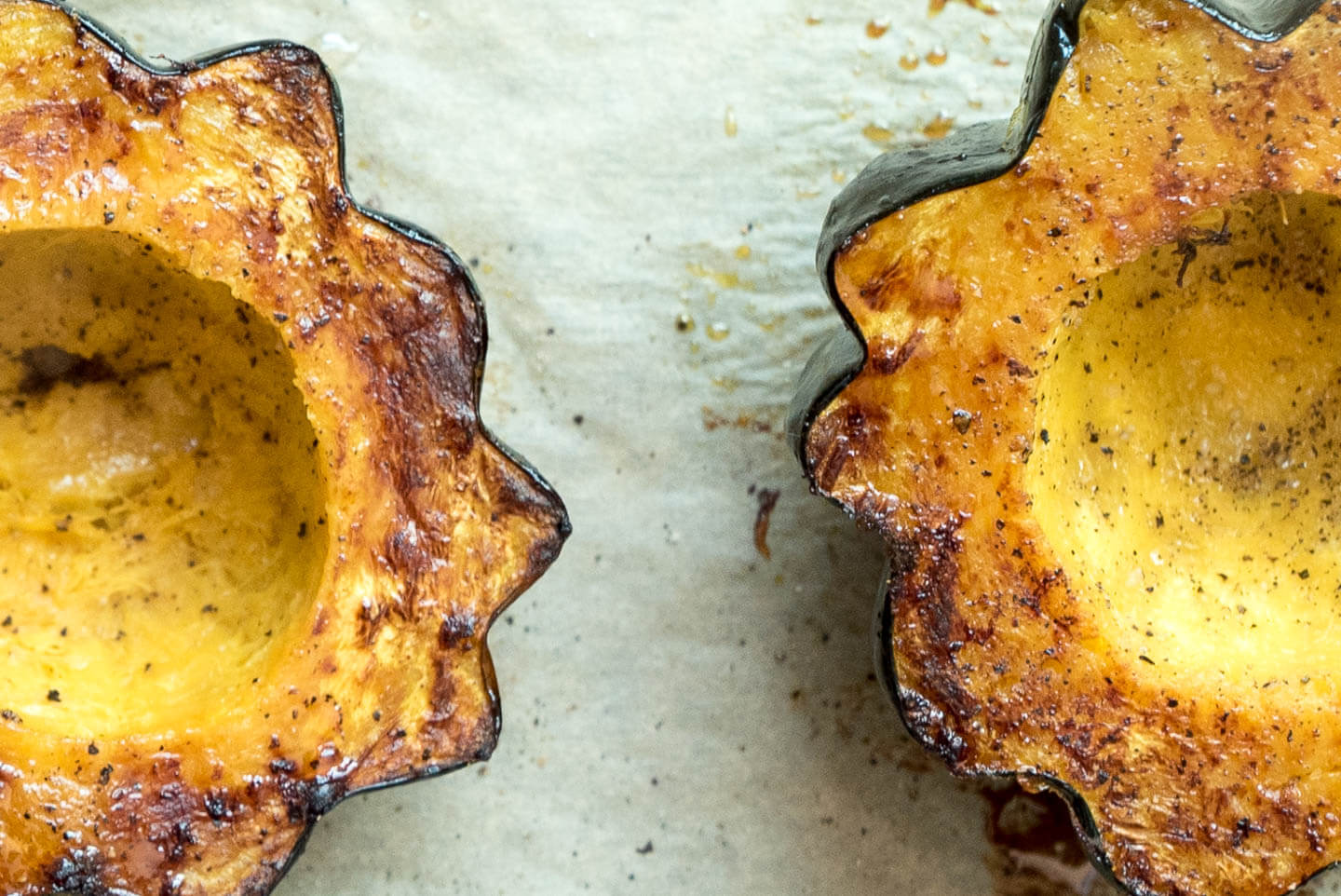 Squash deserves "superfood" status but it's one of those humble foods that doesn't really scream health. However, it is a healing superfood...
Squash has powerful phytonutrients that keep your cell's healthy and help prevent diseases like breast, lung and prostate cancer.
Even though you might think of squash as a starchy veggie, it's not even comparable to the carbs you'd find in say, white potatoes. The starches in squash have many health benefits for us including:
Insulin regulating and blood sugar–balancing, which makes it a great choice for diabetics or those watching their blood sugar, which should be all of us, right?!
Feeds the good bacteria in our large intestine and you already know the importance of those creepy crawlies!
Has anti-inflammatory phytonutrients. Even though squash is mostly sweet, there are always subtle bitter notes and that is those healing phytonutrients you are tasting.
The inspiration for the stuffing recipe came from an old recipe: the spices I used in my roasted cauliflower dish from 2014. I thought it would be a match made in recipe heaven for this stuffing, and it worked wonderfully well.
I also added fresh kale, Italian parsley, pecans and more. Seriously the taste of fall, in my opinion!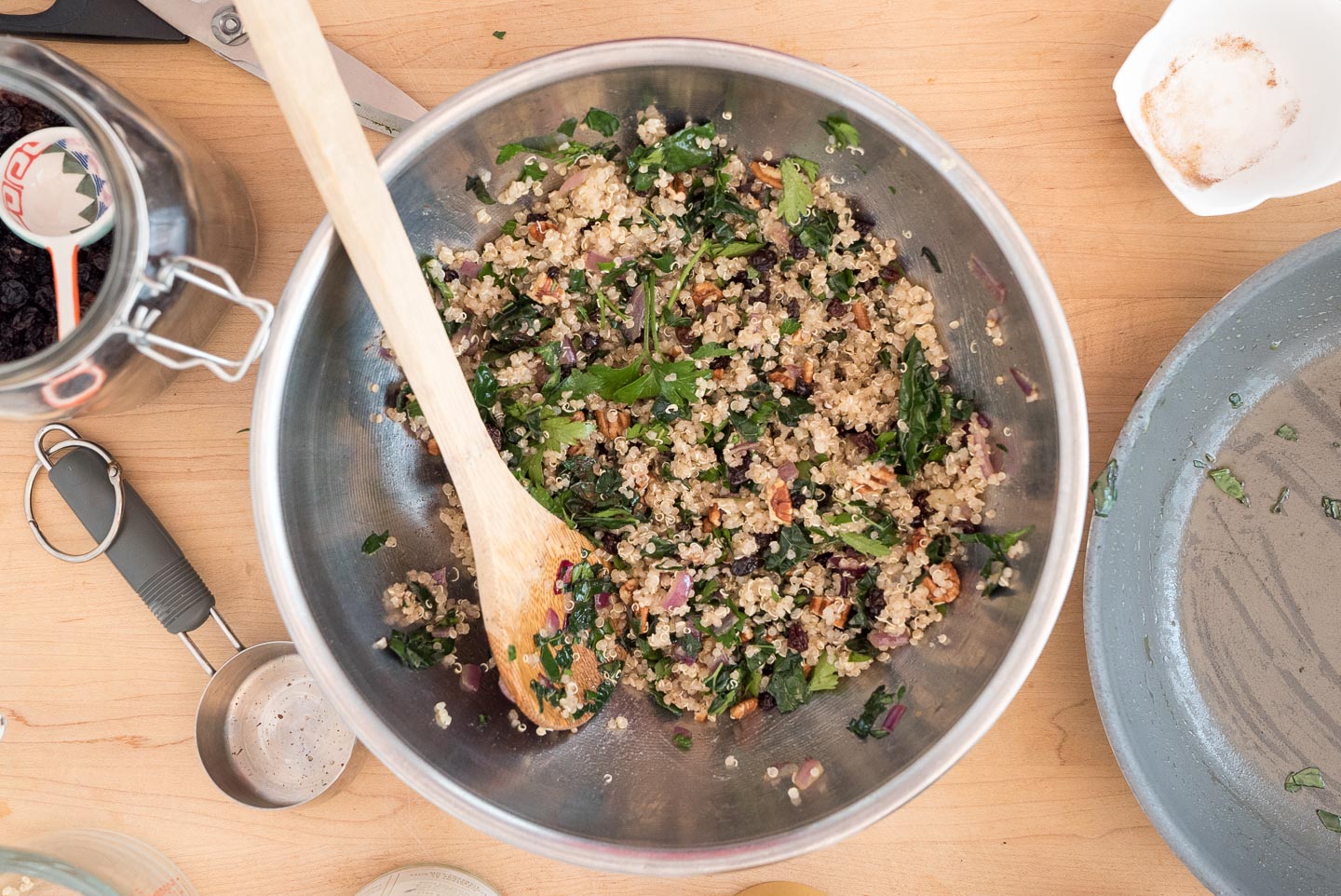 After I stuffed the quinoa into the acorn squash, I topped it with some goat cheese feta, but you can skip that part if you can't or choose not to eat dairy.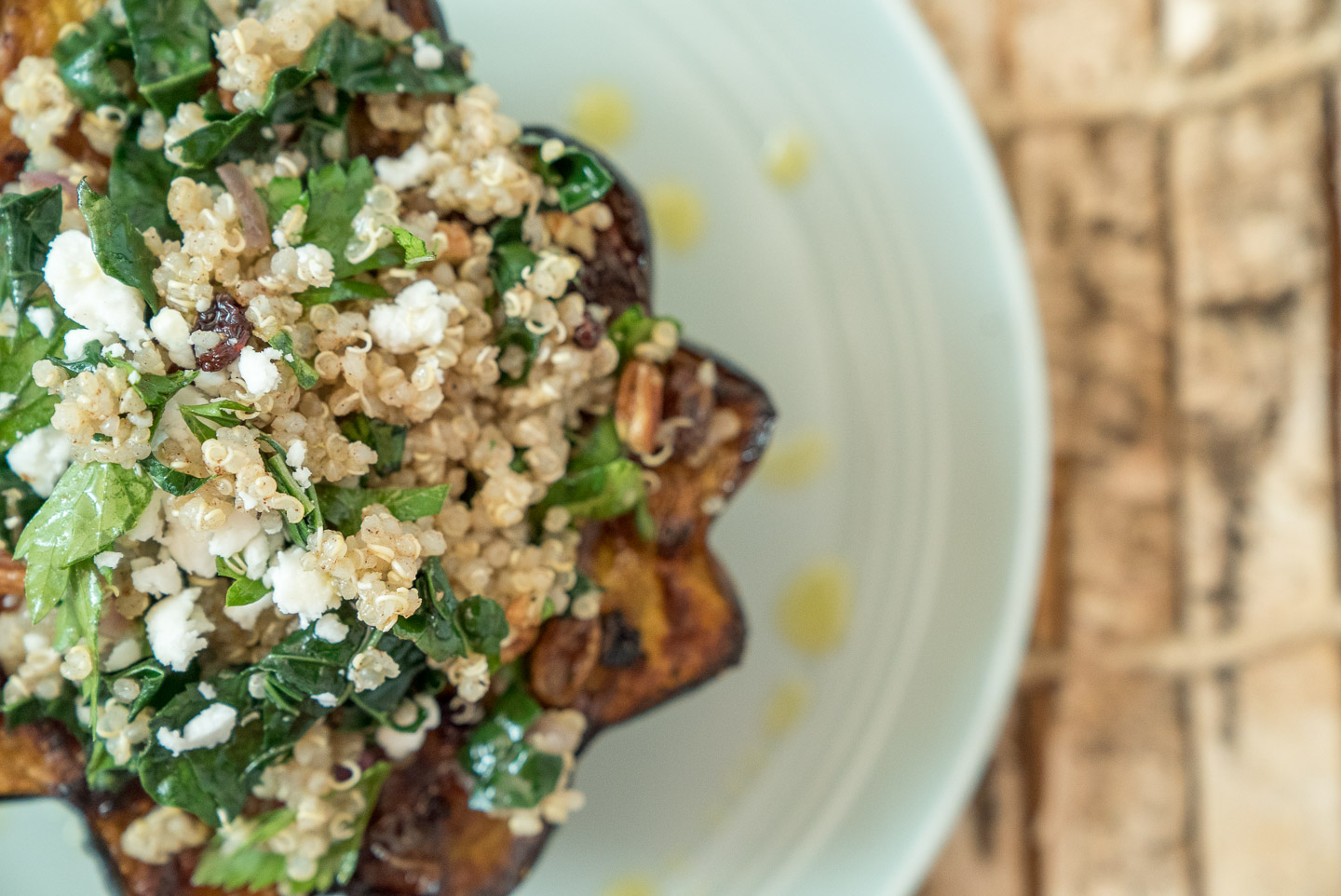 Before I share the recipe card, let's check out the video Walker and I filmed... It's up on my YouTube channel, but here it is below!
Ingredients
2 acorn squash, cut in half, seeds removed
1 tbsp coconut oil
1/2 red onion finely chopped
1 cup dino kale chopped
1.5 cups cooked quinoa
Handful fresh parsley chopped
1 tbsp currants
1/4 cup pecans
1/2 tsp ground cinnamon
1/4 tsp ground allspice
1 tbsp extra virgin olive oil
Sea salt and pepper to taste
Instructions
Preheat oven to 400F degrees. Cut the squash in half and scoop out the seeds. Place on greased or parchment lined baking sheet FLESH SIDE DOWN. Bake for 45-50 minutes or until the squash is fork tender.
Meanwhile, melt coconut oil on a pan and sautee onions until tender. Add kale and cook for only 1-2 minutes. Remove from heat.
In a large bowl, combine the cooked quinoa, sauteed onions and kale, fresh parsley, currants, pecans and spices. Drizzle with olive oil and season with salt and pepper as you like.
Once squash is ready, remove from the oven and scoop warm quinoa stuffing into each half. You may have a little leftover, so have a spoon ready to enjoy it!
Serve immediately while it's still warm.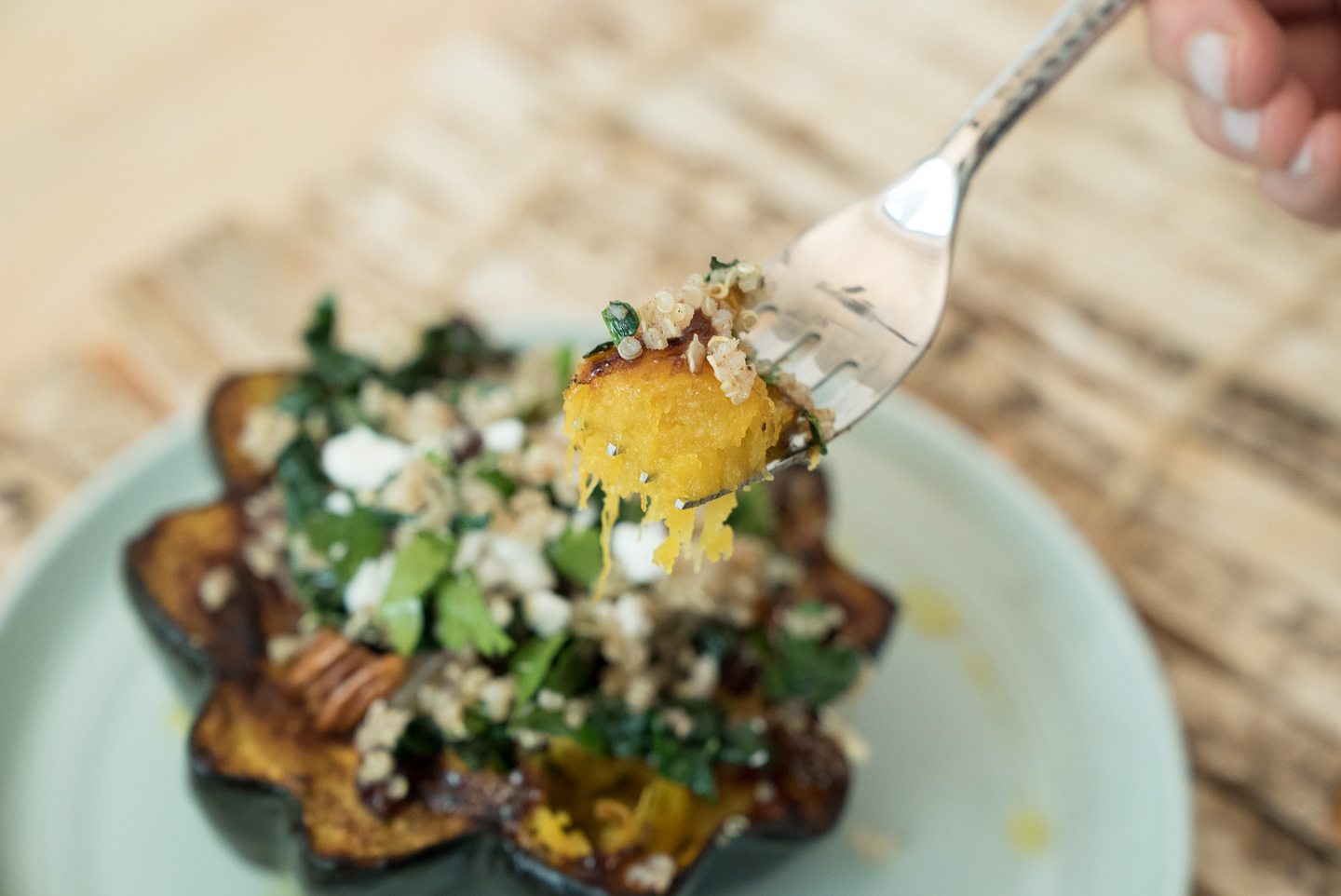 This quinoa stuffed acorn squash tasted like a warm hug feels on a crisp fall day.
You may not always remember how something tasted weeks later, but you'll always remember how you felt when you ate it. I don't know about you, but that's exactly how I felt when I took my first bite of this quinoa stuffed acorn squash: it felt like a warm hug on a crisp fall day.
I do hope you make it and love it as much as we did!
From my family to yours, Happy Thanksgiving!
Joy, Walker and Vienna