I fell in love with leeks the first time I cooked with them in my kitchen. I'd eaten them many times before but never experimented with them.
About four and a half years ago, I first made a Vichyssoise (chilled potato leek soup, which is an amazing recipe) for an Alive Magazine cooking video. Don't judge me by my hairdo! I don't know what was going on with my bangs! Prior to this cooking video, I hadn't paid much attention to leeks. But now whenever I see them at the farmers market or receive them in my organics delivery, I immediately feel inspired to make a soup.
This week I received three beautiful leeks in my organic delivery. As soon as I saw them, I immediately thought of soup.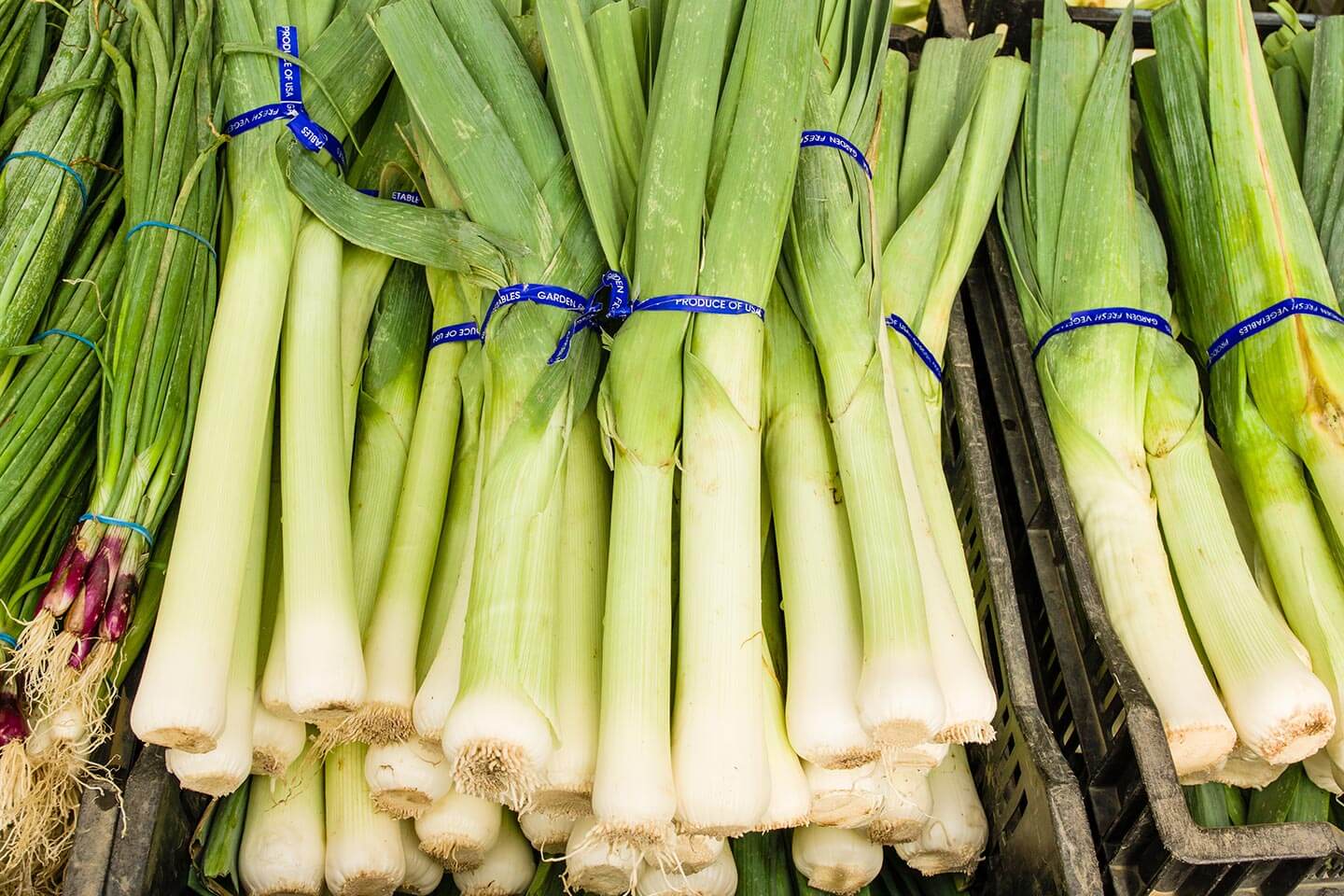 Soup recipes have been on my mind because it's been pretty rainy and damp in Toronto lately and I just love warming up with a comforting bowl of flavourful and super healthy soup. For dinner on Sunday night, we enjoyed this soup along with a wonderful salad Walker made.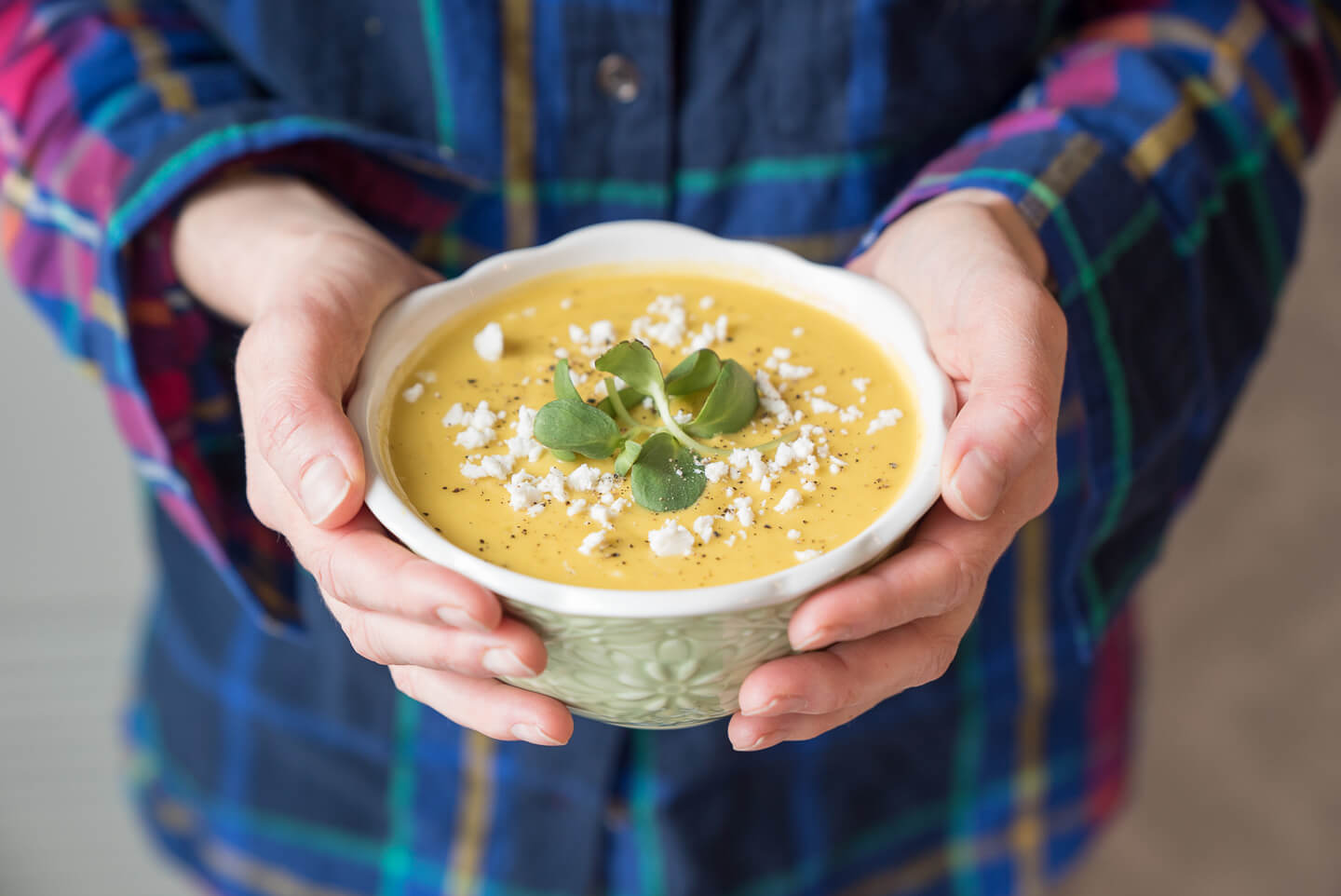 Leeks add such an incredible, yet not overpowering, flavour to soup. And they have many wonderful healthy benefits.
So why do you want to add leeks to your diet?
The most obvious reason is that they are very tasty! They go well in soups with starches such as squash or potatoes. They are also lovely paired with fish or in a chicken noodle soup. And I know this might sound weird, but I've even combined them with apples in a soup. There are many awesome combinations!
They are from the allium family, the same as one of my favourite superfoods: garlic. This means they have many of the same benefits as garlic because they contain similar phytonutrients.
Leeks are an excellent source of folate. This nutrient is very important for heart health, keeping your brain healthy (in studies this nutrient is often low in those who suffer from depression and anxiety) and of course pregnancy.
One of leeks' most notable phytonutrients is kaempferol, a polyphenol. Not only does this nutrient provide food for your intestinal bacteria, but it is also very anti-inflammatory. This nutrient also has anti-estrogenic activity, which makes leeks and all foods from the allium family a good choice for the prevention of breast cancer.
Leeks are also a good source of manganese, calcium, vitamin B6, copper, iron, vitamin C and even omega-3 fatty acids.
I haven't even talked about the health benefits of squash in this post, but I've cooked with them many times before so you can read about their superfood status in my recent recipes, including Quinoa Stuffed Acorn Squash or my Butternut Squash Soup with toasted pumpkin seeds.
I topped this soup with some pea shoots, goat feta cheese and pepper, but you can skip the cheese if you avoid dairy. It's still just as tasty.
Vienna was having so much fun with us as we were shooting this recipe. More often then not, we try to do recipe shoots when she's sleeping, but this didn't happen today! We had some fun banging spoons together as Walker took the photos.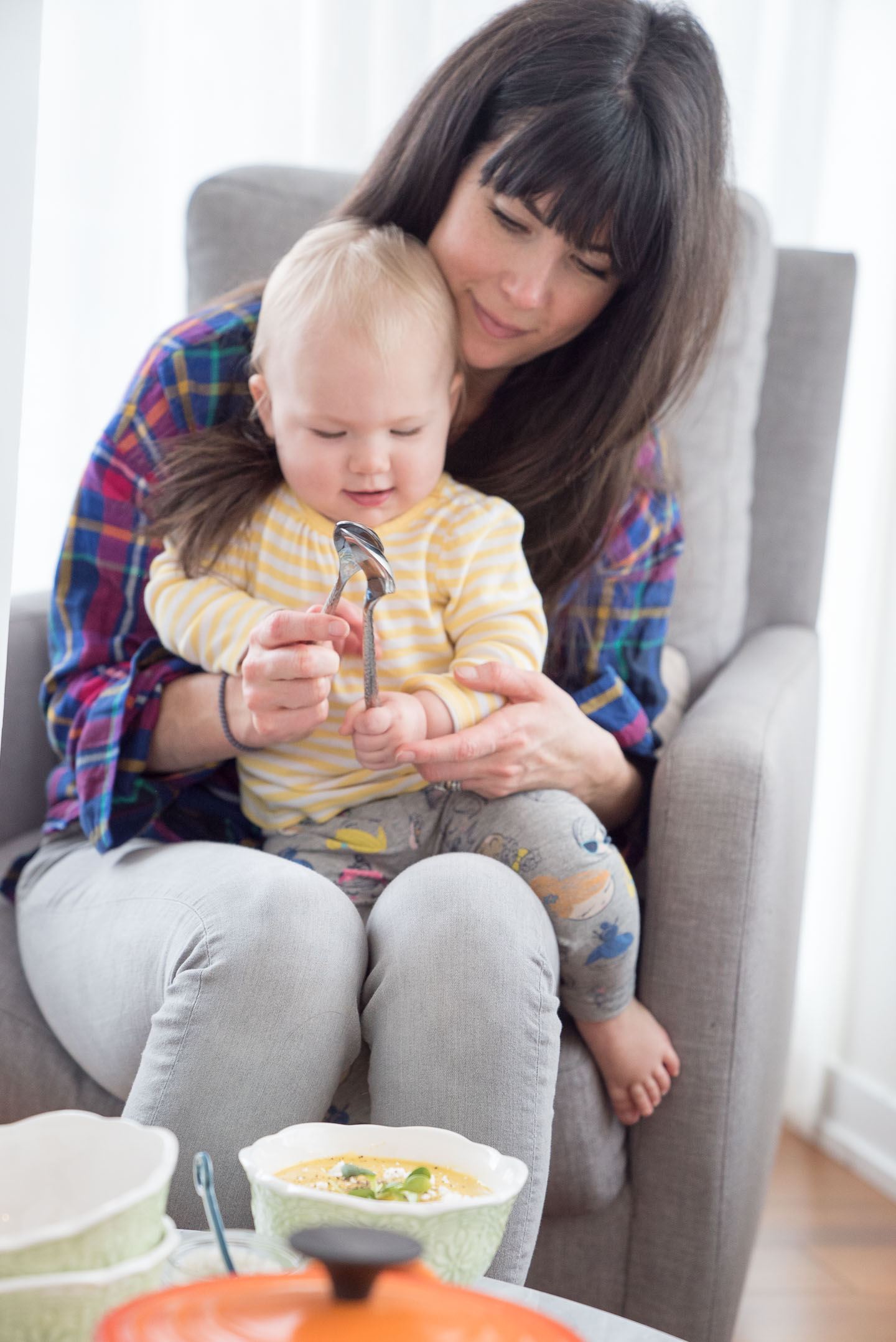 I have tried to give her this soup a couple times and she's not into it lately. In fact, the last 10 days have been weird with her eating. She's just not into much other than mama milk and fruit! I will keep trying and not get discouraged. Babies can be picky. However, she is into food styling, as you might have seen on my recent Instagram stories!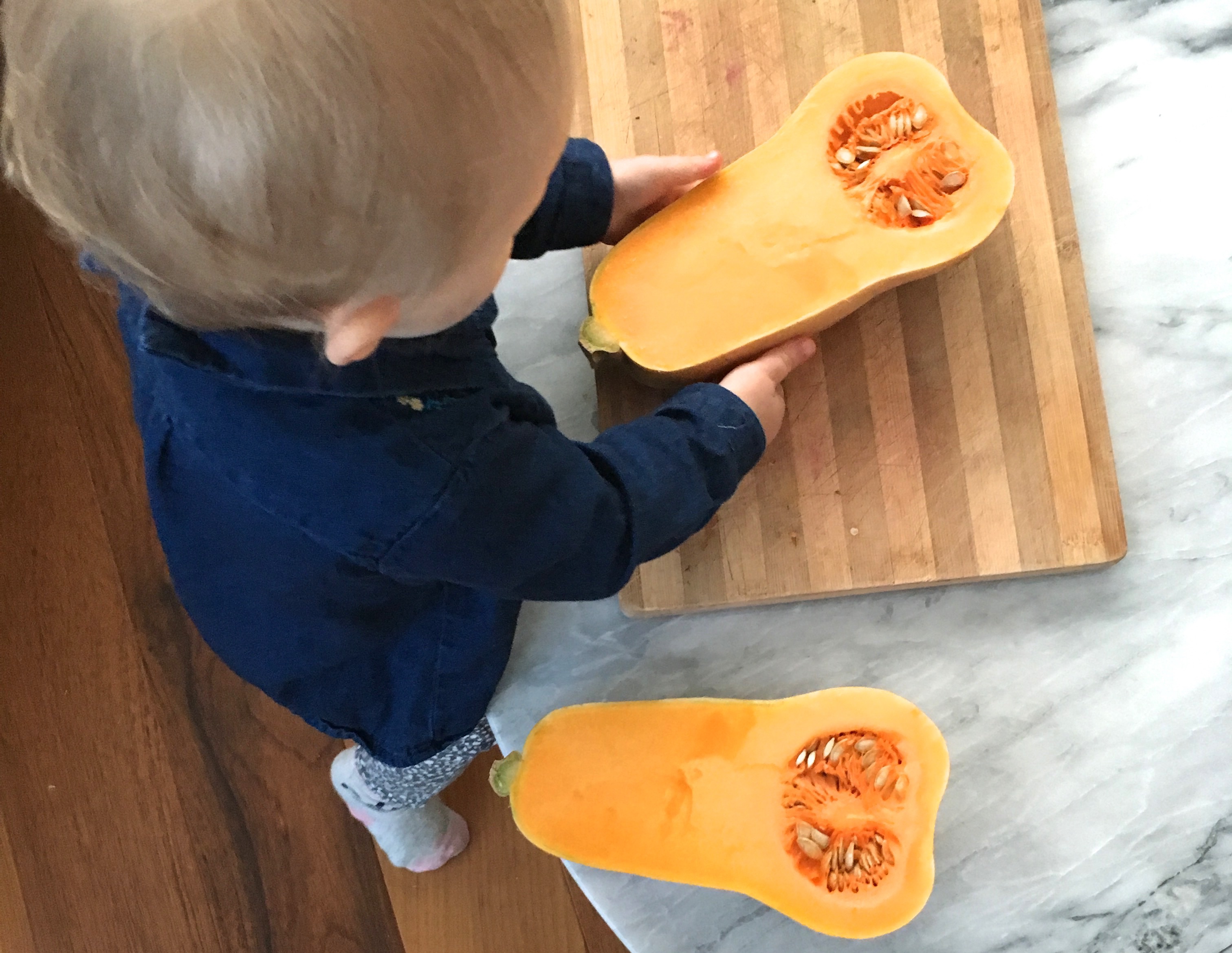 She loved feeling the butternut squash. I'm sure if I could translate her babbles she'd be telling me how to arrange them for a beautiful photo.
And now that I've babbled, I should share this recipe with you!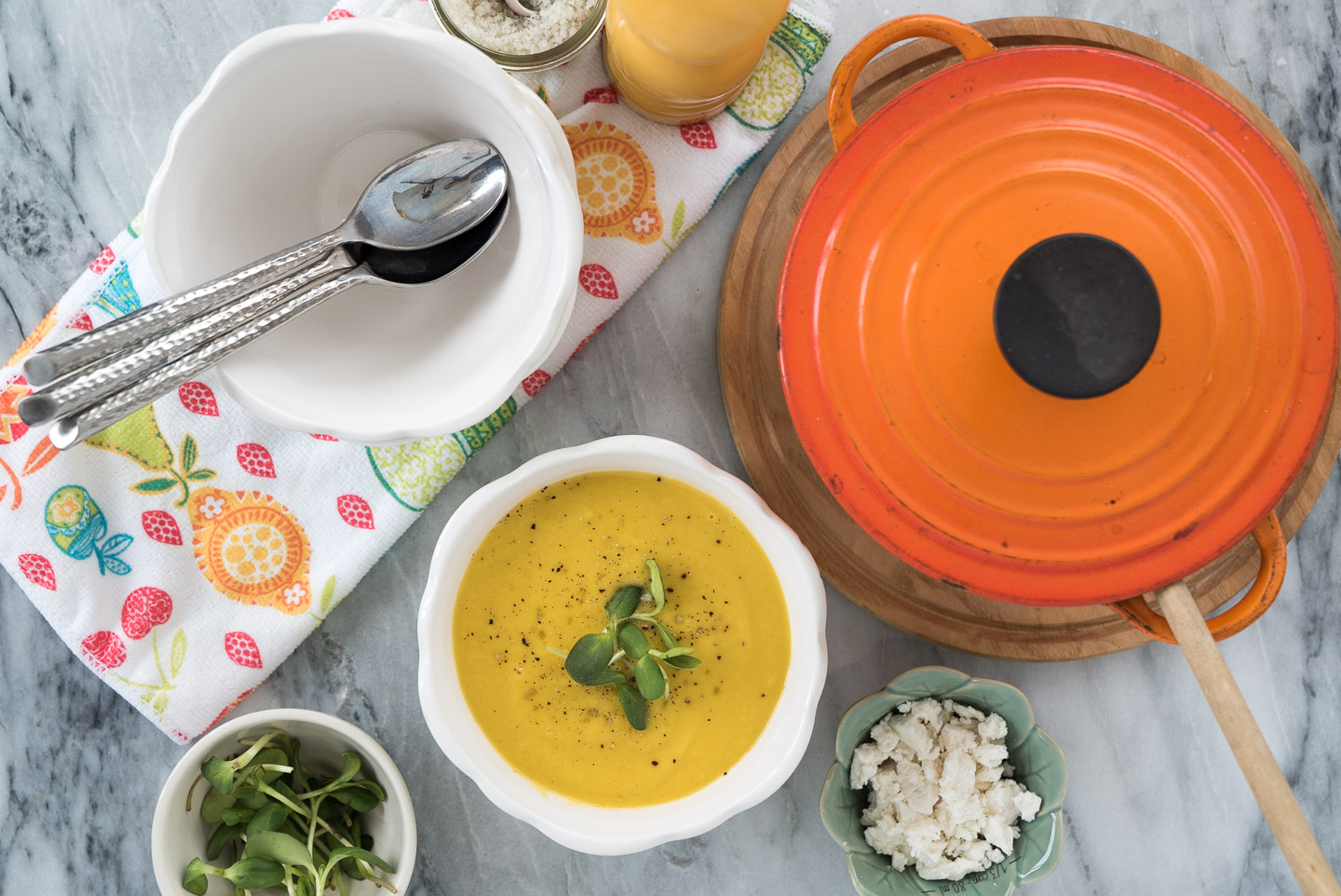 Ingredients
1 butternut squash, chopped* (approximately 3-4 cups)
3 leeks, washed and chopped** (approximately 2 cups)
2 tbsp coconut oil
1 can, 400mL organic full-fat coconut milk***
Sea salt and pepper to taste
Feta cheese and pea shoots for garnish
Instructions
Preheat oven to 350F degrees. Place butternut squash into a baking dish, add 1 tbsp coconut oil and season with sea salt and pepper. Cover with a lid and bake for 1 hour or until squash is fork tender.
Meanwhile, sauté the leeks on medium in coconut oil until tender, about 7-8 minutes. Set aside and wait for squash to finish baking.
Once the squash is done and cooled slightly, place both ingredients into a food processor or blender, add coconut milk and blend until creamy. Or, place all ingredients into a large soup pot and blend with an immersion blender.
Reheat the soup before eating. Just don't heat it too hot otherwise the good fat will curdle in the coconut milk. Add any seasonings you wish. If you want it to be a thinner consistency just add a bit of water.
---
Notes
*You can peel the squash ahead of time with a veggie peeler if you are cutting it into cubes before cooking. The other option is to slice it in half lengthwise and bake it flesh side down. Then you can just use a spoon to scoop out the squash. I find it's easier to cook it without peeling and just scoop it out.

**You can use the whole leek (including the green leaves) if you wish. Just make sure you wash them well because there is often soil nestled inside the leeks.

***I used Cha's Organic coconut milk, the flavour is divine!
So there you have it, Leek Squash Soup. I hope you enjoy it and be sure to tag me #joyoushealth on instagram or tag my facebook page if you make it so I can see your creation!
Have a joyous week!
Joy