I felt very honoured to open up the November issue of Alive magazine and flip to page 138 and see four of my recipes from Joyous Health. Once the excitement of staring at the pages sunk in, I read the whole magazine. I came across a recipe for Sesame Apricot Blondies that I just had to make. It reminded me a bit of my Protein Blondie Squares, but the apricots were a nice twist.
So this recipe is inspired by the one I saw in Alive, with lots of joyous changes, as you can see in my photo below.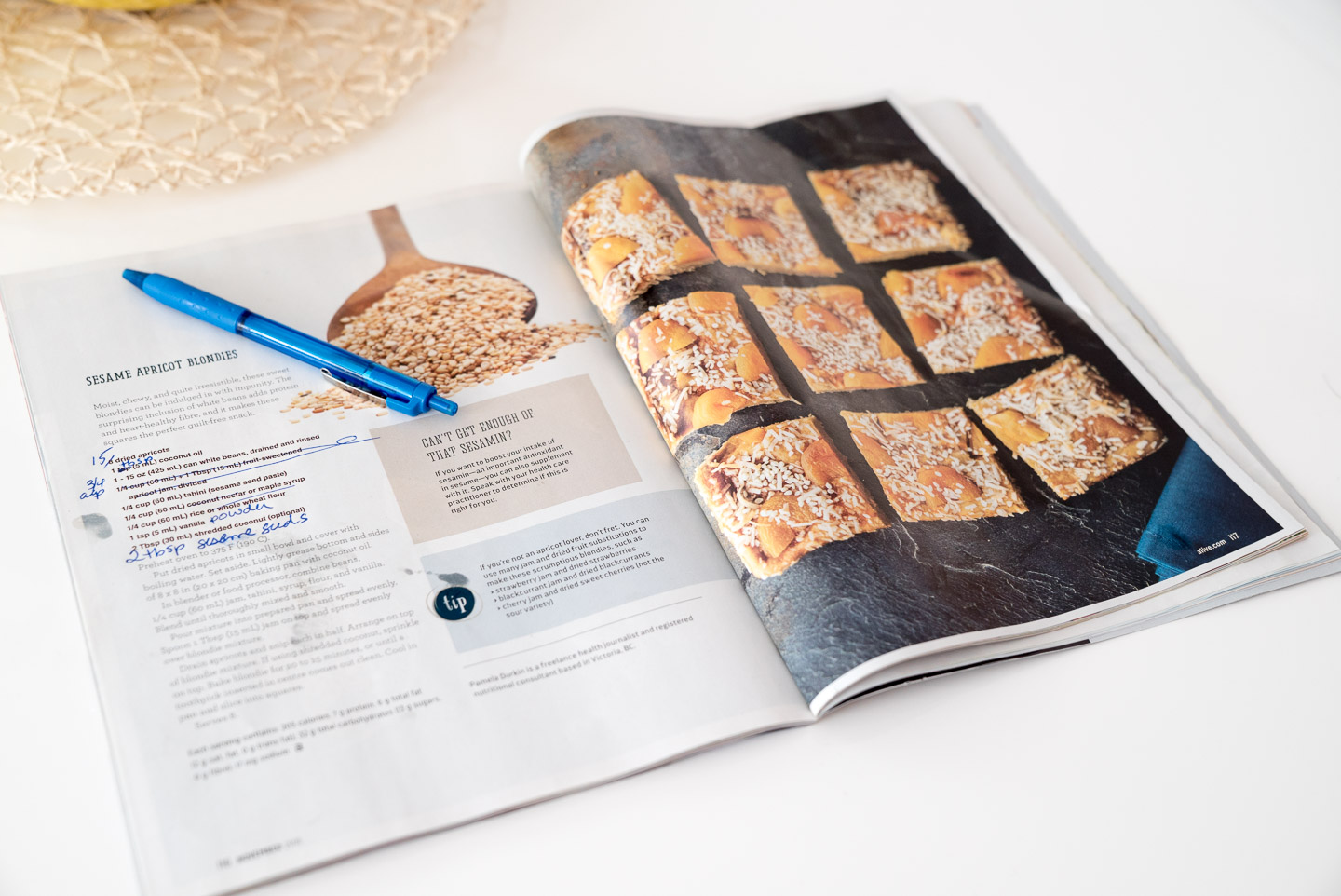 This is one of those recipes that can be a dessert or a power snack. I even gave some to Vienna and she was a huge fan! Now, if I can just get her to eat broccoli and kale!
I recommend buying certified organic apricots, you'll know because they are brown instead of bright orange due to their lack of sulfite preservatives. After you've soaked them in water to plump them up, you pop all your ingredients into a food processor or blender and give a whirl!
The colours in this recipe are so complementary!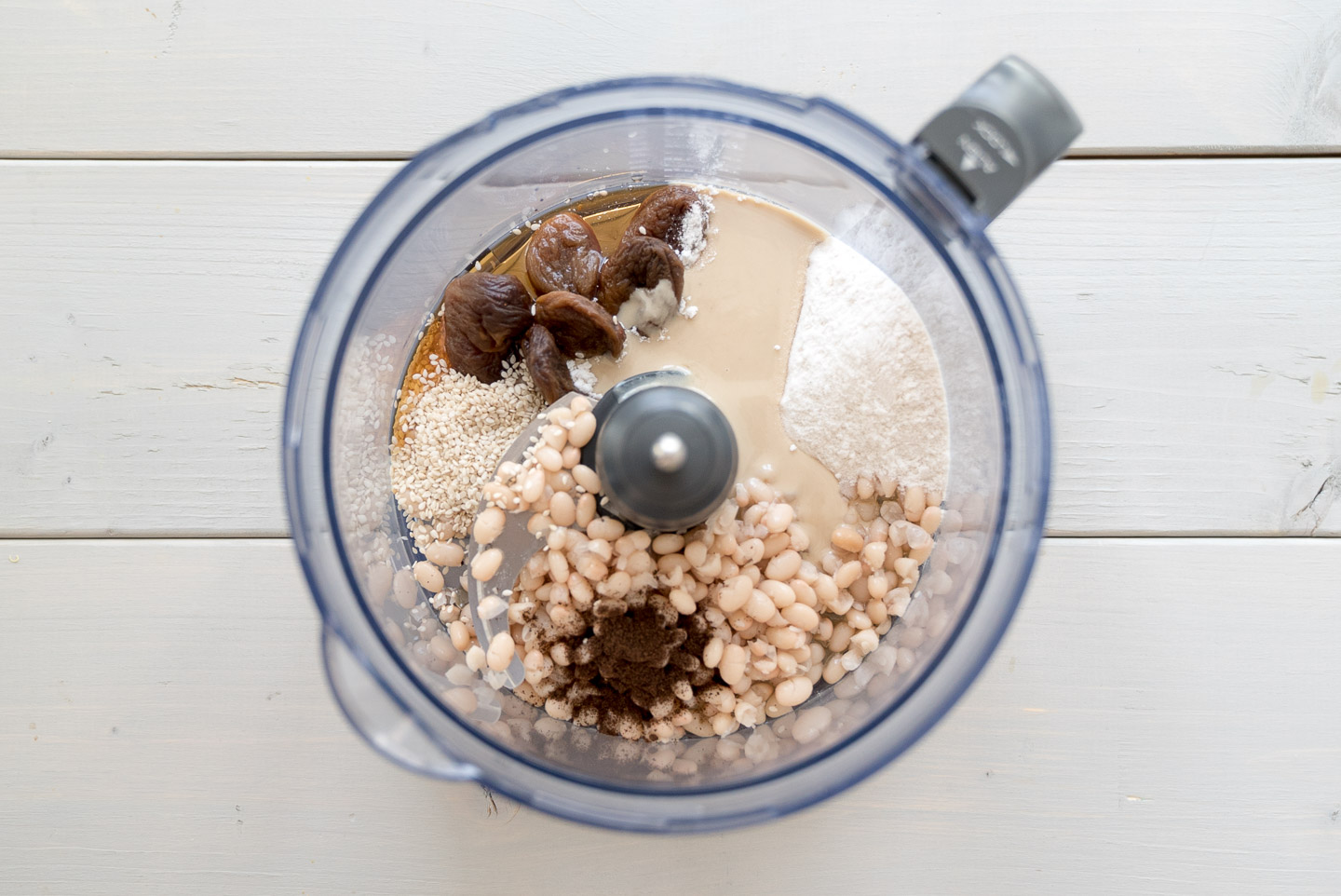 Using a square baking dish, press the blended mixture into the bottom. You won't use all the apricots because some are for the topping, but you'll see that in the recipe below.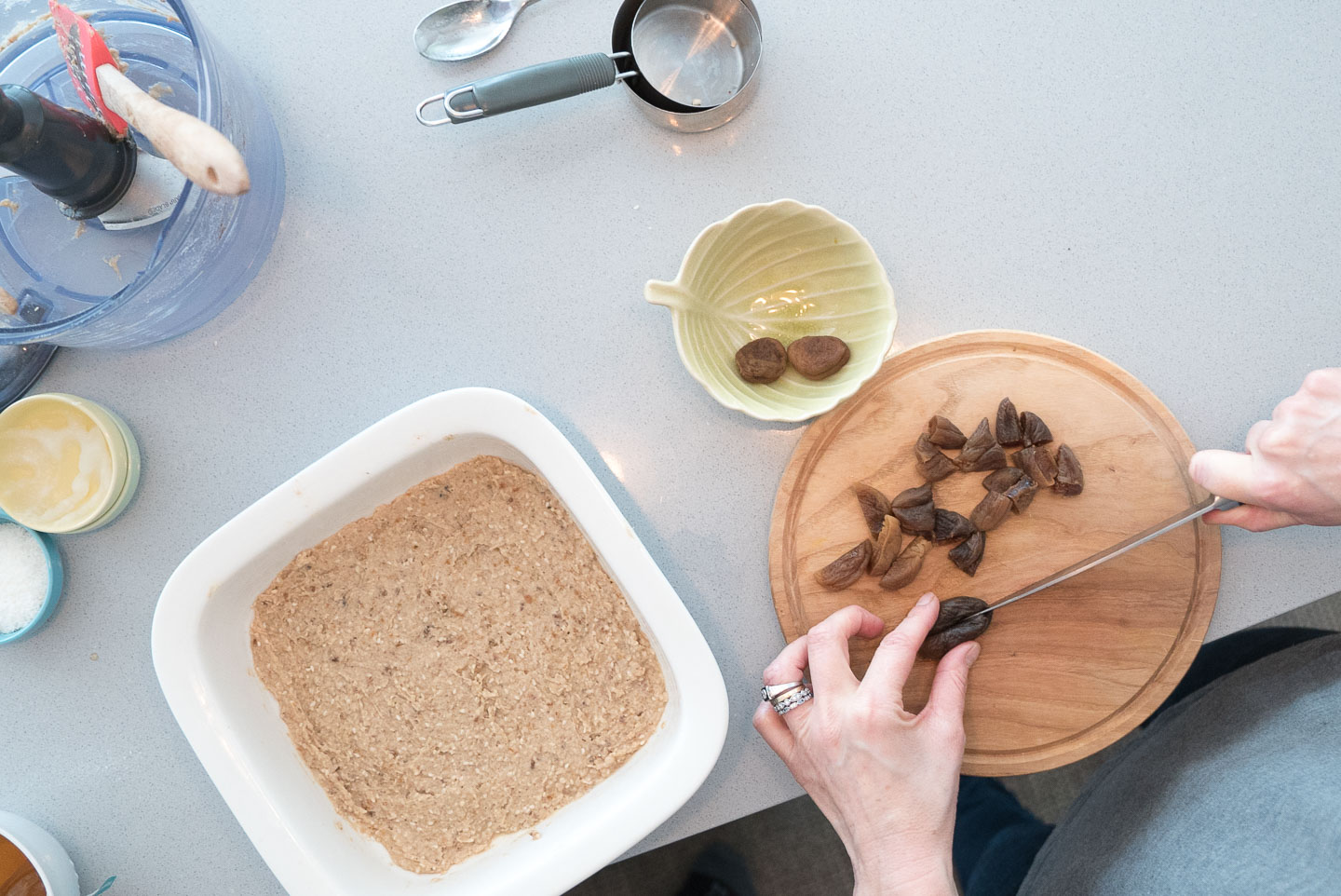 While I was making this recipe, Vienna was hanging out beside me playing with dishes in the drawers. She loves wooden spoons and spatulas. I think she's gonna love cooking! I just love having her with me all the time. I'm sure soon she will be giving me instructions in the kitchen – I can't wait!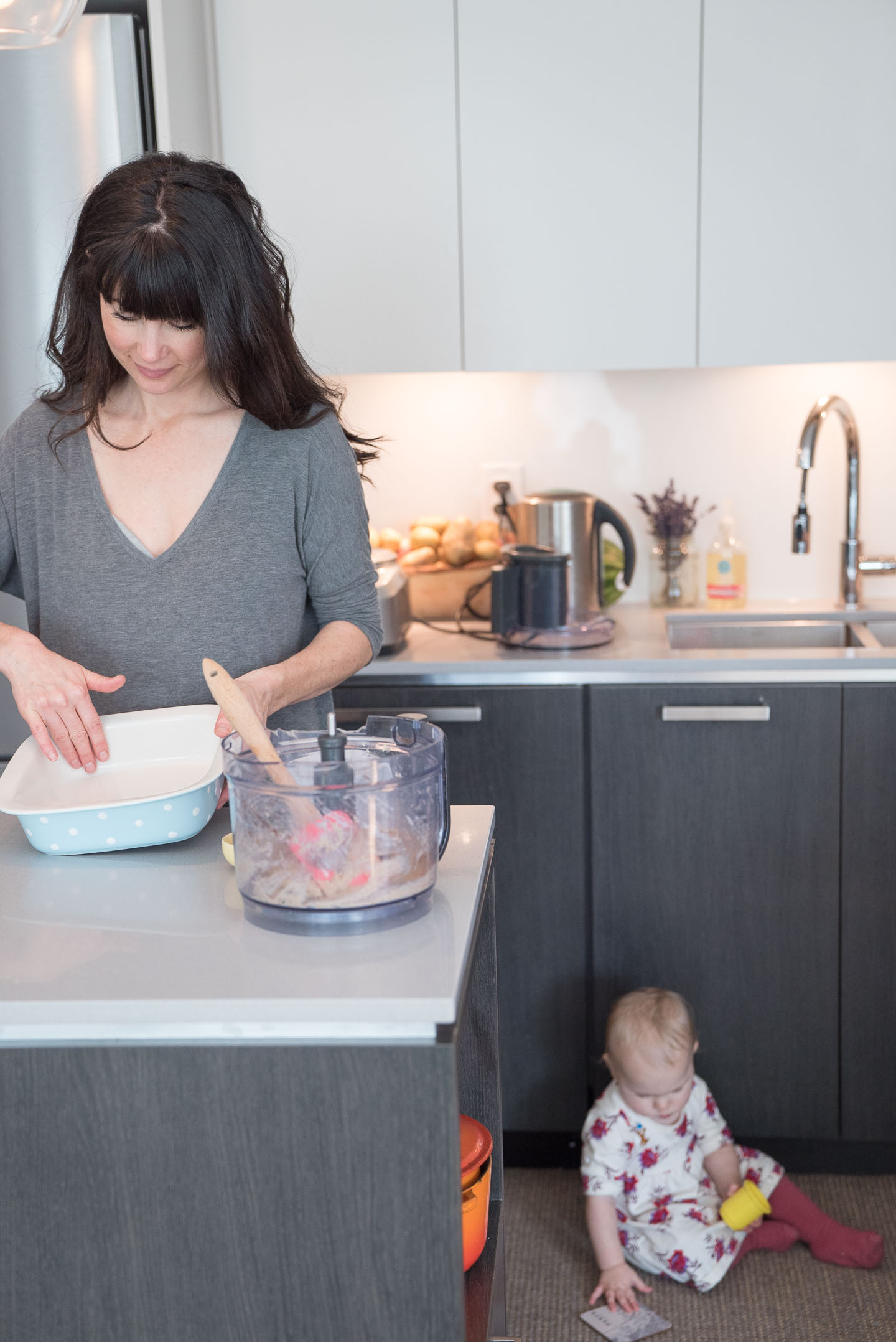 Once you've decorated the top with apricots, sprinkle coconut on top. Then pop in the oven and you're almost done, that is ... unless you want to drizzle chocolate on top. (And you do!)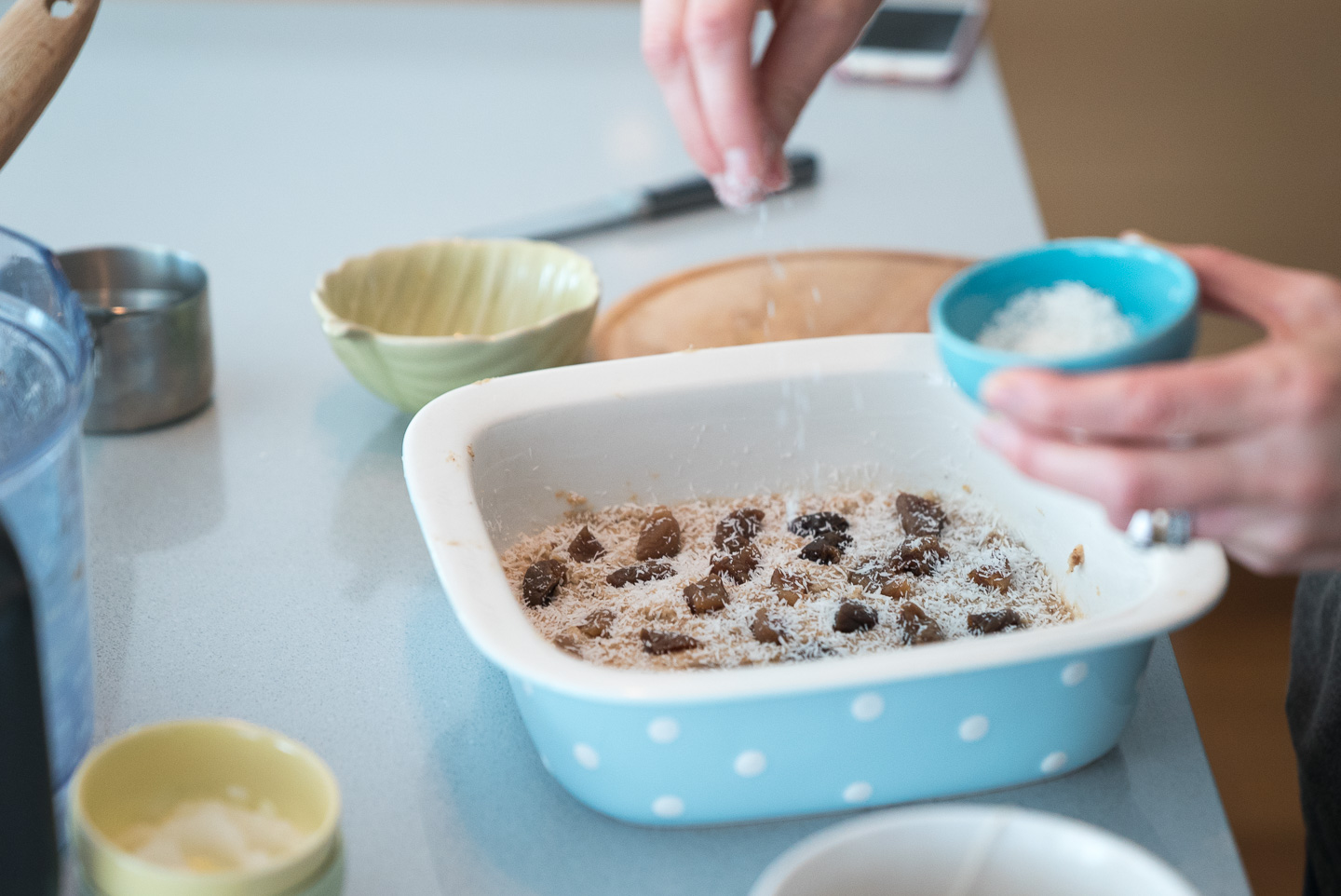 When these squares were baking, the smell of toasted coconut made me want to add drizzled chocolate – so that's what I did. But you don't have to do that. I had to pick off the chocolate for the squares I've given Vienna because she doesn't need any help in the energy department :)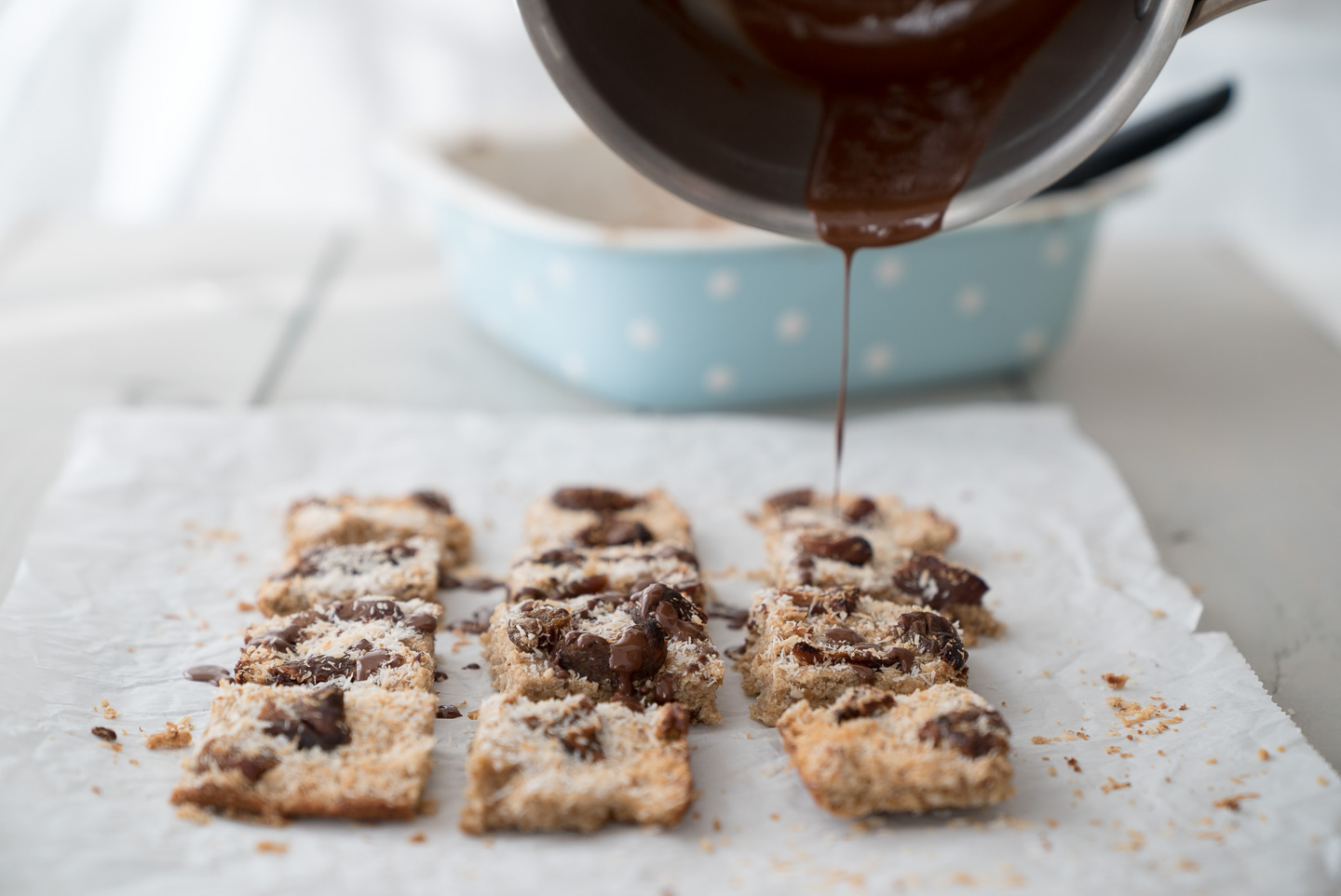 Here's the recipe:
Ingredients
15 dried organic apricots, rehydrated in water for 10 minutes
3/4 cup cooked navy beans
1/4 cup tahini (sesame seed paste)
1/4 cup maple syrup (want it sweeter? add 1 tbsp more)
1 tsp vanilla powder or extract
2 tbsp sesame seeds
2 tbsp shredded coconut
1 tbsp coconut oil
Optional: 3 tbsp chocolate chips
Instructions
Preheat oven to 375 degrees.
Grease an 8X8 square pan with the coconut oil.
In a food processor or blender, combine 7 apricots, navy beans, tahini, maple syrup, vanilla powder and sesame seeds. Blend until smooth.
Press mixture into a greased 8x8 square pan.
Chop remaining apricots into quarters and place on top of pressed mixture in pan and then sprinkle with shredded coconut.
Bake for 20 to 25 minutes.
Optional: Melt chocolate chips on stove top on low. Once squares are done, drizzle with melted chocolate.
Refrigerate up to a week.
There you have it! These squares are very rich in fiber, plant-based protein and full of flavour.
I hope you enjoy!
Joy