Happy New Year my joyous reader!!! I hope you're feeling hopeful and inspired with a sense of renewal and joy that every new year brings. I know I'm feeling excited about 2017 for many reasons — one of them is that my new book Joyous Detox is now on book store shelves!! I've got a lot going on over the next few months event-wise with book signings and seminars and even though I know it's gonna be hectic, I am committed to eating nourishing, healthy and delicious food. This is why I made this recipe I'm sharing with you today.
This orange chicken is the definition of healthy comfort food to keep you joyously nourished.
I've been craving warm soups and stews since being back from visiting our family in Florida over Christmas. That's likely because it's been grey, cold and damp here in Toronto. In fact, when I look out my window at the park it looks like the world is literally black and white! This orange chicken with black rice is furthest thing from cold or black and white. The vibrant flavours burst in your mouth and it literally looks like sunshine.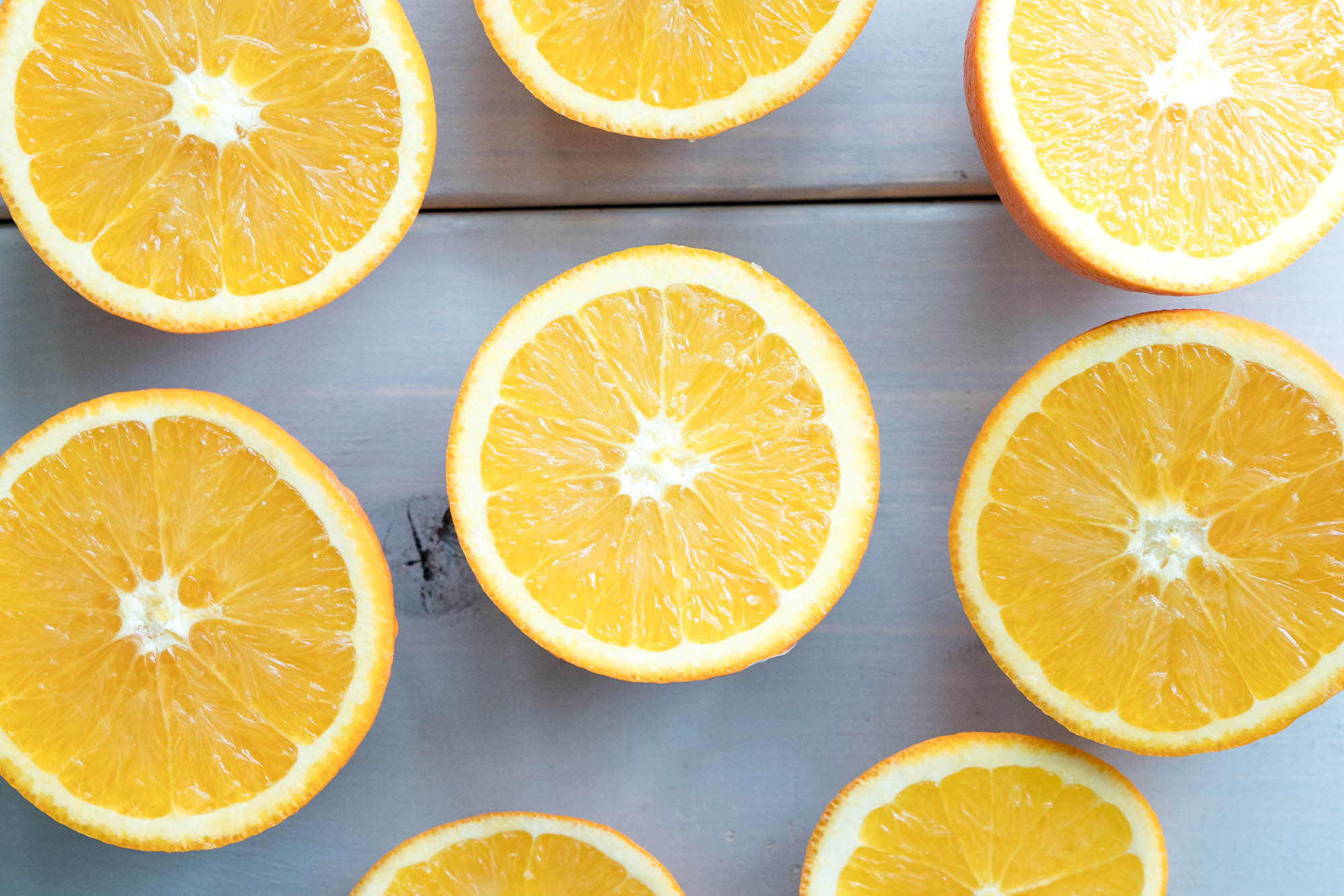 I was inspired to make this because the hubs, Walkman gave me a slow cooker for Christmas! I think this is the first slow cooker recipe on the blog ever, but don't worry if you don't have one because you could easily make this in a covered casserole dish in the oven or on the stove top.
Since I'm new to the slow cooker world I did a little google search and came across Kirbie's Cravings and this recipe. I had a quick look and immediately knew this was the recipe I could use and adapt it for my family.
We had my girlfriend Elaine and my parents over last night for a little New Year's Day dinner. Ma McCarthy was so sweet and brought my favourite cake: Chocolate Quinoa Cake as a belated bday cake and Elaine brought a delicious, crunchy and fresh kale salad and wine.
This recipe is proof that you can whip up a hearty and healthy recipe in no time. We spent New Year's Eve up north at our friends cottage and it was about 2:30pm when we finally arrived home. I knew my parents were going to arrive around 5pm so I had planned this easy meal. All we had to do was pop everything in the slow cooker and leave it be for 2 hours. In fact, I didn't even make it… Walker did! He put it together while Vienna and I had bath and cleaned up (lucky us!).
It made for great leftovers too. That's what we both had for lunch today! So it served 5 adults and 1 toddler last night and 2 servings for lunch today.
Ingredients
6-7 boneless organic chicken breasts, cubed
3 tbsp brown rice flour
3/4 cup water or chicken stock
1-1/2 cups freshly squeezed orange juice
2 tbsp organic orange zest
3-4 garlic cloves, finely chopped
3 tsp fresh ginger root, grated
1/2 cup honey or maple syrup
1/2 cup tamari sauce or coconut aminos
4 tsp your favourite hot sauce
2 tbsp arrowroot powder/starch
4 tbsp water
1/4 cup chopped green onions
2 cups black rice* (or brown rice)
Instructions
Place cubed chicken into a large bowl and sprinkle with brown rice flour. Try to evenly coat the chicken.
Add chicken to slow cooker and put on "browning" function. If you're slow cooker doesn't have a browning function you can quickly stir fry it in a pan on medium heat for a couple of minutes in olive oil just to cook the outside a little. This will prevent the chicken from shredding and breaking apart when you cook it over 2 hours. If you want to skip this step to save time you can do that. Once done browning, place chicken back into slow cooker.
In a small bowl, whisk together water/chicken stock, orange juice, zest, garlic, ginger, honey, tamari sauce, and hot sauce. Pour sauce over chicken inside the slow cooker.
Seal your crock pot and set it to cook on high for 2 hours. After 2 hours, your chicken should be tender and sauce should be thickened.
To thicken sauce even more, dissolve 2 tbsp arrowroot starch/powder into 4 tbsp water, then stir completely into the sauce. Seal crock pot and set to the warming function for 10-20 more minutes and sauce should be much thicker.
Serve over black rice with vegetables of your choice.
Garnish with green onions and squeeze some fresh orange juice on top just before serving.
---
Notes
7 servings.

*Black rice cooks like any other rice. 1 part rice, 2 parts water. It takes about 45 minutes to cook. It's soooo worth it because black rice has a beautiful hearty texture.

If you don't have slow cooker, then preheat your oven to 350F degrees and follow the same steps. I think it will take about 35-45 minutes, but I haven't done this method so you'll just have to watch and see.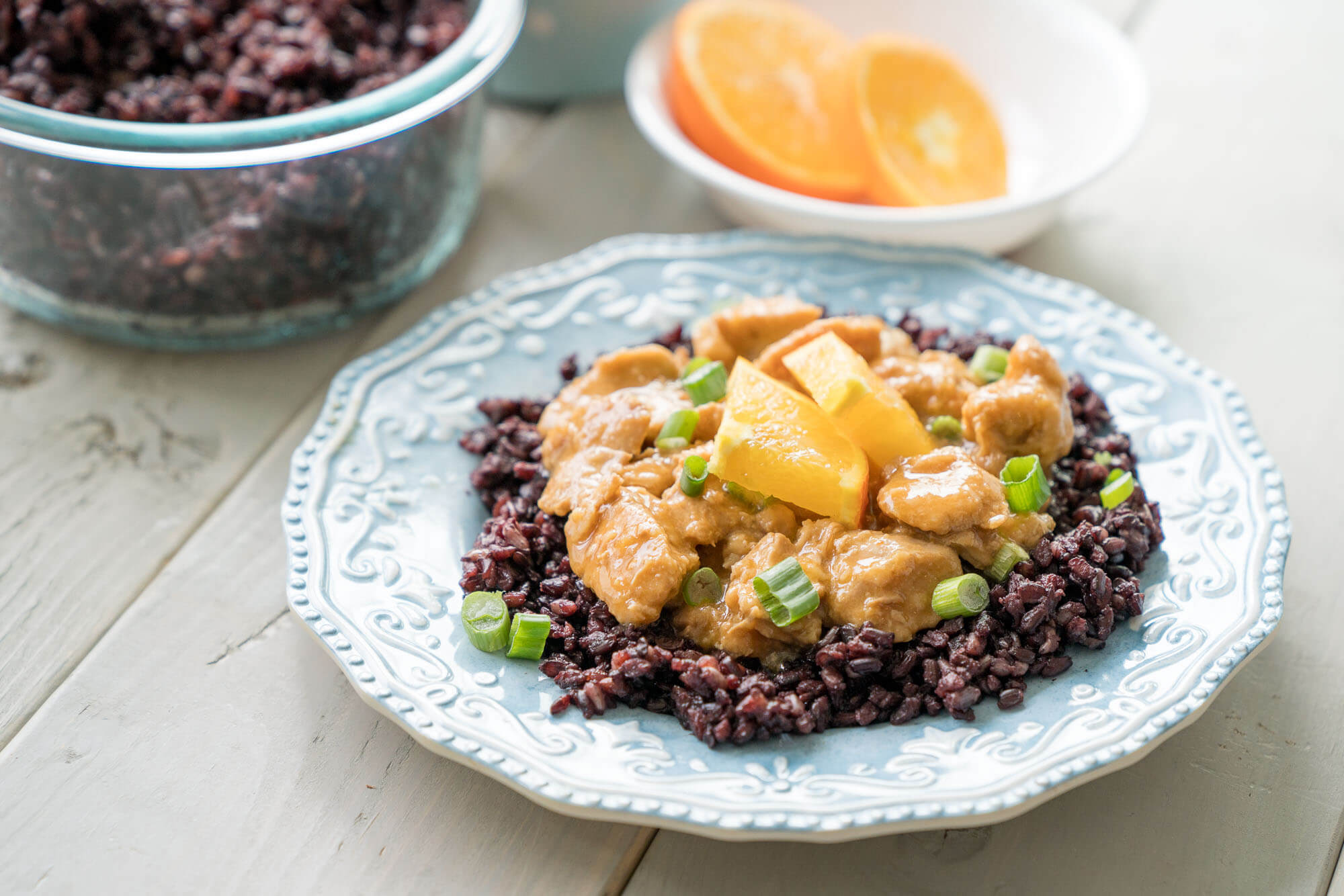 Another reason I love this recipe is because it's supportive for your immune system. The oranges (assuming you squeeze fresh orange juice after cooking and chomp on some orange segments) are a great source of vitamin C and chicken is a complete source of all the essential amino acids which help make antibodies that fight infection.
Black rice is very high in fiber which helps your digestive system eliminate waste products.
Unlike the large majority of orange chicken recipes, this recipe is not full of white sugar or cornstarch which is almost always GMO-derived. Sugar is a yeast-feeder and dampens your immune fighting ability. So many people are sick this time of year but your best weapon is avoiding sugar and eating nourishing food!!
Speaking of nourishing food, if you're looking to join a community of others detoxing this January then join my Joyous Detox online program. All you need is my new book and an internet connection. Find out more here in my video. I hope to see you there!
Once again, happy new year!!
Joy
ps. Check out my upcoming events! I'm doing a FB live tonight showing you how to set up your detox friendly kitchen and Wednesday I'm doing a free webinar!