I wanted to call this soup "Prebiotic Soup" but both my hubs and his buddy thought that name was terrible. Okay, okay... maybe I was in my nutritionist bubble at the time thinking it was a great name for this soup because it is a mix of foods that are known to be full of prebiotic fibre. Right!?!? That could work?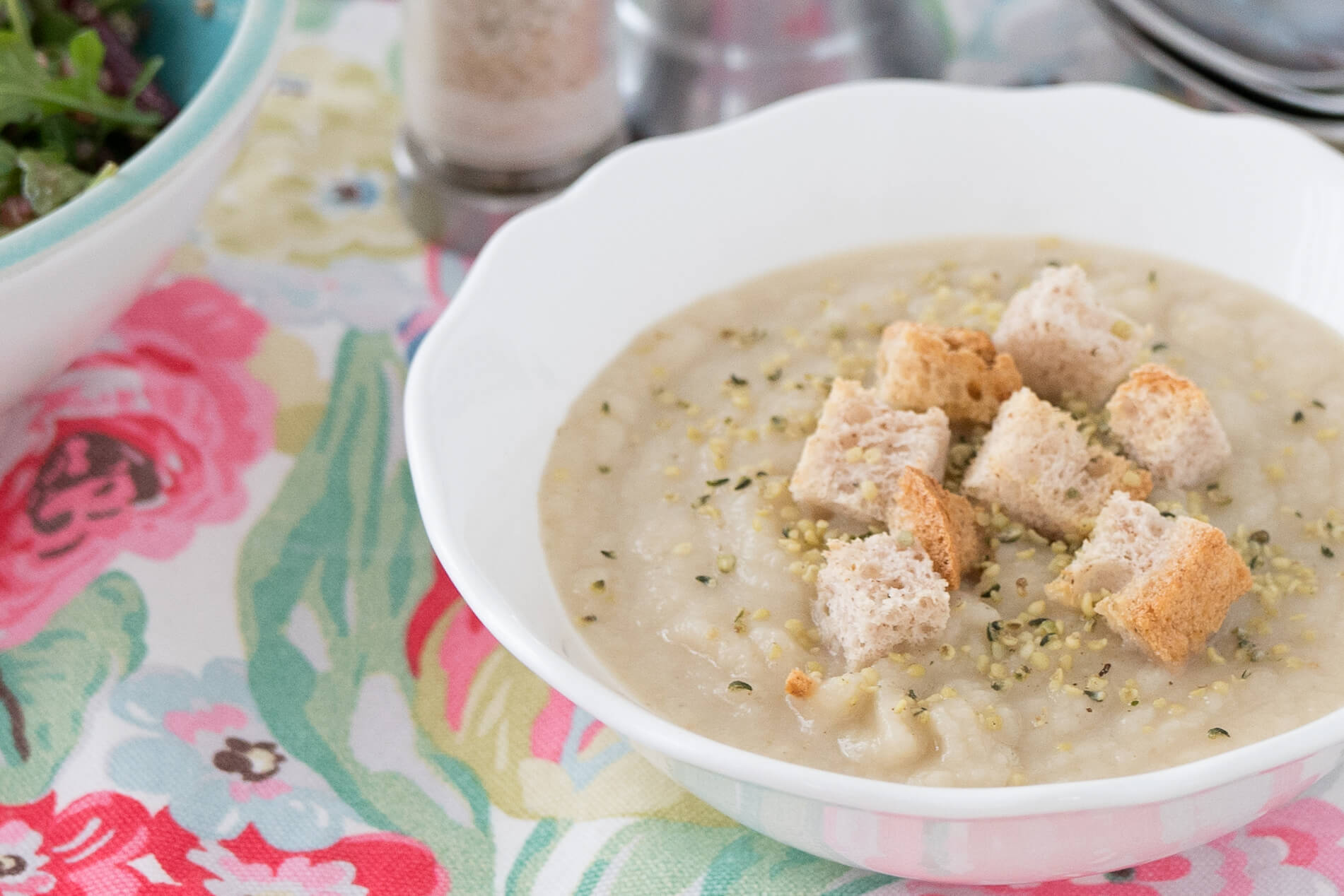 Ohhhhkay, maybe not!
Not to be confused with "probiotics", PREbiotics are essential to the life of probiotics. Without enough prebiotics in your diet you're are at a great risk of excess yeast, fungus and an abundance of bad bacteria. And what the heck are you feeding your good bacteria if your'e not eating prebiotic rich food. I've got a blog post coming up this weekend all about prebiotics.
Now I have to be completely honest here, celery root is not my typical go-to for creating soup. It would come in my organics delivery once in a while and I embarassingly let it rot in my fridge. It's a pretty gnarly looking veggie and I just never felt particularly inspired to create something.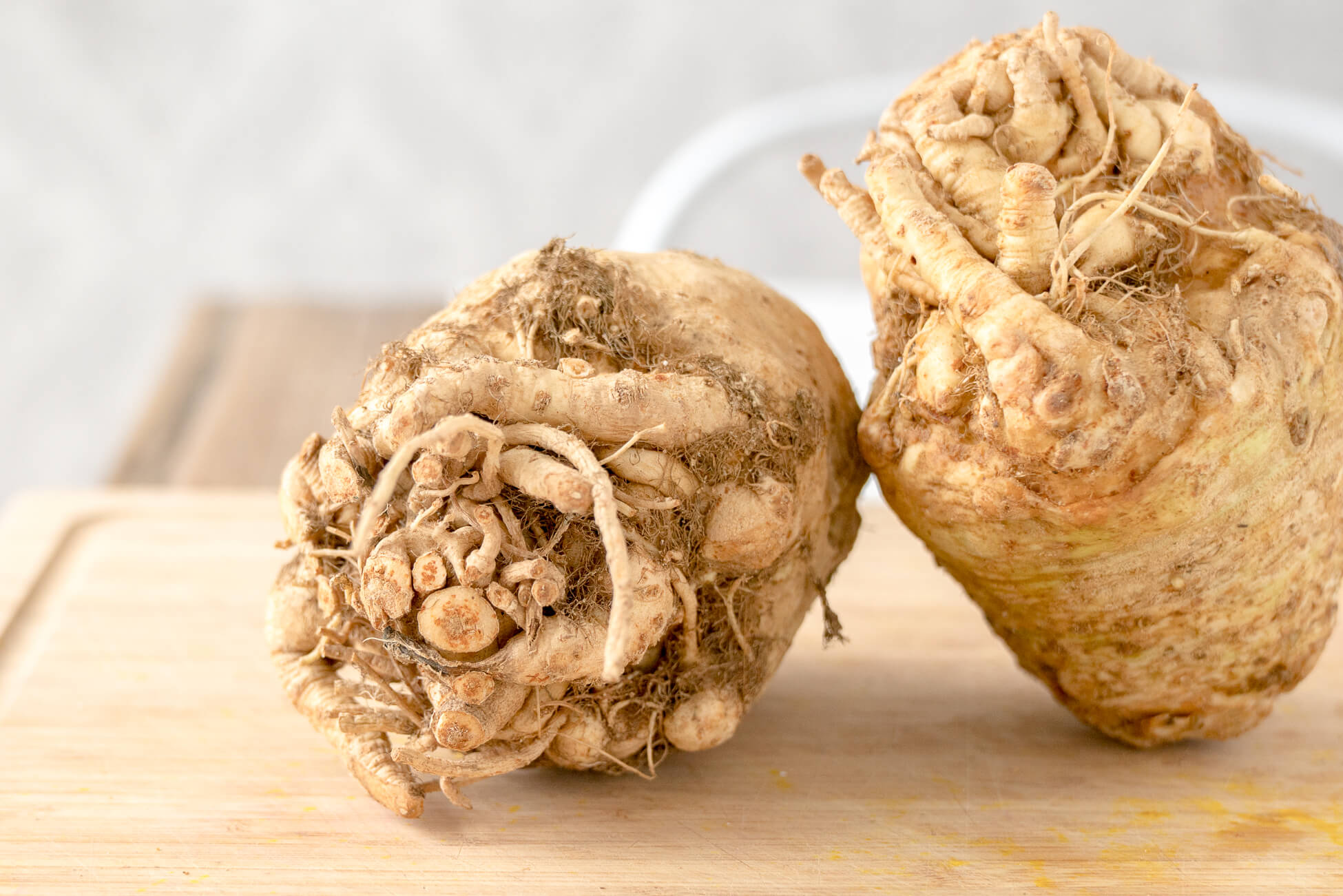 However that changed when I got inspired after sipping on my good friend Meghan's delicious celery root soup at a recent nutritionist potluck!
I was shopping at The Sweet Potato a week ago and I was in the mood for soup because it was bone-chilling, snot-freezing cold outside. I spotted a celery root and that's when we became friends!!
I made a wonderful batch when my parents came for dinner and I sent them home with a decent mason jar full too. Everyone LOVED it, including Vienna :)
I added some toasty croutons for crunch (which are super duper easy to make), and a sprinkle of hemp hearts for that nutty flavour and a little hit of plant-based protein.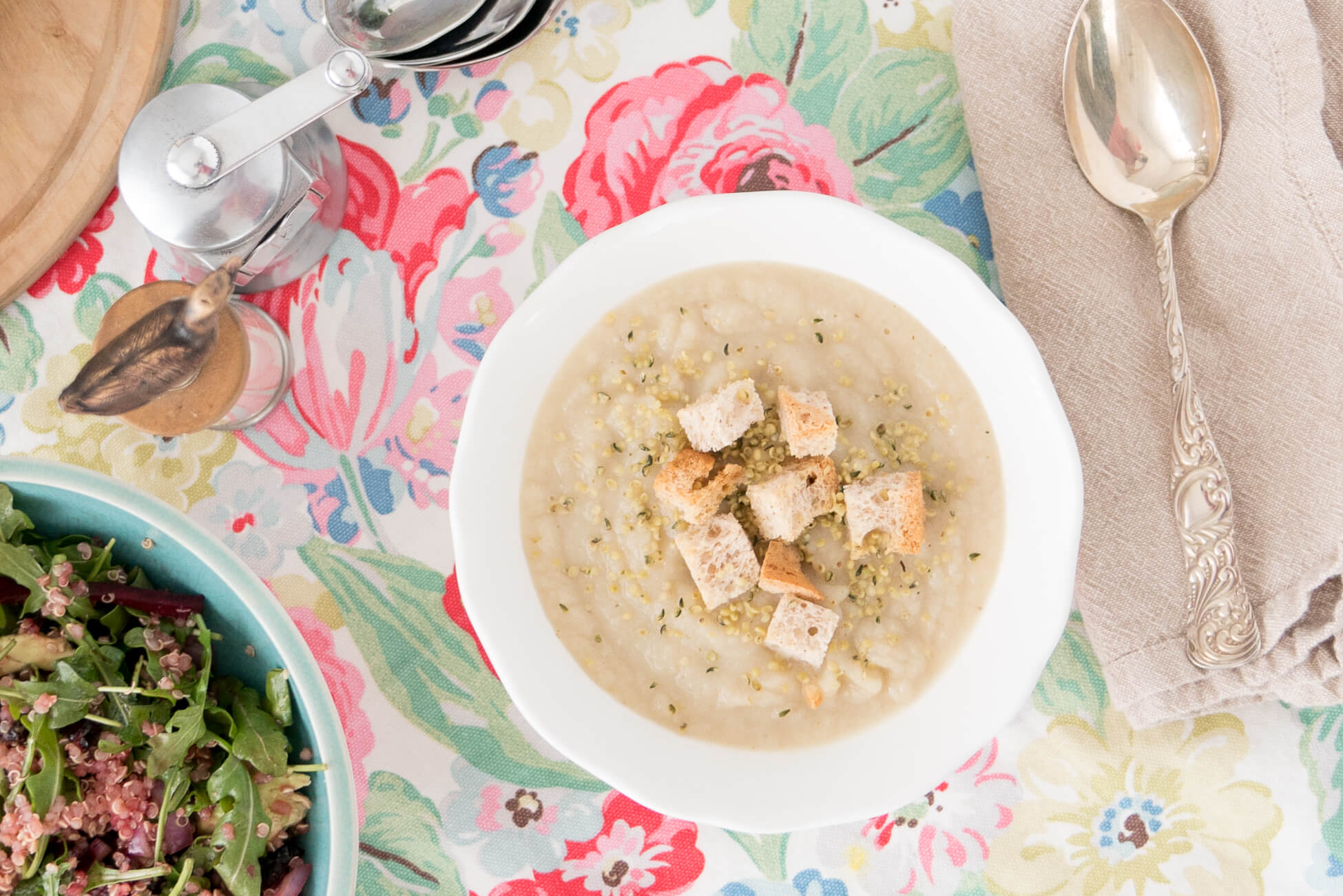 If you're new to celery root I have no doubt you are wondering how to cut off those gnarly bits. I cut it like how I would peel a pineapple. Using a chef's knife, chop off the top and then cut off the slides lengthwise. You can save these pieces for a soup stock. Celery root is naturally high in sodium, making it great for a flavourful stock.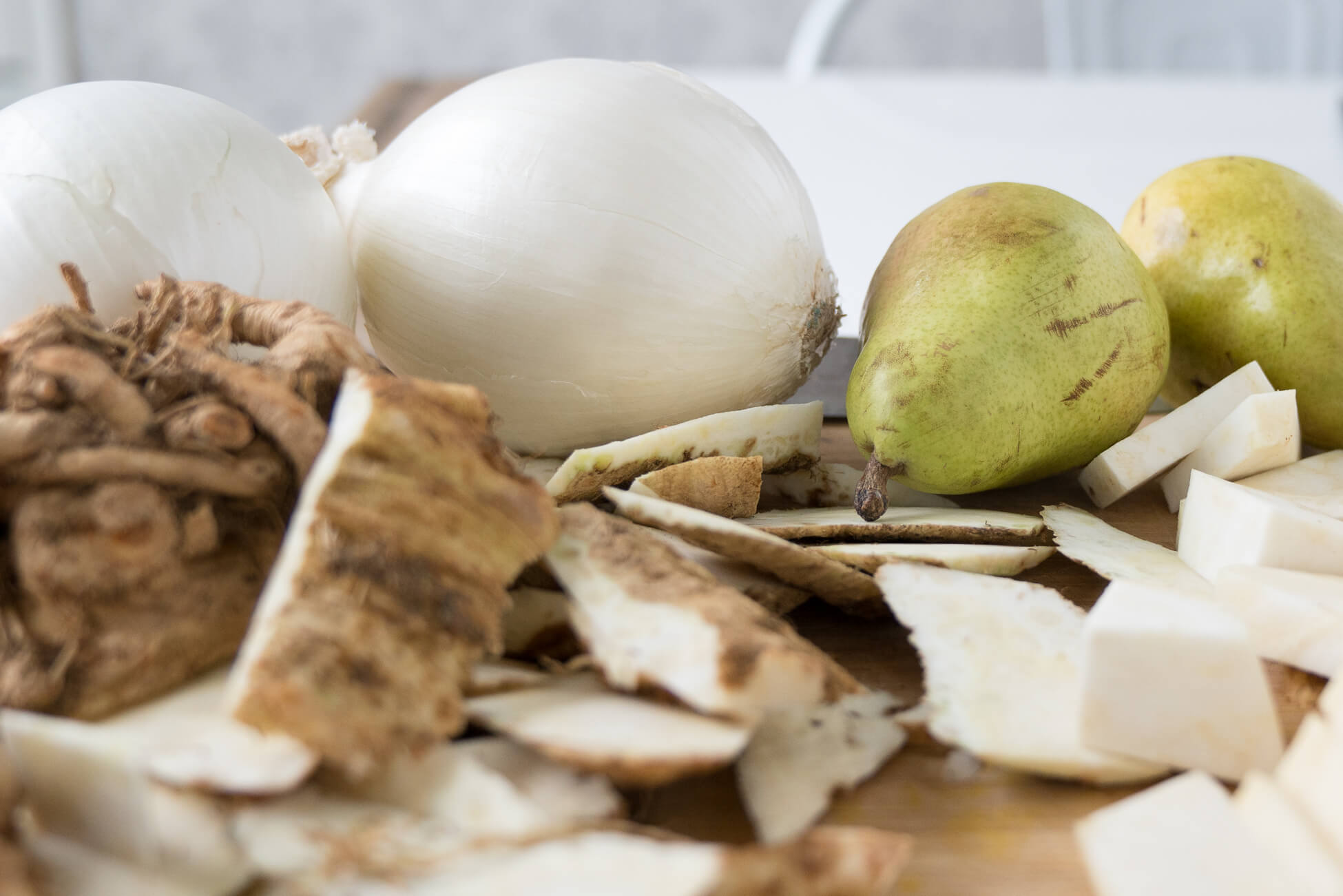 I also added onions, pears and garlic -- all incredible prebiotic rich foods.
Here's the recipe and be sure to check all the health benefits of celery root below.
Ingredients
2 large sweet onions, chopped
4 garlic cloves, chopped
1 tbsp coconut oil or grapeseed oil
4 cups chicken or veggie stock or water
2 celery roots, peeled and chopped
2 bartlett pears, chopped
1 tsp dried thyme
Sea salt and pepper to taste
Instructions
Heat oil in a large pan. Sautee the onions and garlic until tender.
Add 4 cups of chicken or veggie stock. You may need to transfer to a large soup pot at this point.
Add chopped celery root and pear. Bring to a bowl and then let simmer on low for 15-20 minutes until the celery root and pear is tender.
Using an immersion blender or stand up blender blitz the ingredients until you've reached your desired texture. Add thyme and season to your liking. Enjoy!
---
Notes
Serves 4.

Using a stock will yield a tastier flavour.

Sprinkle with croutons and hemp hearts.
Here is the recipe for the Super Tasty Croutons. I used white bean bread made by Queen Street Bakery for these croutons. You could also use Silver Hills sprouted bread too.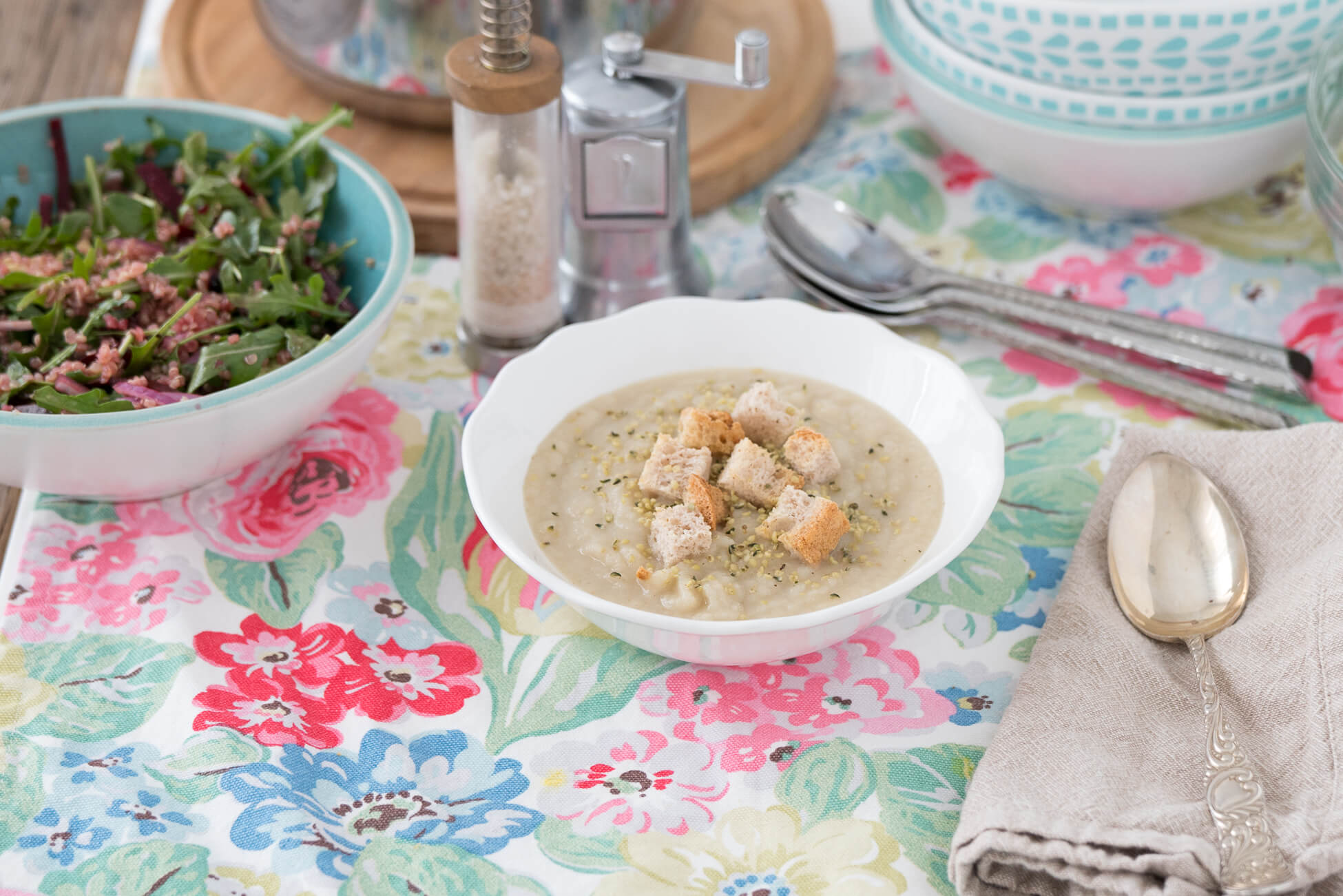 Ingredients
4 slices gluten-free day-old bread
1 tbsp extra virgin olive oil
1/4-1/2 tsp fine sea salt
1/2 tsp dried Italian seasoning
1/4 tsp garlic powder
Instructions
Preheat oven to 350F degrees.
Cut bread into bit sized cubes and place into a mixing bowl.
Drizzle bread with olive oil, followed by sea salt, Italian seasoning and garlic powder.
Bake for 10-15 minutes. Be careful they don't burn. Check at 10 minutes and they are done when they are crispy and golden brown.
---
Notes
Yields about 2-3 cups.
As the old saying goes...
Don't judge a book by it's cover.
I say this because celery root might not be the pretties veggie but it's pretty awesome when it comes to the many health benefits it offer.
Let's take a look at some of these health benefits.
Celery root is packed with fibre, making it a filling and satiating addition to your meals (try swapping your go-to grain or white potato for this!) which will also help to balance your blood sugar and keep your digestion functioning optimally. The beauty of celery root is that it's low in starch, calories (not that we count those around here) and the glycemic index so it's likelihood of causing any digestive distress, bloating or that "too full" feeling is very low.
If you've had celery Root, you'll know that it comes with a slightly bitter taste. This bitter taste is what will help to support digestion by promoting bile production, a necessary component in digestion, along with bowel movements which is always something to be celebrated!
If you suffer from stress, integrating celery root into your diet can help to alleviate some symptoms associated with it. That's because celery root is packed with Vitamin B6 which is great for supporting adrenal function (where our stress hormones are released) and a healthy calm nervous system. It is also super helpful as it helps to support the breakdown and utilization of carbohydrates, fats and proteins.
Magnesium plays countless important role in the body, yet so many of us aren't getting enough of it in our diet. Celery Root serves as a great source of magnesium which helps to increase energy, calm our nerves, aid in sleep, relax sore and tight muscles as well as provide relief for migraines and headaches.
As one of the best suppliers of Vitamin K (providing 53% of your daily needs in just ½ cup), celery root helps to support blood clotting, which helps to prevent excess bleeding when injured. Recent research has also shown it's vital role in utilizing Vitamin D in the body, which as we know is responsible for things like supporting immunity, preventing autoimmune conditions and regulating our mood.
There you have it! I hope you'll try out my recipe for Celery Root Soup with Super Tasty Croutons!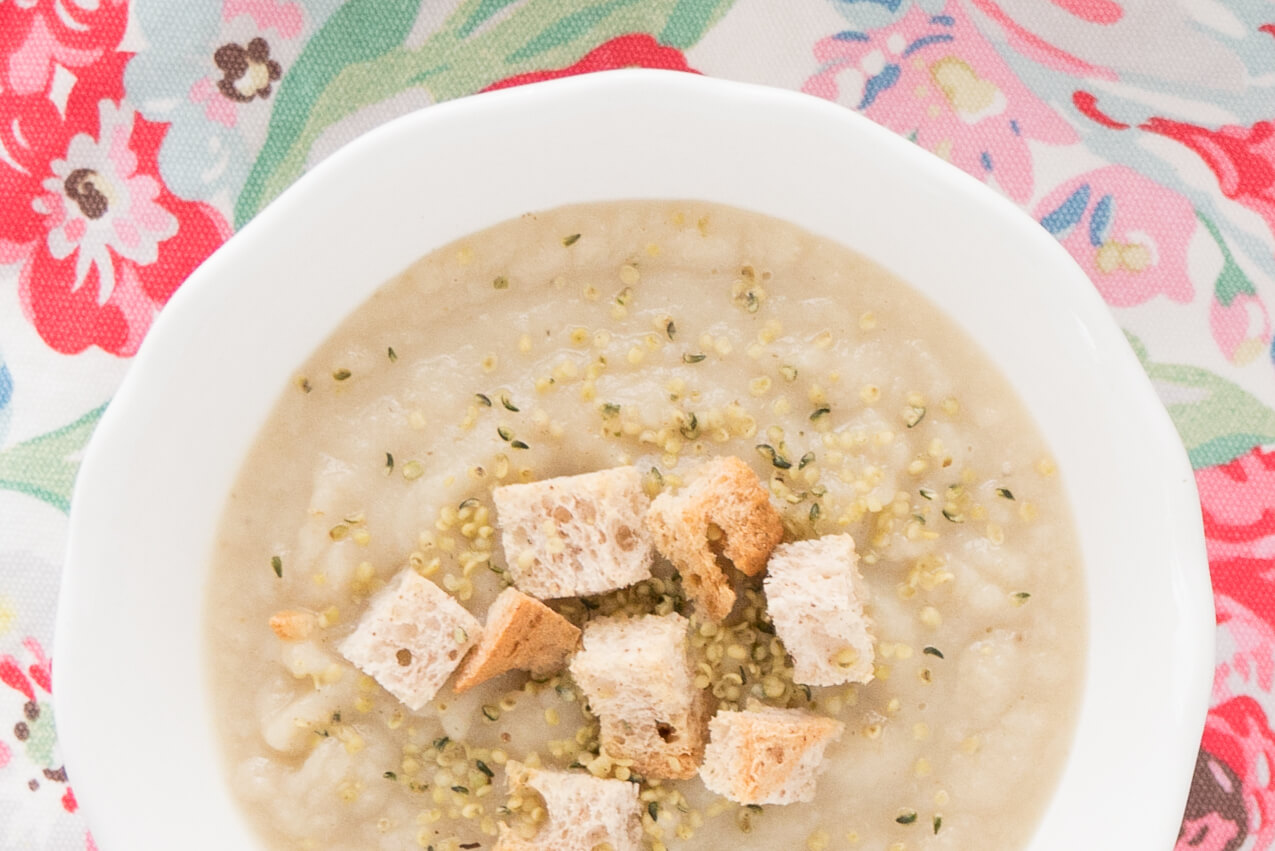 Let me know what you think.
Have a joyous day!
Joy