Dear Joyous Readers,
I'm very excited to introduce you to a brand new initiative here at Joyous Health, one that has been in the works for quite a while now.
BUT FIRST, SOME BACKGROUND...
The Joyous team and I field a lot of questions on a daily basis (which we love by the way) - whether it's through social media, email or our contact form, we love connecting with you.
A lot of the questions we receive look something like these...




Now don't get me wrong, I'm honoured that so many of you trust me for recommendations, but I'm not always able to get back to everyone and I thought there must be a better way for me to help guide you.
THIS WAS THE INSPIRATION FOR JOYOUS HEALTH APPROVED - A CURATED COLLECTION OF OUR FAVOURITE BRANDS, PRODUCTS AND SERVICES.

Each selection is vetted by the Joyous team to ensure it adheres to our core philosophy of helping people live healthier, happier lives.
Yes, as cliche as it may sound, "healthier, happier lives" has been my core mantra from the very beginning and is still the guiding force behind everything we do.
Joyous Health Approved follows this philosophy as we help you cut through the clutter, and identify and connect with some of the best out there; on a platform where we get to show off our favourite goods and shine the spotlight on some awesome companies.
I hope so! Hopefully, some of them will be answered below as we go into more detail. Still have questions after reading this? Comment below and we'll get back to you!
What is the selection criteria/process?
Either myself or a member of the Joyous Health team have had a personal experience with each Approved product. As I alluded to above - the broader criteria of the program is based on our core mantra of "healthier, happier lives".
More specifically, we evaluate a wide range of criteria, including ingredients, sourcing and manufacturing practices, company culture and whether it actually works as claimed. At the end of the day, each selection satisfies the following: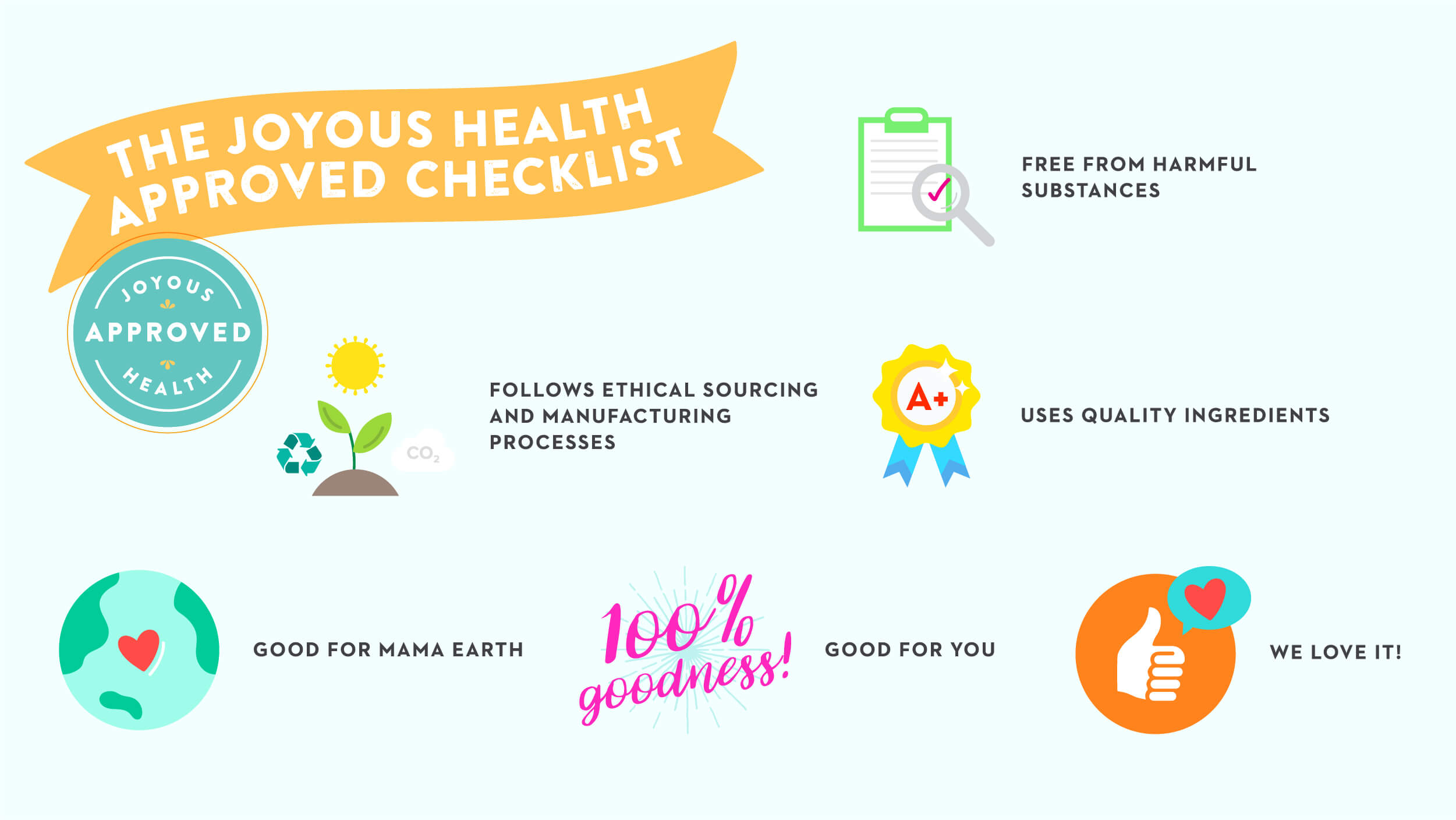 How can I identify Joyous Health Approved products?
On Joyous Health, you can find an up-to-date listing of approved products at www.joyoushealth.com/approved. When you're not our website, simply look for the Joyous Health Approved seal on partner websites, at trade show booths, store fronts etc.
Are these the only products that will be Joyous Health Approved?
For the launch of the program (July 2017), we reached out to a select number of brands that we believe best exemplify what it means to be Joyous Health Approved. The list will be continually evolving and growing as more brands, products and services come on board. If you (or someone you know) have a product that makes the cut? Get in touch and tell us about it.
In the meantime, browse our current roster of awesome Approved Partners.
DO BRANDS PAY A FEE TO PARTICIPATE IN JOYOUS HEALTH APPROVED?
Yes. Even though Joyous Health doesn't always seem like work, at the end of the day it's still a business :). Approved Partners pay a fee to participate in the program, which includes inclusion in the product directory, a dedicated product page, marketing material, licensing of the Joyous Health Approved seal, program support etc. No amount of money, however, will ever influence our decision to Approve a products or service.

If a product IS NOT Joyous Health Approved, is it any good?
Potentially! There are A LOT of choices out there (good and bad) and we don't claim to know all of them. As I mentioned, we reached out to a select number of candidates to launch the program. Most signed up enthusiastically, but some did not.
In cases like these we still believe they're good products, but since they did not go through the application process, they are not part of the Joyous Health Approved program.
We will continue to add to the Joyous Approved list over the coming months and years, so check back often for updates.
I'm looking for a recommendation for a product/category that's not listed, what now?
In cases like these, we'd suggest kicking it old-school and reaching out to us over social on Facebook, Twitter or Instagram.
Let me know what you think! Will you find Joyous Health Approved helpful? What can we do to make it even better? Comment below!