The McJordan's (Walker, Vienna and I) have been eating (okay gorging) on these rice crispy squares so much so that I actually need to take a break! They are addictive. Once you make them, you'll know what I mean because they are crunchy, sweet and just the perfect little snack that is super easy to make.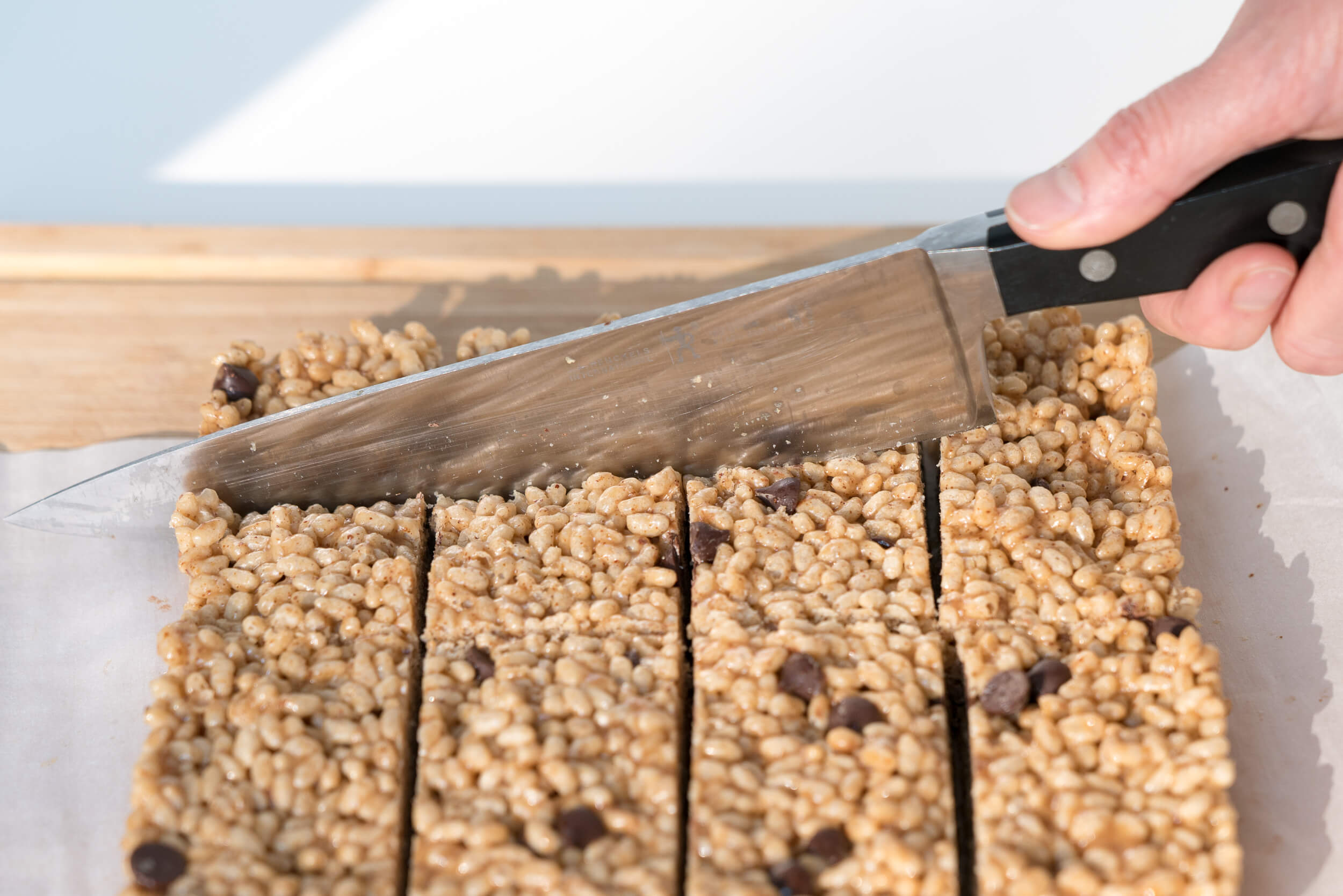 Funny thing is... I created a recipe about five years ago for Chocolate Orange Rice Crispy Squares and I'm almost embarrassed to show you because the photos are so terrible, it's frightening! The Joyous Health blog has come a long way since 2012 -- sorry for subjecting you to my terrible food photos back then, haha! But these crispy squares are a far better recipe and much prettier too. That being said, the old ones were still tasty :)
This new recipe was inspired by both Oh She Glows and my good friend Meghan Telpner's crispy squares. So thanks ladies for inspiring me back to rice crispy squares!! I'd almost given up on them until I remembered the secret ingredient is brown rice syrup -- it makes everything stick like how marshmallows do the trick.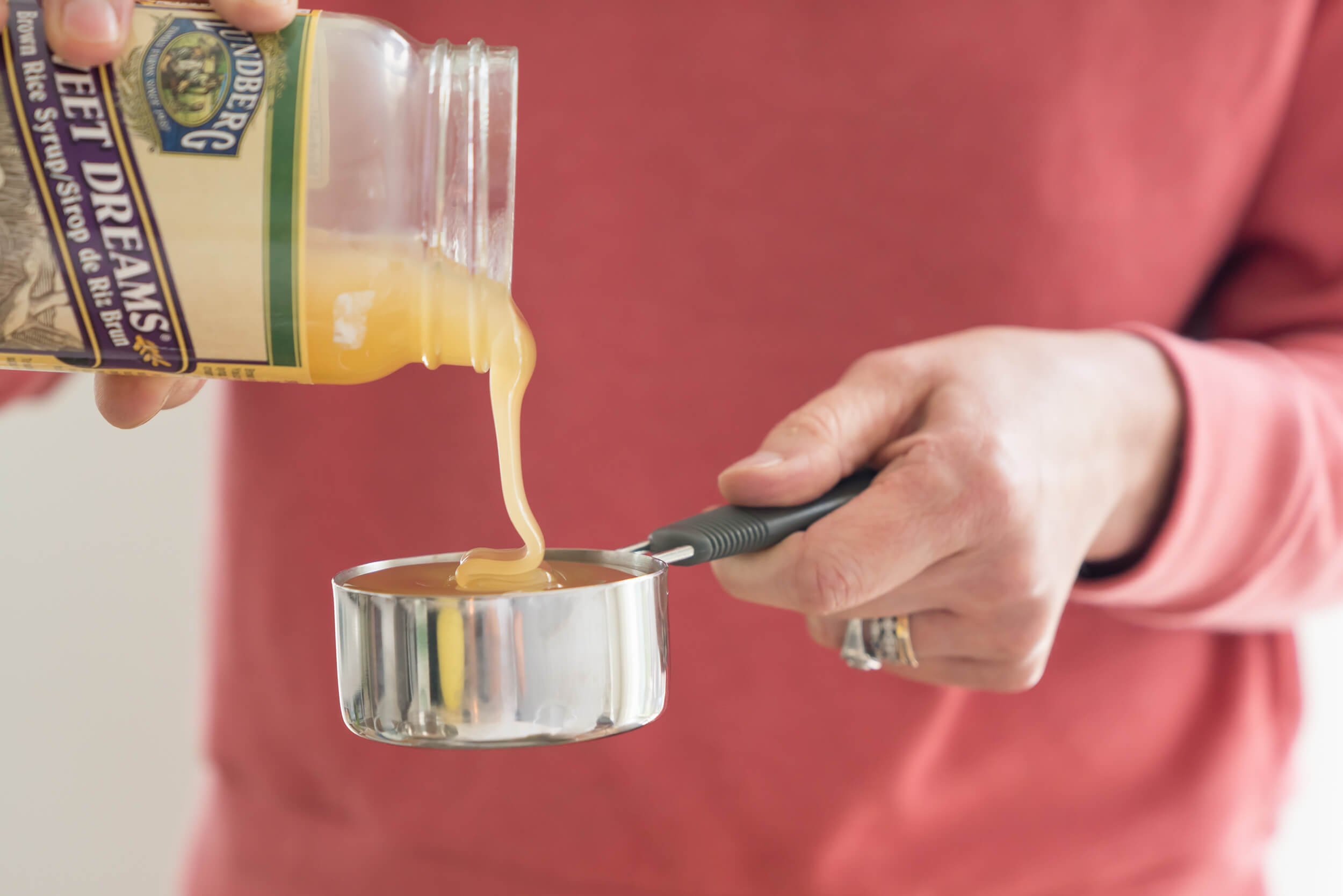 The combination of almond butter, coconut oil, brown rice syrup and chocolate chips is absolute heaven on earth. You'll see what I mean when you make them.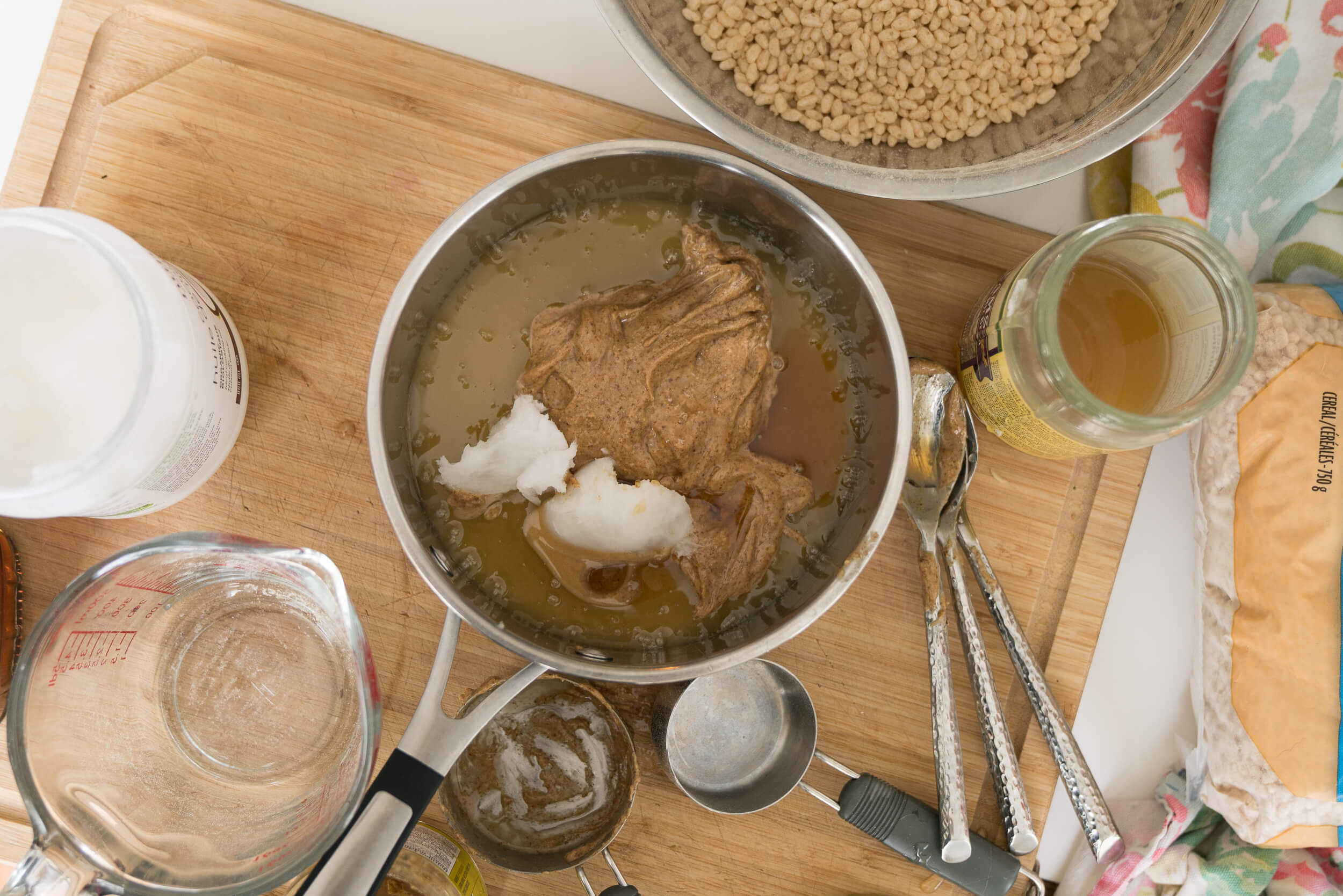 Basically, all you have to do is melt these ingredients together on low heat and then combine with brown rice crisps and voila! I love how healthy, whole-foods-based these ingredients are, nothing like their unhealthy counterparts by Kellogg's -- yuck.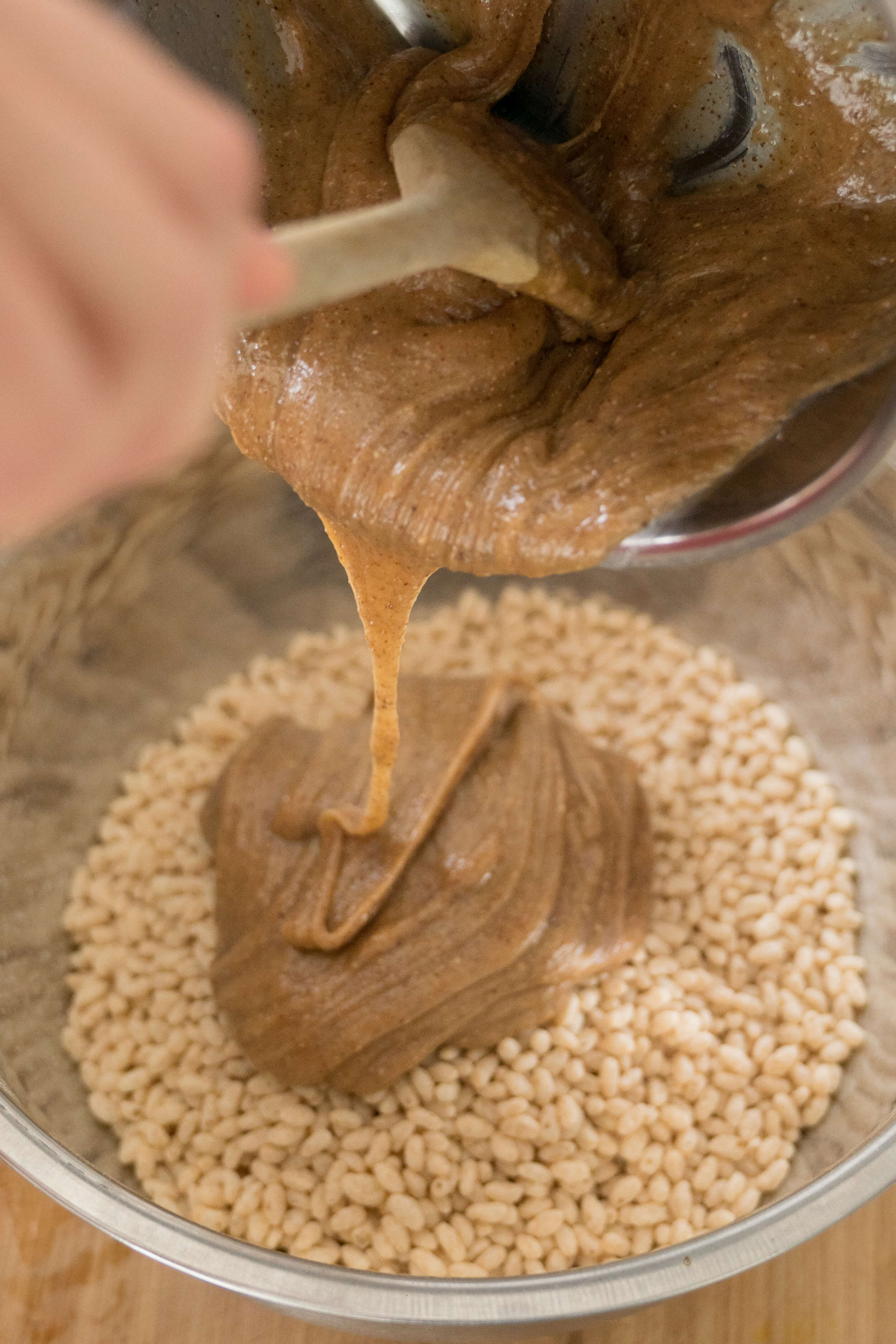 This recipe takes about 10 minutes, no joke.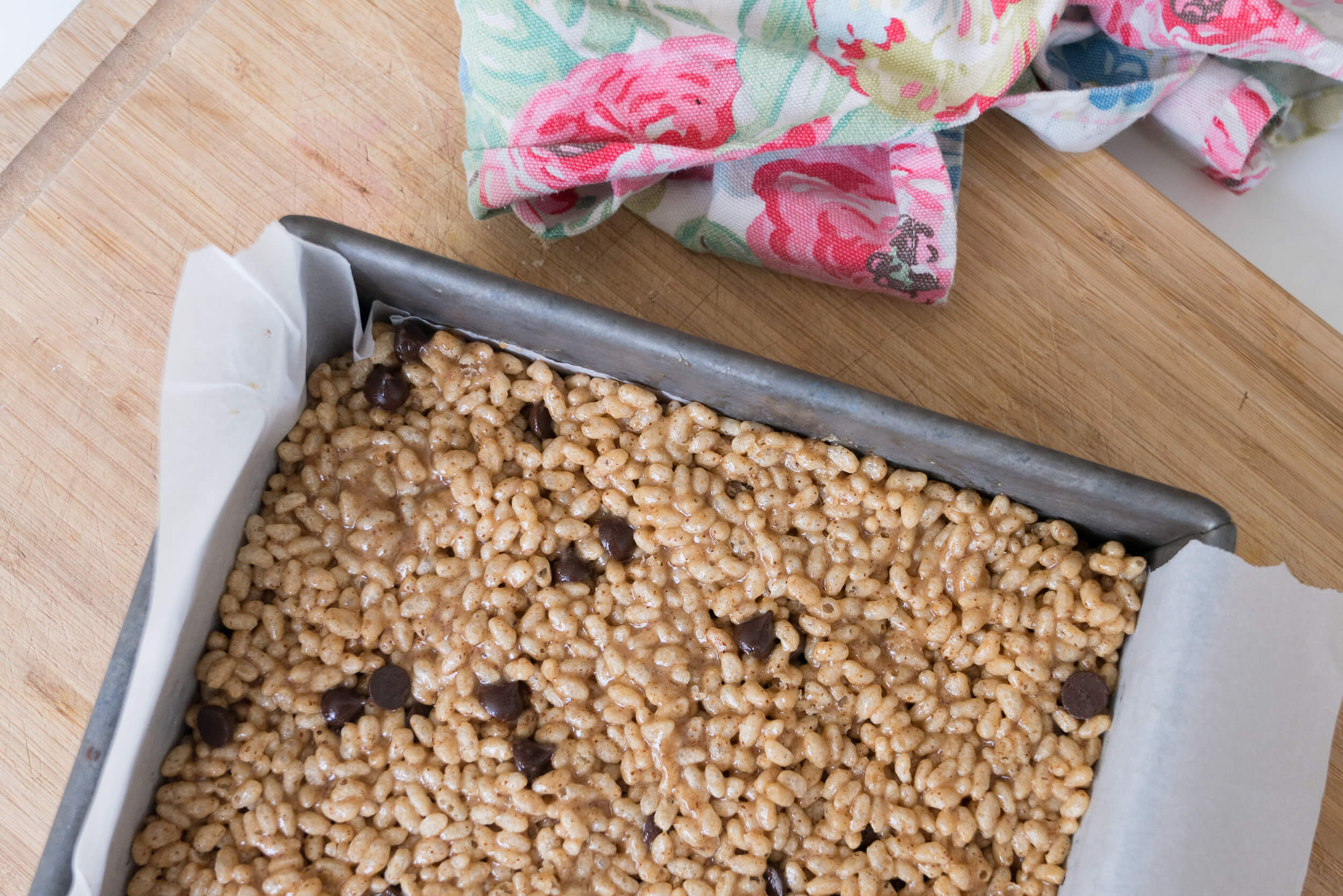 Then refrigerate them for an hour or two and slice em' up!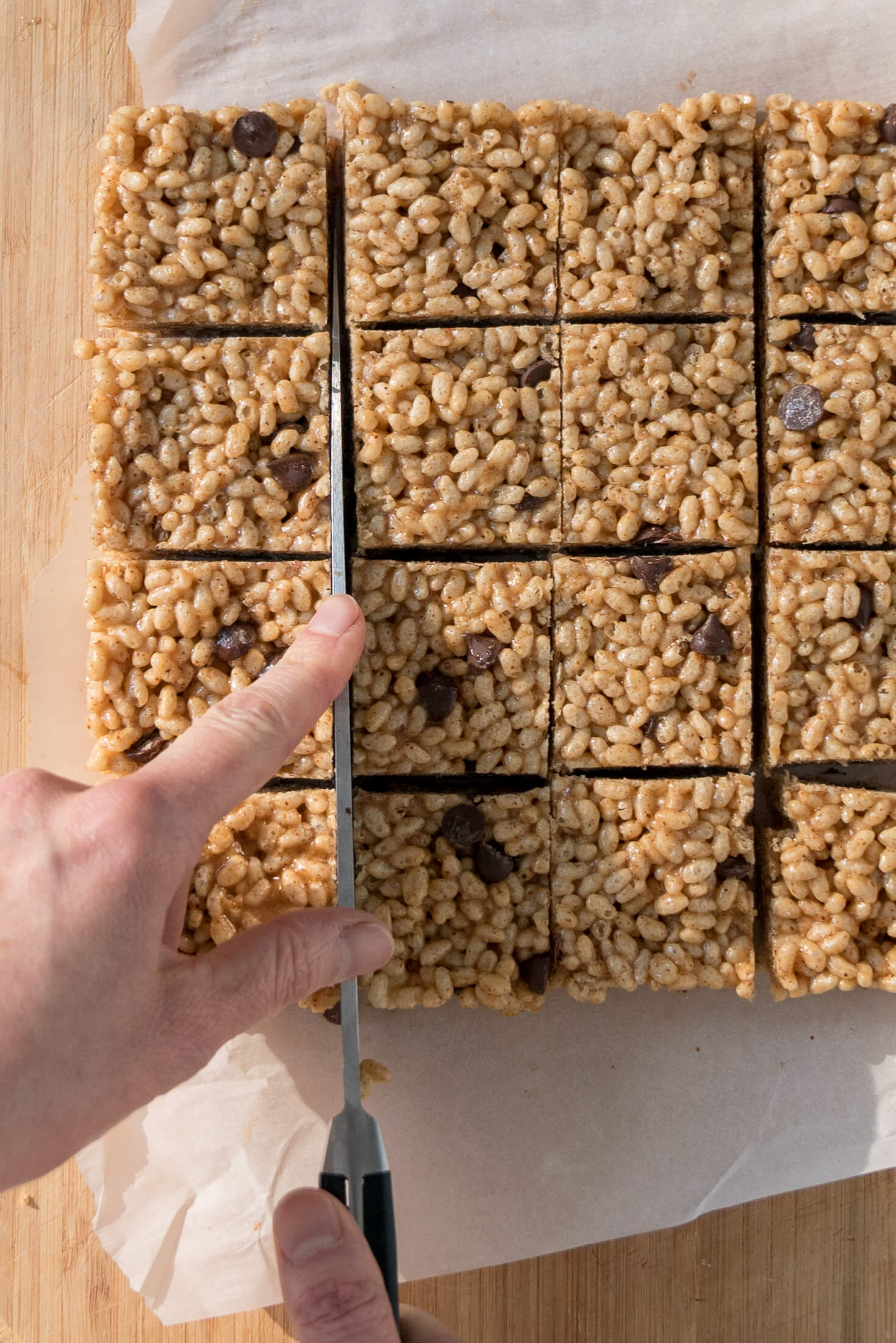 Here's the whole recipe:
Sweets + Treats
Chocolate Chip Almond Butter Rice Crispy Squares
Save
Print
Ingredients
3 1/2 cups brown rice crisps
1/2 cup brown rice syrup*
1/2 cup almond butter
2 tbsp coconut oil, measured when solid
1 tbsp dark real maple syrup
1/4 cup chocolate chips
1/4 cup chopped walnuts (optional)
Instructions
Line a square 8"x8" pan with parchment paper.
Place brown rice crisps in a large mixing bowl, set aside.
In a pot on low heat, combine brown rice syrup, almond butter, coconut oil and maple syrup. Once combined, remove from heat.
Add brown rice syrup mixture to brown rice crisps until well combined. Fold in chocolate chips. Pour mixture into 8x8 pan and refrigerate for 2 hours. Remove from refrigerator, cut into squares and enjoy immediately!
If you plan on serving these at a picnic or BBQ outside, they are best served chilled, otherwise they are a sticky mess!
---
Notes
* Make sure you use brown rice syrup. I tried this recipe without it and used maple syrup only instead and it didn't bind properly. Brown rice syrup can be found at health food stores, in the natural food section of your grocery store or online. I haven't tried liquid honey, but that would probably work very well too.
I have a feeling you're gonna love them. Don't say I didn't warn you though, they are addictive!
Have a joyous week!
Joy