I've been looking forward to sharing this post featuring expertise from one of my dearest friends, Emilia. If you follow me on instagram, you've probably not heard of Em because she wasn't on social media for the longest time, but now that she's started her business in interior design you can find her at STUDIO1NINE1 and she's got wonderful design ideas. Here's a photo of her and her babe Atticus (aka "Attis" according to Vienna) in his bedroom.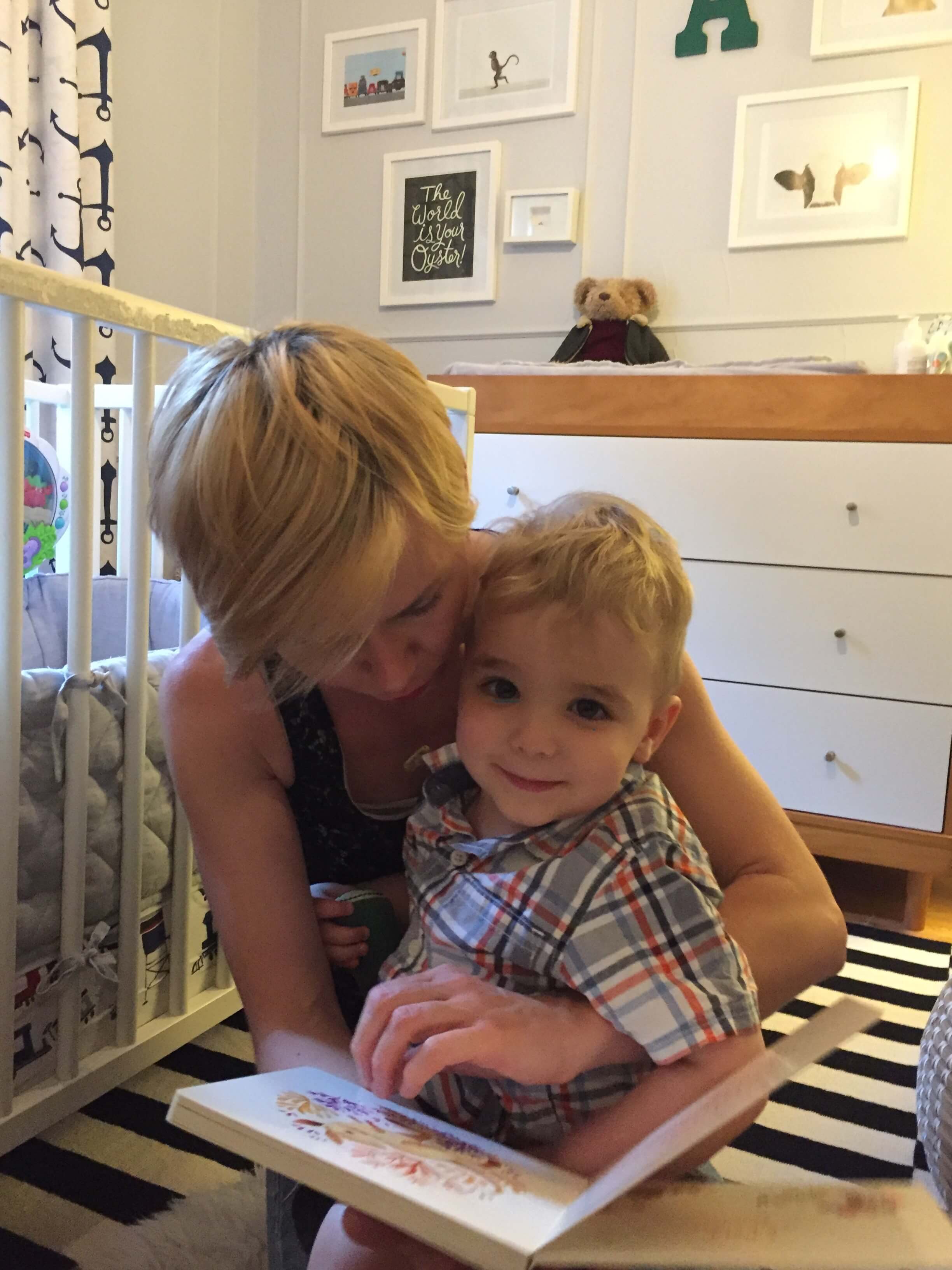 Even though she is smaller than me (haha) she's always felt like my big sister whether that's been by giving me dating advice (pre-Walker) or design advice. Even before she became a designer her talents were obvious, as evidenced by her gorgeous home. She's given me a TON of joyous ideas for our condo (you can see it featured on her website) and she totally transformed our balcony into a little oasis and a second workspace for Walker and I after Vienna goes to bed :)
It was really important to me as a mama and holistic nutritionist to set up Vienna's bedroom as eco-friendly and free from unnecessary chemicals and toxins as possible. Of course, her room isn't 100% chemical free because it's really hard to avoid plastic completely but I like to think we've done a pretty good awesome job so far!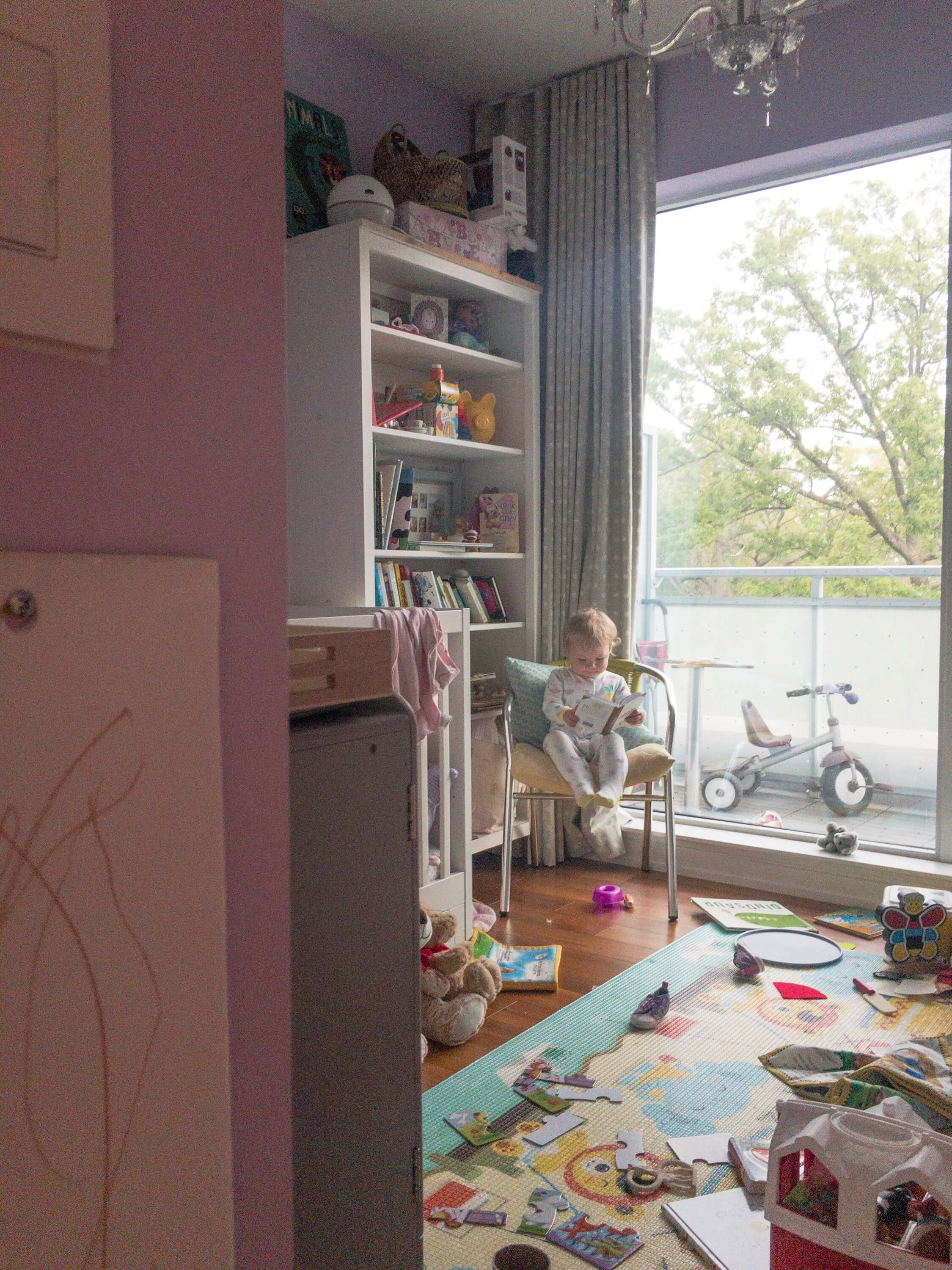 I recently interviewed Emilia about setting up an eco-friendly nursery. I thought this would be a great topic for the blog because I get asked questions about Vienna's nursery all the time. Here are the six things to consider when setting up an eco-friendly nursery.
1. What are the top things to consider when putting together a nursery?
First, you'll need to consider how much space you actually have in the room and what you'll need in the nursery; a crib, change table and nursing chair are essential, but the amount of space you have will dictate the size and scale of the furniture. You want the room to feel cozy, but spacious, so take some measurements of the space and work out a floor plan. Make sure to measure the crib and other furniture going into the room prior to going furniture shopping – you don't want to purchase a chair just to have to return it the following day because it does not fit!
Note from Joy: I absolutely LOVE our rocking/nursing chair (grey one below), I got it from Monte Design. It's now in our living room.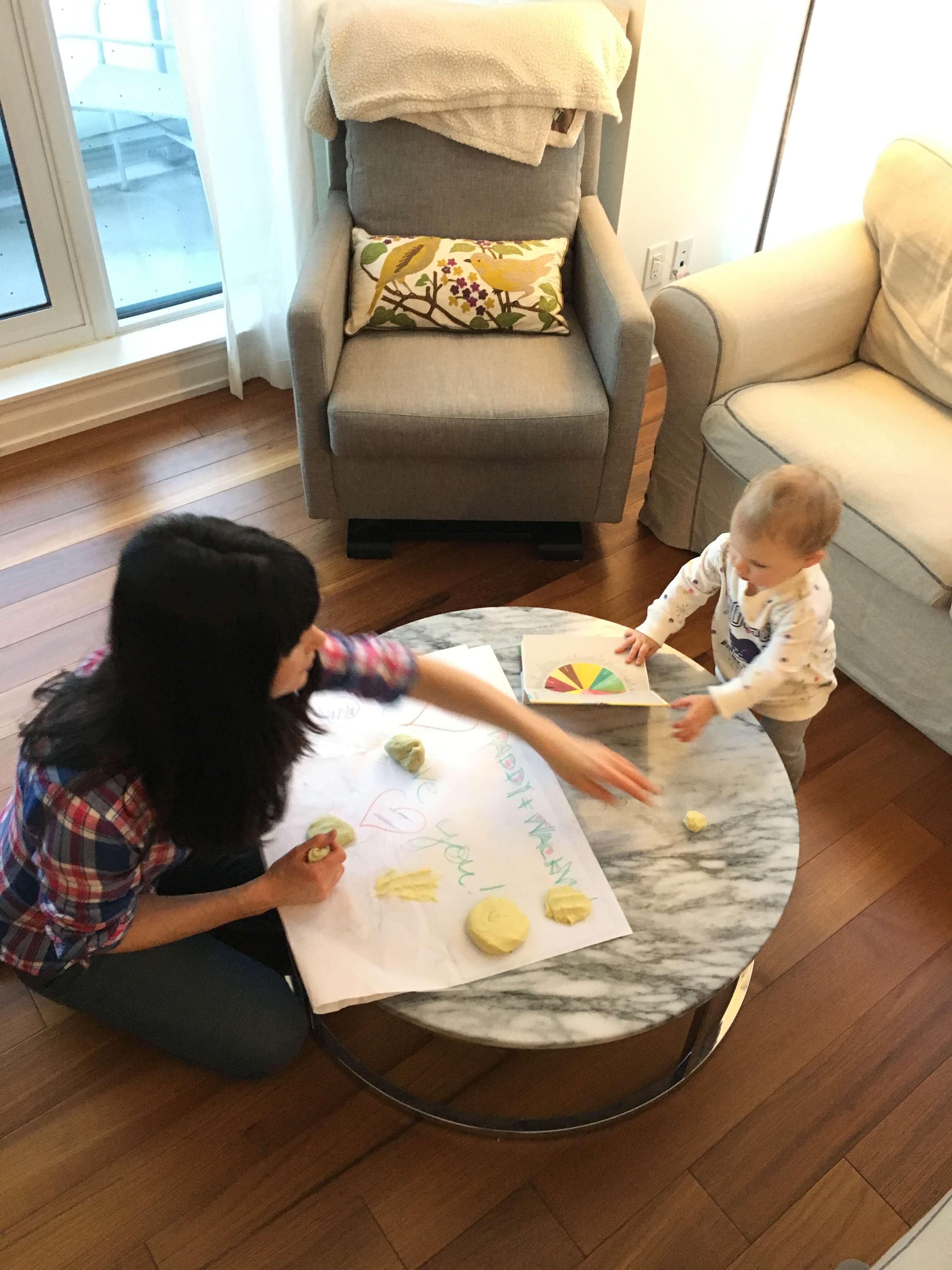 2. What are some of your best tips for mapping out a budget?
When planning a nursery budget, consider where you want to spend your money. Consider investing in some items that will take you through the next couple of years and save on other items that you can upgrade over time. With that said, a great mattress and crib are key from the get-go. Your baby is going to be sleeping a lot for the first good chunk of their life, so you want to ensure that he/she is in the safest environment possible. Additionally, a comfortable chair should be on the list. This doesn't mean that you need to spend oodles of money on a fancy rocking chair; you can simply recycle a chair from another room in your home (which is what we did) or ask family and friends if they have a chair they're not using anymore. Think of it like vintage shopping in your family's living room!
3. What are the most important items to consider for a clean and green nursery?
I encourage people to consider the nursery as a whole as opposed to single items. If the goal is to create an entire nursery that is clean and green, start by making a list and outlining what you will require then dive deep into your resarch!
Some items to consider include:
an organic mattress (either cotton or latex)
a crib (free of harmful chemicals, glues, etc)
change table with organic cotton change pad and cover.
Note from Joy: We got our change table pad and organic cover from Pottery Barn. See below re. mattress and our crib is from IKEA made from solid beechwood. Avoid MDF because they can off-gas formaldehyde.
4. What is the best eco-crib mattress? I have an Essentia crib mattress, but is there another brand you prefer?
For sure! Another great option is the Naturepedic Organic Cotton Mattress (we have this one at home for Atticus). The company has gone through strict 3rd party testing and has a slew of certifications. Naturepedic is also being used in various hospitals in the US. This mattress is also great because you have the option to purchase a dual firmness mattress, which is great as the baby gets older and grows into the toddler years.
5. Let's talk TOYS! Are there any specific "green" toys you like?
Yes, there are "green" toys on the market, but you have to do a bit of research before you venture out or order a bunch of stuff online. Depending on where you live, there are sites worldwide that specialize in green and safe products. Some retailers are also stocking green toys in Toronto – Mastermind and Indigo have green toys widely available. Some of the green toys that I like (and most importantly, the green toys Atticus enjoys playing with) are Janod toys, Green Toys (they make fantastic and durable trucks), and Heimess (for the younger babes).
Note from Joy: I also love Melissa and Doug because everything I've ever bought or received as a gift has been made of wood.
6. What about additional furniture, area rugs, window coverings and paint? What's important to consider for a clean and green space?
There are lots of options in the market when it comes green/eco-friendly or non-toxic options for your baby's nursery. Although, another thing we should consider is where all of these additional accessories or items come from. If you are ordering something from the US or Europe and you live in Canada, consider the impact on the environment that you are making with your purchase. Unfortunately, not all green or eco-friendly products are widely available so sometimes it may be counter-intuitive to order that 'green' blanket if it has to be shipped all the way from the UK.
Thankfully, there are plenty of brand name retailers that are making green and organic options more widely available.
When choosing paint, for example, look for one with zero VOC. Benjamin Moore's Natura brand is a good and widely available option, as is the zero VOC one by Sherwin-Williams.
For window coverings, look for fabric that is organic and free of any synthetic dyes or chemicals. We used an organic cotton fabric for Atticus' room in a fun nautical print from Tonic Living
For area rugs - you can purchase an organic cotton area rug that your child can have in their room for years (no need to spend additional money on a floor cover when they get older).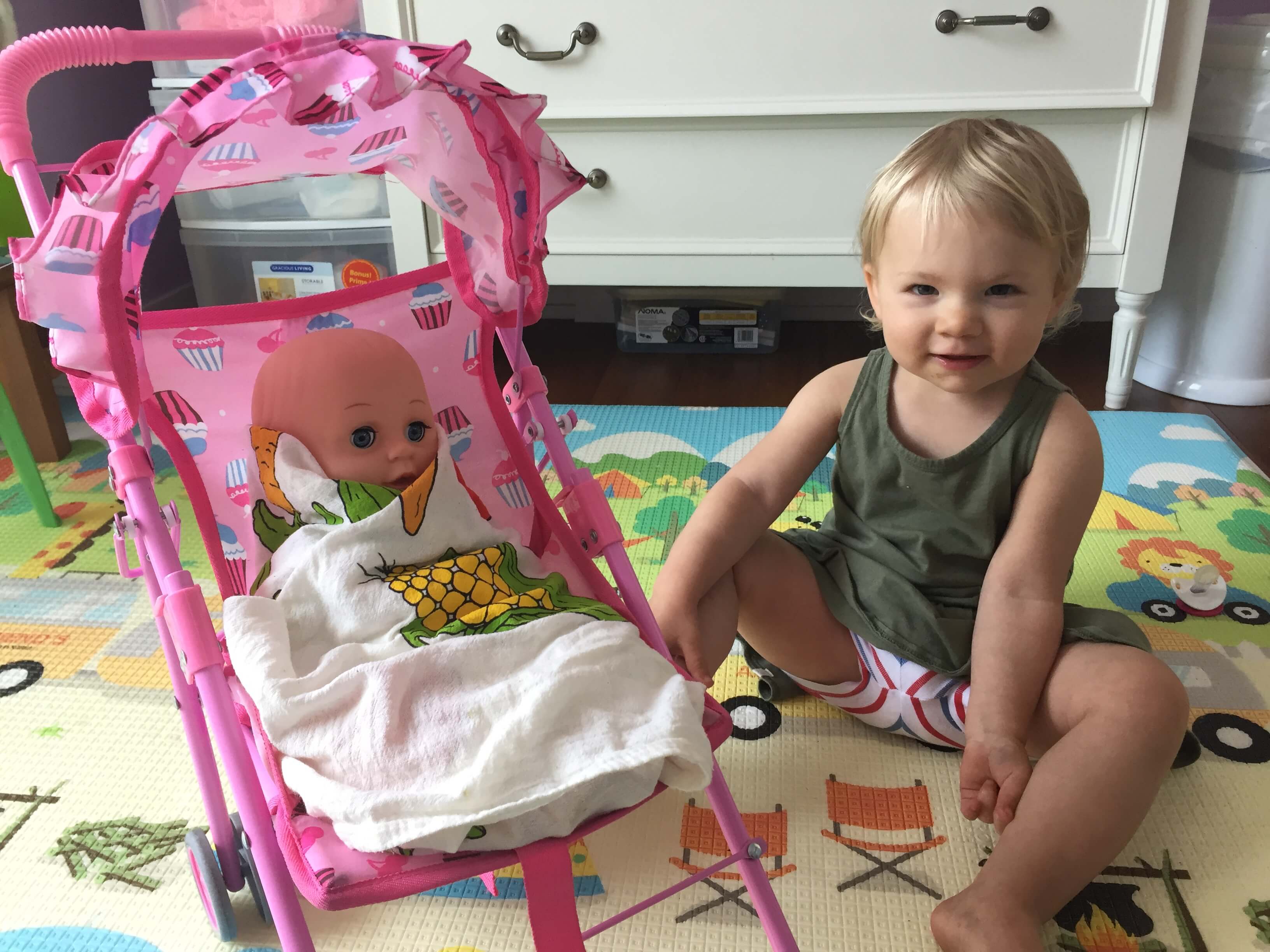 Note from Joy: Our area rug is the Eco-Proby play mat.
Is there anything you've found to be essential in your eco-friendly nursery?
Have a joyous week!
Joy