You guys already know I eat chocolate for breakfast instead of coffee, right? It's because of it's energizing properties. I find I get a good boost when I eat chocolate but not the kind of zangy boost that caffeine gives me. Breakfast aside, I always make chocolate bark over the holidays and I was really in the mood for changing it up, which is why I have this new recipe for you!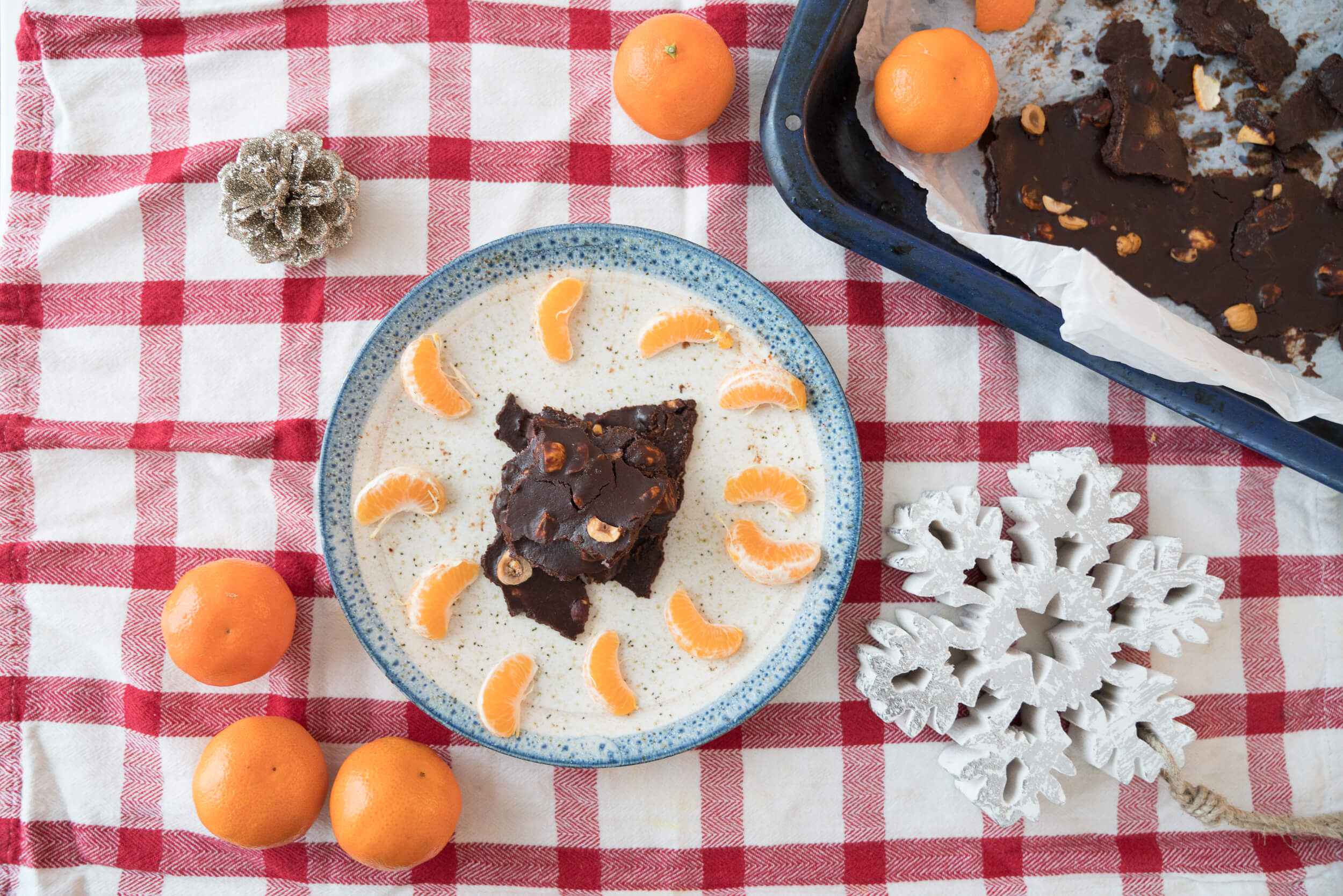 December is a great time to do an orange bark because clementines and mandarins are in season. My local health food store brought in truckloads of clementines so Walker, Vienna and I have been eating them every day.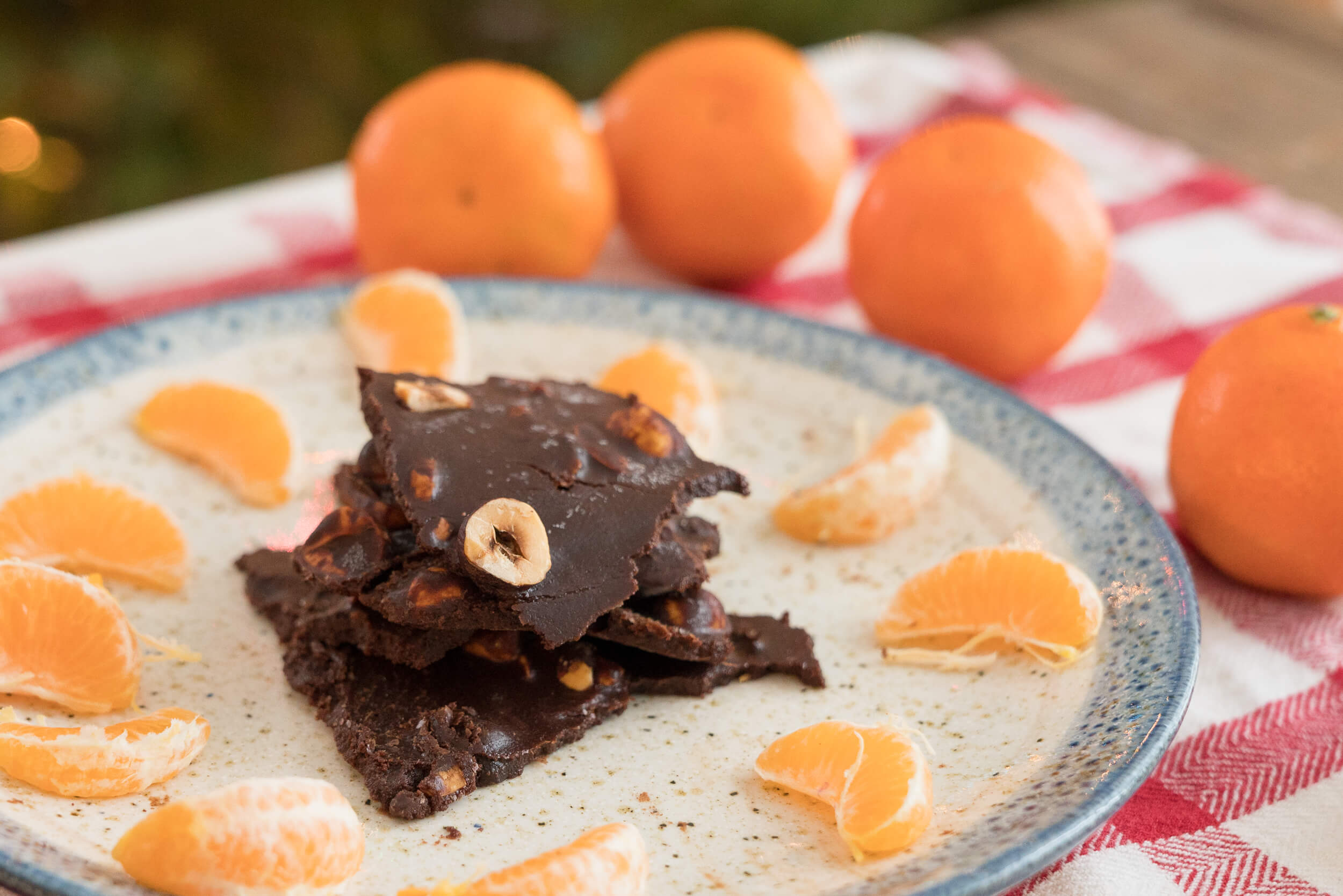 This Orange Hazelnut Chocolate Bark is perfect for all you orange chocolate lovers out there!
It reminds me of Terry's orange chocolate but so much better because my recipe isn't full of refined sugar and contains no soy, whey, dairy and additives like artifi cialflavouring. I used to always eat that brand of orange chocolate at Christmas, but when I looked up the ingredients I was shocked at how much crap is in there.
However, it's not suprising because most processed chocolate made by brands like Kraft or Nestle are very processed with no nutritional benefits.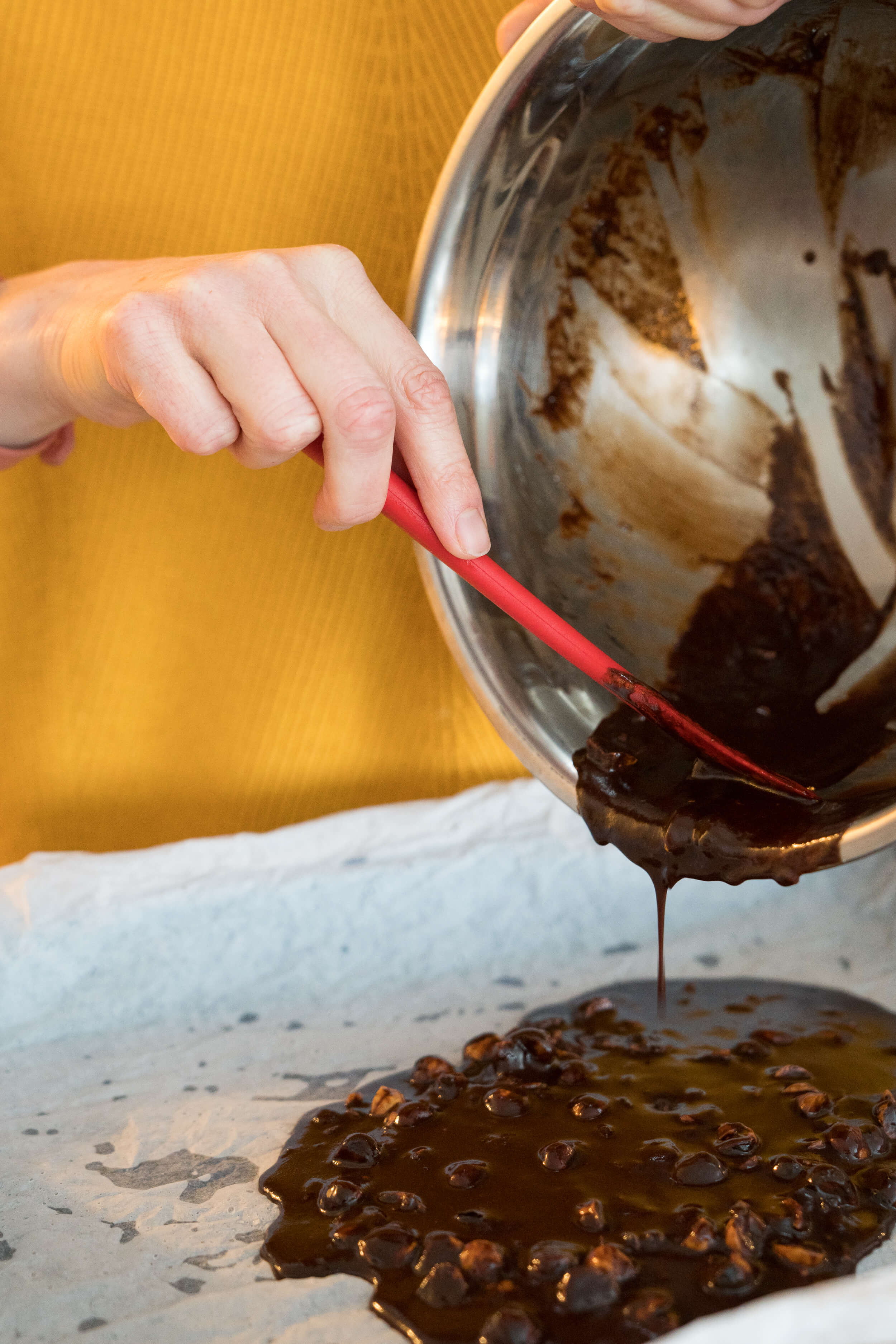 Aside from eating this at breakfast, I love making this chocolate bark for holiday gatherings because it's super easy and a huge crowd pleaser. One thing I will warn you about ahead of time is if you're serving this at a party, you've gotta take it out of the fridge or freezer just before serving because it will start to soften and melt (as you can see in some of these photos, it was starting to melt!). This chocolate has no additives or any preservatives to prevent it from melting.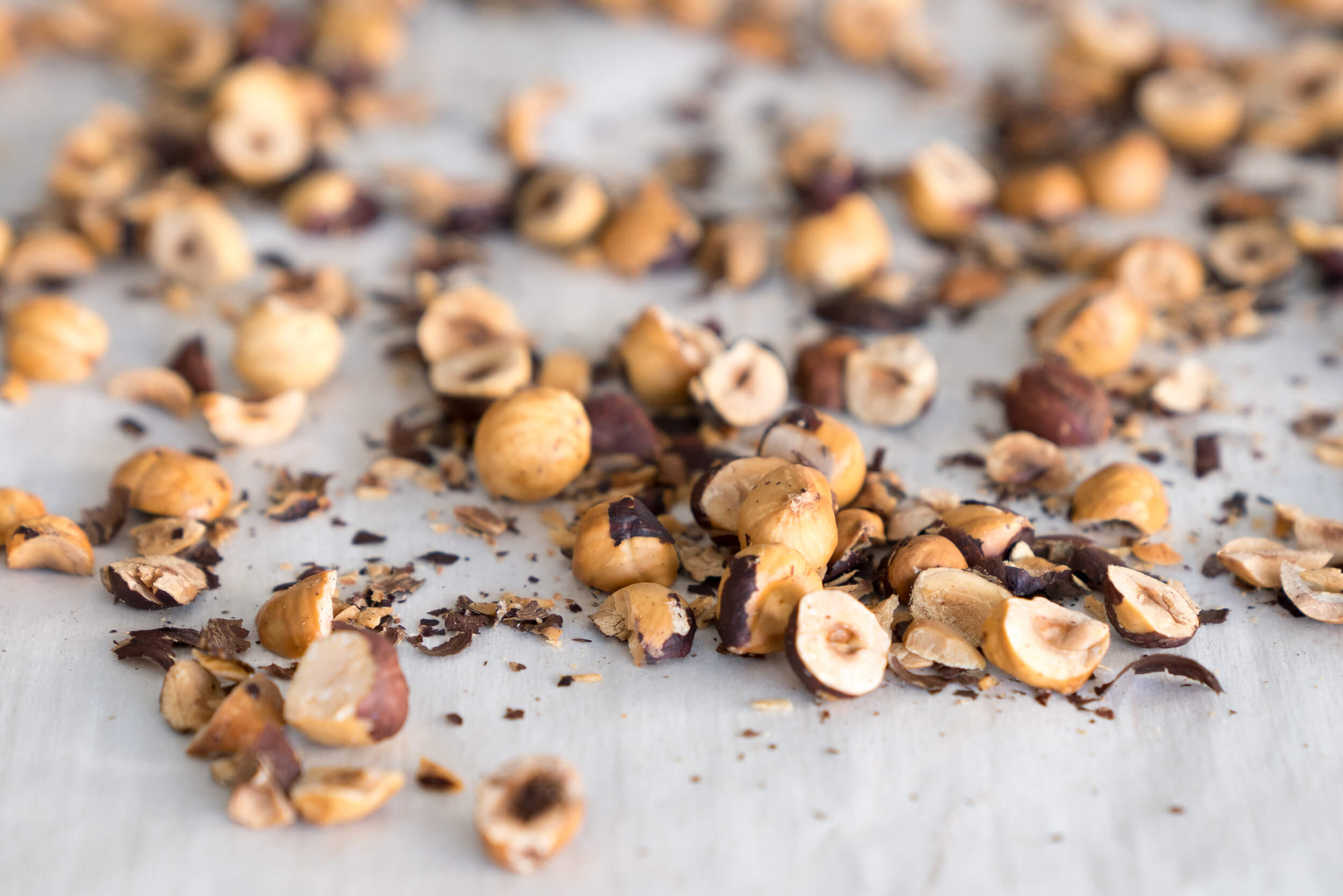 I recommend you take the extra step and toast the hazelnuts in the oven before you put them in the bark because the flavour really changes and it's so lovely mixed with chocolate -- THINK NUTELLA!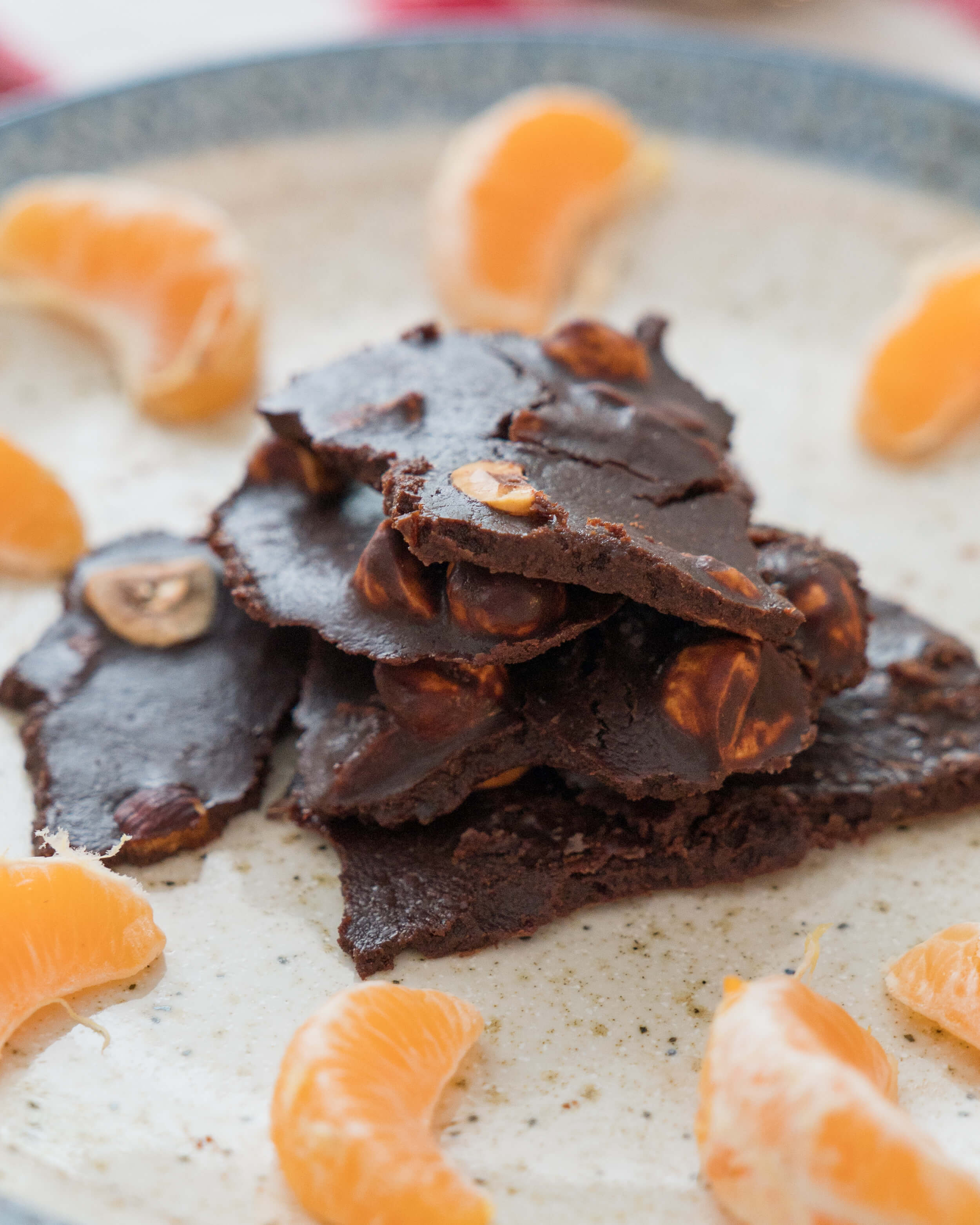 Here's my recipe for Orange Hazelnut Chocolate Bark.
Sweets + Treats
Orange Hazelnut Dark Chocolate Bark
Save
Print
Ingredients
1/3 cup coconut oil (measured when solid but soft)
3/4 cup raw cacao powder
1/4-1/3 cup real maple syrup
2 tbsp freshly squeezed orange juice
Orange zest from 1 orange or 2 clementines
1/2 cup chopped hazelnuts
Instructions
Cover a baking sheet or dish with parchment paper.
Melt coconut oil in a pot on low heat. Add raw cacao powder and maple syrup, stir. Add orange juice. When fully combined, remove from heat. Be careful to not burn chocolate.
While doing that, roast hazelnuts, set oven to 350F. Place chopped nuts on a baking sheet. Bake for 5-10 minutes or until toasted and crunchy. Watch carefully to ensure they do not burn.
Pour chocolate mixture on to parchment paper. It should be liquid and very easy to spread.
Sprinkle with hazelnuts and orange rind.
Place in the freezer for a couple of hours until solid or refrigerator overnight.
---
Notes
This could serve 4-6 people for dessert.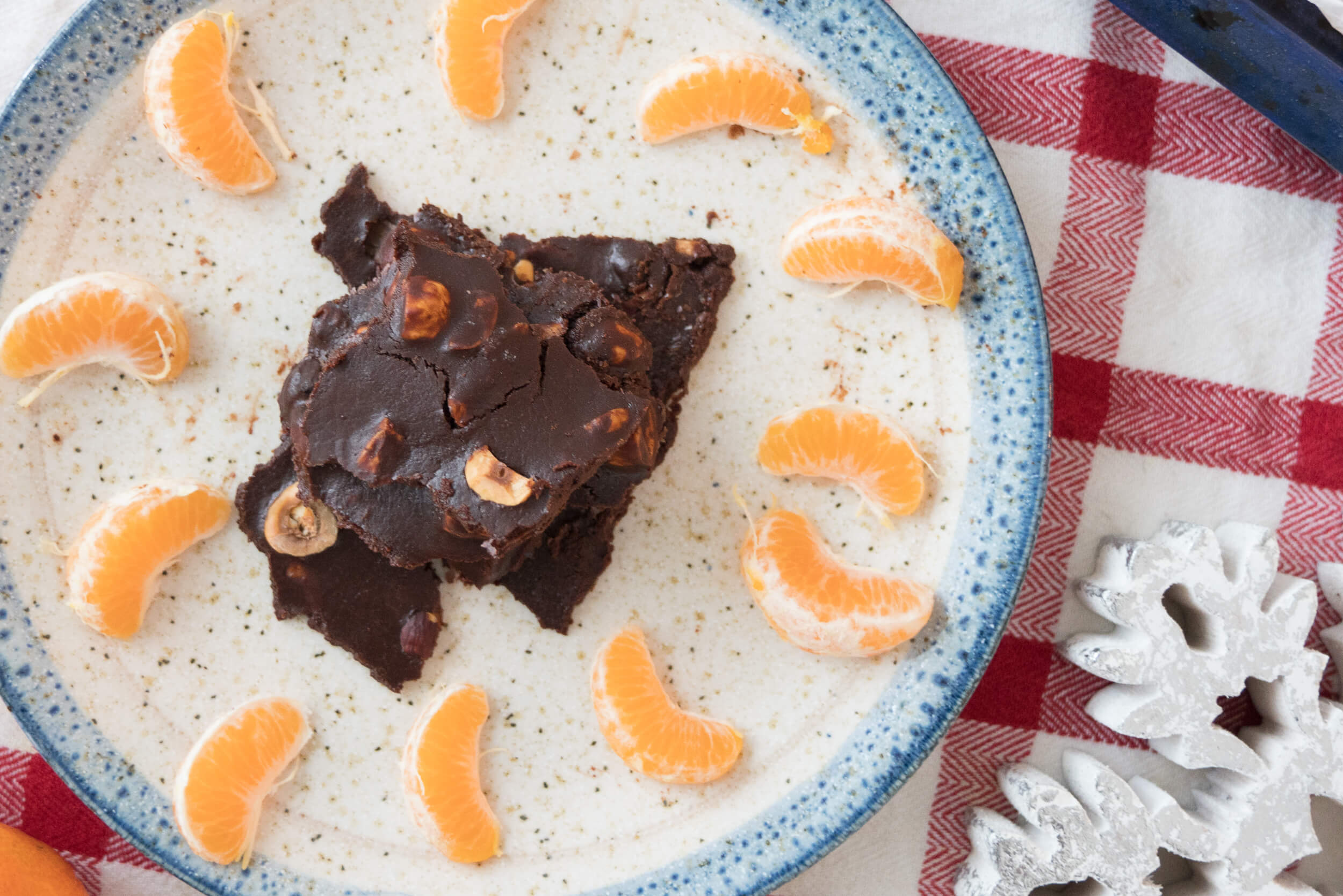 If you want to watch a video on how to make this, tune into my Facebook LIVE I just did! Another great flavour combination would be pomegranate seeds.
What's your favourite flavour to combine with chocolate?
Have a joyous holiday season!
Joy