Do I have any nutella fans here? Or maybe hazelnut and chocolate fans? There's just something magical about hazelnut and chocolate together, don't you agree? This combo is pretty much heaven on earth and the fact this dessert is chilled makes it absolutely perfect for the warmer weather.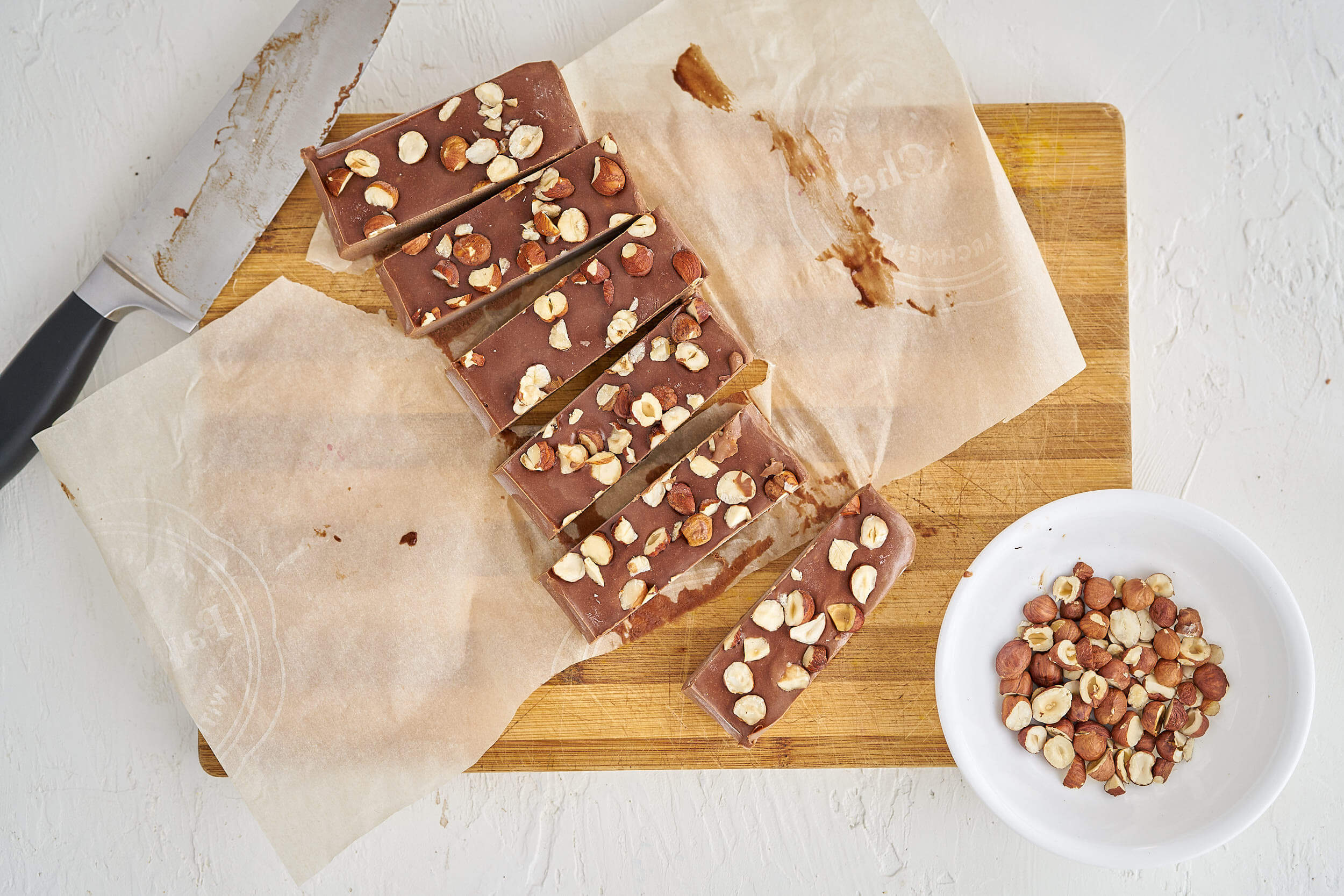 I got into to make 'freezer fudge' when I was recipe creating for my new book (it's not out till 2019). I created a tahini strawberry freezer fudge which is out of this world. I've always loved hazelnut and chocolate but just can't handle Nutella because it's too sweet for me. I dreamed up this recipe because I loved the texture of the strawberry freezer fudge I created for my new cookbook.
Freezer fudge is fudge's healthy bestie. All you have to do is blend your ingredients together, pop in a pan, plop in the freezer and wait. It's that easy.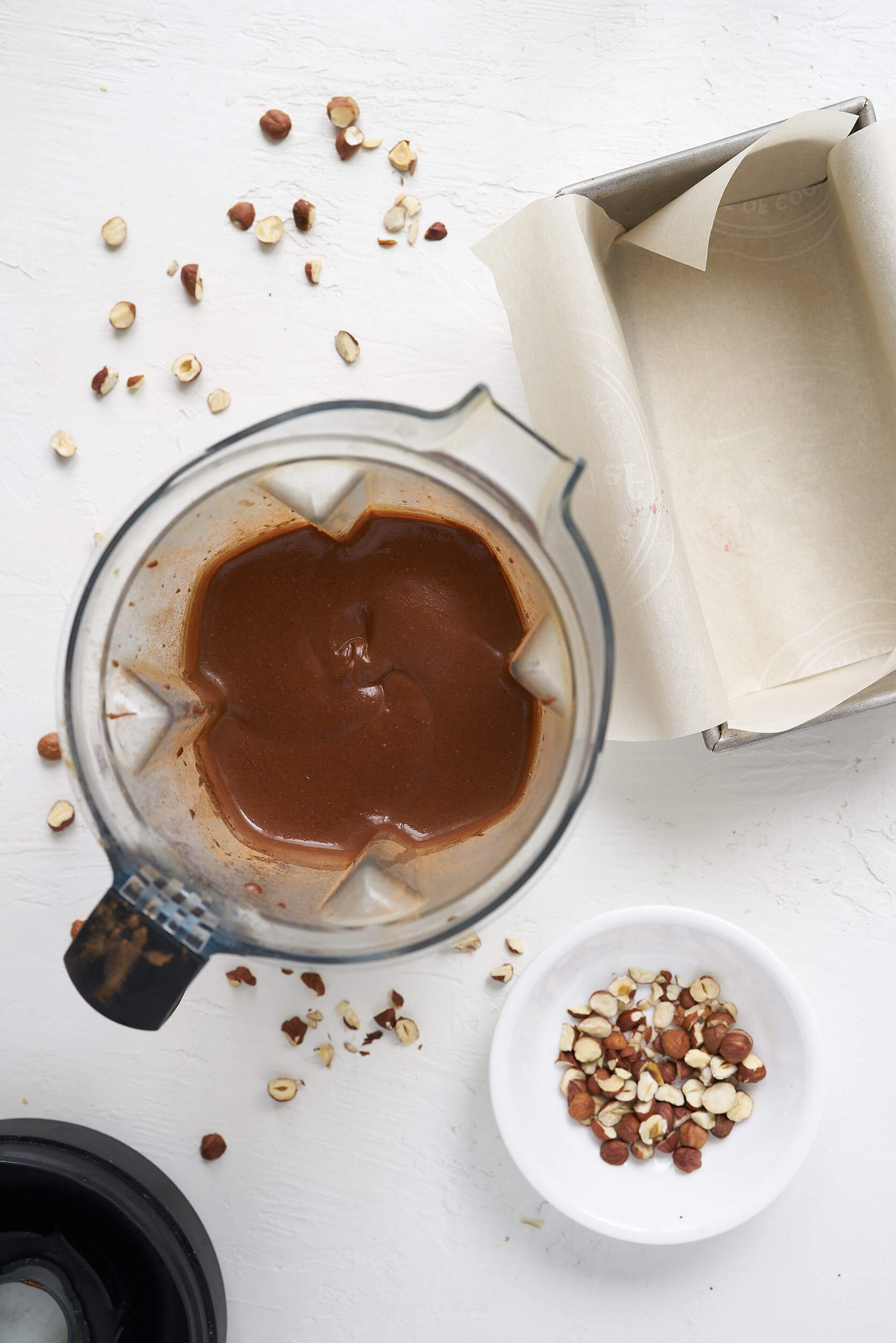 This Maca Chocolate Hazelnut Freezer Fudge is INCREDIBLE. It's creamy, rich and fulfilling.
You won't get a sugar rush either because there is very little maple syrup and it's well balanced by the good fat in the cashews and coconut cream. It's everything a healthy, decadent dessert should be. In other words, it's JOYOUS! :)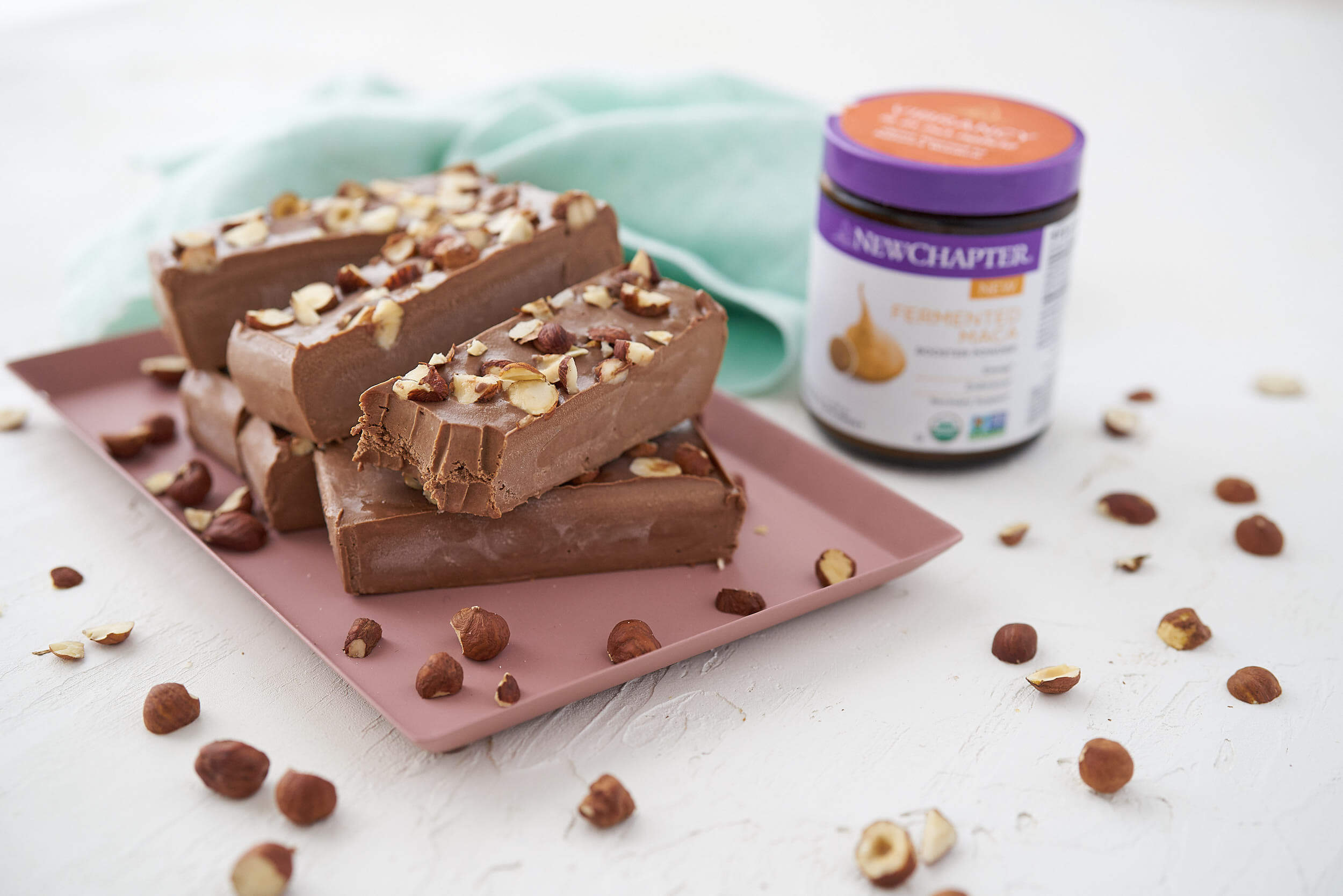 I added the fermented and organic maca powder from New Chapter because it adds a lovely caramel taste. Of course, any maca will do but I chose this one because of the fact it's fermented making the absorption of the beneficial properties in maca easier for your digestive system.
Maca is an adaptogen. When used as a supplement for daily use it is excellent for stamina, sports recovery and it's been used for thousands of years for energy!
Maca in a higher dose than this freezer fudge would not be recommended for small children. However, the amount in a small piece of freezer fudge is totally fine. My daughter has tried this freezer fudge many times and loves it.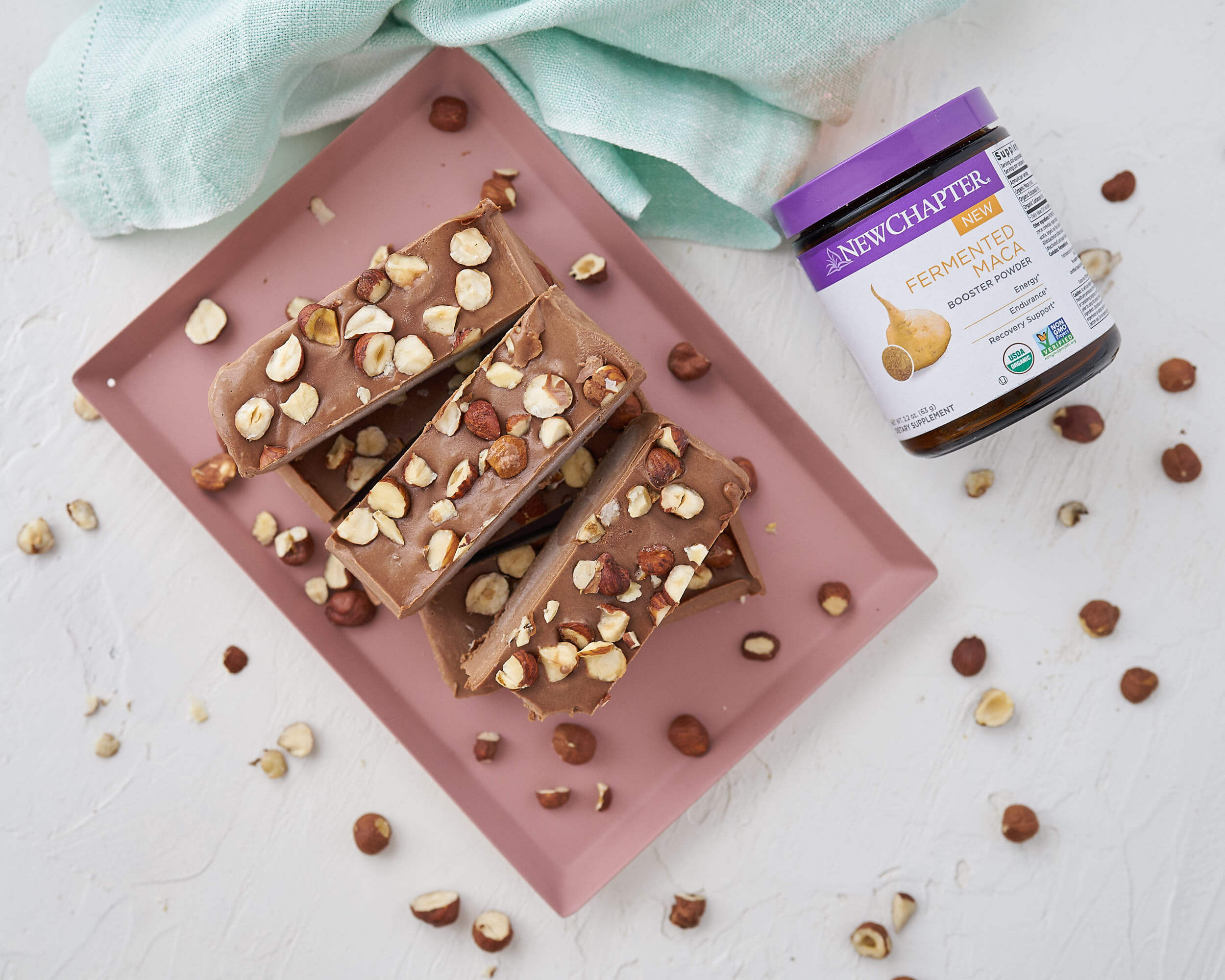 Since you don't have to actually cook anything, you can easily taste test it and decide if you want more maple syrup. If you don't want to use maple syrup, this recipe would also work well with stevia if that's your jam!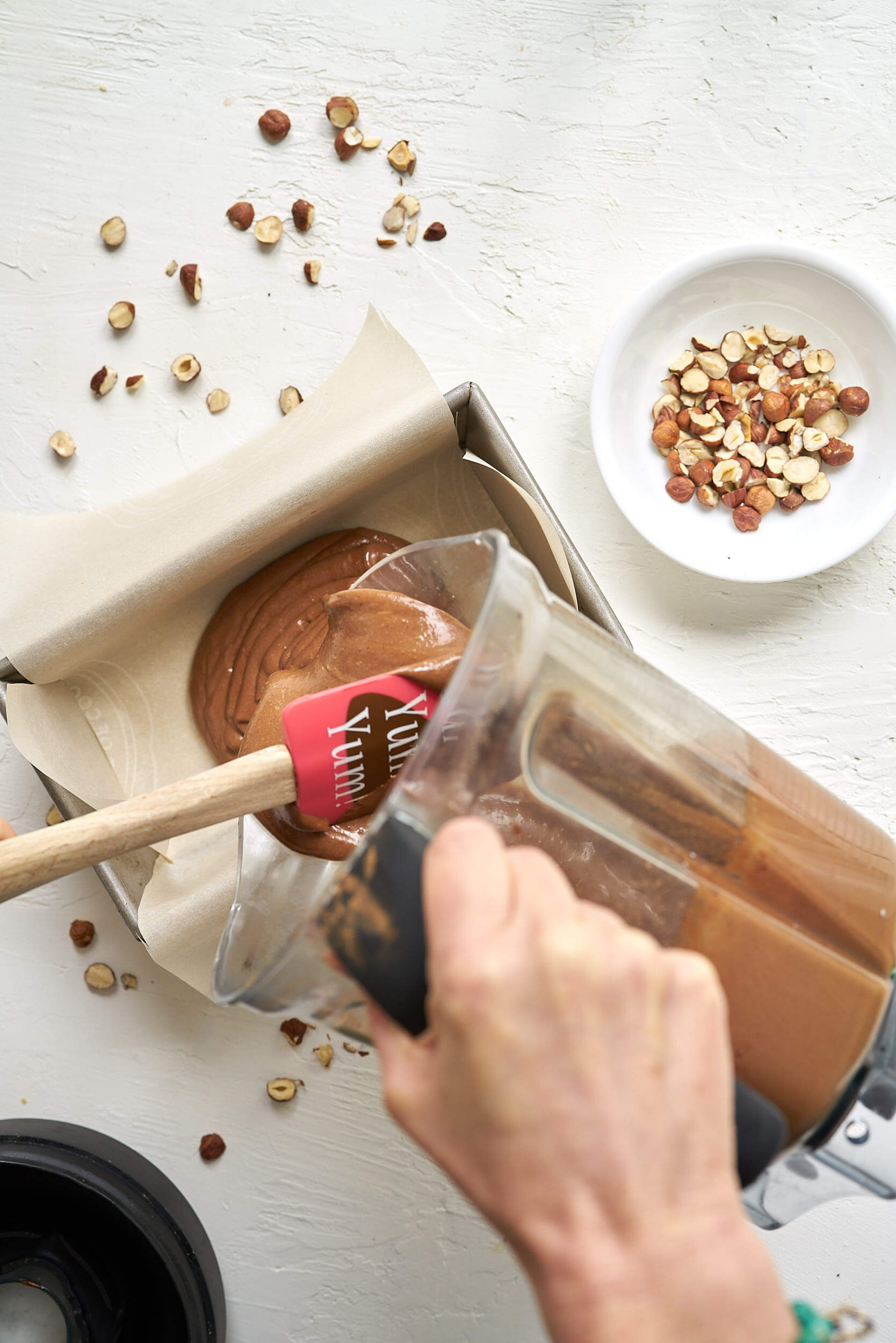 I love the added crunch of the hazelnuts on top.
If you've got a little extra time, you could always toast the hazelnuts first. Just spread them evenly on to a cookie sheet and bake at 350F degrees for 10 to 12 minutes. Be careful they don't burn. They will get a lovely roasted flavour and crunchy texture. You don't have to remove the skins but they come off easily when you roast them.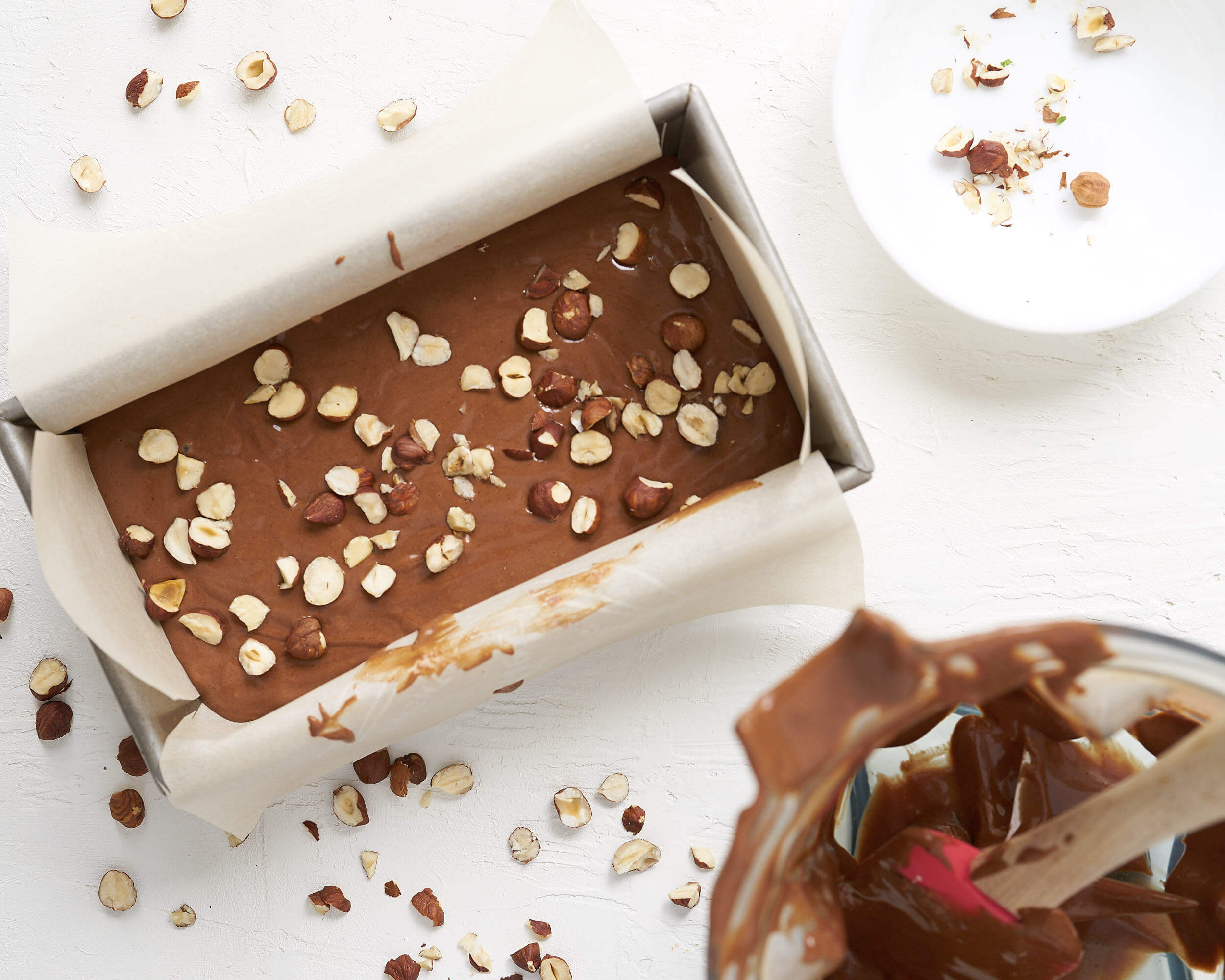 The fudge itself is creamy and fudgey. Can you tell by my bite marks? Hee hee.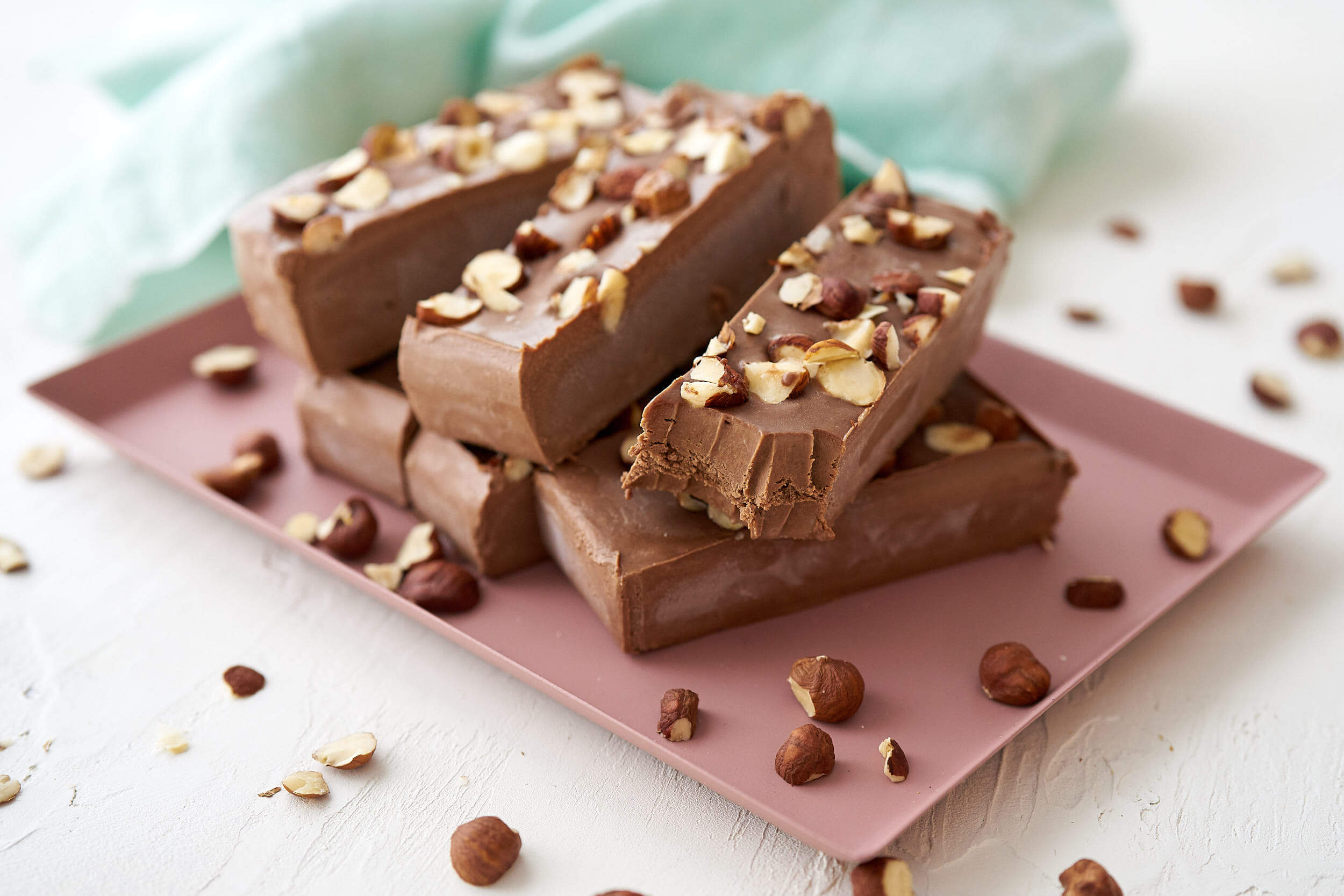 This recipe is paleo-friendly, if you remove the maple syrup it's also keto-friendly, gluten-free, dairy-free, vegan and deeeelish!
Sweets + Treats
Maca Chocolate Hazelnut Freezer Fudge
Save
Print
Ingredients
1/4 cup hazelnut butter
1/4 cup raw cacao powder
1/4-1/3 cup maple syrup*
1 cup cashews (you don't need to soak them)
1 tbsp maca powder**
The cream from 1 can (498mL) of full-fat coconut milk***
1/4 cup hazelnuts, chopped
Instructions
Place all the ingredients into a high powder blender and give a whirl until smooth and creamy.
Line a loaf pan with parchment paper. Pour into loaf pan. Top with hazelnuts. Freeze for 3 to 4 hours until totally solid.
Slice into bars or squares -- whatever you heart desires!
---
Notes
Serves 6-8
*I suggest adding the smaller amount first and giving it a taste test to see if you like it sweeter. I find it sweet enough with 1/4 cup.
**I used New Chapter's Fermented Organic Maca Powder.
***Save the liquid for another use like a smoothie or discard.
You can find New Chapter's Maca at most health food stores or online.
I truly hope this recipe becomes a summer favourite! It's makes a really nice size batch so if you make it just for you (and there's nothing wrong with that), you'll have it for a few weeks!
In terms of a serving size, I cut them into bars as you can see but that's quite a generous size and if you're serving this to guests then you might want to cut them into cubes. I warn you though, you may want to eat more than one cube. It's honestly impossible to resist.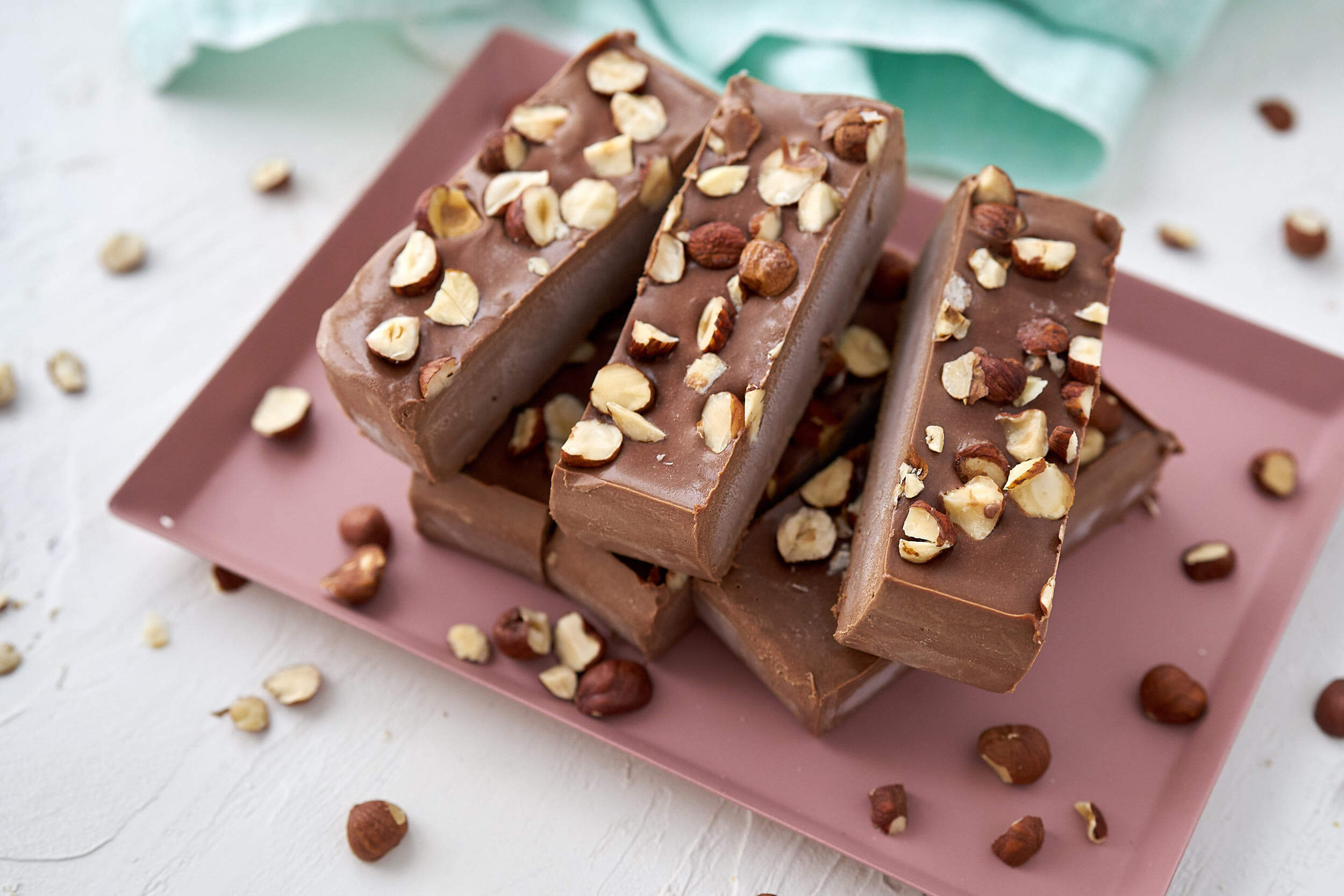 Be sure to tag me on social media @joyoushealth if you make this.
Have a great weekend!
Joy