I just have to gush for a minute about the photos we took when Vienna and I were making this apple tart. It was late Sunday afternoon and the lighting was perfect even though it was a grey day. I said to Walker, "I don't think the light is bright enough for these photos to really shine". He was like, "Just wait – it's perfect".
He was right.
I decided to make this apple tart for two reasons: One, I had a ton of apples from apple picking earlier that day with friends and two, Vienna LOVES baking! There are many mornings she wakes up and says "let's bake!". Usually that means, let's make pancakes which the pancake monster in me has no problem with!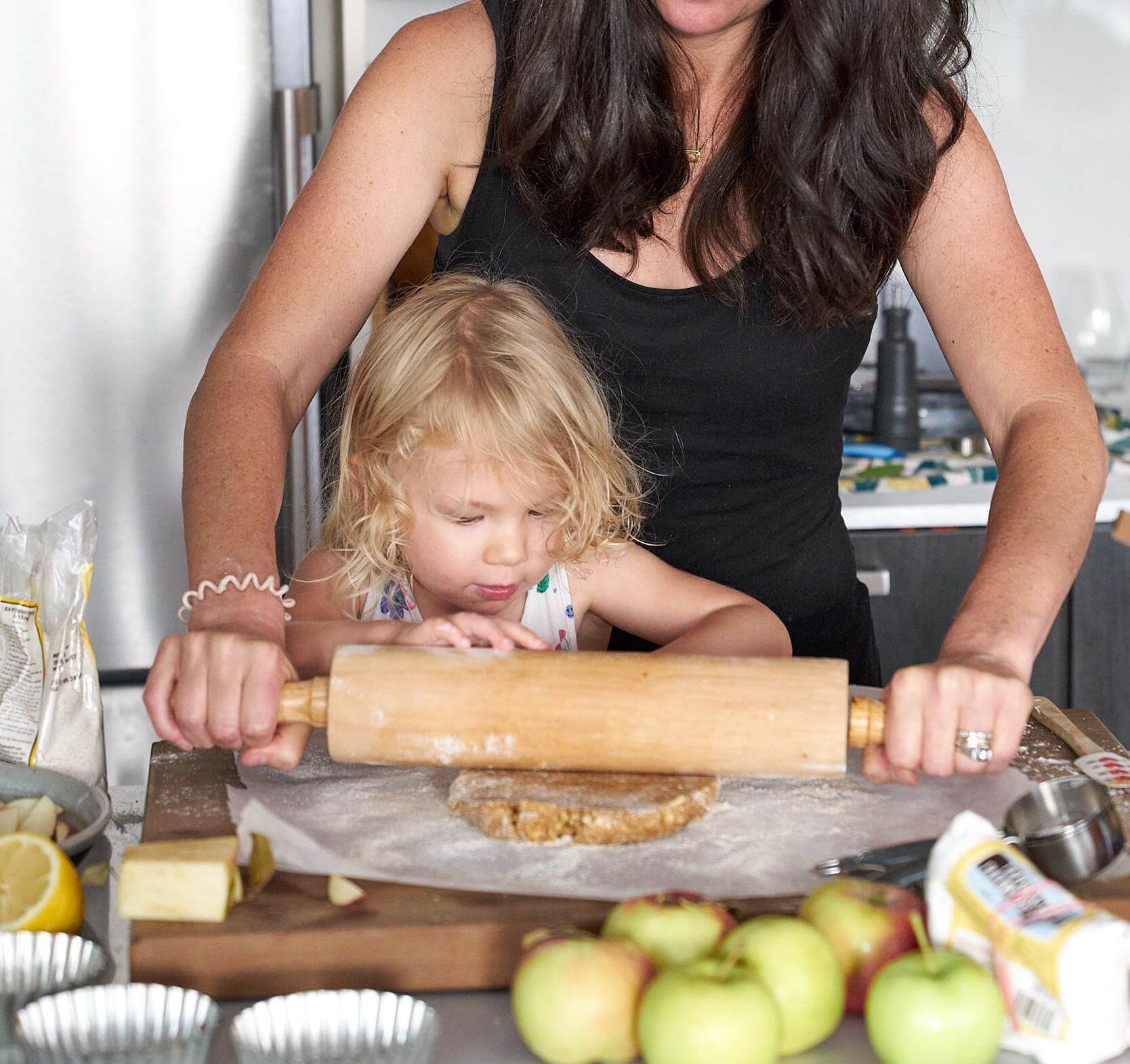 I was leaning more towards making another galette, but after asking you guys on Instagram and receiving an overwhelming response for Apple Turnover, I decided against a galette. Plus, I think I've made enough galettes this year that I could start a food blog solely dedicated to galettes haha.
I ended up going with Apple Tarts but I did make one turnover, because there was a little more pastry than needed for four small tarts. Unfortunately I don't have photo evidence of it because it was gobbled up rather quickly!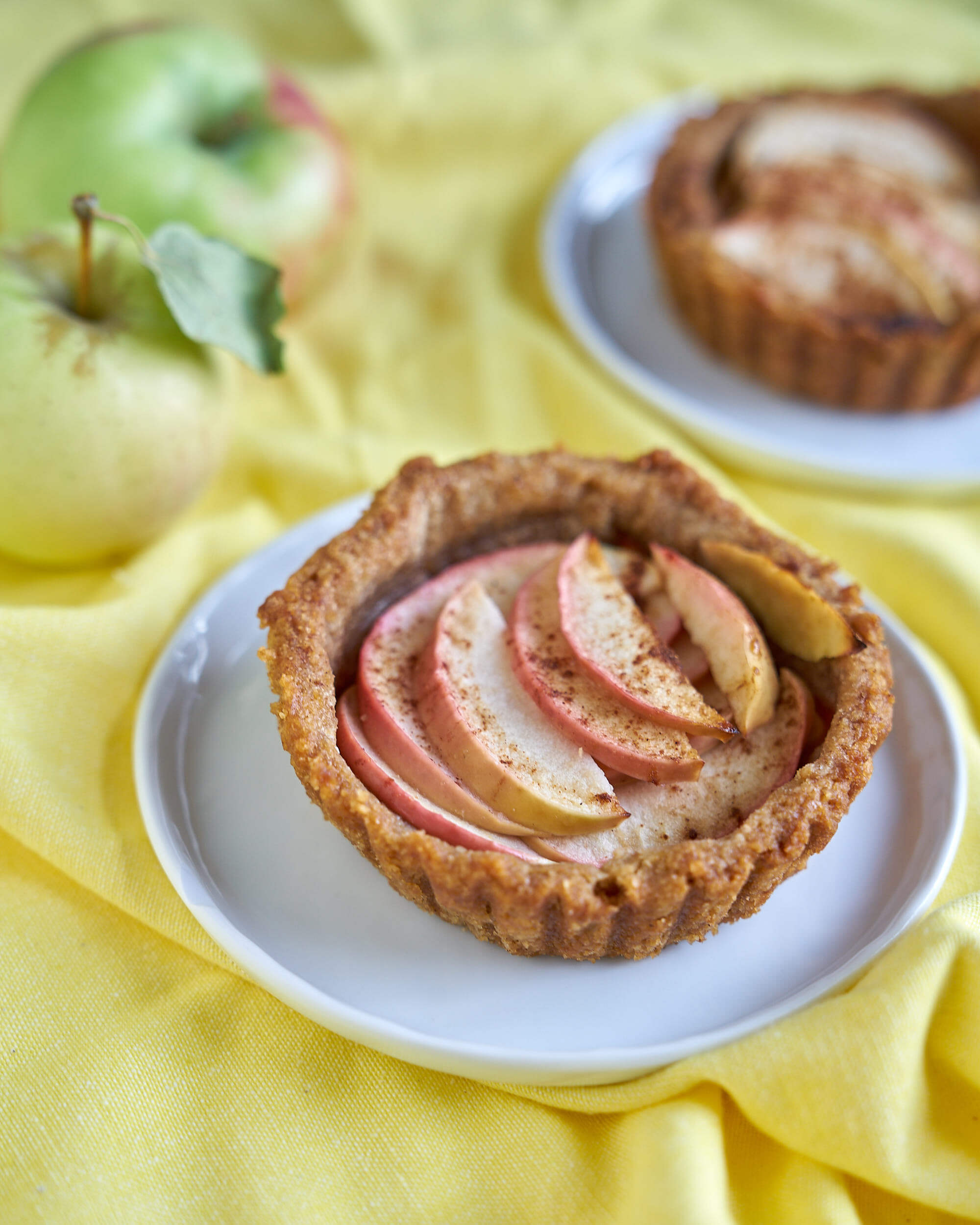 The reason I made tarts instead of a galette is because I felt inspired by the tart pans. I realize that sounds kind of weird but they are so cute! I thought about how much I would love my own little apple tart to schlop with creamy rich, coconut milk-based vanilla ice-cream – oh the joy!! Mind you, one tart is a very generous serving. You could share this with someone and feel quite satisfied.
Or if you have a larger tart pan, you can make a whole one instead of 4 or 5 small ones. You'll just have to bake it a little longer.
The pastry is the perfect consistency for a tart. It's crispy on the outside and soft and chewy on the inside.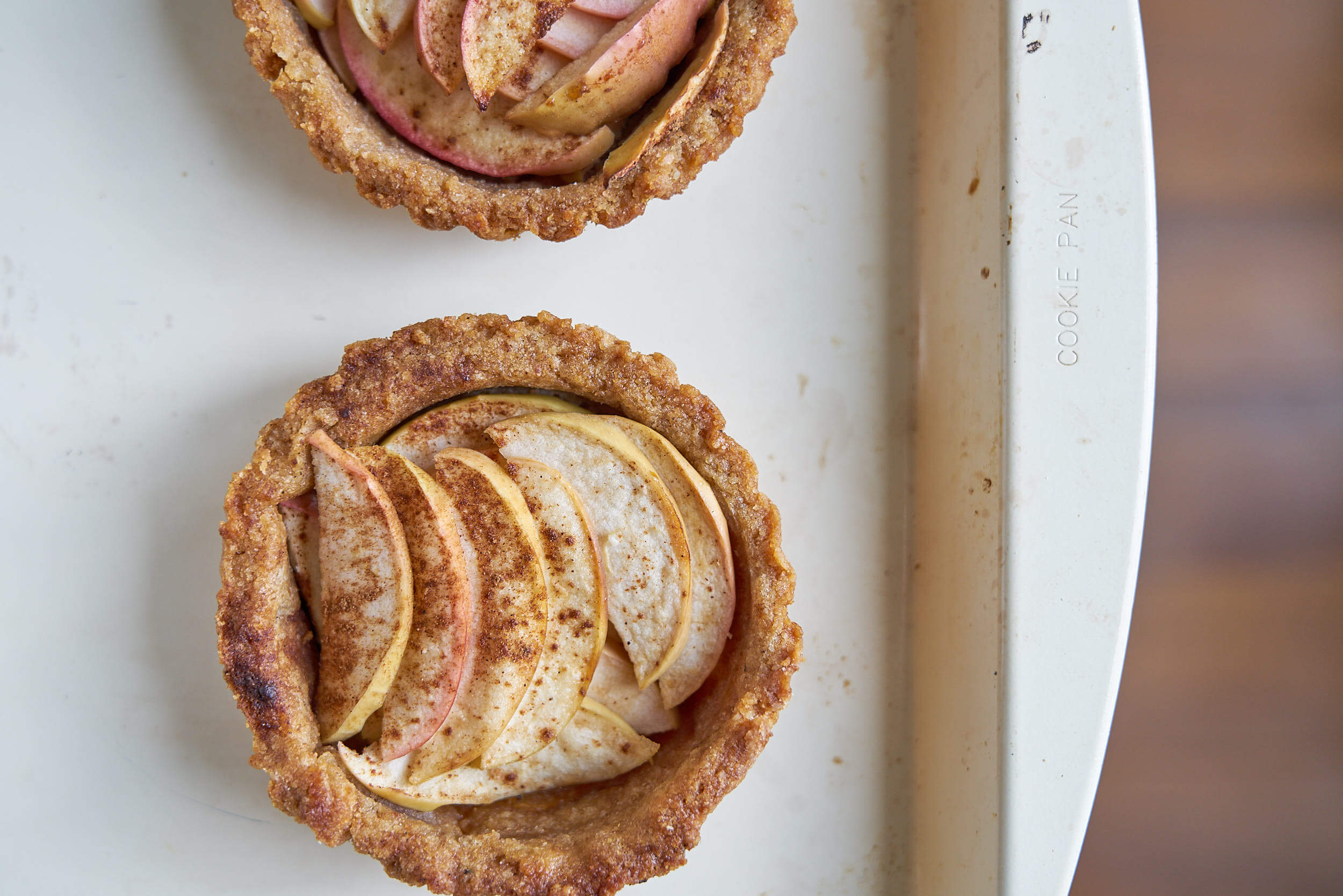 We are so lucky to have a local organic apple orchard only about 45 minutes outside of the city from where I live which is where we went apple picking.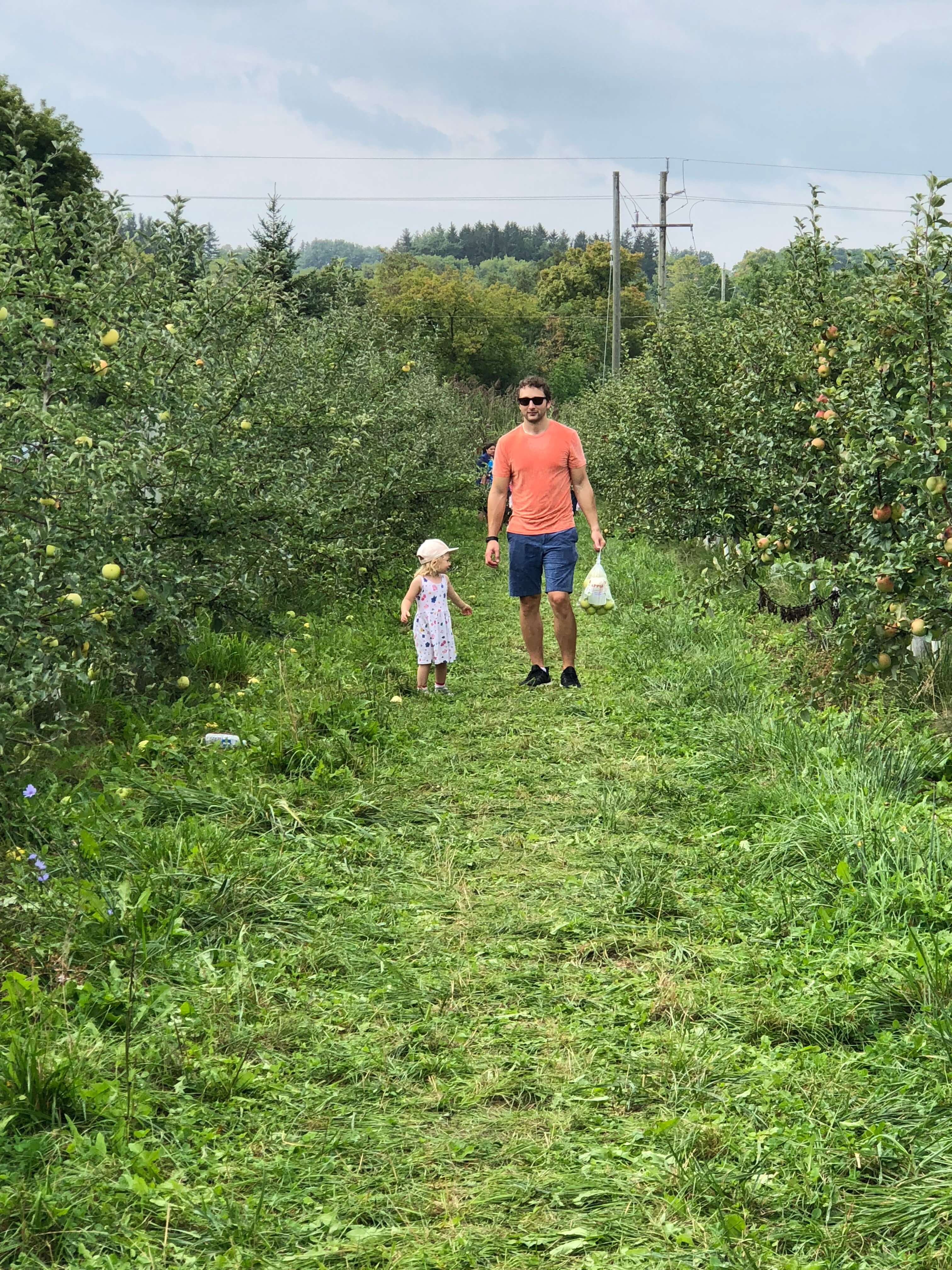 This apple orchard had freshly baked butter tarts too, so we shared one as a family. It was divine! We were in good company too with our good friends and their little one, Riley (pictured here next to Vienna).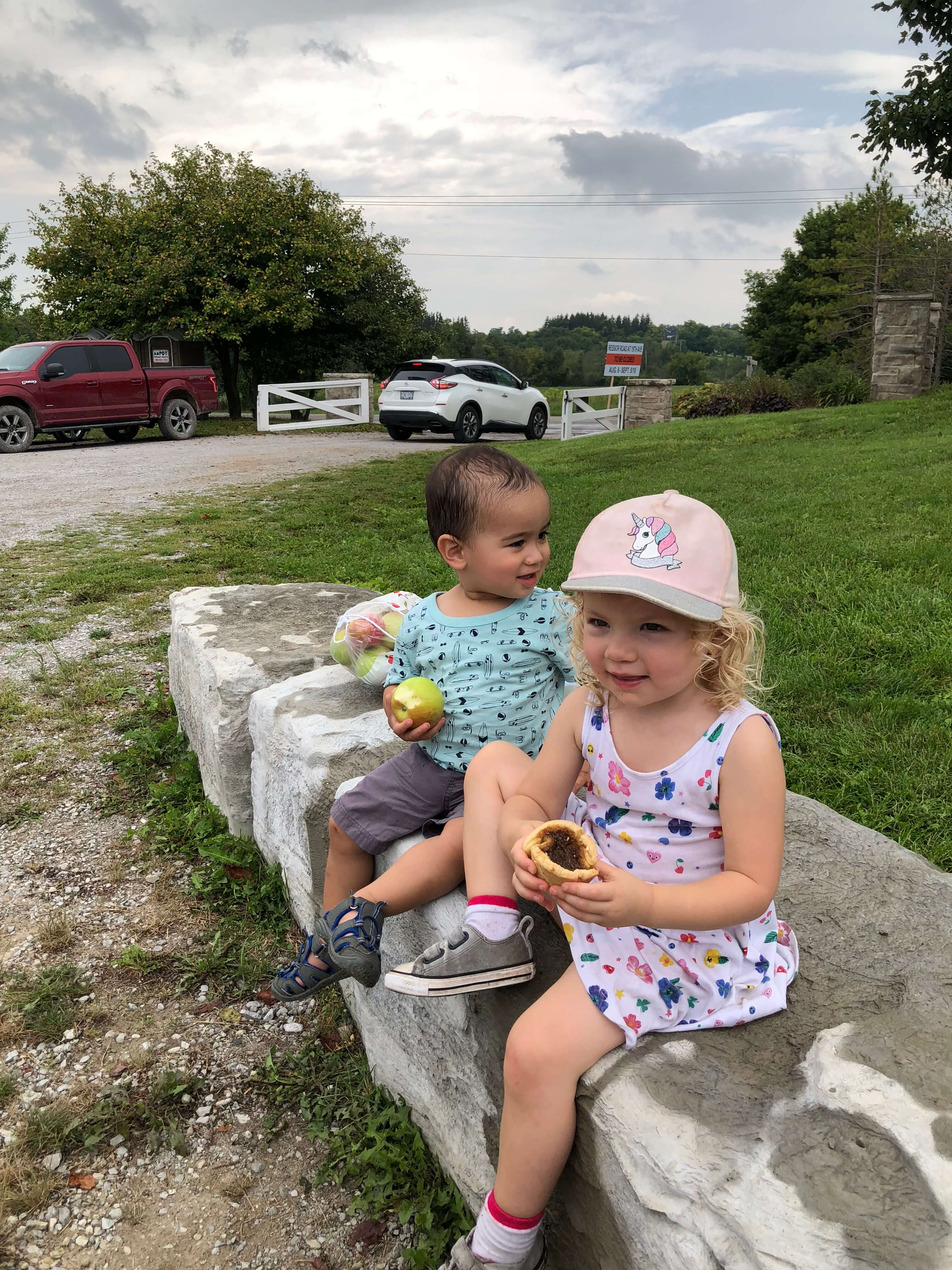 Aaaaaand just because they are so cute, here's another photo :) Add your own caption:______________! Mine is "Hey V, want a bite of my apple?".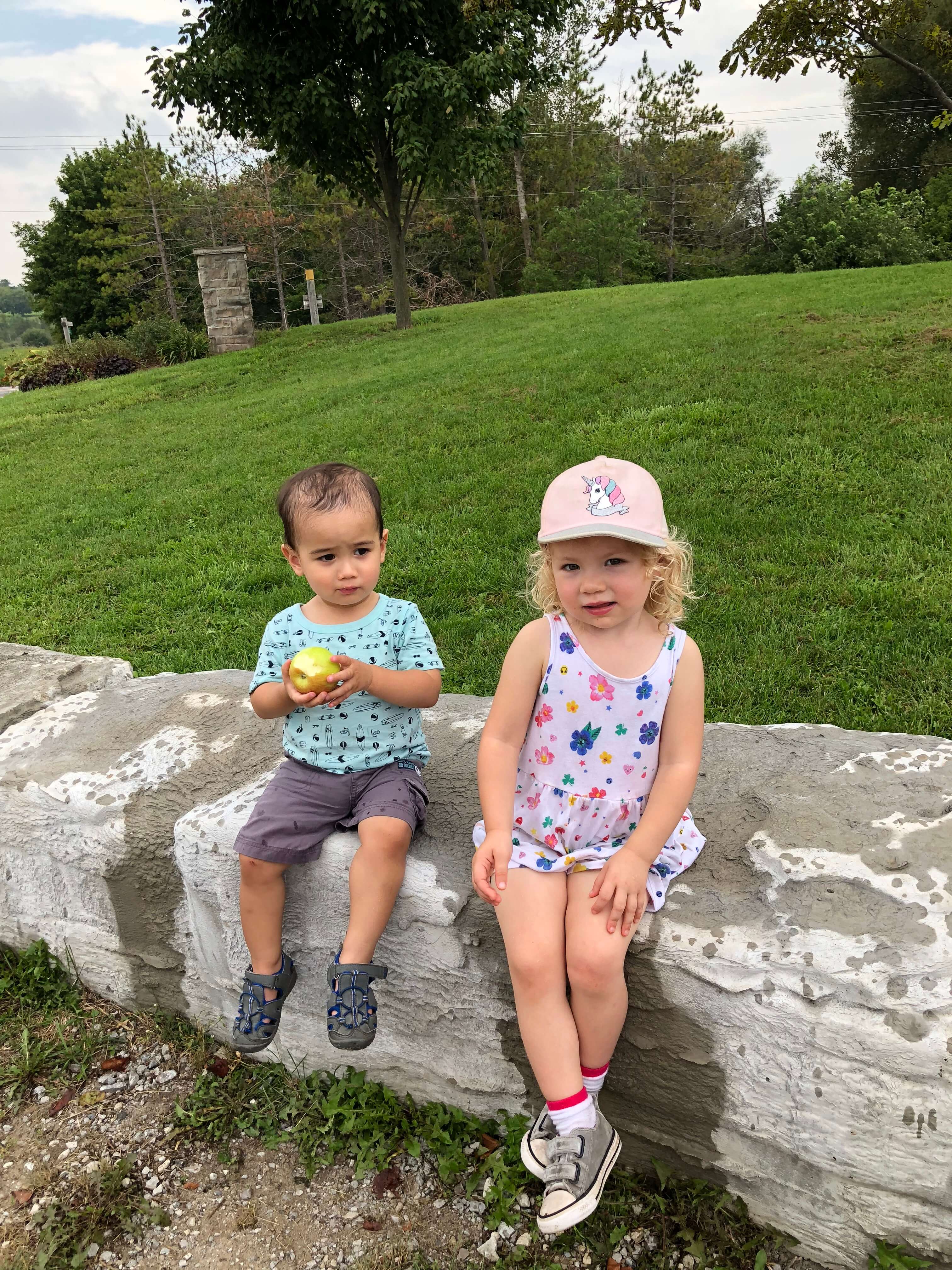 As for apples, as the old saying goes. – an apple a day keeps the doctor away! The health benefits listed below are proof.
health benefits of apples
Contains pectin, a soluble fiber that binds to substances and eliminates them, including cholesterol and toxins
Provides relief for constipation
Rich in cancer-fighting antioxidants including quercetin, catechin, phloridzin and chlorogenic acid
Quercetin also helps to boost your immune system and ward off sickness
Rich in vitamin C that fights free radical damage, helps protect DNA and cells from mutation and malformation
Source of dietary fiber which helps to sustain healthy blood sugar levels
Promotes whiter, healthier teeth because apples stimulate the production of saliva in your mouth which reduces tooth decay and levels of bacteria
Rich in malic acid which is a naturally cleansing nutrient that removes carcinogens and toxins from the blood
Now back to this recipe! If it's your first time making a pastry, then I'm going to share some step-by-step photos and tips. If you're a pro and you've made my Rustic Kale & Sundried Tomato Galette or my Peach Galette before, then skip down to the recipe.
Once you've pulsed the dough in the food processor and you've refrigerated it for an hour, cover a flat surface with flour and a rolling pin. This will prevent the dough from sticking.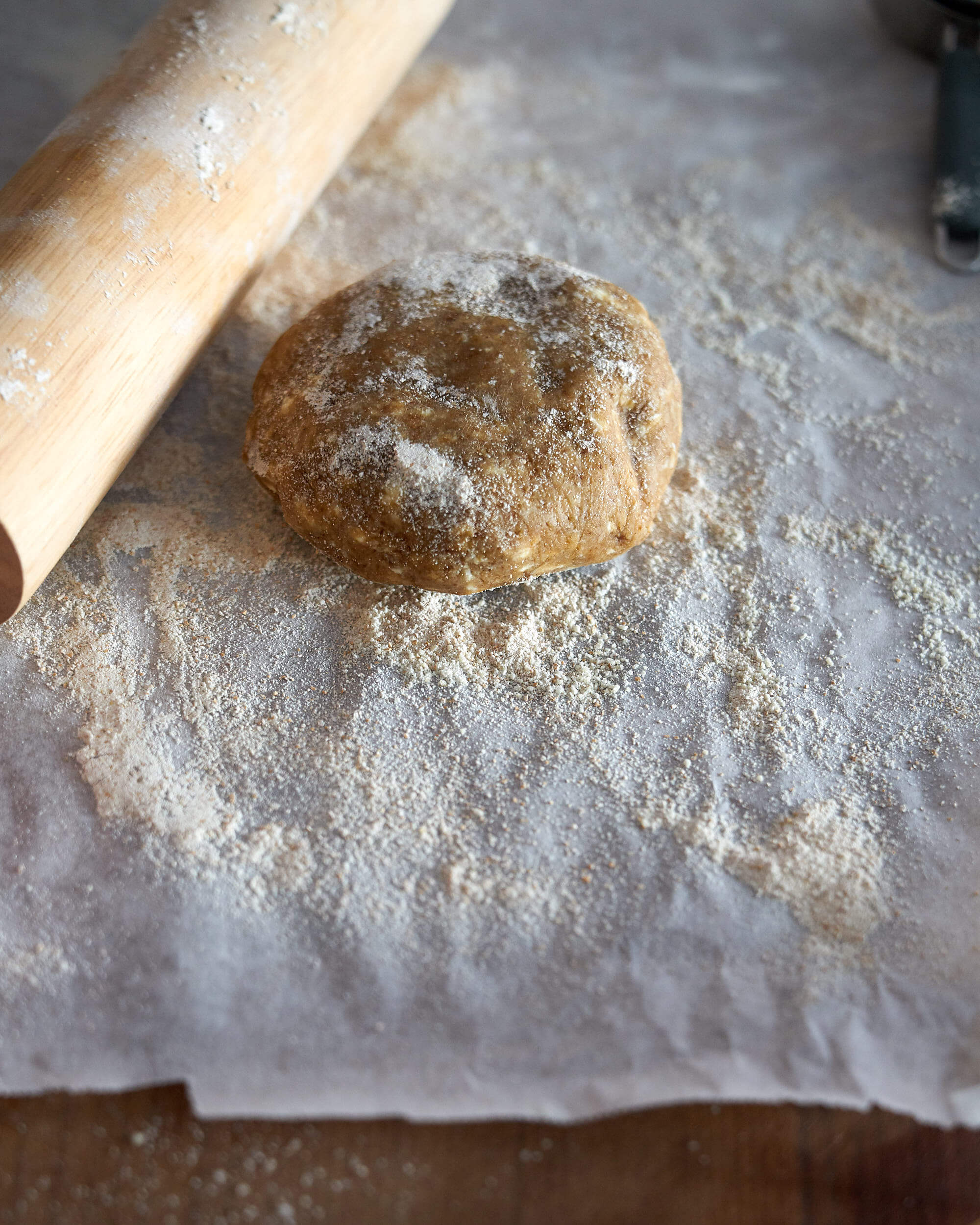 Once you've rolled it out, use a 4-4.5 inch circular cut out. Since I'm not well-equipped with pastry tools, I just used one of Vienna's snack bowls!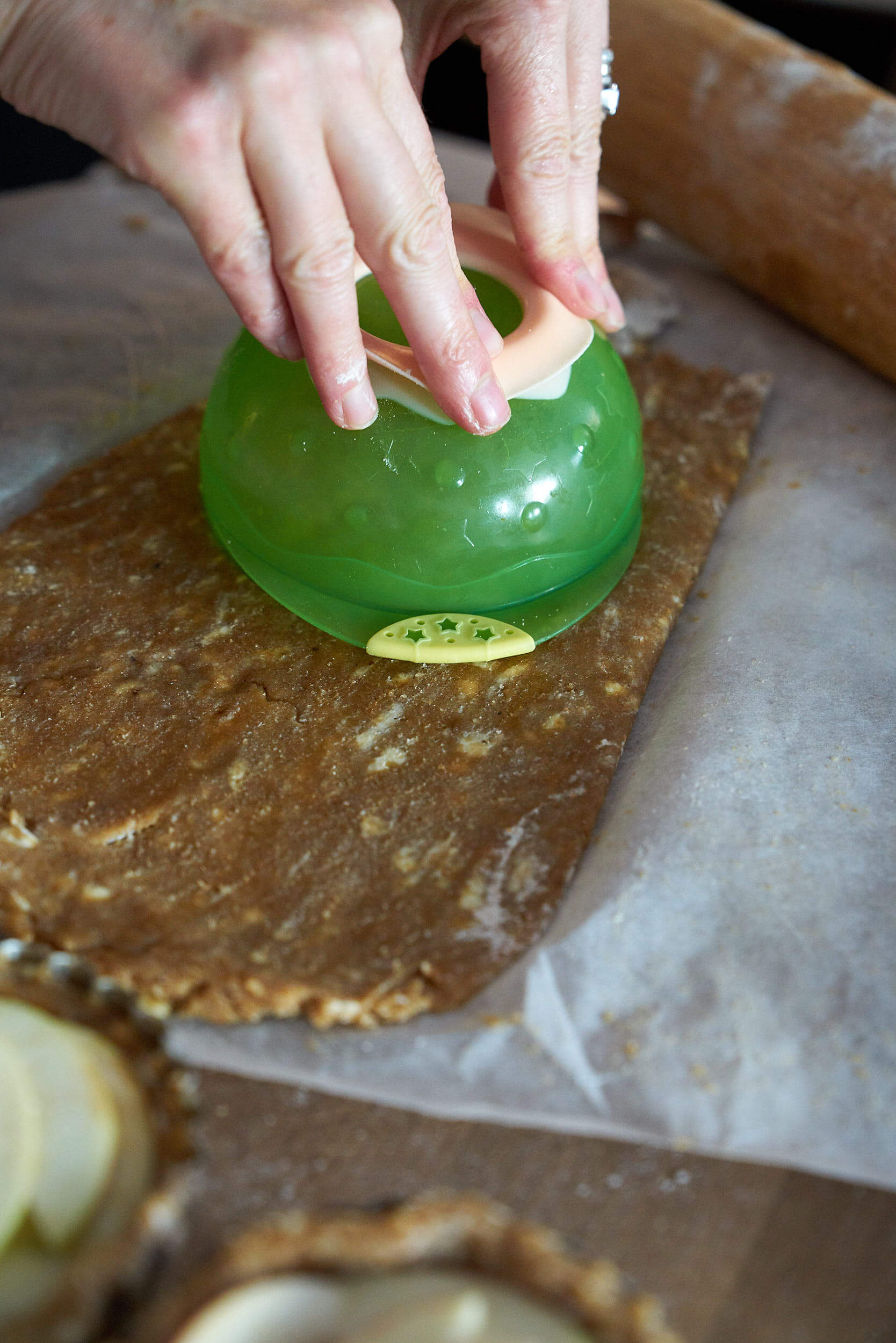 Do you see how there are little pieces of butter in the dough. That's exactly what you want to see. It helps to create air pockets in the dough and evenly distribute that lovely butter flavour. If you're using a vegan butter, just make sure it's solid when you pulse it or it won't work.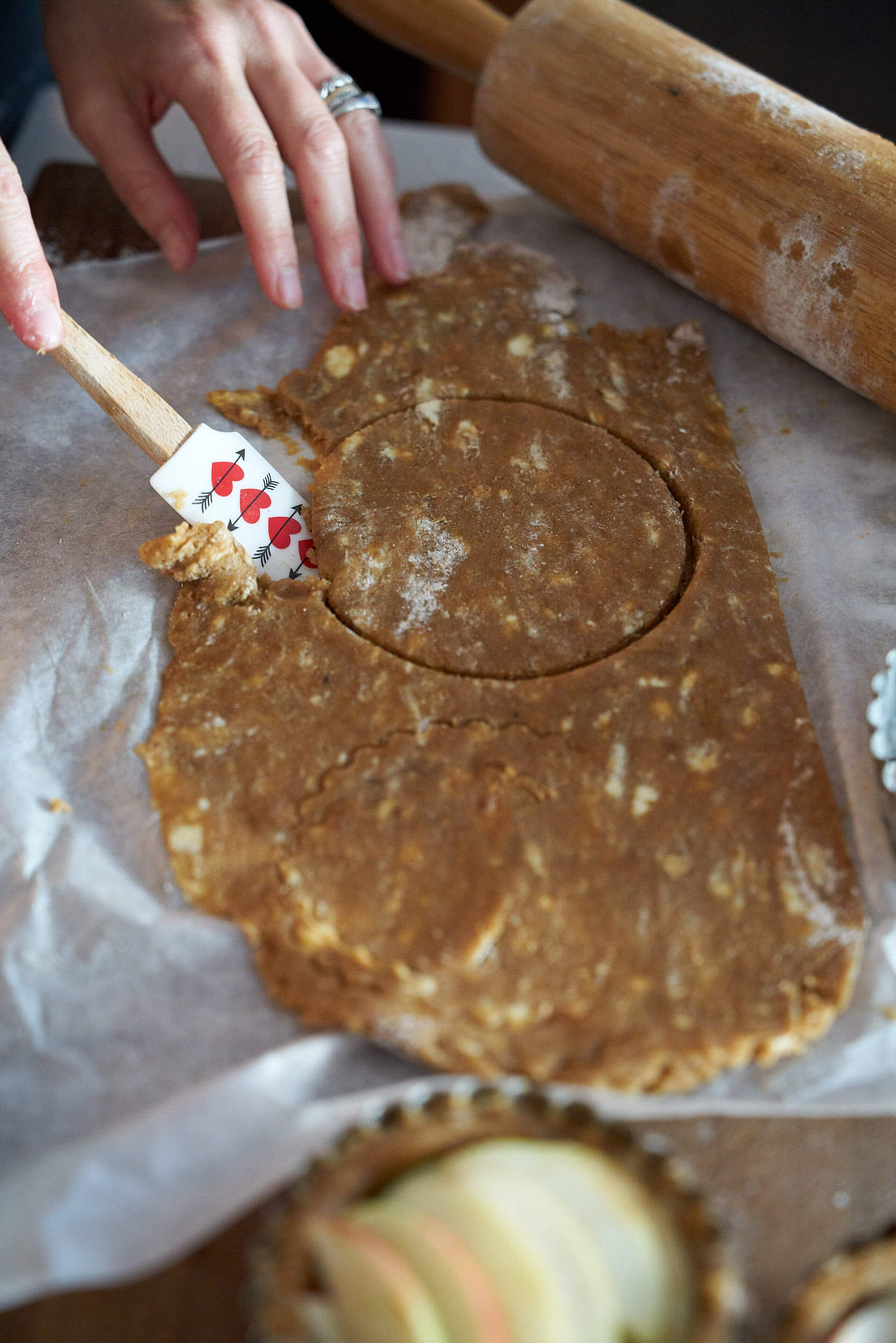 Place the round pastry you've cut out into a small greased tart pan. Use your fingers to press the pastry down and then layer the inside with finely sliced apples.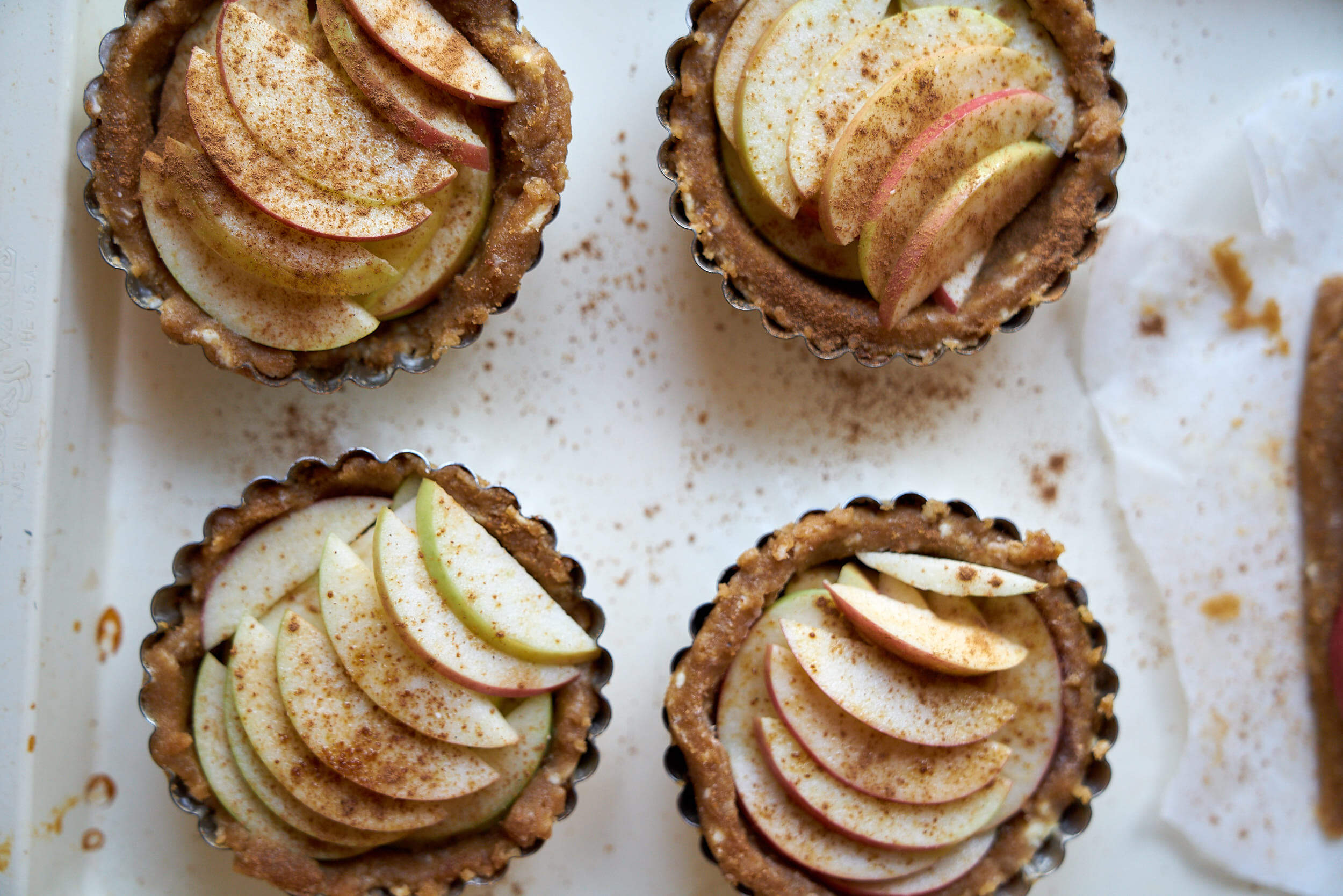 Once you've assembled all of the tarts, you may have a little pastry flour left over. You can make a fifth one or you can make an Apple Turnover like we did. Again, we didn't get a photo of it but you can see a bit of it on the right of the photo above. You just put apples on the remaining pastry and then fold it over and bake it – easy peasy, but certainly not as adorable as these tarts above.
Then just sprinkle them with cinnamon and pop 'em in the oven!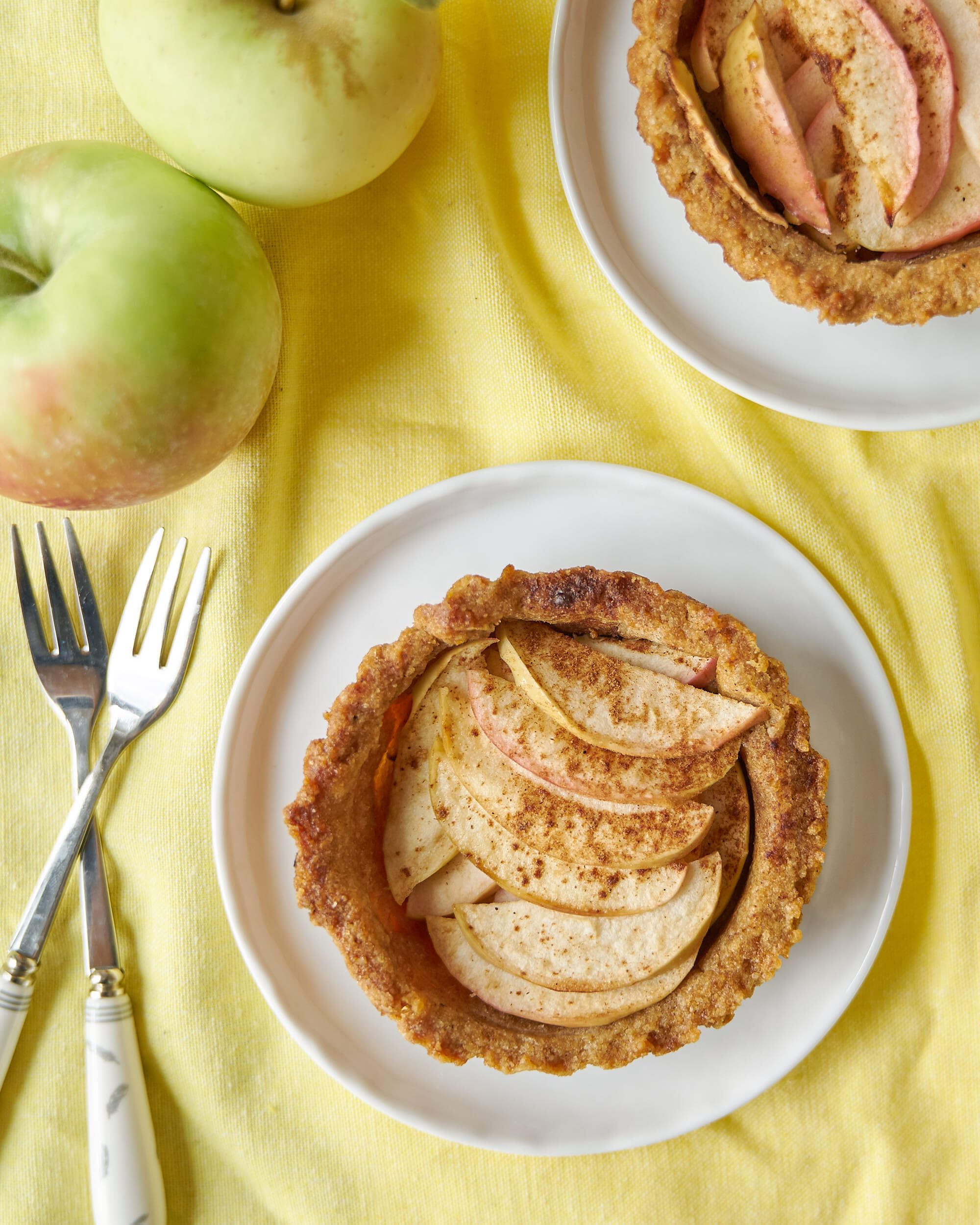 These tarts are both grain-free and gluten-free. The main flour used is almond flour and a bit of tapioca flour. Don't worry if you've never heard of tapioca flour; it's actually super easy to find at the health food store. If you live in a rural area, then you can buy it on Amazon.
Tapioca is a gluten-free baking essential because it lends a crisp crust and chewy texture to pastry. I don't recommend trying to make a substitute for this recipe as I'm not sure how it will turn out. Once you've got tapioca flour stocked in your kitchen then you can make my galette next ;) It may seem like a lot of instructions, but I wanted to be as clear as possible.
But now, let's get to the recipe, shall we?!
Sweets + Treats
Mini Apple Tarts, Grain-free and Gluten-free
Save
Print
Ingredients
1½ cups almond flour
½ cup tapioca flour (I used Bob's Red Mill)
1/3 cup coconut palm sugar
1 tsp ground cinnamon
6 tbsp cold butter
1 egg
4-5 apples, thinly sliced
Juice from half a lemon
1/2 tsp coconut oil
Instructions
Preheat oven to 350 F. Grease 4 small tart pans with coconut oil. I used 3.5 inch tart pans. In a medium bowl, place sliced apples and sprinkle with lemon juice.
The easiest way to make the dough for the crust is to use a food processor using the "S" blade. Add the almond flour, tapioca flour, sugar and ground cinnamon to the food processor. Pulse to combine.
Add cold butter and egg. Pulse in food processor. Make sure you don't blend it constantly (just quick pulses) because the dough will get too warm and the oils will seep out of the almond flour.
Scoop the dough out and roll the dough into a ball and then flatten to a disc and wrap it up in plastic wrap or beeswax paper (Abeego). Refrigerate for at least 1 hour.
Remove the dough from the fridge and sprinkle flour on to rolling pin so it doesn't stick. Roll out dough on to parchment paper to about 10 inches in diameter. It doesn't have to be perfect.
Using a large round cut out (I used the top of a toddler food bowl) cut out circles. Make sure the cut out is about 10-15% larger than the diameter of your tart pan. Place each round cut out in to tart pan and press down.
Divide sliced apple between each tart. I placed it in layers and sprinkled with cinnamon. Place tart pans on a large baking sheet and bake for 20-30 minutes.
Bake until golden brown. If burning, cover with tin foil until fully cooked.
Enjoy with vanilla ice cream. We love Coconut Bliss over here :)
---
You'll notice I added a schlop of vanilla coconut milk-based ice cream. I recommend adding the ice-cream when the tart is still warm and it will melt to perfection.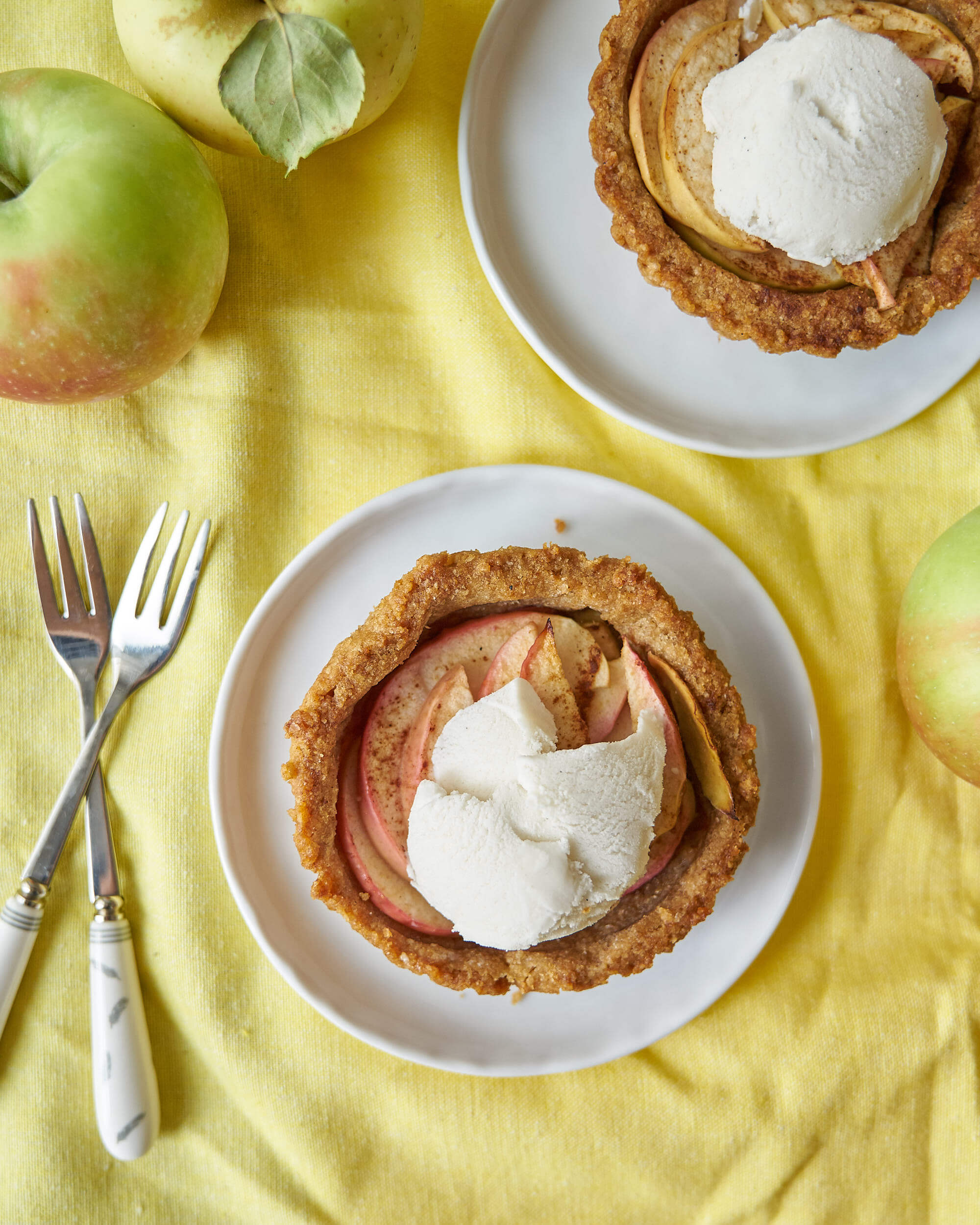 If you love this dessert, you will love the other delicious desserts I have in my FREE Detox-Friendly Desserts guide! Yes, desserts can actually be naturally detox-promoting when you use real, whole food-derived ingredients.
I hope you guys love this mini apple tart!
It's a PERFECT Sunday dinner dessert or you can make it for Thanksgiving which is JUST around the corner.
Looking forward to seeing what you guys make! Tag me on instagram if you make it – I love drooling over your photos!
Joyous appetito! :)
Joy