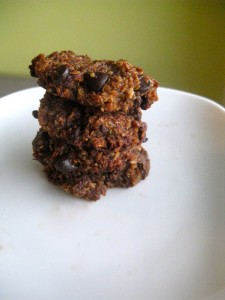 These cookies are gluten-free, vegan and absolutely delicious. If you have preconceived notions that gluten-free baked goods are like eating cardboard, then you MUST try this recipe.
Not only are these yummy cookies easy to make, but they are an excellent source of nutrients. These powerhouse cookies are a source of protein (in fact, a complete protein thanks to quinoa which contains all 9 essential amino acids), complex carbs to keep your energy levels stable, stress-busting B-vitamins, antioxidants found in the raw cacao and more.
Even if you are a quinoa-virgin, this is my personal guarantee these yummy bites of deliciousness will become a power snack favourite in your home.
This recipe is unique not only because it's made with quinoa which makes them soft and chewy, but also because of a sugar I've been using lately in my baking called coconut sap sugar. This sugar is a by-product of coconut, a natural whole food, which has been used for over 5,000 years in food preparation. More about about this wonderful food:
Coconut sap sugar is made from the sweet watery juice that's extracted when the bud of the coconut flower blooms. The sugar makes a delicious sweetener and is loaded with B vitamins, amino acids and minerals, including nitrogen, phosphorus, potassium and magnesium.
What makes it even better is its relatively low placement on the glycemic index (only 35, eliminating worries you'll crash after eating it). Make sure you purchase your brand certified organic to ensure it's free of chemical pesticides.
If you want to learn more about healthy sugars for baking, please check out this joyous video for my brand recommendations.
Ingredients:
1 cup cooked quinoa (Note: 1/2 cup dry quinoa makes a little over a cup of cooked. Instructions here.)
1 cup uncooked quinoa flakes (or quinoa flour)
1 cup unsweetened unsulfured shredded coconut
4 large bananas, mashed
1/4-½ cup coconut sugar
1/2 cup dark organic unsweetened chocolate chips (NOTE: Make sure you read the ingredients to ensure they are gluten and vegan)
1.5 tbsp organic raw cacao
1 tsp pure vanilla extract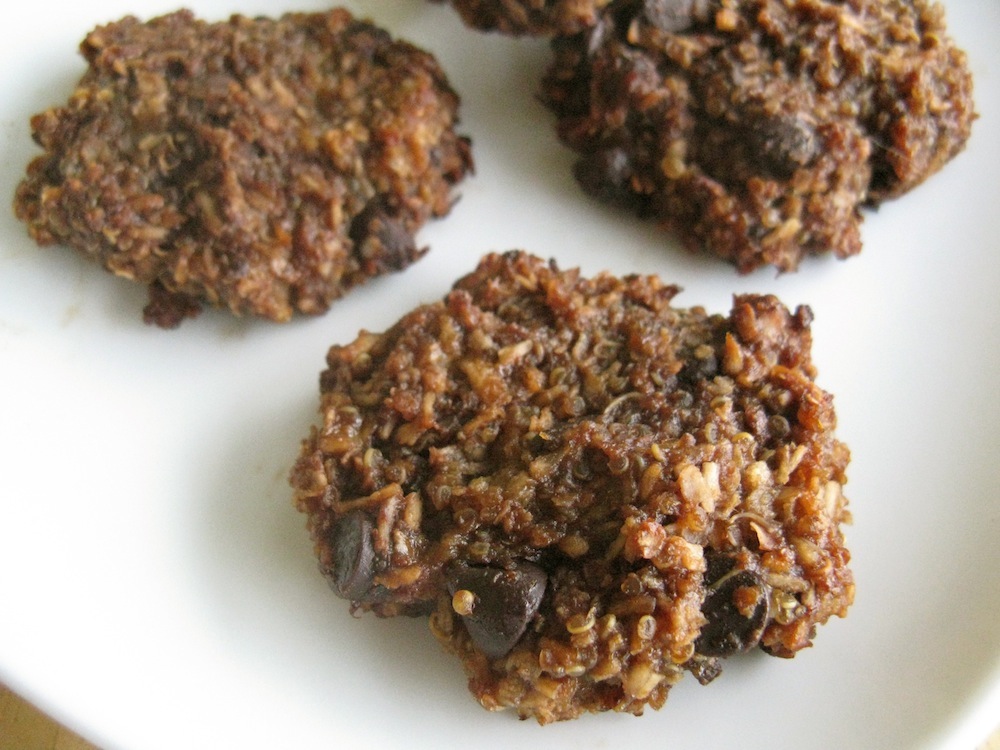 Method:
Preheat oven to 375F. In a large mixing bowl, mash bananas with a fork and add vanilla and coconut sugar. Add cooked quinoa, quinoa flakes, shredded coconut and raw cacao. Mix well until combined. Stir in chocolate chips. Line a baking sheet with parchment paper and drop batter onto cookie sheet. Bake for 20 minutes. Remove from oven and let cool. Makes 24 cookies.
These chewy sweet cookies are great as a snack to smash the mid-afternoon cravings, pre-workout to boost energy or along with a healthy breakfast such as greek yogurt and fruit. Or for the vegans out there, I suggest you enjoy 1 or 2 of these cookies with a smoothie for breakie! Credit for this recipe goes to my Mom because she is the quinoa-baking-queen! I modified it slighly by adding the raw cacao - hopefully she won't mind ;)
EnJOY!
Here are some other fave quinoa recipes made in my joyous kitch that I know will make your belly smile and you'll feel good that you are feeding your family and yourself nutritious meals!
Lentil Quinoa Loaf: http://www.joyoushealth.ca/2011/08/29/lunch-box-favourite-lentil-quinoa-loaf-recipe-gluten-free-high-in-protein-fibre/
Antioxidant Quinoa Bowl: http://www.joyoushealth.ca/2011/02/17/antioxidant-warm-quinoa-bowl-recipe/
Other upcoming classes:
1. Eat Well Feel Well: January 2012. Register and save!
2. Mexico Wellness Retreat 2012 – Exciting! http://www.joyoushealth.ca/mexico-2012-retreat/