This morning I grabbed this book from my bookshelf - Louise Hay's "love your body". It's been YEARS since I looked at it. This was the random page I flipped open to: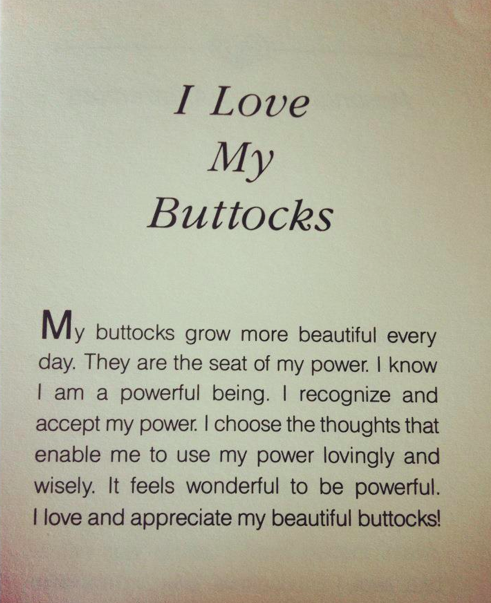 I was laughing as it was quite appropriate for me personally because I feel like I've been sitting too much on my rump this week at my computer. However, rather than think about my buttocks getting bigger from lack of exercise (eek), this gave me some much needed confidence and a friendly reminder that it is the SEAT OF MY POWER!
Have you ever noticed that little babies love every single inch of their bodies? They are completely fascinated with their squishy little toes, love to grab and squeeze everything -- including other people. As Louise Hay states, that's because they have no guilt, no shame and no comparison. Somewhere along the line you listened to others who may have told you otherwise or you convinced yourself you were not good enough.
So let's drop all that nonsensical talk and get back to loving our bodies and affirming how freakin' amazing we are.
Your thoughts create your life. And every thought you think will be accepted as the truth. Your subconscious can't tell when you are joking or serious. This is a great benefit to us because if you constantly affirm loving thoughts, then you will be planting new seeds into the fertile soil of your subconscious mind and they will become your truth.
A healthy mind is a healthy body.
Here's some affirmations to get you started from Louise Hay's book:
I Love My Liver.
I let go of everything I no longer need. I joyfully release all irritation, criticism and condemnation. My consciousness is now cleansed and healed. Everything in my life is in Divine Right Order. Everything that happens is for my highest good and greatest joy. I find love everywhere in my life. I choose the thoughts that heal, cleanse and uplift me. I love and appreciate my beautiful liver!
I Love My Hands.
My hands are free to hold life in any way they wish. My hands have endless ways of handling events and people. I choose thoughts that handle my experiences with joy and with ease. Each detail is taken care of in Divine Right Order. I handle life with love; therefore, I am secure, I am safe, I am myself. I am at peace. I love and appreciate my beautiful hands.
I Love My Hair.
I trust the process of life to take care of my every need and I grow strong and peaceful. I relax my scalp and give my beautiful hair room to grow luxuriously. I lovingly groom my hair and choose the thoughts that support its growth and strength. I love and appreciate my beautiful hair!