My photographer, food stylist and I have been working hard over this long weekend shooting joyous recipes for my book! So today when I was feeling peckish for a salty snack I made the popcorn pictured above, old school style my friends.
Why old school you might ask? Well, microwave popcorn is best avoided. In fact, I wouldn't touch it with a ten ft. pole. I have many reasons for this aside from the fact that I use my microwave as storage and I haven't zapped anything in at least 10 years. But I LOOOOOOVE popcorn so very much. So I make it the old school way which I'm going to share with you in this recipe.
It is very important to make sure you buy Certified Organic popcorn kernels for the health of your body and the environment. When I used to eat non-organic genetically modified popcorn it would do nasty things to my insides. Interestingly, I thought corn was the problem, but then I switched to certified organic non-GMO corn and guess what? My issues that I suspected were related, disappeared. Just pay attention to how you feel the next time you eat movie theatre popcorn or microwave please.
According to Care2, microwave popcorn has two problems:
A report from the FDA indicates that a chemical coating used in microwave popcorn bags breaks down when heated into a substance called perfluorooctanoic (PFOA). The Environmental Protection Agency has identified PFOA as a "likely carcinogen." Another study has found an acid that can be extracted from the chemical causes cancer in animals and is "likely to cause cancer in humans."
A second potential danger in microwave popcorn is diacetyl, an FDA-approved chemical found in the fake butter flavoring. There's even a debilitating respiratory disease called "popcorn workers lung," (the medical name of the condition is bronchiolitis obliterans) suffered by microwave popcorn factory workers caused by extended inhalation of the chemical's fumes.
In response to the concerns regarding the risks of diacetyl exposure, a number of microwave popcorn manufacturers have discontinued using it in their products.
Popcorn is one of my favourite treats. The combo of salty and crunchy makes it an ideal movie or mid-aft snack.
So let's get right to the recipe ingredients: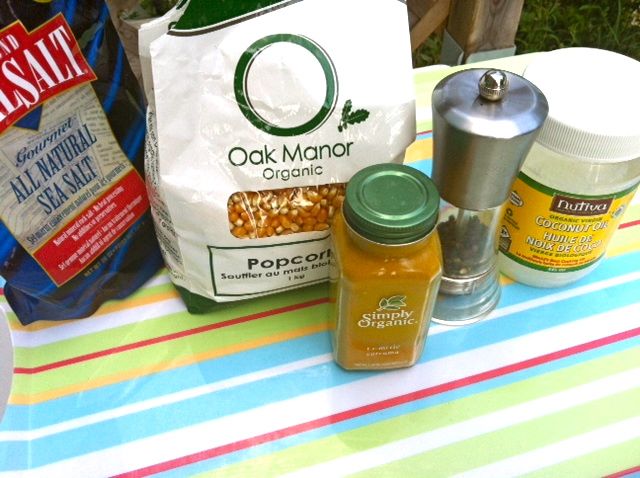 Salad + Snacks
Organic Crunchy Snack: Turmeric Sea Salt Popcorn
Save
Print
Ingredients
3 tbsp coconut oil
1/2 cup organic corn kernels
sea salt, turmeric, black pepper
Instructions
In a medium size pot on the stove melt the coconut oil on medium high (NOT maximum – this is an important step to making perfectly popped kernels).
Once melted, add the kernels and cover the pot with a lid.
Give the pot a shake every so often until you hear it begin to pop. Don't let the pot sit on the hot element for more than 5-10 seconds at a time once the kernels begin popping.
Remove from heat when you hear no more pops!
Put into a large bowl and sprinkle your sea salt, turmeric, black pepper and nutritional yeast to taste.
---
Notes
Tip: To make the ingredients stick, mist the popcorn lightly with a little purified water before adding dry flavourings to help them stick.
You can also find another fun popcorn recipe in my book, Joyous Health!
Be joyous,
Joy