Yesterday we had Walker's grandma over for lunch and we enjoyed the last of my mom's quinoa chili that she brought us last time she visited. Since we finished it off I thought to myself ..."what can I make that will be warm and comforting, plus last a few days... just like chili". So last night when we went to the grocery store to pick up a few things I spotted the perfect organic cauliflower.
I've made something similar (curry cauliflower) several times, but just never put it on the blog because I haven't had a chance to record the recipe. This incredibly flavourful and warming stew is the epitome of comfort food ...but joyous-comfort-food because it's nourishing as well as super yummy.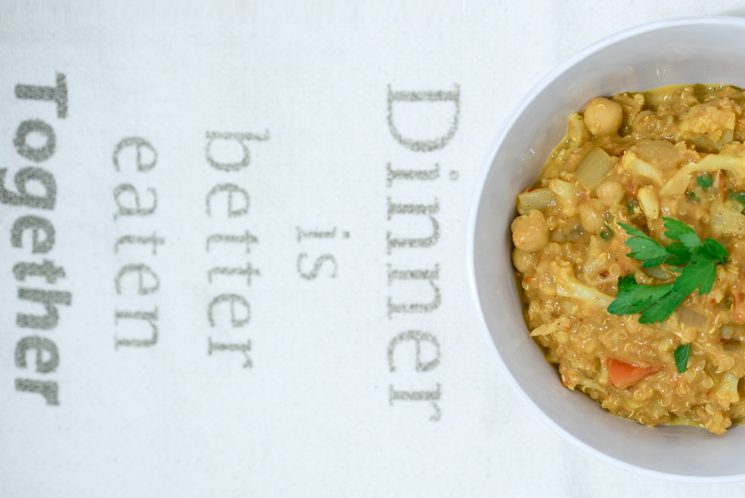 Just like it says on this sweet tea towel, food eaten together really is better. It's so easy after a long busy day to want to take this bowl of stew to the couch, turn on the tube and tune-out. While it's totally okay to tune out and chill out, I think it's really important to enjoy meals together as a family more often then not. Growing up, we always enjoyed our meals together as a family and now that I'm older I know it wasn't always easy for my parents. They both worked full-time but somehow managed to pull it off. That didn't stop my brother from hiding his veggies behind the fridge... I still don't know how he did it without my parents knowing!
Since this was a one-pot meal and it was very fulfilling we didn't need anything else to go with it. Although... I'm sure Walker would have loved some naan bread.
This recipe is very rich in fiber from all three of the main ingredients: cauliflower, chickpeas and quinoa; high in plant-based protein; high in anti-inflammatory compounds due to the spices in curry powder; very detoxifying -- making your own coconut milk and cooking chickpeas from dry. You could also make it in a slow cooker (just add the coconut milk very last before eating). It's the perfect one-pot meal for busy families and I hope you love it as much as Walker and I did. Vienna did too -- not weird farts, haha!
Ingredients
2 tbsp coconut oil
1 large onion, chopped
2-3 tbsp curry powder*
4 cups cauliflower, chopped into bite-size florets
1 (796mL) can whole or diced tomatoes, do not drain
2 cups water**
3/4 cup quinoa
1 can (400mL) garbanzo beans (chickpeas), drained
1-2 small tomatoes, roughly chopped
1 can (400mL) full fat canned coconut milk***
1/2 cup chopped fresh parsley
Optional: 1 tsp dried chili flakes
Sea salt and pepper to taste
Instructions
Melt coconut oil in a large soup pot on medium and add onions. Sweat the onions and then add the curry powder, saute for 2 minutes.
Add the cauliflower, canned tomatoes, 2 cups of water and quinoa and bring to a soft boil then reduce to a simmer for 15 minutes until cauliflower starts to become tender and quinoa cooks.
Add sea salt and pepper to taste.
Add chickpeas and remove from heat. Let cool slightly before adding coconut milk to prevent it from curdling. Add chopped tomato (the heat of the stew will warm it). Add chopped parsley just before serving.
Serves 6 to 8.
---
Notes
*Choose the best quality spices for plenty of flavour. I use certified organic curry powder by Simply Organic.
**Once you put all the liquids in the pot (water and canned tomatoes) it will seem like a lot of liquid but it boils down and the quinoa soaks up a lot of water. The consistency should be that of a stew. If it's too thick, add 1 more cup water as needed
***I do recommend canned because you'll get all the creamy fat which is FULL of flavour and nutrition that you won't get in tetra-pack coconut milk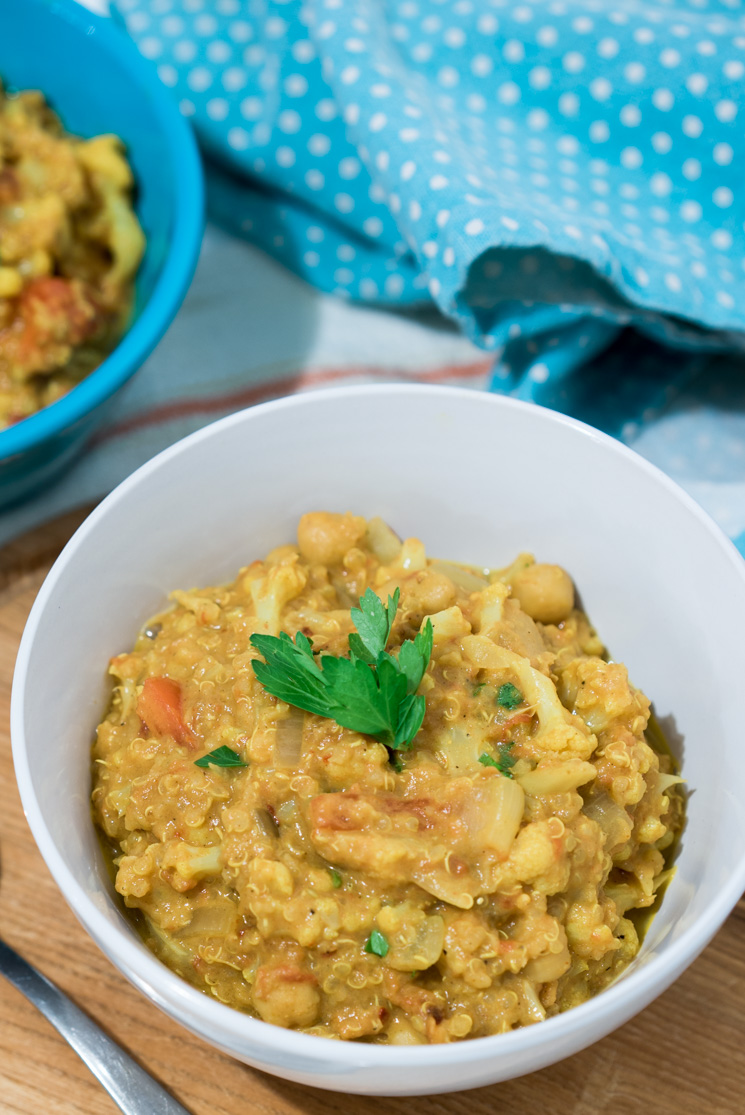 We enjoyed this for dinner last night and I'm so glad I've got leftovers in the fridge right now because this means less cooking for us this week and more enjoying :)
Have a joyous day!