Dear joyous readers,
You can eat this for breakfast, a snack or dessert - it's versatile, nutrient-dense and superbly delicious!
This recipe requires no baking - woohoo! The spices are warming and add a natural sweetness to the whole tart. When you compare this tart to a typical baked tart you are getting megawatt nutritional bang for your buck. Here's why this tart is joyous:
No bake - saves you tons of time!
Smash those cravings - the good fats from the nuts are extremely satiating and blood sugar balancing which keep cravings in check.
Anti-oxidant rich - Nutmeg, cinnamon and cloves are of royalty breed when it comes to the level of antioxidants and anti-inflammatory naturally occurring plant chemicals they contain. Just look up Tuft's University ORAC scale on these spices.
Full of fiber - Soluble and insoluble fiber make pears an excellent food to prevent type II diabetes and heart disease. Be sure to keep the skin on! Studies have shown that the skin of pears contains at least 3 to 4 times as many phenolic phytonutrients as the flesh! Learn more about the health benefits of pears here.
Ingredients
Layer 1 - Bottom
1 cup pitted soaked dates (Soak for an hour, discard water)
2 cup almonds and pecans
1.5 tsp ground cinnamon
1/2 tsp ground nutmeg
1/4 tsp ground cloves
1.5 cups coconut flakes
Layer 2 - Middle
1.75 cups cashews (Soak for an hour, discard water)
1/2 tsp vanilla powder (or 1 tsp vanilla extract)
3 tbsp coconut milk
3 tbsp maple syrup
Layer 3 - Topping
4 pears thinly sliced
1/2 tsp ground cinnamon
Instructions
Combine all ingredients from layer 1 into a food processor or blender and blend until smooth. Line the bottom of an 8x8 square baking pan with layer 1.
Combine all ingredients from layer 2 into a food processor or blender until creamy smooth. Spread on top of layer 1 into the pan.
Slice pears thinly and place on top of the cashew cream. Sprinkle with cinnamon.
Note: If using pears that aren't ripe enough, you can saute them in 1 tsp of coconut oil for 5 minutes to soften them.
Refrigerate for an hour before eating to let all the layers set.
---
Here's a photo from the recipe creating process in the joyous kitchen!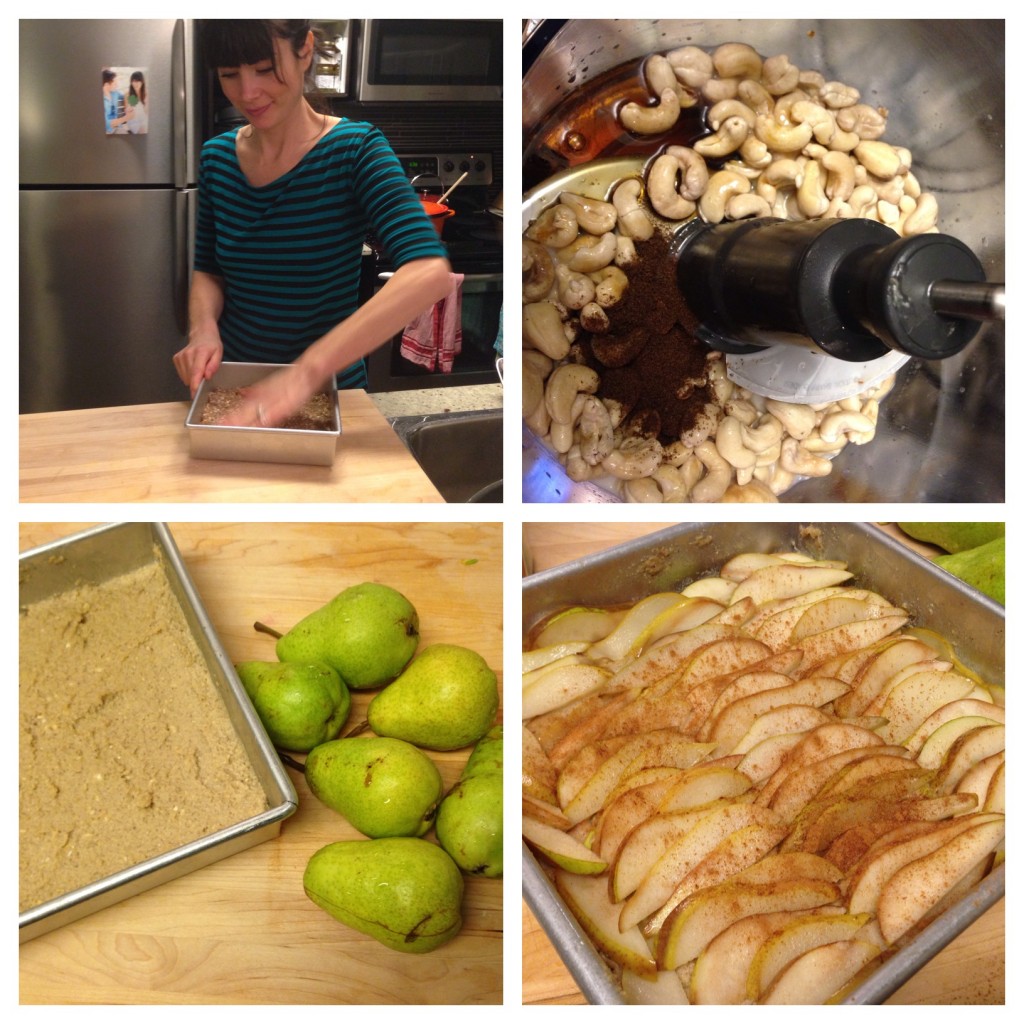 Not only is this recipe easy to make and delicious, it is also vegan (no animal products), gluten-free and dairy-free.
I had a square for breakfast this morning with a green tea coconut milk latte. Be sure to join my facebook page for the latte recipe!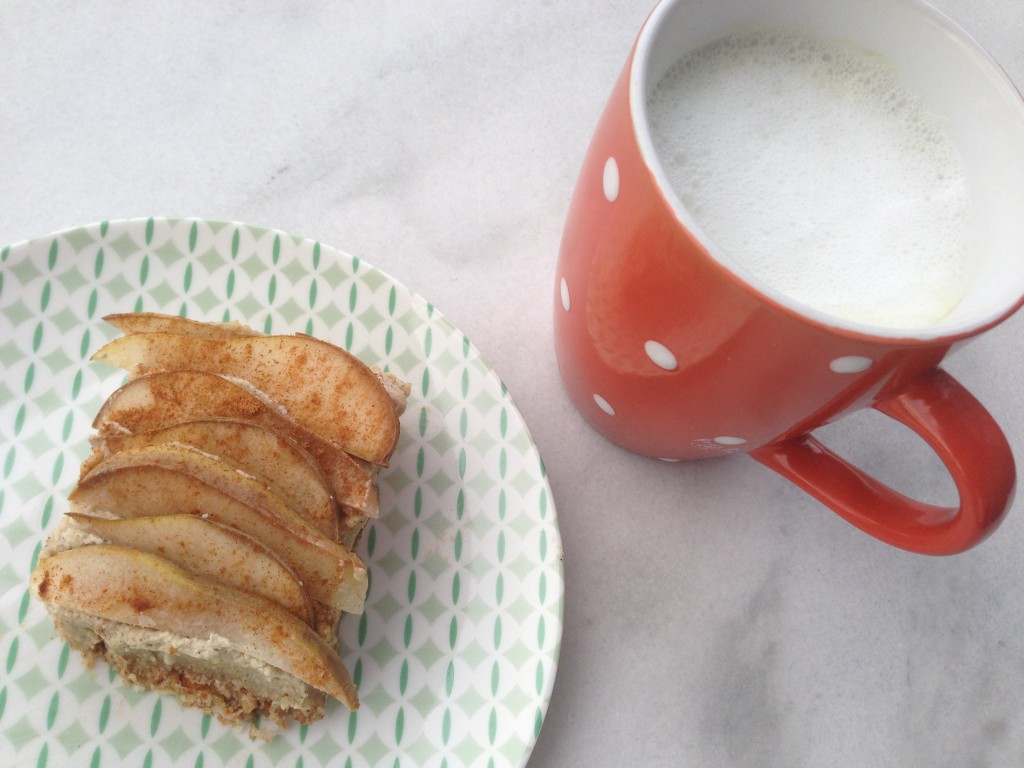 EnJOY!