Dear joyous readers!
My lovely client Karen came in for a session this week and we got chatting about our mutual love of pizza. She told me about this pizza crust from the Wheat Belly website. I decided to make it with some modifications as I always change up recipes to make them more joyous. It was seriously the best gluten-free pizza crust I've ever had. In fact, it was so delicious it almost didn't even need toppings! Walker (my hubs) loved it too. Thanks Karen!!
7 Reasons this is the Best Pizza Crust Ever:
The base of this crust is ground almonds which means a source of satiating protein, good fats and very low on the glycemic index. So you won't be reaching for a piece of pie after eating this pizza.
Almonds are full of antioxidant rich vitamin E and stress-busting magnesium.
FULL of flavour. The original recipe called for onion powder, since I don't use onion powder (always use fresh raw onions) I just added in more organic garlic powder.
Fiber-rich. The almonds are a great source of fiber, as is the garbanzo flour (chick pea) and the flaxseeds. Since I had a mixture of chia and flax in my freezer, that's what I used. Fiber fills up your belly so you stay fuller longer. It also adds some nice bulk to your stools so you have joyous bowel movements. And of course fiber slows the release of glucose into the bloodstream.
It was a pick-up-and-eat crust!
I loved it as much as I love the cauliflower crust pizza.
It doesn't make you bloated!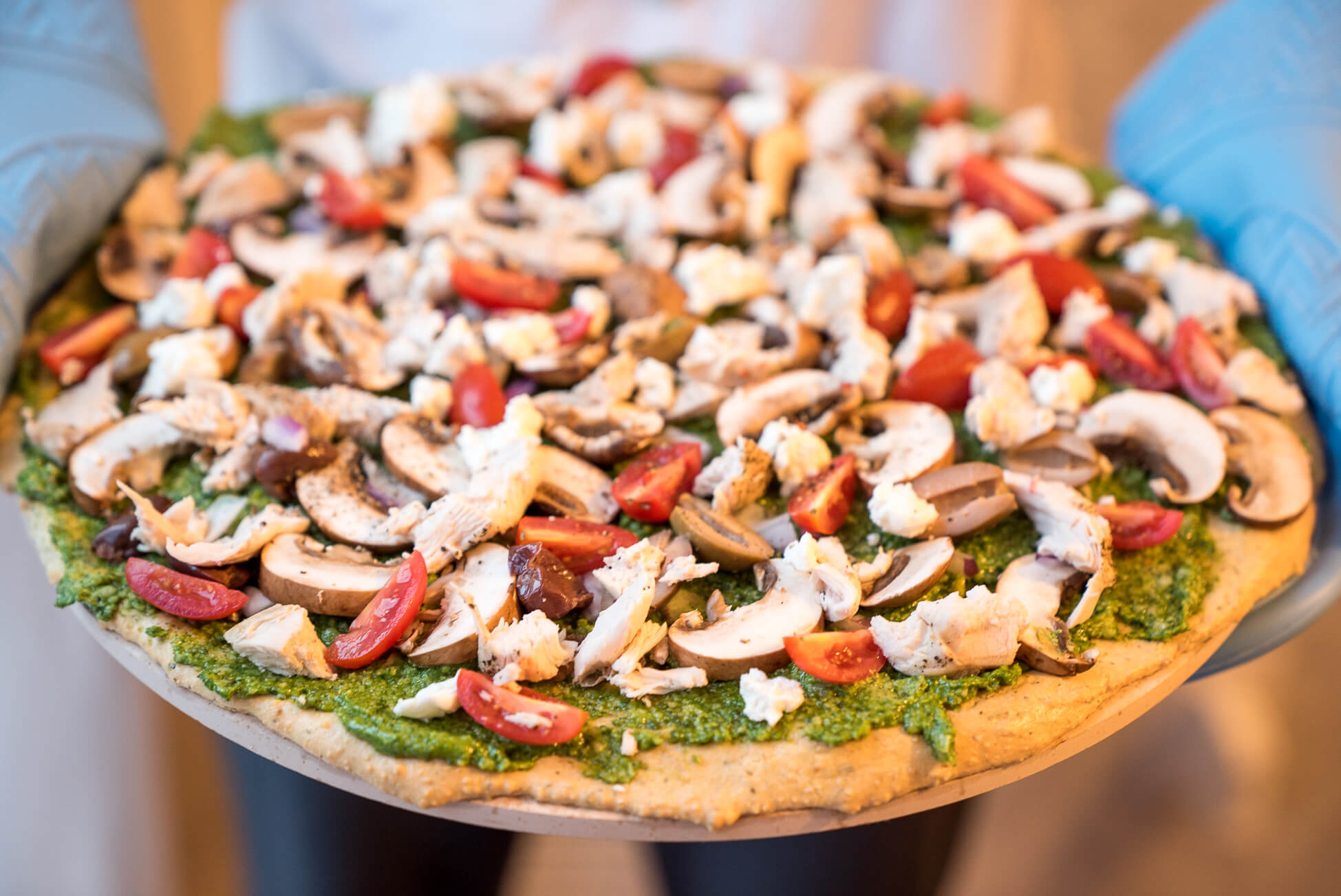 Here's my version of this joyous-approved pizza crust. I hope you try it out and love it as much as I did. It makes a 12-inch pizza crust so if you have a family to feed, I would suggest making 2. We had enough for two people plus lunch the next day.
Ingredients
1 3/4 cups ground almonds
1/2 cup garbanzo bean (chickpea) flour
1 cup shredded hard goat cheese
4 tablespoons ground flaxseed*
2 teaspoons garlic powder
2 tsp dried rosemary
Dash of sea salt
3 large eggs
4 tablespoons extra-virgin olive oil
1/2 cup water
Instructions
Preheat oven to 350F.
In food processor or food chopper, pulse or chop goat cheese until becomes granular size. Add ground almonds, flour, flaxseed, garlic powder and salt. Blend together. Remove and place in a large bowl and combine remaining ingredients: eggs, oil and water, mix thoroughly.
Spread large sheet of parchment paper over a cookie sheet. Place dough on parchment paper and spread around with a spatula. Or place dough onto a pizza stone and spread out to desired thickness.
Bake for 20 minutes.
Remove from oven and top with whatever you like! Kale pesto, pizza sauce, chopped peppers, spinach.
Bake for an additional 15 minutes.
---
Notes
*I've made this pizza many times and forgotten to add the flax, so if you don't have this ingredient don't worry, it will still work!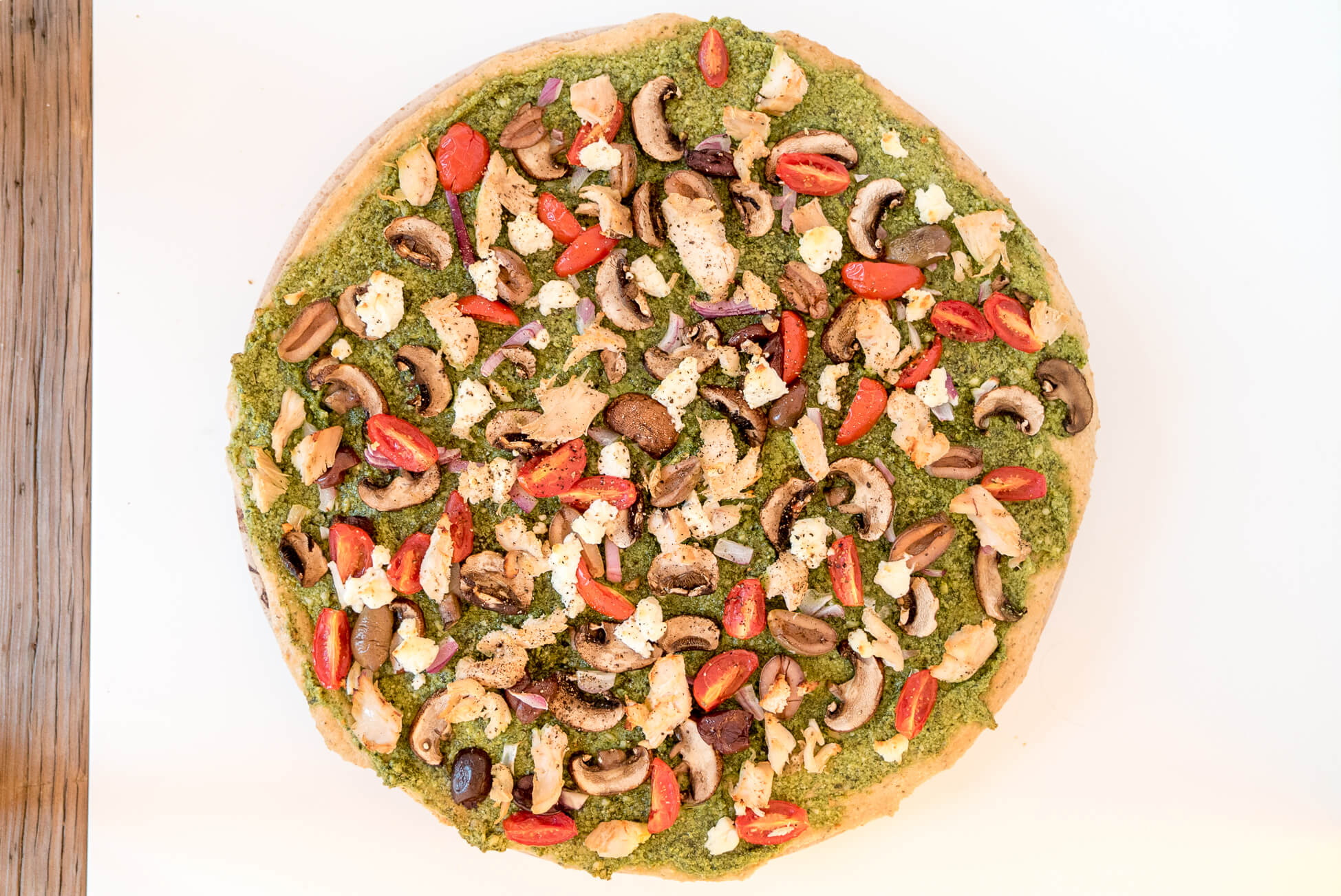 Be sure to share your food photos with me on twitter or instagram, just tag me @joyoushealth. I love seeing how many people are eating joyously!! – woohoo!
Joy