Hey guys,
You know I love my pancakes and I'm pretty sure you do as well because they always seem to be a popular recipe post!
Last night I went to bed dreaming of making these pancakes for breakfast. I figured I had to get up a little earlier to make them and take some snaps before heading to the burbs to teach. But to my surprise they were unbelievably quick and easy. And the best part, very, very yummy!
I can't stake ownership of this recipe because pretty much every healthy foodie I follow on instagram has shared some version of these "4 ingredient pancakes" however since I made them with 5 ingredients and added coconut milk they are now joyously joyous!
These pancakes are gluten-free, egg-free, dairy-free but not free of deliciousness.
You will love how simple the ingredients are and it will make you feel good knowing that you are putting food in your beautiful body that is absolutely whole, real and nutritious. A few nutritional highlights below (after the recipe):
Ingredients
1-3/4 cup oat flakes* (or oat flour)
1 cup coconut milk*
1/2 tsp pure vanilla extract
1 banana
1/4 cup any small berries* (blueberries, raspberries or blackberries)
1 tbsp coconut oil
Instructions
Place oat flakes in a blender or food processor and blend until it forms an almost flour texture. Add coconut milk, vanilla, banana and blend. Then add the blueberries and blend.
Let the mixture sit for a few minutes while you warm up your pan and melt the coconut oil.
Place 1/4 cup mixture on pan for each pancake (if you like them small like the size in my photo) and cook until the outside turns golden brown and then flip. Cook for a few more minutes on the other side.
Serve with a dollop of coconut butter (not to be confused with coconut oil) and some loose berries. Drizzle with unpasteurized honey or real maple syrup.
---
Notes
Substitutions*
- Coconut milk: Almond, hemp, flax milk or organic kefir would also work well.
- Oat flakes: Quick oats are fine (not instant oatmeal though).
- Berries: You can easily use frozen as well.
NOTE: It is okay if the pancakes are a little soft in the middle. This is because of the banana. You don't need to actually cook them all the way through because they don't have any eggs.
This recipe made enough to feed my sweet man Walker and I with leftovers. You know what I will be eating tomorrow for breakfast?! I will pop those puppies in the toaster and enjoy with another schlop of coco butta and honey -- hurray for healthy yummy food!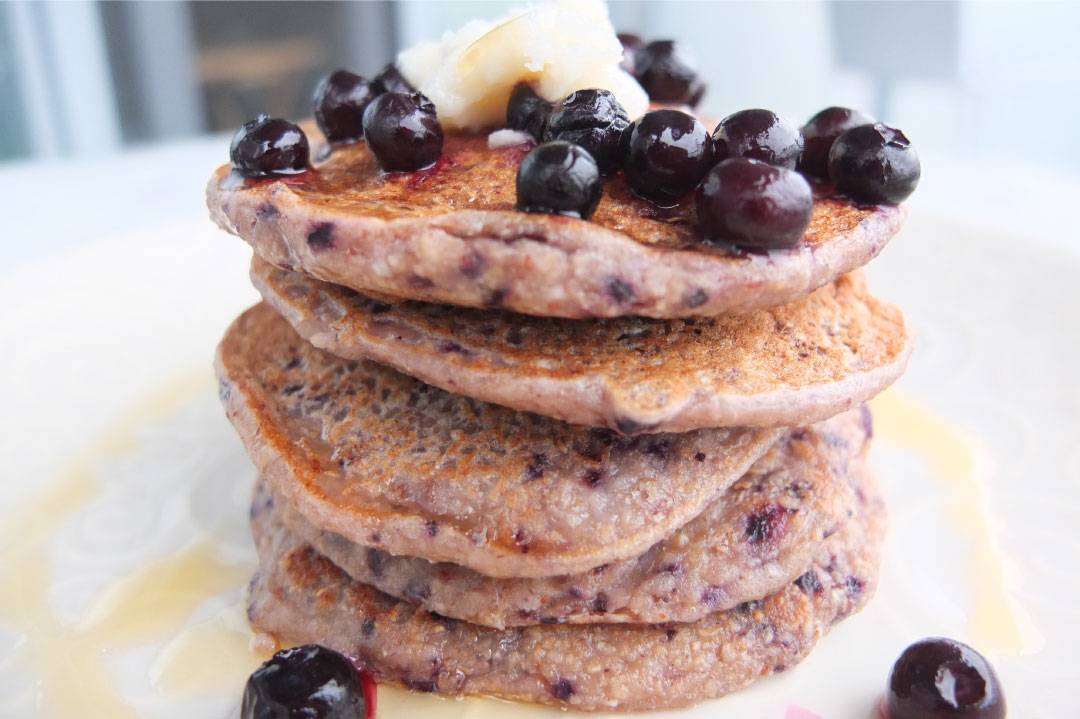 Nutritional Highlights of Oats:
Lowered cholesterol: Oats have a special type of fiber called beta-glucan. Study after study has shown beneficial effects of this fiber on cholesterol levels.
Balanced blood sugar: This same fiber also has benefits for Type 2 diabetics according to this study.
Reduction in CVD: A study published in the Journal of Nutrition found that oats reduce the risk of cardiovascular disease because they are a great source of antioxidants called avenanthramides (which help prevent free radicals from damaging LDL cholesterol).
There you have it - the worlds easiest pancakes! Tag my @joyoushealth or use the hashtag #joyoushealth when you post pictures of your delicious food so I can see it too!