Hurray! A raw cookie recipe that is nut-free and gluten-free. I created these two-bite nuggets for all the joyous readers out there (and your kids) who cannot eat nuts but can eat seeds.
Contains all the must-haves for brain health: protein, fiber, good fat, complex carbs. These macro nutrients are essential for blood sugar balance, keeping your belly satisfied and your energy high. (note: fiber is not technically a macro nutrient)

Source of key minerals: Iron, selenium, magnesium, zinc, potassium, chromium.

Source of key vitamins: B1, B3, B6, folate, vitamin C and E.

Rich in antioxidants: polyphenols, catechins, and epicatechins. Antioxidants protect your cells from damage.

Healthy dose of a variety of amino acids due to the plant powered protein powder.
Most schools in North America do not allow peanuts, so this is a wonderful raw cookie recipe that as long as your school allows seeds, you can make these for your little ones as a wonderful snack! Be sure to watch my segment from the Morning Show below on healthy lunchbox ideas for back to school!
I personally love these two-bite chocolate chips nuggets as a mid-afternoon powersnack to keep me joyous and energized!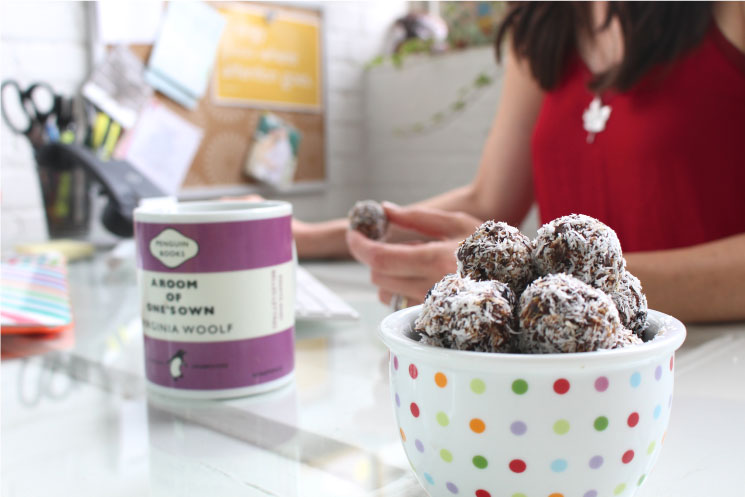 Ingredients
2 bananas, mashed
¼ cup sunflower butter
1 cup oat flakes or quick cooking oats
¼ cup dried cranberries
1/4 cup chocolate chips
¼ cup chocolate protein powder (see brand below) or raw cacao powder*
2 tbsp cinnamon
1/4 cup coconut flakes or coconut sugar
Instructions
In large bowl, mash bananas with a fork. Add sunflower butter and oats, stir together. Get in there with your hands, it's much easier to mix it all up!
Add cranberries, chocolate chips, protein powder and cinnamon. Stir together until fully combined.
Roll in into balls and then roll in coconut flakes or coconut sugar.
Give the nuggets a taste test. You can add more of any ingredient to make it taste exactly how you desire! Refrigerate or enjoy immediately.
---
Notes
*If you use raw cacao powder instead of protein powder you will likely need to make the nuggets a bit sweeter because raw cacao is quite bitter. You could add honey or maple syrup.
Makes 15-18 nuggets if you make them 2-bites worth. :)
I suggest 1-2 as a snack. Of course that all depends how large you make them!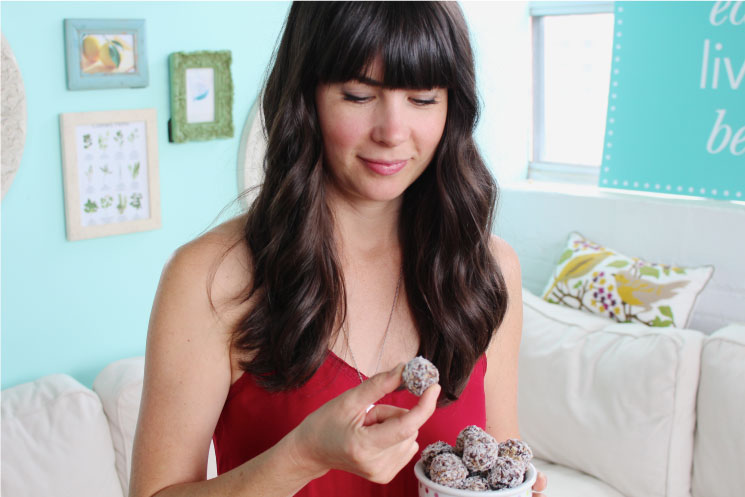 In the segment this morning, the lunchbox ideas I shared are as follows:
Salmon salad sandwich. I used the dressing from the Creamy Potato Salad from chocolate avocado pudding. The protein powder I used for the 2-bite nuggets is Genuine Health's vegan proteins+, chocolate.
Maple Banana Grilled Sandwich from Joyous Health. Instead of almond butter, I used sunflower seed butter.
Nut-free Trail Mix Recipe:
1/2 cup sunflower seeds
1/2 cup pumpkin seeds
1/4 cup dried organic cranberries
1/4 cup dairy/nut/gluten-free chocolate chips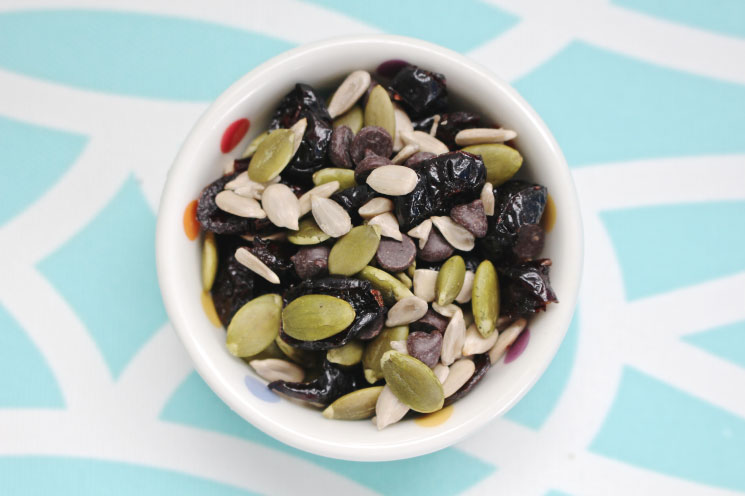 You may have noticed that I had little love notes on some of the lunch boxes I shared on the segment. When I was a little girl my mom would do this for me. It always made me feel joyous! You could also put in thoughtful quotes or funny jokes. Spread the love!
Any questions, please ask or comment below.
Have a joyous day and all the best for back-to-school!
Joy
ps. The lunchboxes were BPA-free plastic. I bought them at a little kitchen store in Owen Sound when I was doing a radio show/book signing up there called Stokes.