I often tweet when I'm about to indulge my cells in a shot of wheatgrass at Fresh restaurant in Toronto because I immediately feel more alive. I can hardly contain my excitement knowing that my cells are about to receive a megadose of sunshine. Unfortunately my juicer at home doesn't have the power to turn those green grasses into a juice. But let me assure you, the $3 bux I spend for a shot of green is worth every penny!
Putting my love and passion aside for wheatgrass for just a moment, I'm going to share with you the science behind wheatgrass (and many greens for that matter ).
MAGNUM OF MINERALS. Calcium, iron, magnesium, phosphorus, potassium, sodium, sulphur, cobalt and zinc
BLOOD BUILDER. 70% chlorophyll, an incredible blood builder. Chlorophyll is the first product of light and contains more light energy than any other element. It is the basis of all plant life. Incredible for building the blood especially in cases of anemia. Dr. Bernard Jensen stated "...Nothing I can tell you will build blood as fast. It is one of the best blood builders we have."
CLEANSER AND DETERGENT. A powerful detoxifier and liver protector. The enzymes and amino acids found in wheatgrass can protect us from carcinogens. It strengthens our cells, detoxifies the liver and bloodstream, and chemically neutralizes environmental pollutants.
ALKALINIZING & GUT HEALTH. Most people are very acidic and this is evident with the rise in cancer rates and disease overall. Cancer simply cannot thrive in an alkaline environment. The juice's abundance of alkaline minerals (as mentioned above) helps reduce over-acidity in the body. It can be used to relieve many internal pains, and has been used successfully to treat peptic ulcers, ulcerative colitis, constipation, diarrhea, and other complaints of the gastrointestinal tract.
[caption id="attachment_1888" align="aligncenter" width="300"]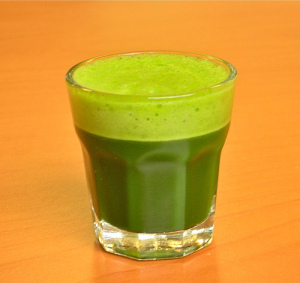 flickr: Marcus Emmanuel[/caption ]
There is no one food that is the magic potion to solve all our health issues, but reaching for a shot of wheatgrass once a week instead of a shot of espresso is certainly a step in the right direction to joyous health.
Here are some studies for your interest about the benefits of wheatgrass:
1. Breast Cancer Patients Drink Wheatgrass Juice To Help Offset Chemotherapy Side Effects
Bar-Sela Gil, Tsalic Medy, Fried Getta, Goldberg Hadassah. Wheat Grass Juice May Improve Hematological Toxicity Related to Chemotherapy in Breast Cancer Patients: A Pilot Study. Nutrition and Cancer 2007, Vol. 58, No. 1, Pages 43-48.Division of Oncology, Rambam Medical Center and Faculty of Medicine, Technion-Israel Institute of Technology, Haifa, Israel.
Conclusion
It was found that drinking the green healing juice helped produce healthier blood levels while receiving the chemotherapy thus decreasing the need for blood building medications. Wheatgrass juice was found to not diminish effectiveness of chemotherapy. These preliminary results need confirmation in a phase III study.
2. Terminally Ill Cancer Patients Drink Wheatgrass Juice To See If Their "Quality Of Life" Is Improved
Dey S., Sarkar R., Ghosh P., Khatun R., Ghorai K., Choudhury R., Ahmed R., Gupta, P., Mukhopadhyay S., Mukhopadhyay A. Effect of Wheat Grass Juice in Supportive Care of Terminally Ill Cancer Patients -- A Tertiary Cancer Centre Experience from India. Journal of Clinical Oncology 2006 ASCO Meeting Proceedings Part I. Vol 24, No. 18s (June 20 Supplement), 2006: 8634.
Conclusion
Improvements in health of blood were noted. Also, performance status was improved from 50% to 70%. It was concluded that wheatgrass juice is an effective natural alternative for blood transfusion. It's use in terminally ill cancer patients should be encouraged.
3. Wheatgrass Juice Is Combined With Carcinogens In Vitro - In A Test Tube - To Determine If Antioxidant Juice Has Cancer Preventive Properties
CN Lai, B Dabney and C Shaw (1978) Inhibition of In Vitro Metabolic Activation of Carcinogens by Wheat Sprout Extracts. Nutrition and Cancer, 1 (1):27-30 and CN Lai (1979) Chlorophyll: The Active Factor in Wheat Sprout Extract Inhibiting the Metabolic Activation of Carcinogens In Vitro. Nutrition and Cancer,1 (3):19-21.
Conclusion
In 1979, Dr. Chiu Nan Lai, of the University of Texas Health Sciences Center in Houston, presented information at a meeting of the American Chemical Society which suggested that wheatgrass may have cancer preventive properties. Some of her published scientific papers dealt with the antimutagenic activities of wheatgrass and chlorophyll. Using the standard Ames Test, she showed that an extract of wheatgrass, when applied to known chemical mutagens (compounds that cause cells to become cancerous), decreased their cancer causing ability by up to 99 percent.
4. Wheatgrass Juice Is Used To Treat Gastrointestinal Conditions
Ben-Arye E, Goldin E, Wengrower D, Stamper A, Kohn R, Berry E. Wheat Grass Juice in the Treatment of Active Distal Ulcerative Colitis: A Randomized Double-Blind Placebo-Controlled Trial. Scand J Gastroenterol 2002 April;37(4):444-9.
Department of Family Medicine, The Bruce Rappaport Faculty of Medicine, The Technion, Israel Institute of Technology, Haifa. eranben@netvision.net.il
Conclusion
Treatment with regenerating green juice was associated with significant reductions in the overall disease activity and in the severity of rectal bleeding.
5. Cereal Grass Juice Is Given To Children With Thalassemia - A Hereditary Form Of Anemia
Marawaha RK, Bansal D, Kaur S, Trehan A. Wheatgrass Juice Reduces Transfusion Requirement in Patients with Thalassemia Major: A Pilot Study. Indian Pediatric 2004 Jul;41(7):716-20.Division of Pediatric Hematology-Oncology, Department of Pediatrics, Advanced Pediatric Center, Postgraduate Institute of Medical Education and Research, Chandigarh 160 012, India. rammarwaha1@rediffmail.com
Conclusion
A beneficial effect of wheatgrass juice was defined as a decrease in the requirement of packed red cells by 25% or more. 16 cases were analyzed. Blood transfusion requirements fell by >25% in 8 or 50% of the patients, patients with a decrease in transfusion needs of >40% were also documented in 3 of these. No perceptible adverse effects were recognized.