Note from Joy: My love of all things pumpkin continues! Hopefully you've tried my Pumpkin Chocolate Chip Muffins and stay tuned because this weekend I will post the Pumpkin Coconut Soup. I'm grateful to Seanna Cohen for sharing this amazing recipe to beautify with the main ingredient being pumpkin! Thanks to Elena Dragoi for the beautiful photos.
The next time you crack open a pumpkin to whip up a delicious seasonal pie, set some aside and treat yourself to this amazing skin brightening mask.
As we age our skin cell turnover slows significantly – from every 15 days as a teenager, to 35 or more days in mid-life. * Sigh *
So it's a good idea to give our skin a helping hand by exfoliating regularly—especially as the weather gets colder and dryer.
Pumpkin has many benefits for the skin: it's rich in powerful antioxidants like vitamin A and C, and it contains enzymes that help to 'eat' or break down dead skin cells. Combined with a mechanical exfoliant like ground oatmeal and antiseptic ingredients like honey, cinnamon, and nutmeg, this exfoliating mask is perfect for brightening skin tone and refining texture.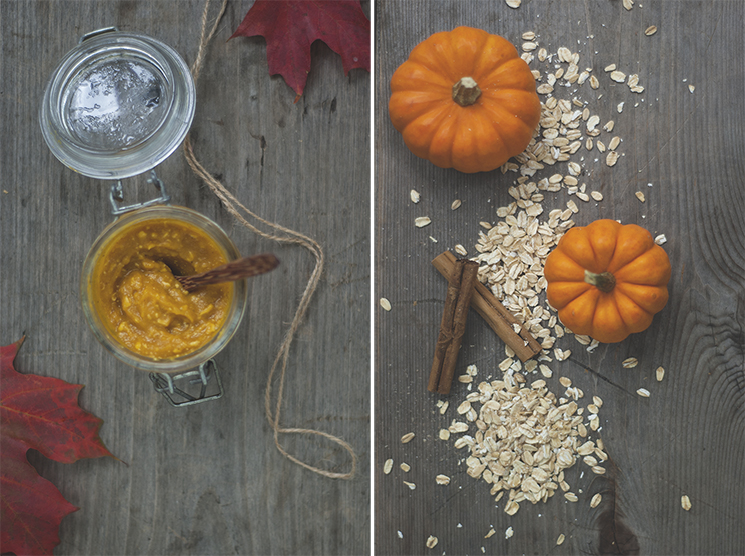 By removing the layers of dead skin cells that can congest pores, exfoliating regularly will also help products absorb deeper into the skin's surface, making them significantly more effective and producing more immediate results!
Ingredients
1/2 cup pumpkin puree*
1 tbsp honey*
1/2 tsp cinnamon**
1/4 tsp nutmeg
2 tbsp coarsely ground oatmeal
Instructions
Mix all ingredients together. Using fingers or a makeup brush, spread mixture evenly over face, avoiding sensitive areas such as lips and under eyes. Leave scrub on for 10-15 minutes. Wet fingertips and gently massage mask over skin in circular motions before rinsing off with warm water.
Follow up immediately with a hydrating serum and moisturizer.
---
Notes
*raw is always best

**if your skin is easily sensitized or prone to redness, skip the cinnamon, which is very stimulating