Is dry and cold weather bringing you down? Try a facial steam! It can provide immediate warmth and relaxation, and let you forget about the cooler temperature outside.
Truthfully, I''m a bit of a "junkie" when it comes to steam. I can't help it; I love the way it makes my skin feel and the amazing benefits that come with it. Steam opens pores to help eliminate toxins, increases circulation, softens dead skin cells, and helps to eliminate those stubborn clogged pores. No need to wait until your next facial, though . . . you can do it at home! All you need to do is grab a kettle, a large heatproof bowl, a medium sized towel, and then follow these easy steps:
Pour boiling water into a heatproof bowl and let cool for a few minutes
Sit comfortably and place your face over the bowl
Drape a towel over your head to create a tent over you and the bowl
Breathe deeply and relax for 5-10 minutes
Just be aware that heat from the steam can be dehydrating, so be sure to follow up with a hydrating serum and moisturizer.
To get the maximum benefit from the steam, add herbs and/or essential oils. These mandarin & sage herbal sachets offer revitalizing aromatherapy and skin-purifying properties (they also make the cutest gifts!). Citrus is a natural mood booster, sage is clarifying, and green tea contains powerful antioxidants and helps to reduce inflammation. Plus, who doesn't like getting a little fancy around the holidays?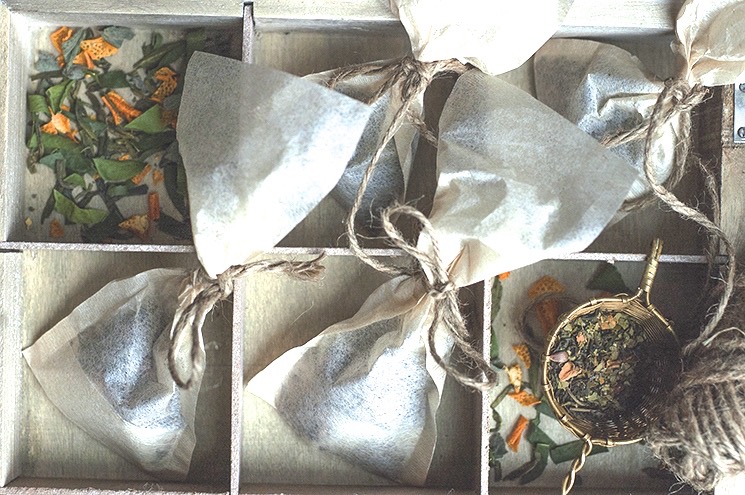 Mandarin & Sage Herbal Steam Sachets - Recipe:
Rind of 2 mandarins (use a vegetable peeler and remove the rind only, not the pith)
10-12 sage leaves
6 lime leaves (if you cannot find lime leaves, use the rind of 1-2 limes)
3-4 Tsp full leaf green tea
Note: it's important to use all organic ingredients
Lay mandarin rind, sage, and lime leaves out on a flat surface; let dry for 3-4 days
Once ingredients are dried, use a pair of scissors and cut into small pieces
Add green tea and mix all ingredients together
Scoop 2-3 Tbsp of the mix into loose-leaf tea bags, and fasten closed using a string or ribbon
This recipe makes about three sachets. Double or triple the recipe to make a larger batch and give to all of your friends as holiday gifts!
Photography by: Elena Dragoi