I love when something good happens out of a mistake -- this is exactly what happened here!
I was recipe creating for my book, Joyous Detox, and my pizza crust was a bit of a flop (sad face). It was crunchy and very tasty but too thin, even too thin for "thin crust" pizza.
As I was walking back from the grocery store after picking up more ingredients to recipe test again, I thought to myself ... I really don't want to waste all those ingredients, they would be really yummy crackers for the blog! Just then a message popped in on my phone, Walker texted me saying "Those crackers you made are REALLY good, I'm eating them with the pesto".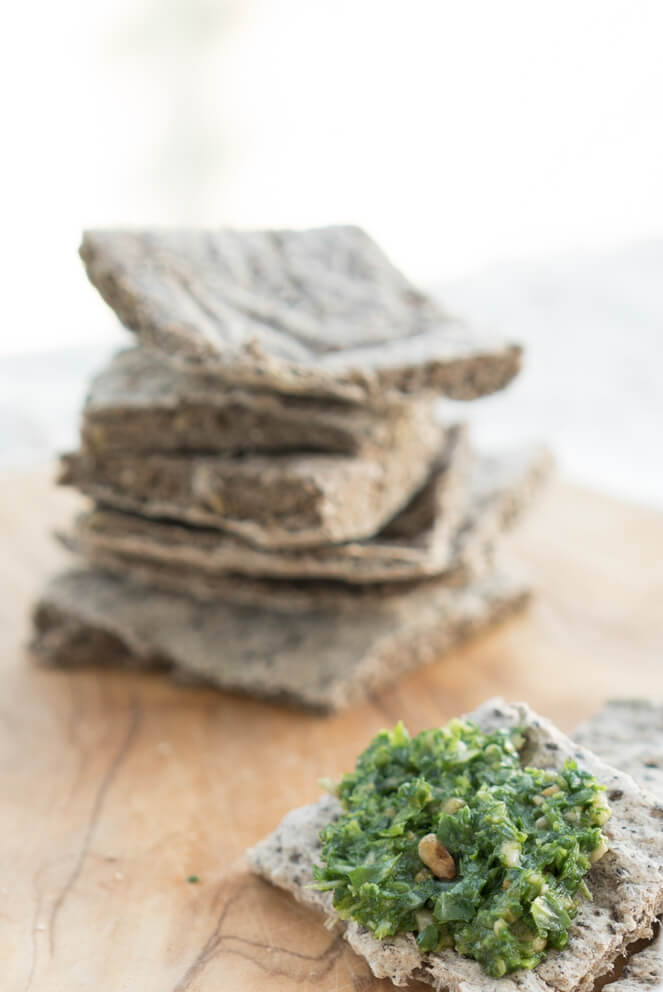 So that's how this recipe came out of an accident. Truth to be told I may have just rolled out the dough too thin, but the crackers were so good I decided to nix the pizza crust for my book and use these as crackers to share with you, my joyous reader :)
Crackers are something I usually buy and you've probably noticed on my instagram food photos that I often eat Mary's Brown Rice crackers or Lavash brand "Spelt" or Multigrain. But now that I've created this recipe, I think I will make my own crackers more often. Waaaay cheaper, ZERO additives, easy to make!
For all my nut-free friends out there, you will appreciate the fact that this recipe doesn't have any nut-ingredients.
Here's the recipe and nutritional highlights below!
Ingredients
¼ cup chia seeds + 2/3 cup water*
3/4 cup buckwheat flour (I used "light" flour)
1 tsp baking powder
1-2 tsp garlic powder
1 tbsp dried rosemary
Pinch sea salt
1/4 cup water
Instructions
Combine the chia seeds with 2/3 cup water in a bowl and let sit until it becomes gooey and gelatinous.
In a medium size mixing bowl, combine flour, baking powder, garlic, rosemary, sea salt and water. Add chia seed mixture. Stir together. You may find that it's much easier to just mix it with your hands into a dough consistency -- that's what I did -- a wooden spoon doesn't do as good as a job as your hands!
Preheat oven to 350 degrees. Roll the dough out on to a pizza stone or greased baking sheet. Bake for 15-18 minutes. The thicker your crackers the longer they will take to bake.
Once finished, let cool and cut into squares to your desired size.
---
Notes
*Soak together for 10-15 minutes.
Good source of magnesium, which helps relax blood vessels, lower blood pressure and improve blood flow.

Rich in antioxidant flavonoids that prevent LDL from oxidizing into potentially harmful cholesterol oxides.

Try my Gluten-free Banana Bread!
Contains carnosic acid, which helps fight free radical damage in the brain.

Rich in anti-inflammatory compounds.

A good source of iron, calcium, and vitamin B6.
Good plant-based source of anti-inflammatory omega-3 fats.

High in fiber, which helps promote digestive and cardiovascular health.
The pesto I made was supposed to go on top of the pizza crust as well, so instead I used it as a delicious spread! I have many pesto recipes here and in my book Joyous Health. This one was arugula, sunflower seeds, garlic, lemon juice and extra-virgin olive oil.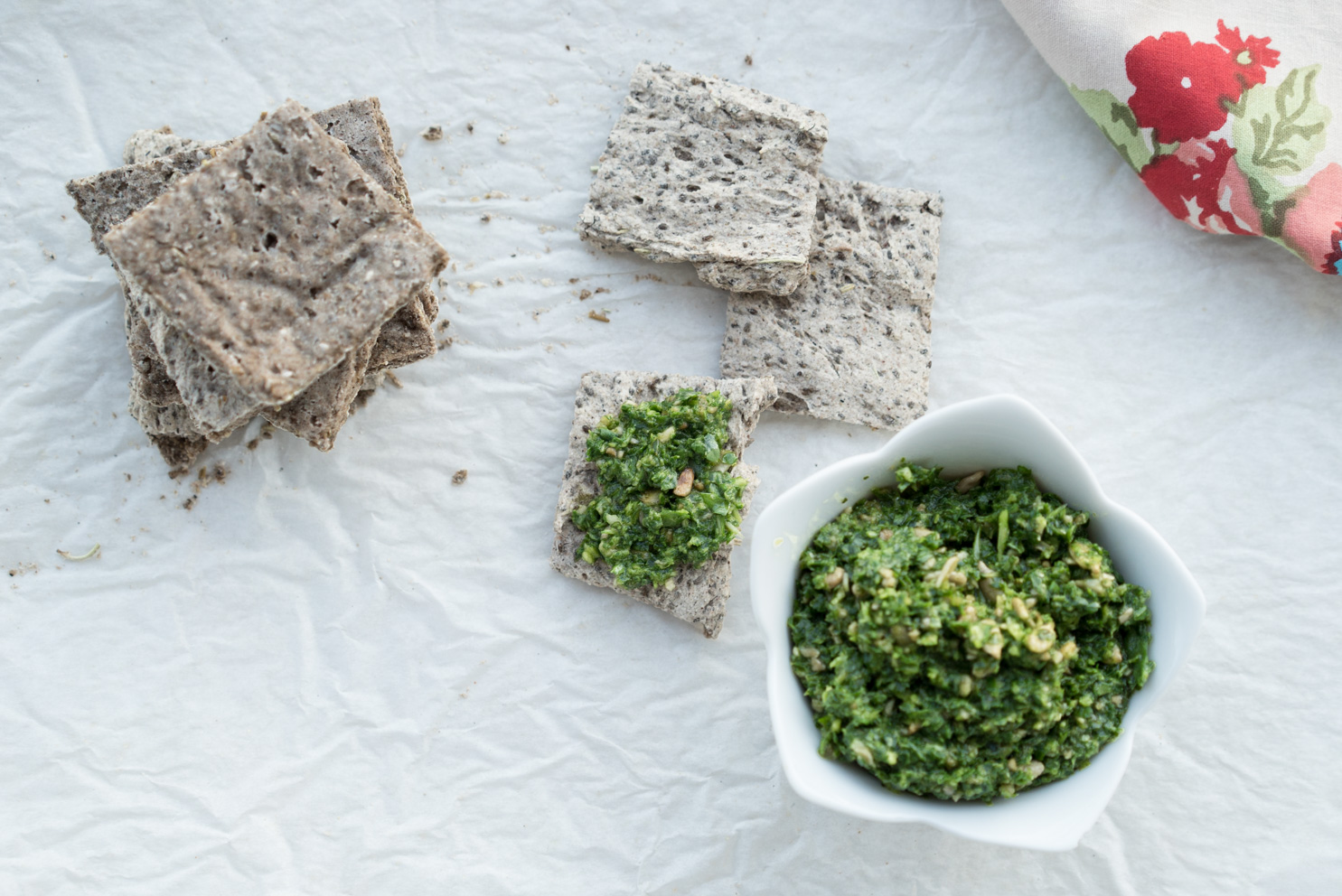 Enjoy!
Joy