I've been enjoying my homemade cashew milk so very much. Now that strawberries are in season, I've got a simply wonderful recipe for you to enjoy nature's candy!!
The ingredients could not be more simple, and with strawberries entering their prime season, there is no better time to take advantage of their sweet, delicious goodness than now. Don't be afraid to get adventurous with your Strawberry concoctions, like I did here. Back to the mylkshake for now.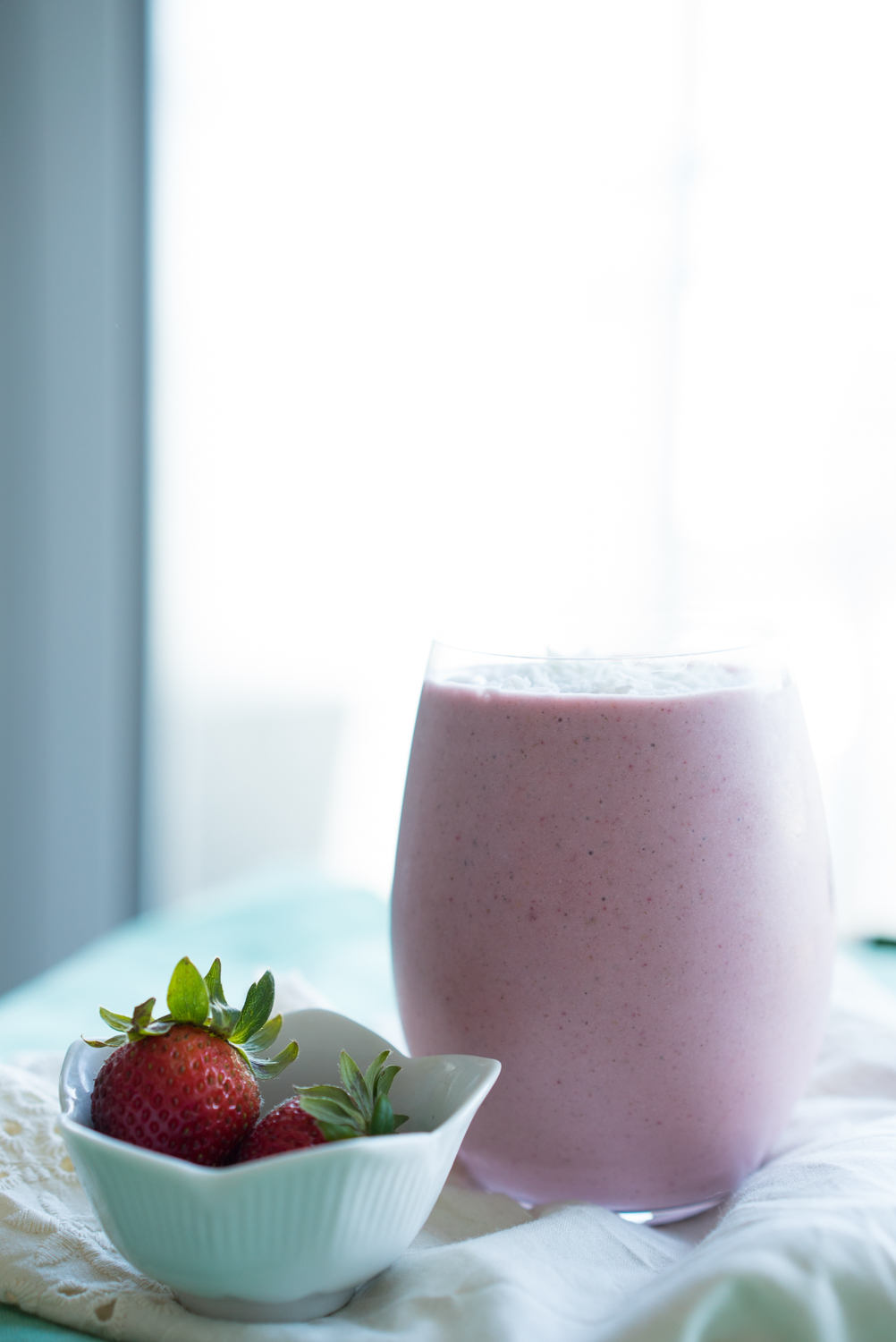 I recently made some homemade Cashew Milk, which is what I used for the liquid base. From there, I added hemp hearts, chia seeds, coconut butter, and fresh Ontario Strawberries I picked up at the farmers market this weekend!
Nutritional Benefits of Strawberries:
1. Rich in vitamin C. This is the most widely used antioxidant vitamin in your entire body. Your body uses up bucket-loads of vitamin C every four hours, so eating a diet rich in plant-foods is essential for this nutrient to be in abundance. Vitamin C helps your body neutralize free radicals that would otherwise damage your cells. It is a critical nutrient to have in abundance for heart health. Vitamin C is also essential for detoxification as it protects the body from harmful chemicals and toxins.
2. Blood sugar balancing. You might think of strawberries as a food that would spike your blood sugar like simple sugars but these gems are full of nutritional benefits that make them very balanced. The polyphenols in strawberries play a major role in helping regulate blood sugar response. Plus this is a "whole" food that contains fiber, vitamins and minerals, very different than say drinking fruit juice.
3. Anti-inflammatory. A powerful combo of amazing of phytonutrients—including anthocyanins, ellagitannins, flavonols, terpenoids, and phenolic acids. Therefore it's not surprising to find research on the anti-inflammatory properties of strawberries. But it's still exciting to see this remarkable fruit lowering levels of inflammatory markers like C-reactive protein (CRP) when eaten on a regular basis along with other anti-inflammatory foods.
So there you have it -- this smoothie is rich in antioxidants, extremely blood sugar balancing especially with the addition of coconut butter, hemp heart and cashew milk, plus it's got some incredible anti-inflammatory nutrients ... all that and it tastes like a mylkshake!
Ingredients
1 cup fresh strawberries
2 tbsp coconut butter*
2 tbsp hemp hearts
1 cup cashew milk
1 tbsp chia seeds
Instructions
Place all your ingredients into your blender and give a whirl till smooth and creamy!
---
Notes
Garnish with coconut flakes and cacao nibs if you like for a little crunch!
If you want to make this smoothie extra creamy, you could always had a quarter or half of a ripe avocado, like I did here.
I hope you have the chance to make this smoothie while fresh strawberries are still in season. If you miss it this year, or live somewhere where strawberries aren't currently in season, a great alternative it to buy organic frozen strawberries and use those instead.
If you like this smoothie, be sure to check out my Chocolate Almond Butter Mylkshake recipe too.
Wishing you joyous health (and yummy smoothies!)