This dip is sure to bring sunshine and a spring fresh feeling into your home from both the gorgeous colour and bright flavour! I went to the farmers market in search of sweet green peas this past weekend and they were not quite out yet,but I did pick some delicious strawberries.
All the spring produce where I live (in Ontario) seems to be late this year because of the wicked winter we had. However, that didn't stop me from making this amazing Sweet Pea Hemp Dip with mint.
Luckily, I had two bags of frozen peas in the freezer from the Joyous Detox photoshoot so I whipped this up in a snap. You can use either frozen or fresh once they come out... it won't be long now.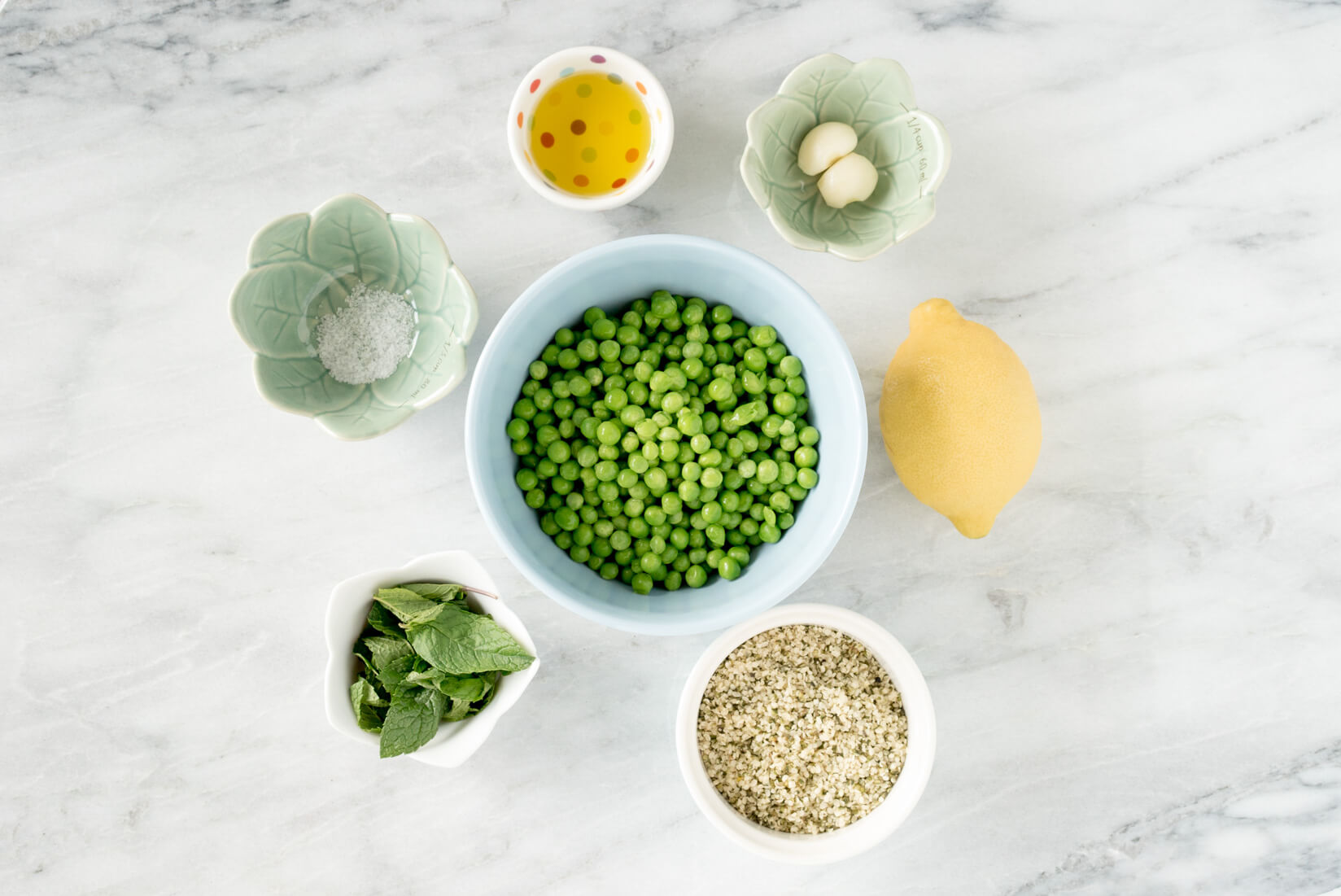 As you might have noticed, I absolutely LOVE using Hemp Hearts in my recipes from my most recent Strawberry Mylkshake recipe to Mac N' Cheese, to pestos, desserts and more.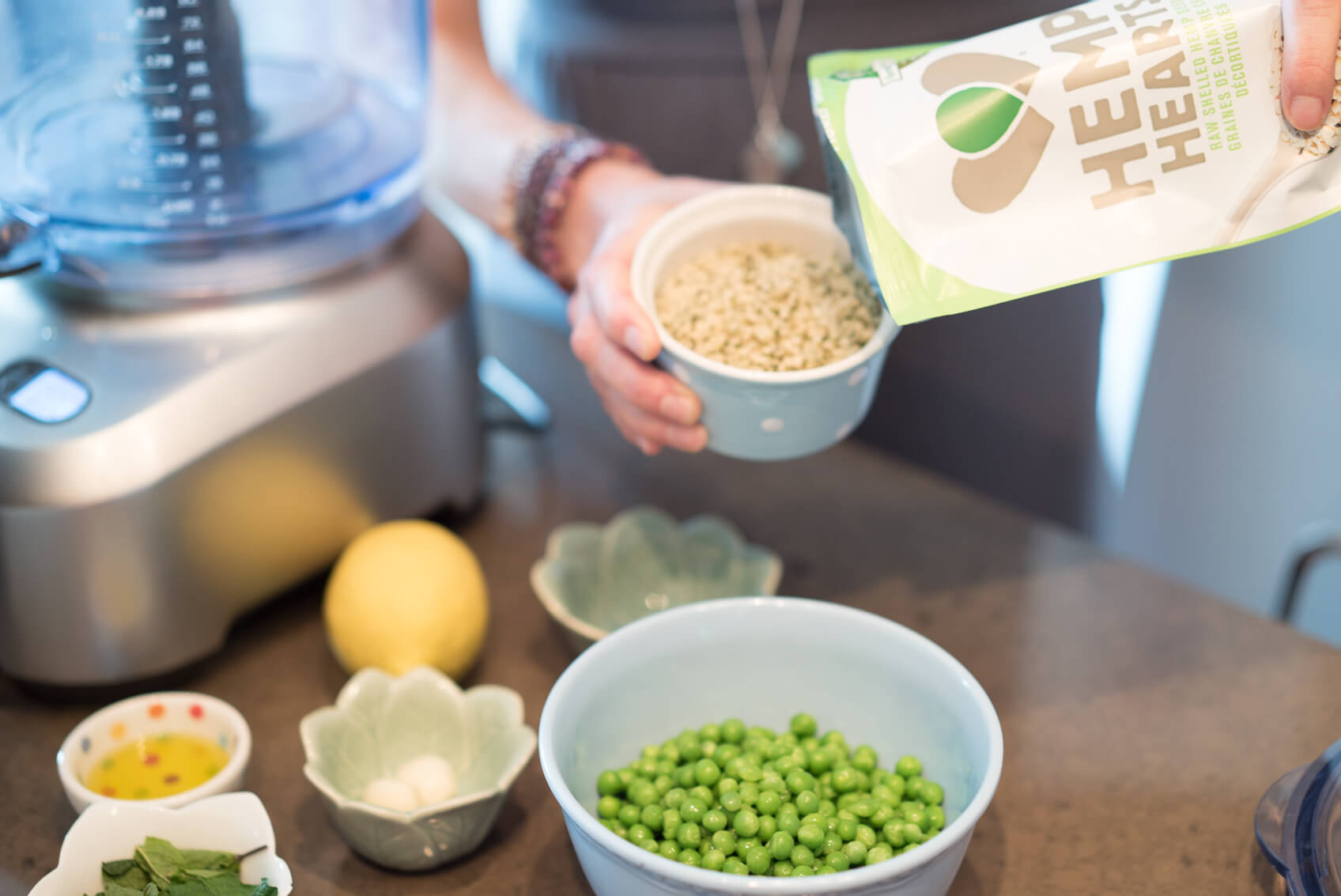 Hemp Hearts add a lovely texture (sort of like pine nuts but different) and they are much more cost effective, plus they provide a solid dose of nutrients and this is why I love them.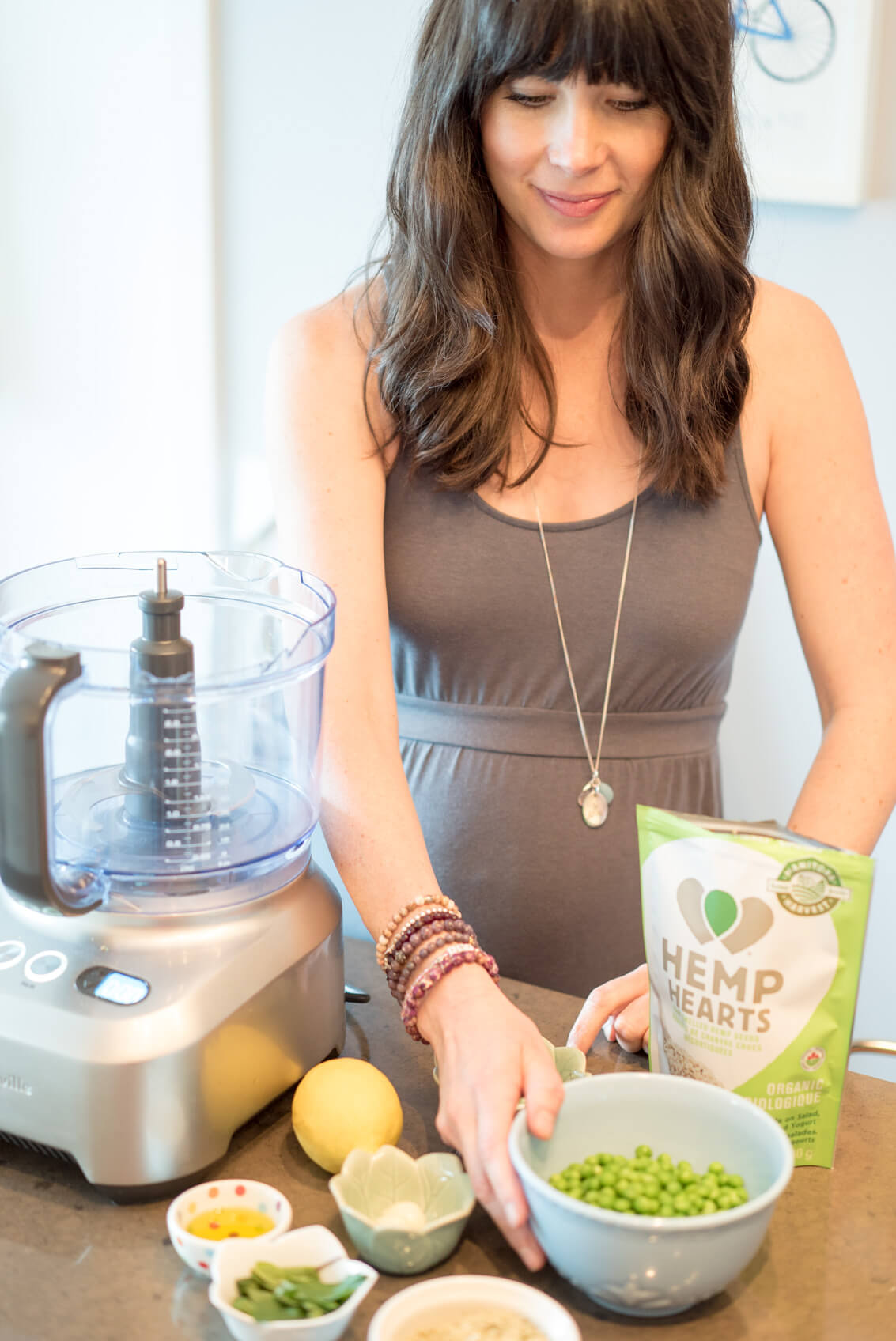 In case you are wondering what hemp "hearts" actually are, they are simply the raw shelled hempseed. Any recipe on Joyous Health where I refer to "hempseeds" I'm actually referring to Hemp Hearts.
Nutritional Benefits of Hemp Hearts
Plant-based protein: Per 30 gram serving, Hemp Hearts contain 10 grams of

plant-based protein.

Protein is essential at every meal and snack to ensure you are satiated (feel full). It is a building block of every single cell in your body. Protein is pretty gosh darn important and this is a macronutrient that many people are missing in their diets.
Fatty acids: Per 30 g, Hemp Hearts have 10 g of omegas 3 and 6. These good fats are essential for a healthy heart due to their anti-inflammatory power. This is a food that's also good news for hormone due to the presence of a specific fatty acid called GLA. Balanced hormones are essential to

keep PMS and the dreaded menopausal symptoms in check.
Hypoallergenic food.

Many of my clients are allergic or sensitive to nuts. This can be especially challenging if you are a vegan or vegetarian trying to ensure you are getting enough protein, this is why hemp is such a great alternative. As long as the seeds are produced in a nut-free facility for those of you who have severe allergies, hemp is a fantastic option to amp up your protein!
Let's get right to this wonderful recipe shall we?
Ingredients
1/2 cup Manitoba Harvest Hemp Hearts
1 1/2 cup fresh or frozen peas
1/4 cup fresh mint leaves
1-2 garlic cloves
Juice from 1 lemon
1 tbsp extra-virgin olive oil
1/2 tsp sea salt
Instructions
If using frozen peas, first thaw them in warm water. Place all ingredients into a food processor or blender and give a whirl until nice and creamy.
---
Notes
Yields approximately 2 cups.
Enjoy with your favourite crackers.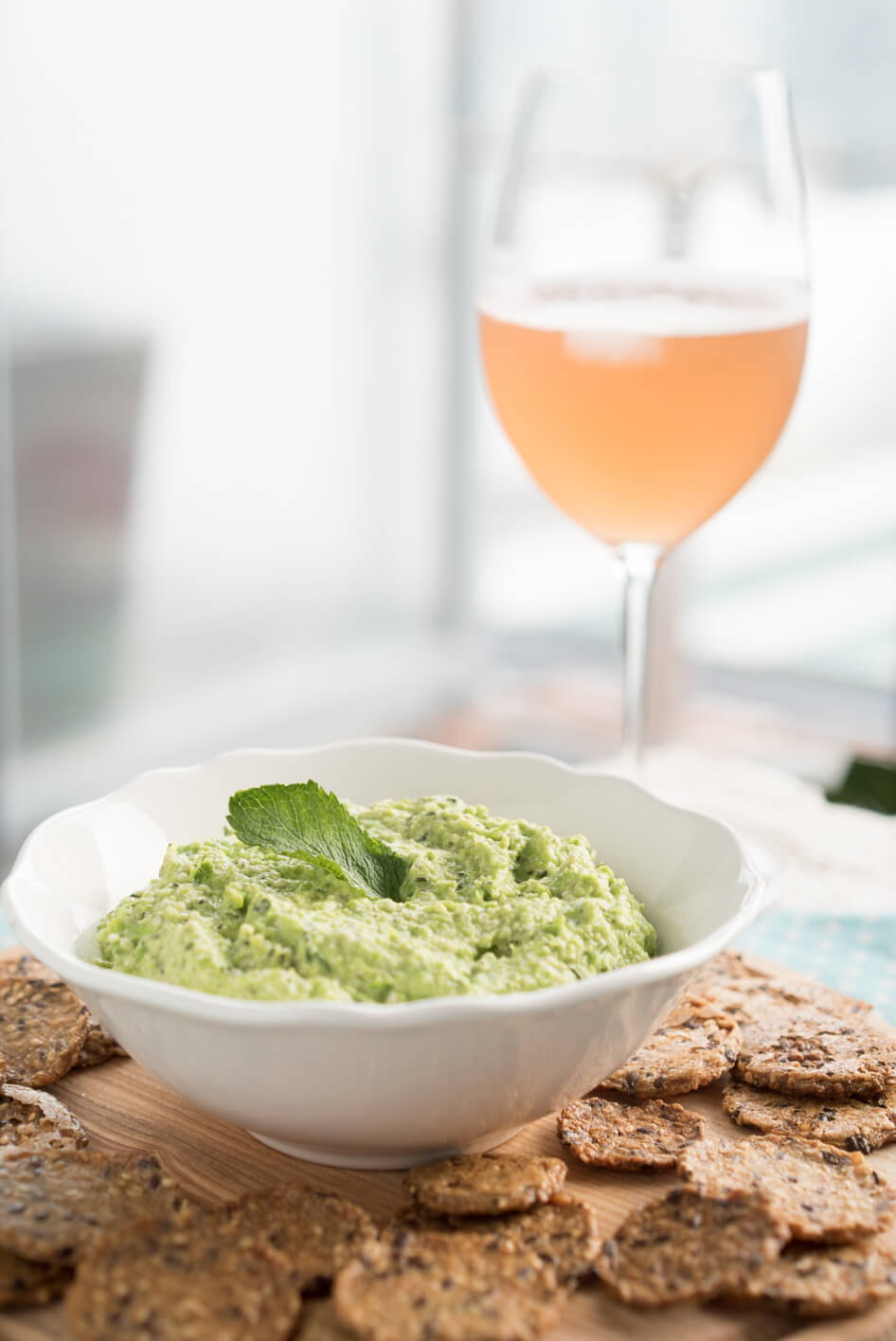 Walker's papa was visiting us from Austria so we all enjoyed it one evening. I had some refreshing blueberry kombucha (this was the Tonica Kombucha brand) and the guys had vino. This recipe would go really well with my Rosemary Buckwheat Chia Crackers.
Oh and I should thank my cute little helper, my kitty Theo :)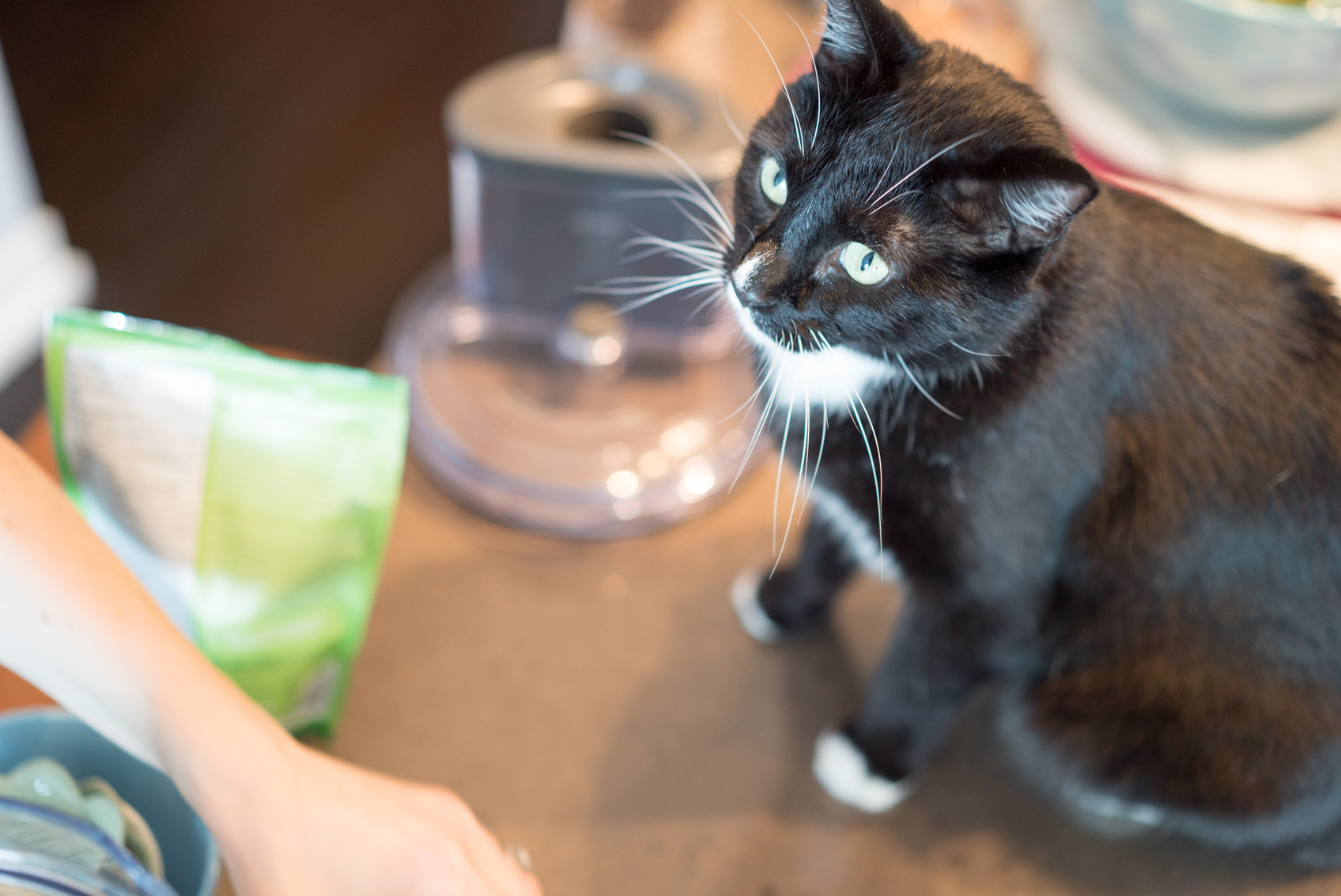 I hope this brings joy to your spring and summer parties and picnics! Wishing you joyous health, Joy