You can probably tell I'm on an ice cream and popsicle kick the last few weeks as the most recent recipes have been everything ice cold! The heat of summer puts in me in the mood for it and my body temperature is currently warmer than ever before thanks to a sweet growing a bean in my belly. What about you?
If you haven't tried Lynsey's recipe for Toasted Coconut Milk Ice Cream, then you must! If you're more of a popsicle gal or guy then my most recent tea popsicles will chill you out and you can watch a fun recipe video too.
Have you been making popsicles? If so, share your recipes below! The other night I totally had a hankering for a joyous fudgsicle but wasn't too keen on sending my blood sugar on a rollercoaster for a store-bought one, nor do I want to put 25 chemical ingredients into my body (as you will see below).
As you can tell from the photo below, I think my kitty Miss Nellers was slightly jealous :0) The bambina in my belly enjoyed them too! They were creamy, decadent and totally guilt-free.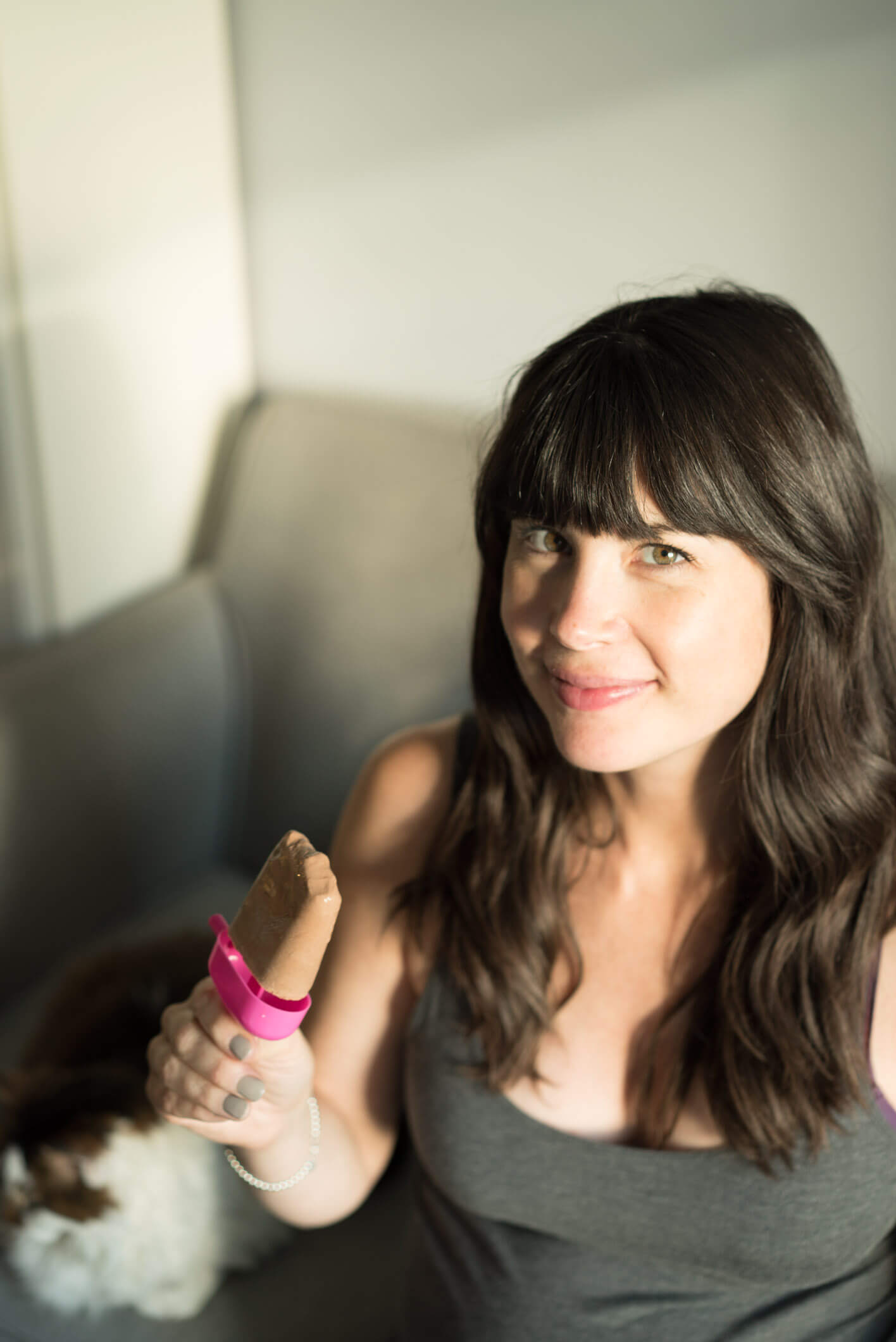 I made these fudgsicles with 100% PURE REAL WHOLE food ingredients.
Yes, that deserved UPPER CASE caps because the ingredients in typical store-bought popsicles or frozen bars are rarely whole or real. Especially those "skinny cow" ones! I totally used to buy those years ago thinking that they were better because they had "skinny" in the name.
This couldn't be further from the truth. I mean look at the list of ingredients. There's barely anything food-like! And you can bet they use genetically modified canola and soy — GROSS! Propylene glycol is a liquid alcohol that is used as a solvent and the main ingredient in antifreeze. It's bad enough you find this chemical in nearly 90% of personal care products, but in food?
I could spend the next 750 words dissecting how gross and non-food-like this product is, but instead of that, let's talk about this amazingly tasty and creamy recipe!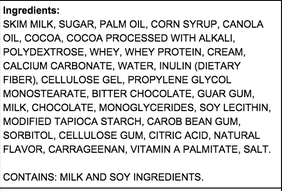 I don't know about you but I love a little crunch in my frozen treats. This is why I also added some mini chocolate chips.'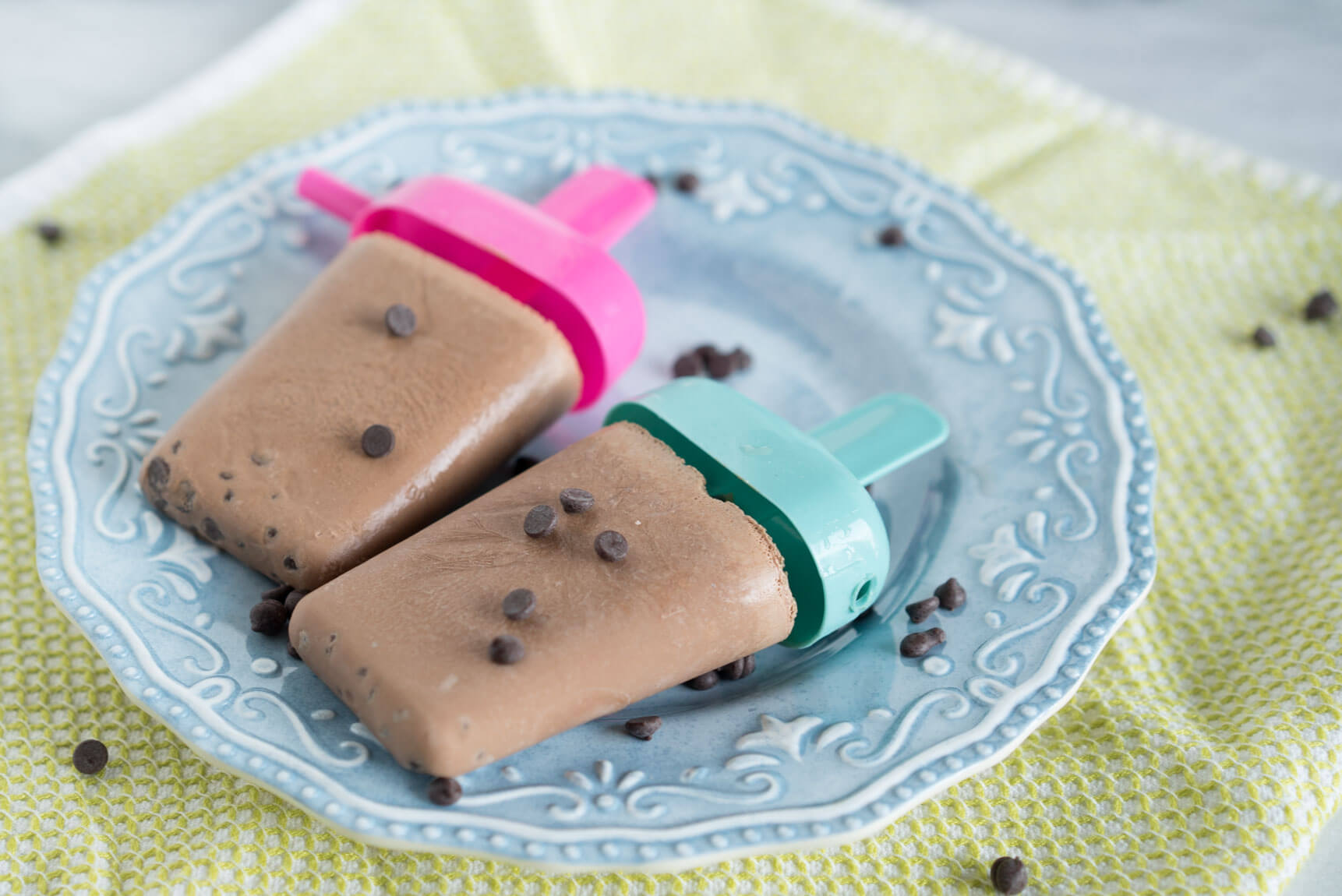 Sweets + Treats
Chocolate Chip Fudgsicles Made with Coconut Milk
Save
Print
Ingredients
1 can full fat coconut milk (400mL)
1/4 cup raw cacao powder
2-3 tbsp maple syrup*
2 tbsp Enjoy Life Dairy-free mini chocolate chips
Other ways to sweetnen: 2 medjol dates, 1 banana, 10 drops liquid stevia
Instructions
Place all your ingredients in a food processor or blender and give a whirl until fully combined. I suggest you taste test it and decide if you want a sweeter taste. Sometimes pure raw cacao powder can have a slightly bitter aftertaste.
Pour into popsicle molds, toss in a few chocolate chips and freeze overnight. Voila! Fudgsicles the next morning!
---
Let me know what you think of these wonderful fudgsicles!