Okay guys, this recipe is gonna knock your socks off!!
I gave my old eggnog recipe a makeover and created this creamy, sweet and incredibly tasty vegan, egg-free nog. This recipe is for all of you who can't or choose not to eat eggs. And if you're like me and you can and do eat eggs, I'm pretty confident you're going to like this recipe better than the traditional eggnog!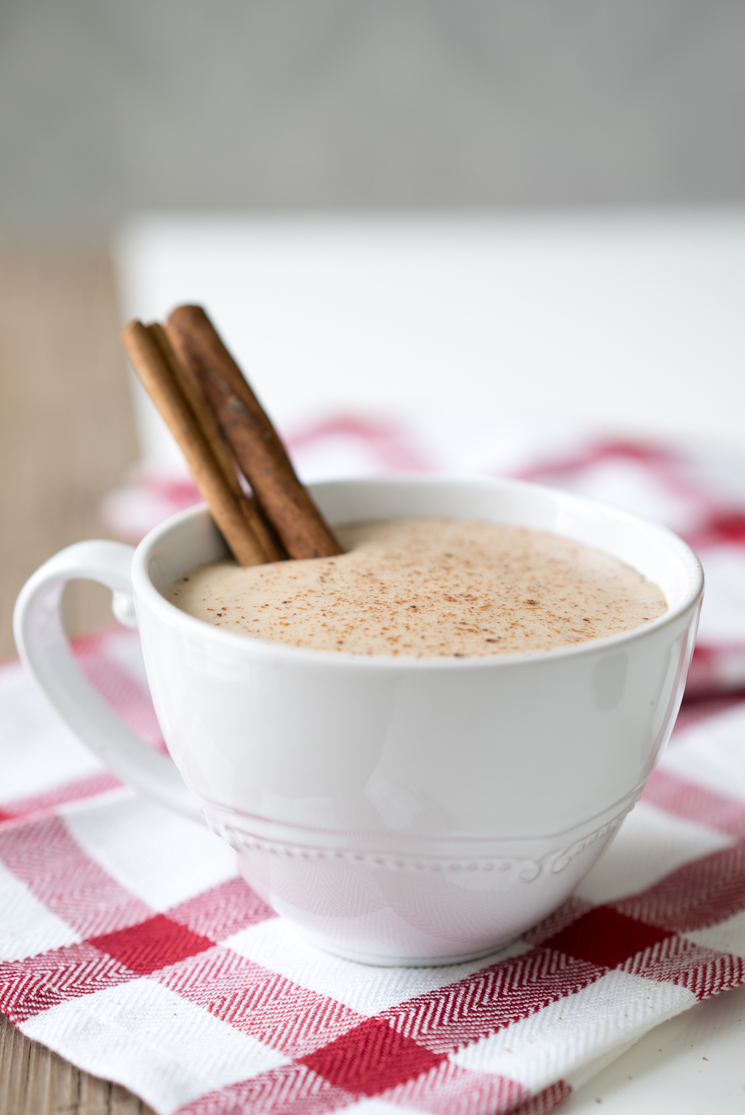 Here is the recipe video: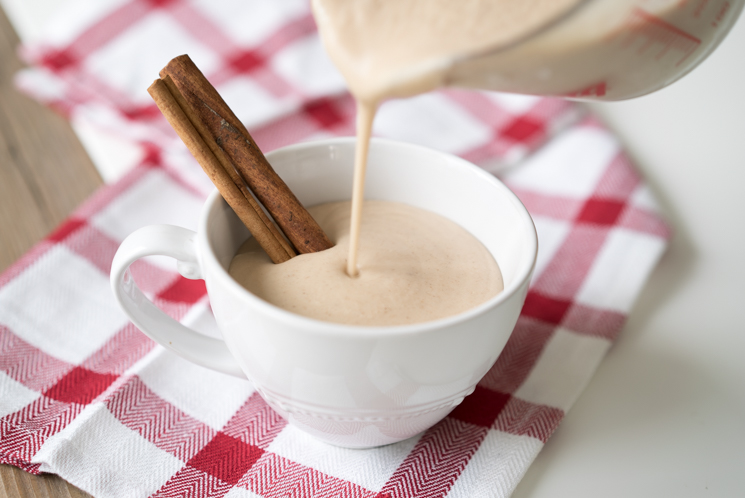 Two secrets to making this vegan nog incredibly delicious are the warming spices and the full-fat coconut milk. I used cloves, cinnamon and nutmeg, so I hope you have these handy in your kitchen pantry.
I recommend full-fat coconut milk because it is truly the most flavourful coconut milk you can use. You can tell in the photo above that it makes for a very creamy vegan nog and creaminess is key!! The good fats will not expand your waistline because they are mostly MCT's, a type of fat that your body effectively burns rather than stores.
However, this vegan nog is pretty decadent so I recommend it as a "treat", not something you drink every single day because while I don't recommend you count calories, this one is definitely up there! But it's OH SO MUCH BETTER than you typical store-bought egg nog that is FULL of refined sugar. The sweetness in this recipe comes from the maple syrup and banana. Be sure to use dark (#3, Grade C) maple syrup.
The key to the most delicious vegan nog is high quality ingredients because organic spices are very flavourful.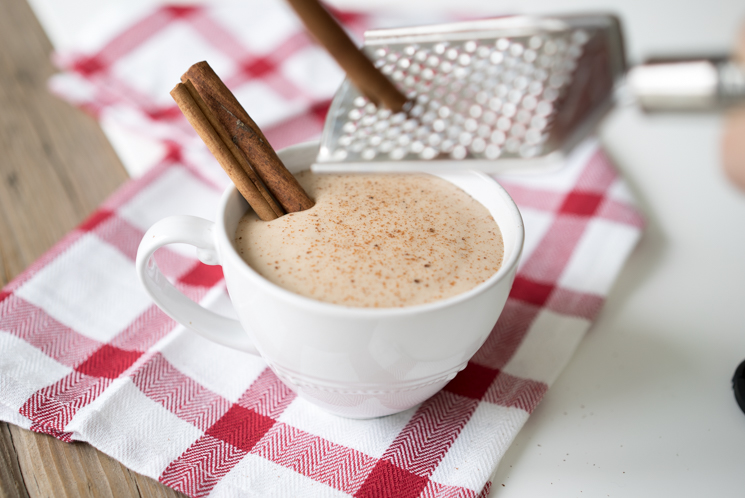 Even though I always have ground cinnamon on hand, I grated the cinnamon fresh into the vegan nog because it's is the tastiest way to do it.
Another wonderful way to share your vegan nog with friends at your next holiday party is to serve it in shot glasses. Because it is so rich you may find you are satisfied with a little. It's the perfect shot to greet your guests with when they arrive, and feel free to "spike" it ;)
Here's the recipe:
Ingredients
1 ripe banana
1 can (400mL) full-fat organic coconut milk
1-1/2 cups almond milk
1/4 cup #3, Grade C maple syrup*
1 tsp organic ground cinnamon
1/4 tsp organic ground nutmeg
1/8 tsp organic ground cloves
1/2 tsp vanilla powder**
Instructions
Place all your ingredients into a high power blender and give it a whirl. If you refrigerate it overnight the flavours will be even more wonderful but it will definitely thicken up quite a bit so you might need to thin it out with a bit of coconut milk.
Top with freshly grated cinnamon.
---
Notes
*This type of maple syrup truly has the most "maple" flavour. You can buy dark maple syrup in the health section of most major grocery store chains and of course health food stores too.
**Don't have vanilla bean powder? No problem! Just use the liquid extract. The brand of powder I use is by Organic Traditions. Or you could buy a vanilla bean pod and just scrape out the vanilla. The flavour is next level good!
Serves 4 or 16 shots (approximately)
I hope you enjoy this recipe as much as Walker and I do! We are hosting our annual Christmas party this week and you can bet I'm serving this in shot glasses.
Happy Holidays!
Joy