Chocolate at breakfast? Say what?!?! OH yeahhhh. This chocolate bark is the perfect replacement for your morning coffee.
If you've been a joyous reader for a while you likely already know that breakfast is my favourite time to enjoy chocolate. This is because it's the best time of day to eat something as energizing and stimulating as chocolate.
This chocolate bark will give you a nice boost of clean energy! And it's completely guilt-free.
It is made with 100% whole ingredients, including:
Hemp Hearts: A fantastic source of complete plant-based protein, fiber and good fat -- plus they are darn tasty! I've got many more Hemp Heart recipes on the blog. This is a kitchen staple for me.
Pumpkin Seeds: Great source of protein, vitamin E and minerals such as zinc and iron. They add a nice crunch.
Goji Berries: Rich in amino acids, vitamin C and fiber.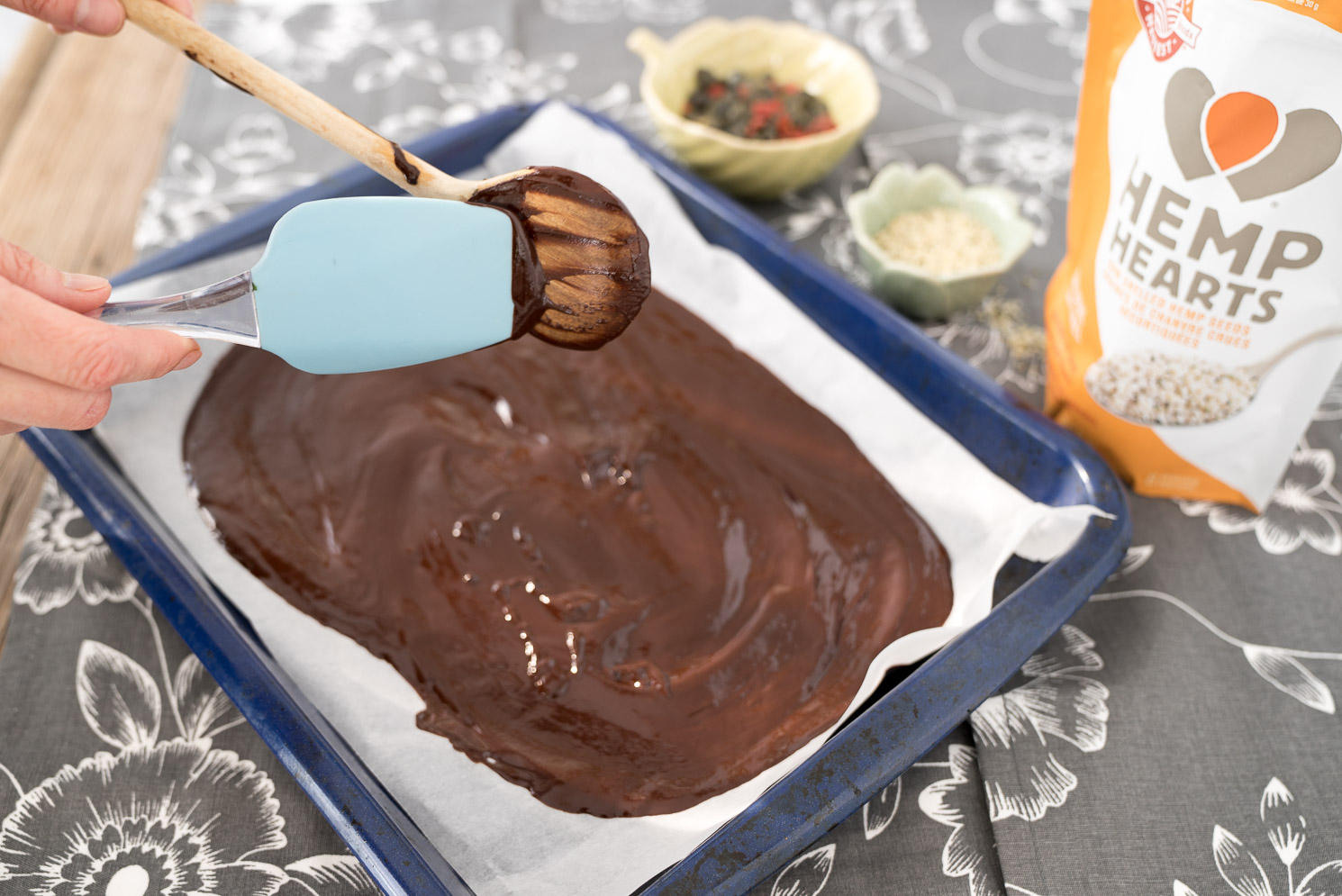 I love making this recipe because it is oh-so-easy. You literally melt the coconut oil and mix in the raw cacao and maple syrup. Then top with your fave superfoods. Yes, it's that easy folks. :)
It's almost like making a chocolate pizza. Decorating the chocolate bark is the fun part (so is licking the spoon).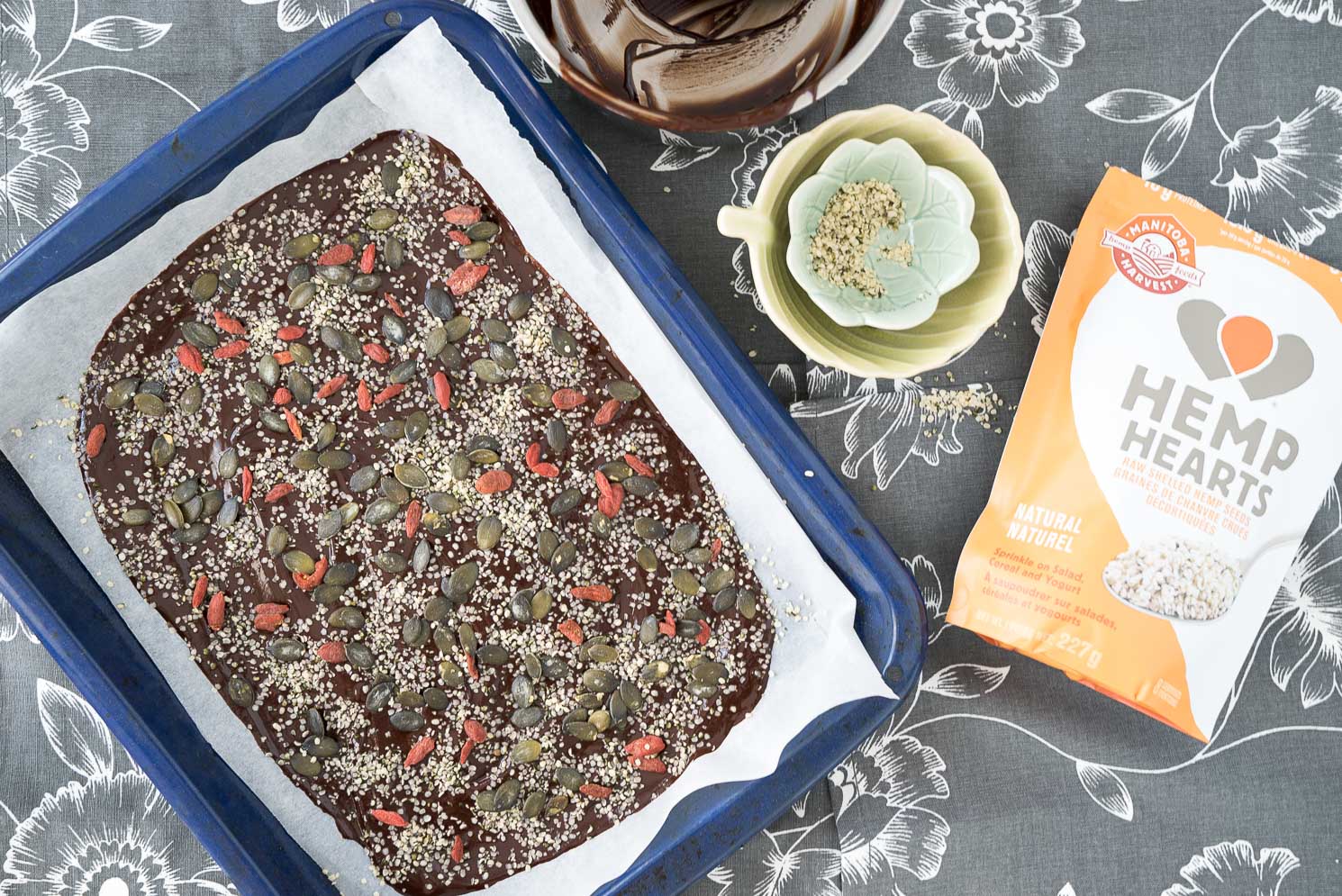 Ingredients
1/3 cup coconut oil (measured when solid but soft)
3/4 cup raw cacao powder
1/4 cup maple syrup
1/4 cup hemp hearts
3 tbsp goji berries
3 tbsp pumpkin seeds
Instructions
In a small saucepan over low heat, melt coconut oil. Slowly stir in cacao powder and maple syrup. When fully combined, remove from heat. Line a cookie sheet with parchment paper. Pour chocolate bark mixture on to parchment paper.
Sprinkle with hemp hearts, goji berries and pumpkin seeds. Freeze for a few hours. Break into pieces and enjoy!
---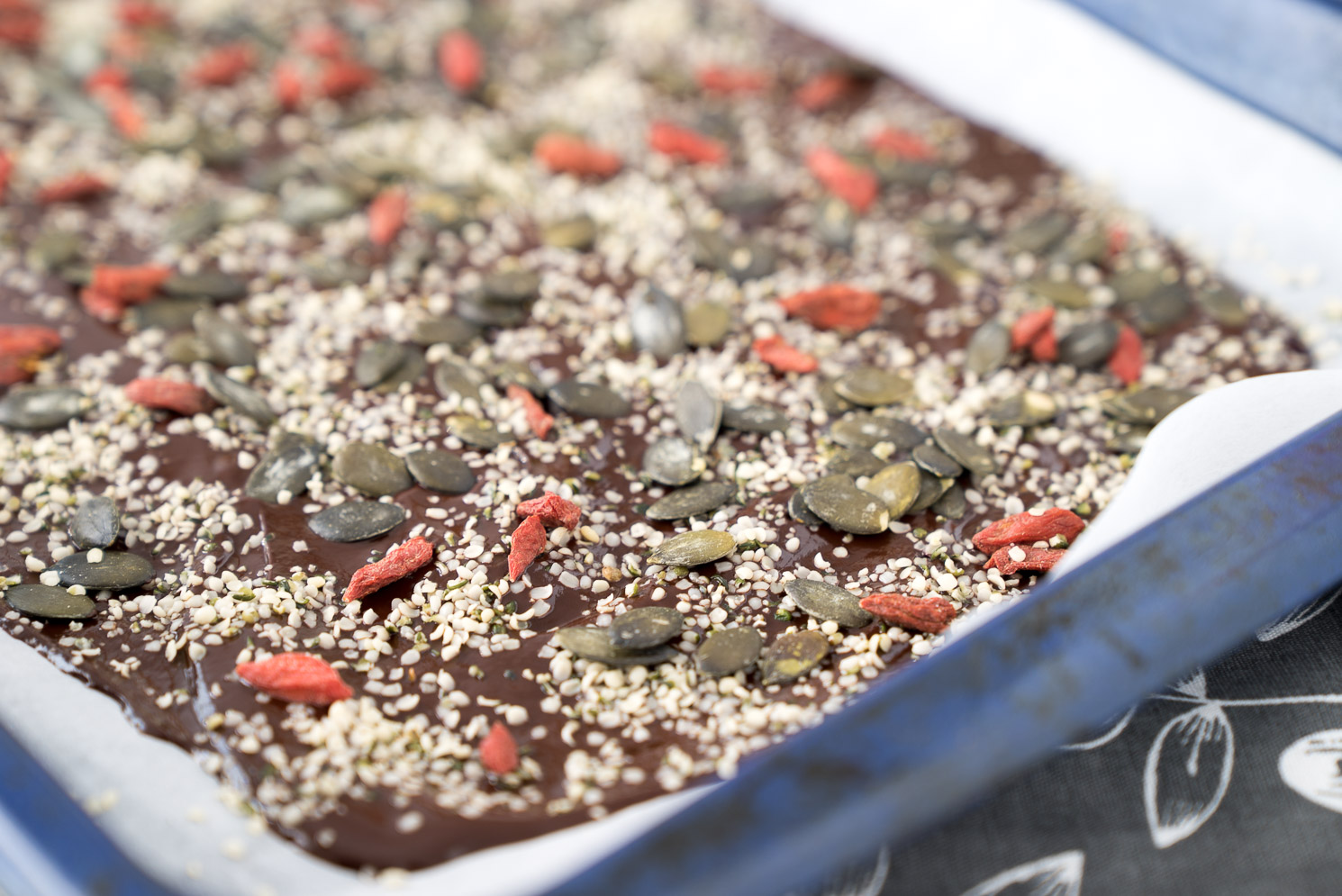 Caution: I actually recommend against eating this in the evening, it might actually keep you awake at night. As mentioned above, it's stimulating -- in a good way!
I hope you love this recipe as much as I love it.
Have a joyous weekend!
Joy
This post was created in partnership with Manitoba Harvest, however all opinions are always my own.
Read more about partnership ethos here.