After I posted my super trendy Sweet Potato Toasties , I had to jump on the watermelon pizza bandwagon. It is the perfect summer treat, even if September is just around the bend. And hey, we still have 3.5 weeks of summer left!
I knew this watermelon pizza would be an instant hit in our home because Walker loves anything with the word pizza in it. When I was pregnant, Walker was in pizzaheaven because we ate it often. Honestly, we could eat pizza every day for two weeks straight and he wouldn't complain! He's still a big fan of watermelon pizza, even though it isn't covered in tomatoes and cheese.
Not only is this pizza super pretty, but it's good for you too. You already know I love making food pretty if you saw my last TV segment talking about how to beautify your plate with flowers. When food is beautiful and more pleasing to the eye, you are more likely to eat mindfully. This might sound silly, but mindful eating is a great strategy to improve your overall health.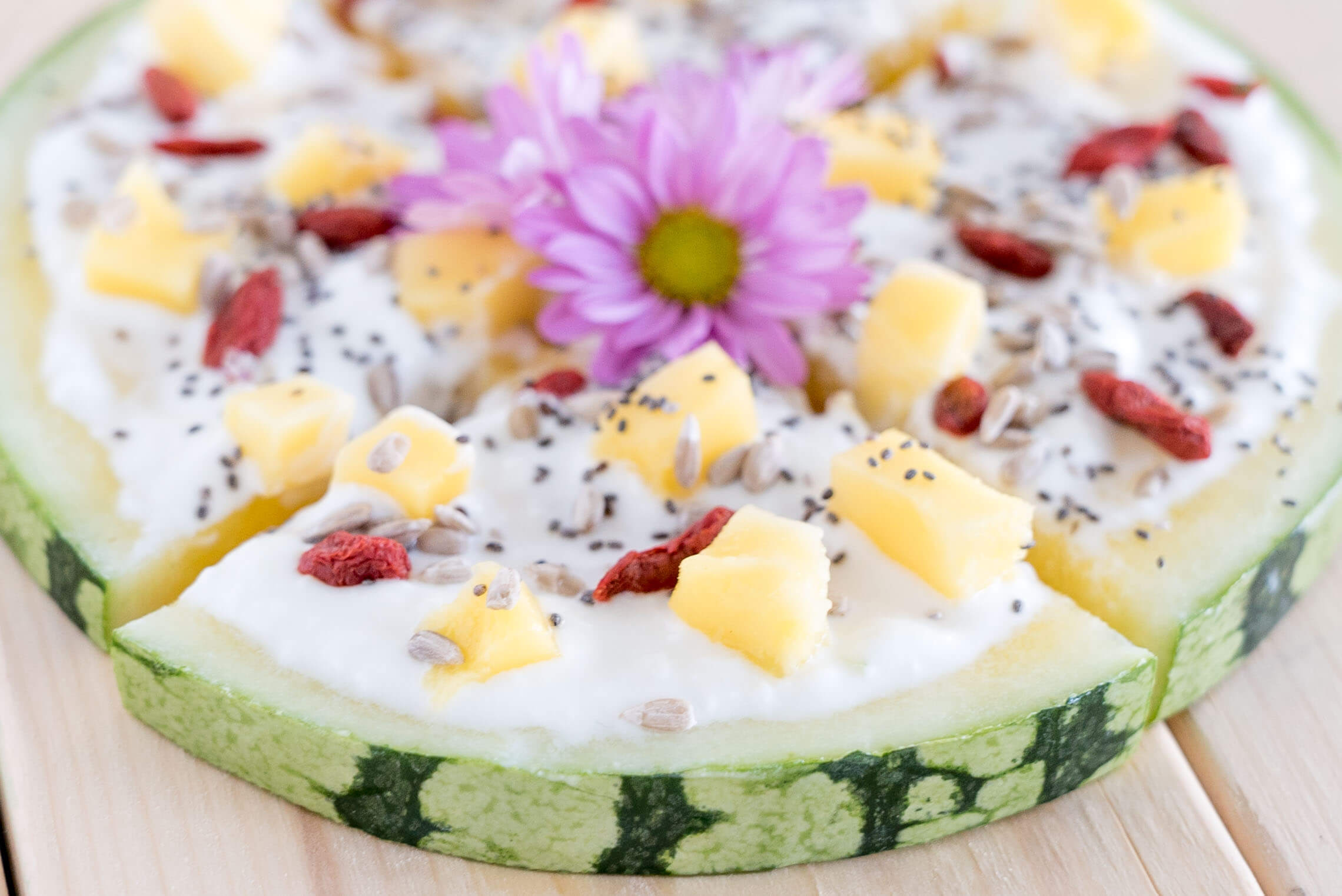 I realize that some people worry about the naturally occurring sugars in watermelon, but it's a bit of a misconception that watermelon is the most sugary of all fruits. In fact, blueberries and bananas are higher in sugar. But don't worry about that! Just eat these fruits with some blood sugar-balancing fats. This is where my perfectly balanced watermelon pizza comes in!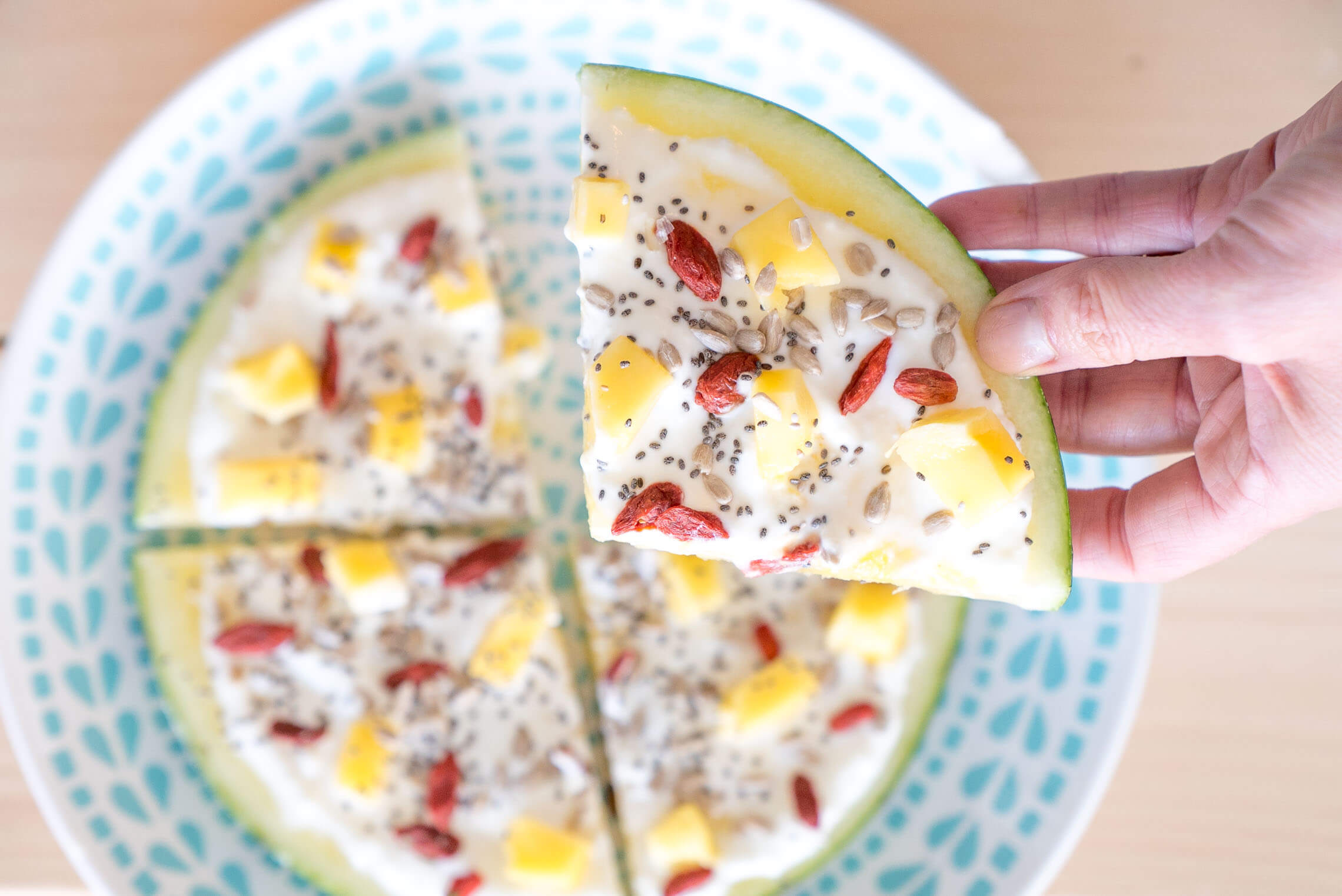 I added some sheep's milk yogurt, but you could use any kind of yogurt (coconut yogurt would be lovely!). The yogurt helps to balance the sugars because yogurt is a great source of both good fat and protein.
You could enjoy this as a nourishing snack or even dessert.
Watermelon is a great source of the following:
carotenoid phytonutrient lycopene, which is an important antioxidant and anti-inflammatory for promoting cardiovascular health
eye-health promoting carotenoid beta-carotene
beautifying, skin-health boosting vitamin C
water, but you already knew that because that's how watermelon got its name from, being one of the most water-dense hydrating fruits.
Here's the first recipe for my Watermelon Yogurt Pizza. By the way, if you look closely, you'll notice that I used a yellow watermelon! I bought it from my local health food store, it's organic.
Ingredients
1 whole watermelon, sliced down the middle and cut half inch thick
Sheep's milk or coconut milk yogurt
Handful of goji berries
Cubed mango
Sunflower seeds
Chia seeds
Instructions
Spread the sheep's milk yogurt evenly over the watermelon. Top with remaining toppings.
Slice it into pizza triangles once you've dressed up the whole thing, just like traditional pizza!
---
Notes
Garnish with edible flowers! Mums are edible, that's what I used.

I didn't use exact amounts because it really depends on the size of your watermelon. Just have fun with it!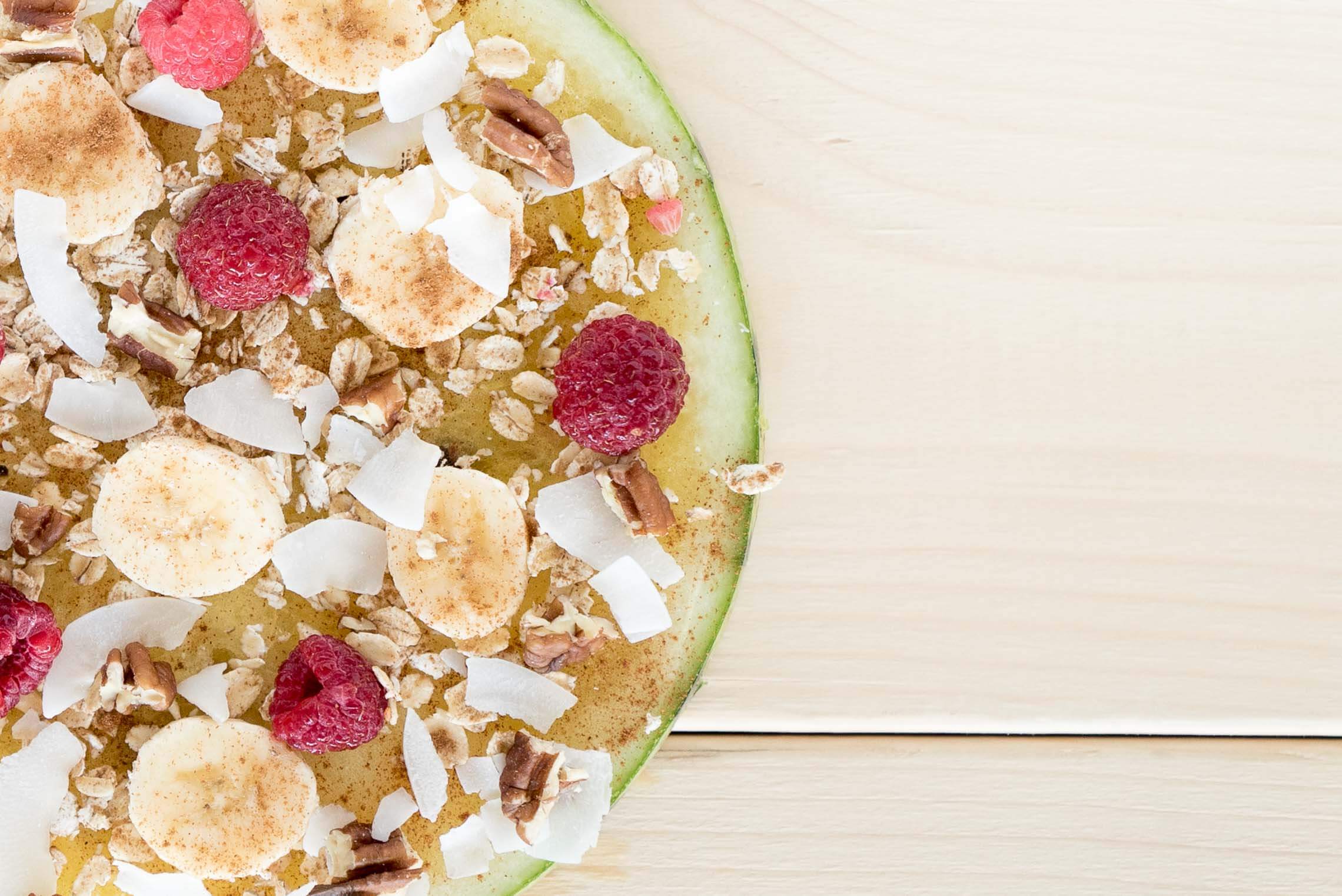 The second watermelon pizza is perfect for breakfast because of the oats, bananas and pecans – sounds like granola, doesn't it? I don't know what I enjoyed more, creating these watermelon pizzas or eating them! The combinations were sweet perfection.
Here's the recipe for my Banana Pecan Watermelon Pizza:


Ingredients
1 whole watermelon, sliced down the middle and cut half inch thick
Banana sliced
Handful chopped pecans
Organic oat flakes
Ground cinnamon
Coconut flakes
Raspberries
Instructions
Sprinkle ingredients on top of watermelon. Slice into pizza triangles.
---
Notes
I didn't use exact amounts because it really depends on the size of your watermelon. Just have fun with it!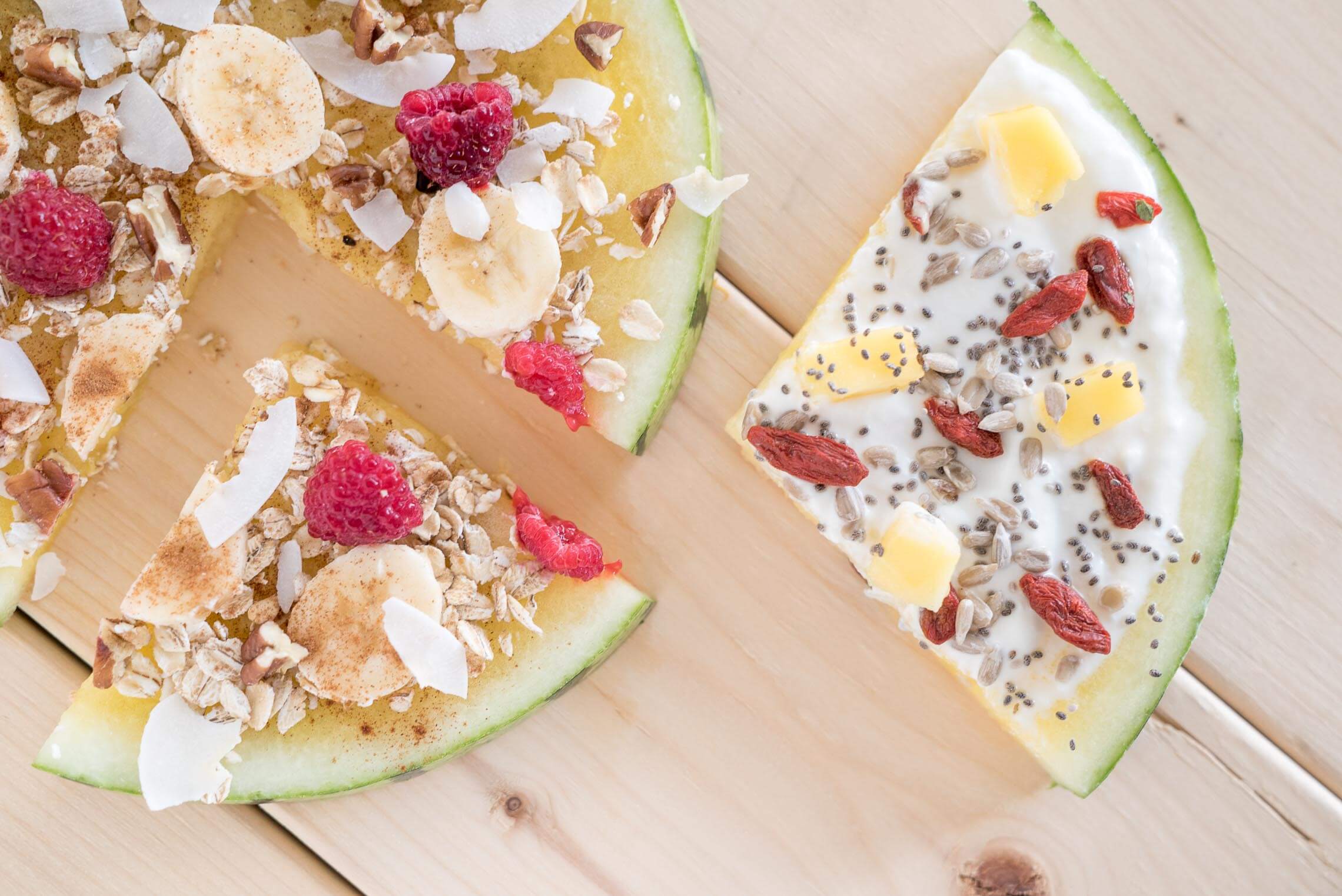 These two watermelon pizzas were wonderful. The combo of juicy and fresh flavours from the toppings was perfect You could use any fresh fruit, nuts or seeds you have on hand. You can't go wrong because many foods pair nicely with watermelon, maybe not cheese though (sorry Walker!).
If you have little ones, get them involved in putting the toppings on the pizza. Vienna's first birthday party is this weekend, so I'm going to make these watermelon pizzas for her party! I hope my family appreciates this unique use of watermelons. :)
Let me know if you make these and please tag me #joyoushealth @joyoushealth on social media so I can see your creations.
Have a joyous week!
Joy